Easy 3 ingredient slow cooker bbq chicken thighs recipe that comes out tender and delicious with only 2 ingredients! High protein dinner you'll love. One of our favorite Crockpot chicken recipes, ya' gotta' try it.
We all agree that slow cooker bbq chicken thighs is the easiest Crockpot recipe we have ever made. This cheap flavorful cut of poultry, bone in or boneless, is the perfect meal that even kids love. Make sweet or spicy and serve with vegetables or rice this week. (affiliate links present, originally published 6/22)
Crockpot BBQ Chicken Thighs
Not too long ago we made a honey boneless skinless chicken thighs Crockpot style. They were fantastic so we continued on with other flavors. That one used a homemade sauce (which you could certainly do here), but bottled is always easiest so we went with that this go around.
That is right, all you really need are those two things; chicken and sauce. You don't need anything else because the meat itself will yield some broth and thin it out a bit. Love spicy? You can add in a little or a lot of chili powder, dry Sriracha, or use our Asian chicken sauce to give it a kick.
FIRST – You should sign up for my free newsletter so you get new posts emailed to you twice a week and never miss out on anything! Let's talk a little bit about slow cooking shall we?? First off I have a few different varieties and I love them all. Each one has an occasion to be used like….
This is my favorite 6 quart programmable one with a locking lid so it's great for bringing to a potluck too.
If you just want to serve a few appetizers you should get this one that sit side by side one another.
I prefer not to use liners, but rather just spray olive oil inside before adding my food for easier cleanups.
Let me give you a peek of my pretty thang I bought recently. It goes with my kitchen so I can just leave it out on the countertop all the time. 😉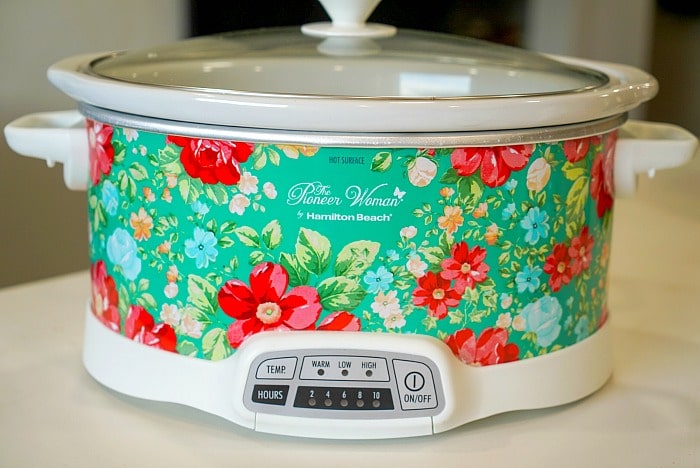 Crockpot BBQ Chicken Thighs Sweet Baby Rays
You should use your favorite type of sauce here. I usually have an extra bottle in the pantry just for times like these. This hickory and brown sugar style is a favorite amongst my kids. You can use this same philosophy with all different sauces too like teriyaki, Korean bbq and more.
I mean my husband and I love these all different ways. Used to make our garlic butter chicken thighs for dinner all the time, but with kids they want ooey gooiness at meal time.
So I made a Instant Pot bbq chicken thighs and that was a hit. I do love to just throw things in during the morning minutes and have it ready when we are home though so I used low and slow this go around.
3 Ingredient Crockpot BBQ Chicken Thighs
Last week we made air fryer bbq chicken wings with this same sauce, they were killer. With a little spicy kick to it they weren't too hot for even the kids. If you just want to dump to coat and skip all the other add ins you're welcome to do so too.
You could easily just add the meat, sauce and for sweetness some pineapple tidbits are great too. The first 2 ingredients are the most important though, everything else is an add on.
Fresh or defrosted chicken thighs – I prefer boneless but you can use bone-in if you want

you'd need to add another hour or so for frozen chicken thighs in slow cooker

Your favorite barbecue sauce
Small can of pineapple tidbits can be used for the 3rd item

Or just add some more seasonings into the mix like;

red pepper flakes
garlic powder and onion powder
Serve this inside small tortillas like tacos with some cheese, or over the top of a bed of Instant Pot white rice.
Slow Cooker BBQ Chicken Bone In
If you have two pots you can make this in one and slow cooker brown rice in another. Time it right and serve side by side. They will stay warm for a bit too with the lid on with warm setting on.
How long does it take to cook raw chicken in a crockpot on low?
I always recommend cooking meat in a slow cooker on low, always. If you use boneless they will be fork tender in about 4 – 4.5 hours. Bone in thighs in slow cooker will take about an hour longer so 5-6 hours.
Yes there is a slight difference if you do choose to use meat with a bone still inside. That would be the case in the oven too so it makes sense. This timing is for defrosted or fresh meat. If you have frozen chicken thighs it will work just as well but you'd need to add another hour or so to get it nice and tender.
Keep in mind that using frozen meat won't make a huge difference really but will add a bit more liquid into the pot. As it defrosts it will release water and thin the sauce down a bit, just to keep in mind if that is all you have.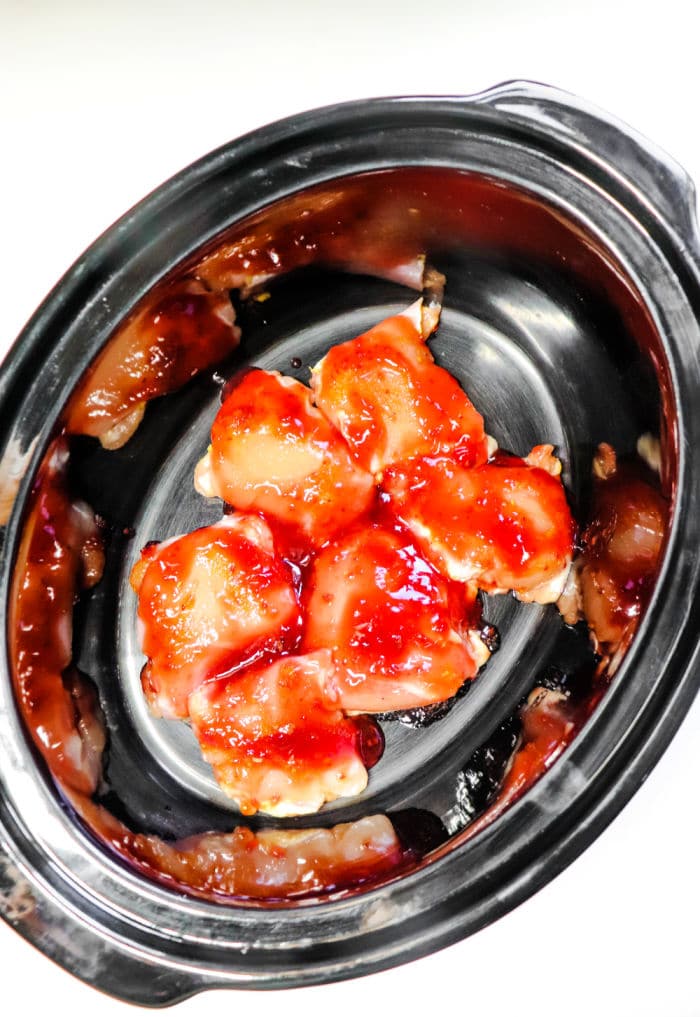 Slow Cooker Barbecue Chicken
The directions for this easy chicken thighs recipe are stupidly simple. Once you make it you will likely not need to come back because it just is what it is. Lay inside, dump everything on top and set to 4-5 hours. I mean seriously…..
Sprinkle what seasonings you'd like on top of your thighs and lay inside slow cooker.

Pour bbq sauce over the top, make sure all meat is coated.

Cook on low for 3-4 hours or until meat is cooked all the way thru and for tender. Timing will depend on the size of the pieces and whether they are bone in or boneless.
I never recommend any hours on high, especially with these because it will just dry them out.
If you wanted to crisp the top a bit, transfer on to a baking sheet and put into oven on broil for 2-3 minutes.
I will repeat again, and again, and again. I do not recommend cooking on high ever, unless it is large piece of meat and frozen solid like our frozen whole chicken in Crock pot. Go for the longer cooking time because that is what slow cooking is all about whether you're making chicken breasts or thighs.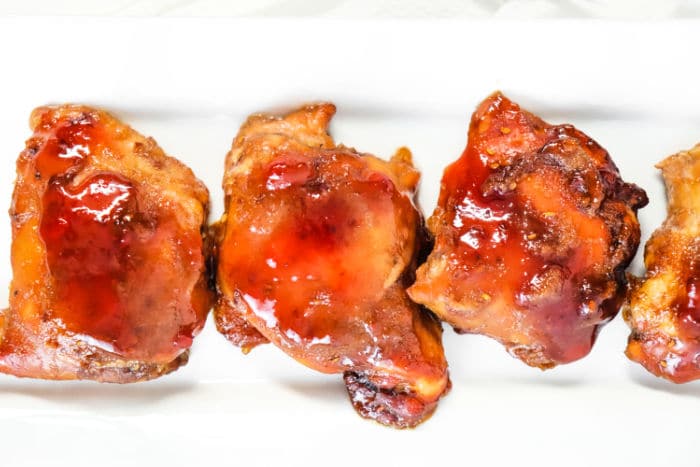 You can serve these whole as you see here but we typically use two forks to make shredded chicken to serve with our Hawaiian cole slaw inside small tortillas. Such a great meal if you're having company over.
How to save leftover cooked chicken thighs
This bbq chicken recipe saves quite nicely and make a great second meal the next day for sure. You want to keep them nice and moist though so keep the sauce inside that pot. Transfer it all into a sealed container and in the fridge for up to 3 days. Spoon sauce over the top and reheat in microwave for about 2 minutes when ready to eat again.
If you don't have enough you can pour some fresh sauce over the top. For all different methods of cooking frozen chicken thighs refer to this post here instead. 😉
Want to see a few of my favorite things that I am totally obsessed with?? Take a peek and see how many you might already have…twinsies!
Looking for more easy family recipes and tips? LIKE The Typical Mom Facebook page?
Then sign up for my free newsletter, and follow me on Pinterest! 😉
***** If you LOVED this recipe give it 5 Stars below and let everyone know what you thought about it. 😉
Crockpot barbeque chicken thighs
Slow Cooker BBQ Chicken Thighs
Easy slow cooker bbq chicken thighs recipe that comes out tender and delicious with only 2 ingredients! High protein dinner you'll love.
Instructions
Sprinkle seasonings on thighs and lay inside slow cooker. Pour bbq sauce over the top, make sure all meat is coated.

Cook on low for 4 – 5 hours or until meat is cooked all the way thru.
Nutrition Facts
Slow Cooker BBQ Chicken Thighs
Amount Per Serving (2 oz)
Calories 415
Calories from Fat 171
% Daily Value*
Fat 19g29%
Cholesterol 111mg37%
Sodium 1069mg46%
Potassium 465mg13%
Carbohydrates 40g13%
Protein 19g38%
Vitamin A 351IU7%
Vitamin C 1mg1%
Calcium 43mg4%
Iron 1mg6%
* Percent Daily Values are based on a 2000 calorie diet.