This is how long to bake chicken thighs at 375 in oven to tender! Several chicken thigh recipes with olive oil and simple seasonings, brushed with sauce or baked on a sheet pan with vegetables. Bone in or boneless skinless dark meat is protein packed and easy to make.
How Long to Bake Boneless Chicken Thighs at 375
To make baked chicken thighs at 375 degrees F, in general it typically takes between 35 to 50 minutes. Keep in mind that the cooking time will vary depending on the size, bone-in will take longer, whether they are fresh, or if you're cooking frozen chicken thighs. Your specific oven makes a slight difference as well as the altitude you are at.
Boneless takes less time because the heat can move thru the meat easier without the bone present. You can save about 10 minutes if you use this type, they are easier to eat too when done.
To ensure that the chicken thighs are fully cooked thru, it's important to use a digital instant read meat thermometer. Always ensure that the internal temperature reaches 165 degrees F. so it is safe to eat for everyone. I always like without the bone, with a sauce like our baked teriyaki chicken thighs you see here.
How Long to Bake Bone-in Chicken Thighs at 375
For baked bone-in chicken thighs at 375°F, it usually takes around 40-50 minutes. The exact cooking time may vary depending on the size of your pieces, oven temp and whether they are skin on or skinless too. That is why there is a range for most recipes, especially when cooking meats in general.
To keep these babies moist it is a good idea to brush the top with some olive oil or butter before baking to help keep them moist and flavorful. OR you can marinate in a sauce like you see above. Brushing something like your favorite bbq sauce on about 10 minutes before it's done works well too. It adds flavor and adds moisture as well. A simple idea would be to;
4-6 bone-in chicken thighs
2 tablespoons olive oil or melted butter
Salt and pepper to taste
Optional: herbs and spices (such as garlic powder, paprika, or dried herbs)
Step by step instructions on how to get this basic dish done. You can use a sheet pan sprayed or with a piece of parchment paper. I do love using a cast iron pan too y'all. Catches all the juices and kinda' pretty as is when served this way.
Step one: Preheat your oven temperature to 375 Fahrenheit or 190 Celcius.
Step two: Line a baking sheet with parchment paper or non stick aluminum foil, or use cast iron 12″ skillet.
Step three: Pat thighs dry with paper towels and place on the baking sheet.
Step four: Brush tops with olive oil or melted butter, season generously with salt and pepper.
Step five: Bake in the preheated oven for 40-50 minutes baking time or until the internal temperature of the thickest part reaches 165 degrees F.
Remove from the oven and let it rest for a few minutes before serving.
Plus to baking sheet pan chicken thighs is that you can add diced vegetables on the same tray. Just cut into large bite size pieces, toss with olive oil and seasonings, add around the meat.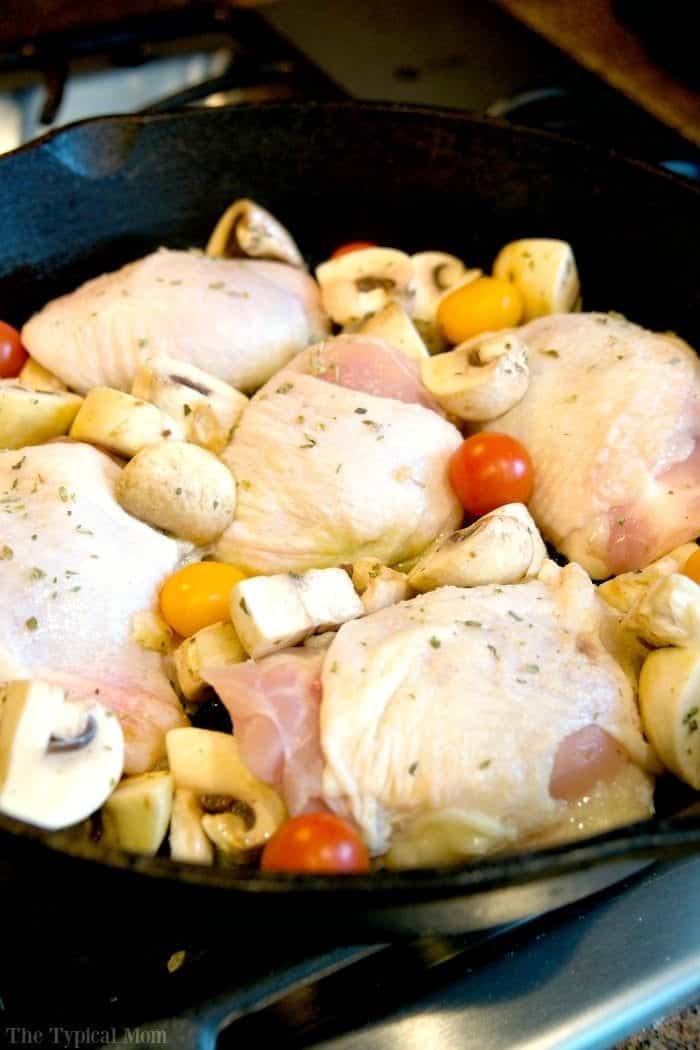 How Long to Cook Chicken Thighs in Oven
I think we went over that, but remember this isn't the only way they can come to temp. Using around the same temperature you can enjoy other methods with the same wonderfully juicy outcome.
The goal is the most tender, juicy with tons of flavor. You can certainly marinate first which I suggest or for a quick method just use seasonings. Let's go over a few others like;
Grilling chicken thighs over high heat can give you a killer smoky flavor and a crispy skin.

preheat your grill to medium-high
brush the chicken with oil or marinade
season with salt and pepper
grill for 6-8 minutes per side
this is how to cook grilled frozen chicken breasts and thighs too

Cooking boneless chicken thighs on the stove is a quick and easy method that can be made a variety of ways. Simple just seasoned lightly or the link above shares one with a wonderful sauce.

you start by heating a tablespoon of oil in a skillet over medium-high heat
add the bone in or boneless chicken thighs
cook for 6-8 minutes per side, or until the internal temperature reaches 165 F

Slow cooker boneless skinless chicken thighs in a crockpot or Dutch oven can result in flavorful and tender meat that falls off the bone too.

you just add the meat to the cooker along with your favorite bottle of sauce like bbq or teriyaki
cover and cook on low heat for 6 to 8 hours
done when it is fork tender enough to shred with two forks
No matter which method you choose, be sure to use an instant read thermometer to ensure that the protein is fully cooked all the way to the center and safe to eat.
Oven Baked Chicken Thighs 375
You could go up to 400 to cook a bit faster or a bit lower and slower with chicken thighs at 350 if you needed to.
I would do this if there was something else cooking on another rack in there and I wanted them done around the same time. It won't ruin the dish to tweak it just a bit either way.
Best Way to Crisp Chicken Skin
Roasting at high heat of 425 degrees at the end for a few minutes will help the skin to get crispy.

If in a sauce or our chicken stir fry marinade, place the chicken on a wire rack set over a baking sheet to allow hot air to circulate around the outside.
roast for 5-10 minutes
be careful with this as you don't want the meat to dry out, switch when internal temp is about 155 degrees so this doesn't happen

Broiling chicken under the broiler for a few minutes at the end can crisp up the skin nicely, but it happens fast!!

change bake to broil on high for 3-4 minutes per side, or until the skin is crispy and golden brown.

Pan frying quickly over medium high heat with a bit of olive oil in a cast iron skillet is great too.

add the chicken, skin-side down
cook for 3-4 minutes until the skin is crispy and golden brown
flip and cook for an additional 3-4 minutes
Want to see a few of my favorite things that I am totally obsessed with?? Take a peek and see how many you might already have…twinsies!
Looking for more easy family recipes and tips? LIKE The Typical Mom Facebook page?
Then sign up for my free newsletter, and follow me on Pinterest! 😉
***** If you LOVED this recipe give it 5 Stars below and let everyone know what you thought about it. 😉
How Long to Bake Chicken Thighs 375
This is how long to bake chicken thighs at 375 in oven to tender! With olive oil and simple seasonings, brushed with sauce or with vegetables.
Equipment
1 sheet pan

or large cast iron skillet

non stick foil
Instructions
Preheat the oven to 375 F. Half petite potatoes and add to a bowl with tomatoes, toss with 1.5 tbsp olive oil, salt and pepper. In a bowl toss thighs with 1.5 olive oil to coat, sprinkle with salt and pepper with herbs or seasonings of your choice.

Line 9" x 13" baking dish (or casserole dish) with non stick foil, pour vegetables with oil in bowl, on with chicken embedded in them with a bit of space between the meat. Pour remaining 1 tbsp olive oil over the top and sprinkle salt and pepper over the top.

Cover the baking dish with foil. Bake for 15 minutes, then remove foil, and then another 15 – 25 minutes without foil until the thickest part of the largest thigh reaches 165 F and potatoes are fork tender.

Remove, cover with the foil to keep warm and let rest for 10 minutes before slicing meat and serving with a squeeze of lemon if desired.
Nutrition Facts
How Long to Bake Chicken Thighs 375
Amount Per Serving (1 oz)
Calories 401
Calories from Fat 234
% Daily Value*
Fat 26g40%
Cholesterol 111mg37%
Sodium 195mg8%
Potassium 777mg22%
Carbohydrates 22g7%
Protein 21g42%
Vitamin A 289IU6%
Vitamin C 37mg45%
Calcium 32mg3%
Iron 2mg11%
* Percent Daily Values are based on a 2000 calorie diet.