Moist marinated chicken in air fryer directions are here! Homemade teriyaki sauce makes these chicken thighs or breasts amazing when they're done.
This sweet and savory marinated chicken in air fryer recipe is killer! Even approved by our three kids. Use our homemade chicken marinade or bottled and get ready for the best air fryer recipe tonight. (affiliate links present)
Air fryer marinated chicken
You can use your Ninja Foodi to make this, or any other electric air fryer brand you have. It really doesn't matter what color yours is or the name on the side. I have several different ones and there is barely any difference. The biggest is the size of the basket. Obviously if you have a large family you'd want a 6 quart or larger.
If you choose to use your favorite bottled sauce that is okay, we love homemade teriyaki sauce. It is easy to throw together and you can add a bit of heat too if you like them spicy. Use what you love a few hours before and then here's how to cook them perfectly moist and tender.
FIRST – You should sign up for my free newsletter so you get new posts emailed to you twice a week and never miss out on anything! If you love air fryer recipes too, here are some resources to start with: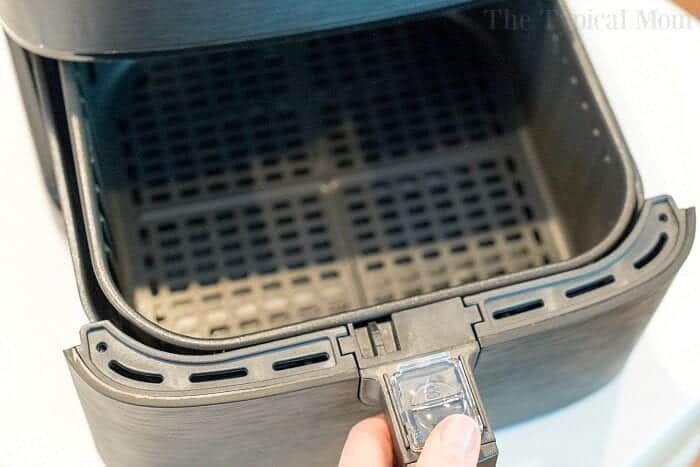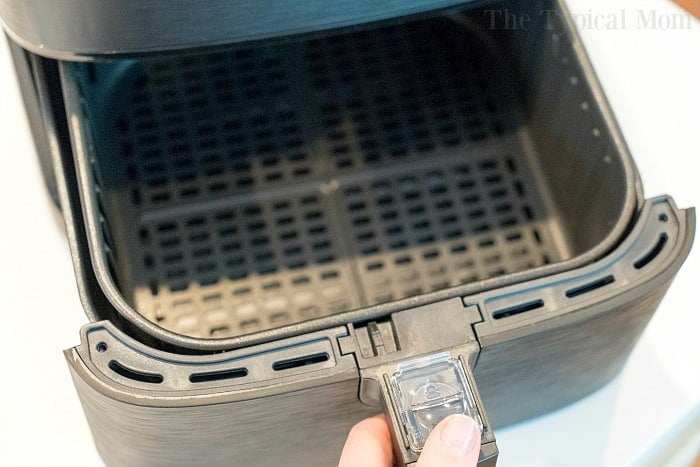 How long do you marinate chicken?
Ideally, you really should marinate your chicken thighs, legs or drumsticks, breasts or other parts between 30 minutes and 12 hours max.
The thicker the pieces, the longer it will take to flavor the meat all the way thru. I usually let this and our baked teriyaki chicken thighs sit for about 2 to 4 hours. That seems to give it a chance to really soak in. Always place the bag with your meat inside your fridge, not left out on the countertop.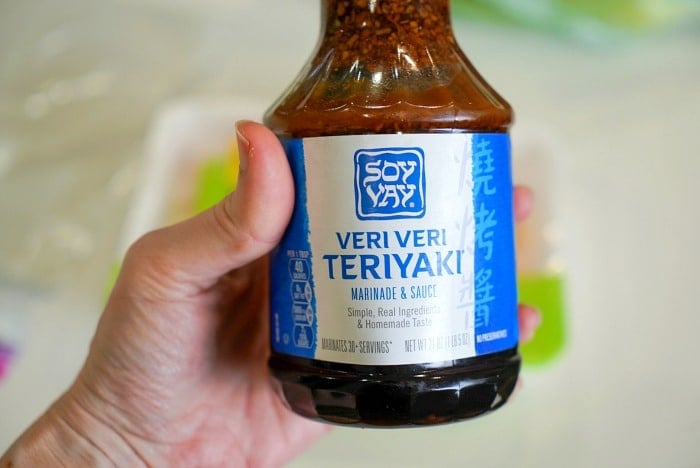 That is important to remember because poultry if left out raw can start to grow bacteria and we don't want that. Just set a timer like I do so you don't forget to keep yourself on schedule. 😉
I just whip up the sauce in the morning after drop off, throw it in the fridge to soak and then cook around 5pm.
Can you marinate frozen chicken?
Yes and no. You could put meat into a bag with your sauce even if it's rock hard but it won't soak in until it's defrosted so it would take twice as long in the fridge. A few hours to thaw and a few hours to soak in the sauce.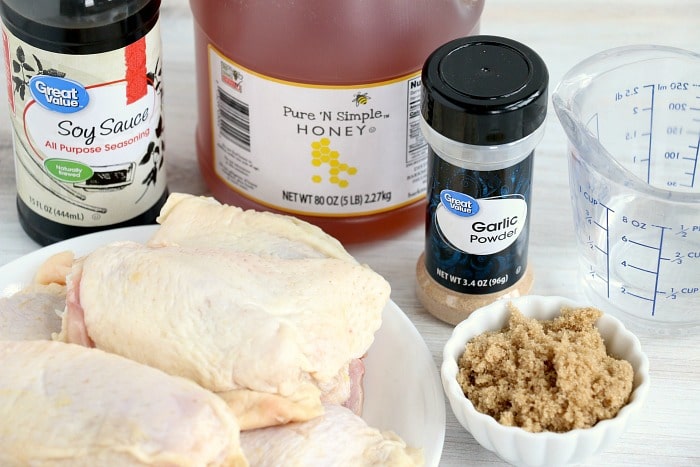 If you want to choose to make this sauce, it's quite easy and doesn't require a lot of ingredients. I am sure you have everything in your cupboard already. Remember that if you like spicy marinated chicken you can do that in several different ways. Sriracha is great but there is dry Sriracha, red pepper flakes, chili powder and other favorites.
Honey chicken marinade
Honey will make it sweet which we love
Brown sugar brings a bit of deep sweetness to it
Chicken broth will bring a bit of savory and be a better liquid choice than just water
Soy sauce
Garlic powder
Sriracha could be added for some heat!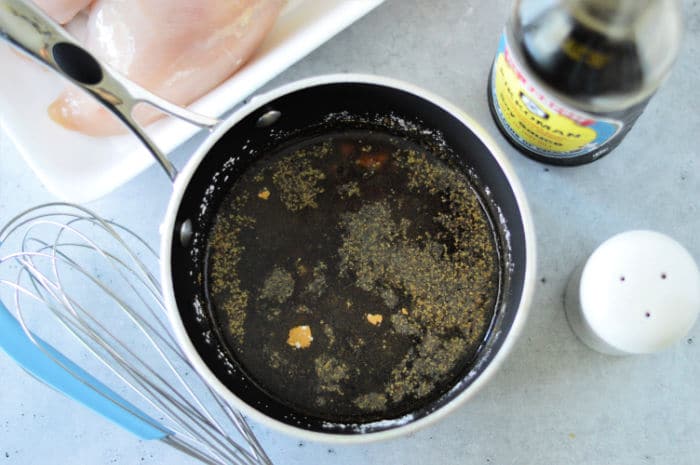 I usually cut the sauce in half. I'll add 1-2 Tbsp of hot sauce (whatever I have on hand) for my husband and middle daughter to enjoy and leave the rest mild.
Soak in two different bags so when done everyone is pleased. Don't forget to remember which is which though. I push toothpicks into the spicy ones so there is no mistake. 😉
Alternatively, you can use our lemon pepper chicken marinade if that's more to your liking. During the summertime if you want a lighter flavor this might be up your alley.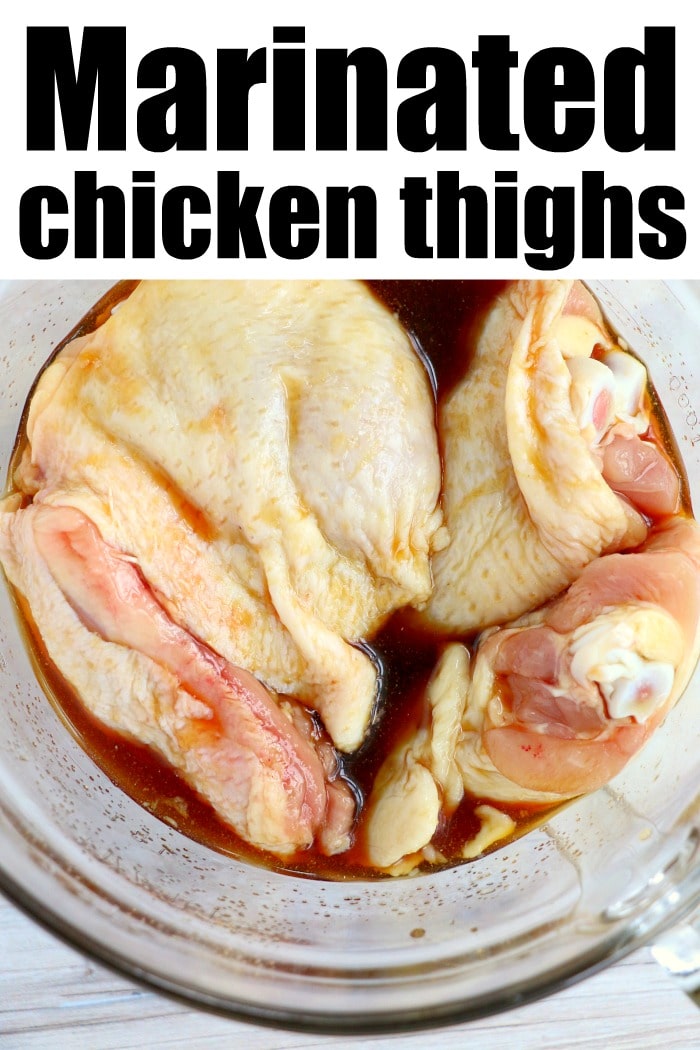 Is air fried chicken healthy?
Yes! Especially when you cook it this way. If you love air fryer chicken with no breading, this is the way to go. Tons of flavor without the need for extra carbs on the outside.
I choose to use chicken thighs whenever possible. I do this for many reasons: they're super cheap and really moist. You can use this same method for other pieces, like marinated chicken breast in air fryer too.
Timing will depend on the size of each piece, follow timing in post links below:
Chicken legs are always a kid fave because they can pick them up easily.
Air fryer chicken wings may be my favorite part of the bird all together. It doesn't take long to cook those babies.
If you want to cook an entire air fryer whole chicken you could soak it overnight in this marinade first. If you haven't tried this it is way way better than just buying an already done (usually overcooked) rotisserie at the store.
As for the size of the chicken pieces, I always recommend medium. Very large thighs and/or breasts make it hard to cook chicken appropriately in order to get the correct internal temperature without burning the outside.
Can you stack chicken in an air fryer?
Well you can DO anything you want, but the outcome will NOT be what you ideally want. The whole point of this cooking method is to get the outsides crispy.
You won't get crispy chicken skin if you overlap the pieces.
These hot air machines work by circulating very, well hot air obviously.
If you don't leave room for that hot air to touch every piece of the outside, those pieces won't get crisp.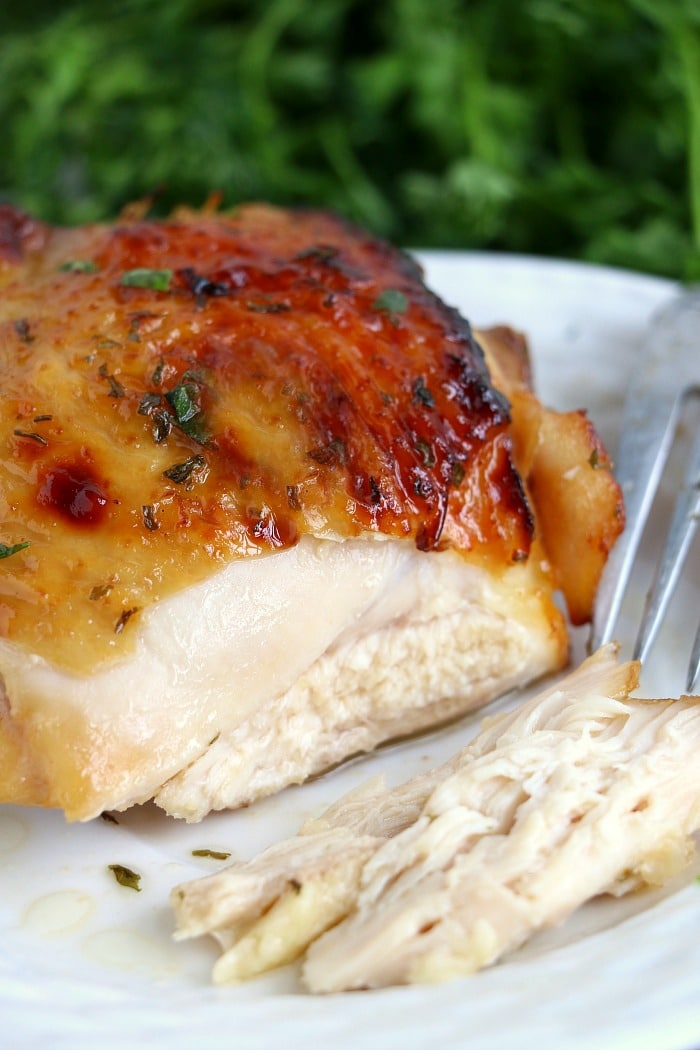 Ninja Foodi Marinated Chicken
Tip to getting REALLY crispy chicken skin is to spray the outside with olive oil for a few additional minutes at the very end. Here are the basic steps to follow:
Whisk teriyaki chicken marinade together in a bowl.
Add meat and put into fridge for 30 minutes.
Preheat air fryer to 350 degrees for 5 minutes.
Spray air fryer basket with non stick spray and lay chicken pieces inside. Can sprinkle with salt and pepper now too if you want.
Set cook time to 15 minutes and flip halfway through.
Check and if you want skins crispier, spray with olive oil and add a few more minutes.
What temp should chicken thighs be?
165 degrees F is a safe temperature, not touching the bone. You should always have a meat thermometer in your drawer to test.
The best way to test is to pull out a piece and stick into the thickest portion of the meat. If you leave it in the basket that is already hot it won't be as accurate. Super quick meal prep and cook time until a perfectly healthy meal.
Looking for more air fryer chicken recipes? We have a lot on The Typical Mom blog!
I love this hack for air fryer frozen chicken wings when I'm in a pinch.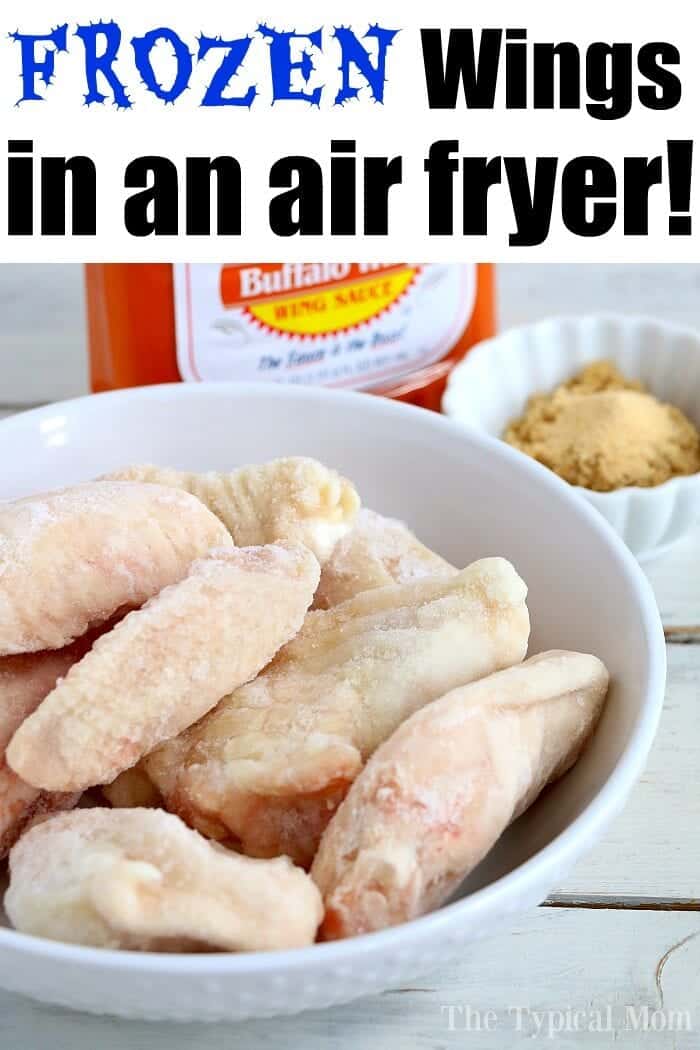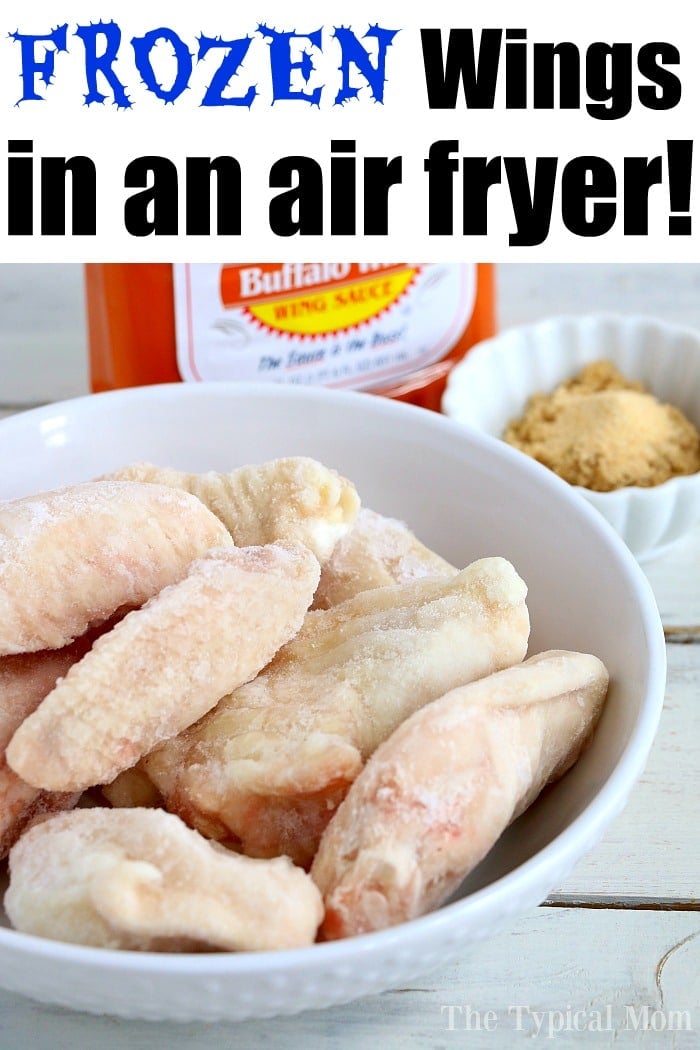 I have lots of other ideas and add more every single week so bookmark our site for lots of other ideas. I'll share a few of our favorites though below for ya'.
What should I serve with chicken thighs?
When we make chicken and potatoes or this, our go to is a batch of mashed potatoes or white rice. Paired with mixed vegetables it's great. This is what is made almost always. A side salad is an easy go to as well.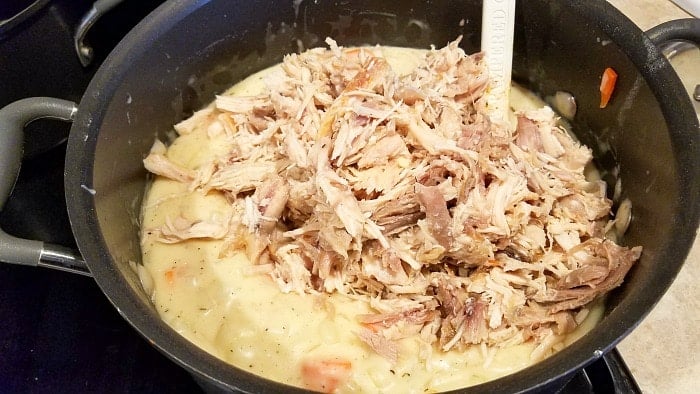 What can I make with cooked chicken thighs?
An easy next day meal is to stuff it into a baked potato with some salsa or cheese. BAM….dinner is done!
Shred it and a batch of chicken salad for lunch.
Put it on a bun and make a chicken sandwich with a bit more sauce on top.
Shredded on top of a bed of rice works great.
Diced up it is great inside some fried rice.
I use it most often inside our Instant Pot chicken and rice recipe I grew up on.
Can I eat cooked chicken after 5 days?
That is the max time you should really keep leftover chicken in your fridge. Up to 3 days is really ideal but you could stretch it to 5, then discard what's left.
Below is a printable recipe card with nutritional information included. This accounts for the sauce listed and 5 chicken thighs. If you choose to use more the amounts will vary.
Want to see a few of my favorite things that I am totally obsessed with?? Take a peek and see how many you might already have…twinsies!
Looking for more easy family recipes and tips? LIKE The Typical Mom Facebook page?
Then sign up for my free newsletter, and follow me on Pinterest! 😉
***** If you LOVED this recipe give it 5 Stars below and let everyone know what you thought about it. 😉
Marinated Chicken in Air Fryer
Moist marinated chicken in air fryer directions are here! Homemade teriyaki sauce makes these chicken thighs or breasts amazing when they're done.
Instructions
In a large bowl, whisk together water, soy sauce, brown sugar, honey, and garlic powder.

Place chicken in the marinade. We used thighs but other pieces could be used, timing may change depending on thickness of meat. Marinate for 30 minutes or even over night.

Preheat air fryer to 350 degrees. Place chicken in a greased air fryer basket. Air fry for 16 minutes at 350 degrees, flipping halfway through.

Continue cooking until internal temperature reaches 160 degrees.
Nutrition Facts
Marinated Chicken in Air Fryer
Amount Per Serving (3 oz)
Calories 324
Calories from Fat 171
% Daily Value*
Fat 19g29%
Cholesterol 111mg37%
Sodium 782mg34%
Potassium 288mg8%
Carbohydrates 19g6%
Protein 20g40%
Vitamin A 88IU2%
Vitamin C 1mg1%
Calcium 20mg2%
Iron 1mg6%
* Percent Daily Values are based on a 2000 calorie diet.