Tips on where to buy bulk meat online and how to save money on groceries are here from a busy mom with a family of 5 to feed! What we do to save a ton.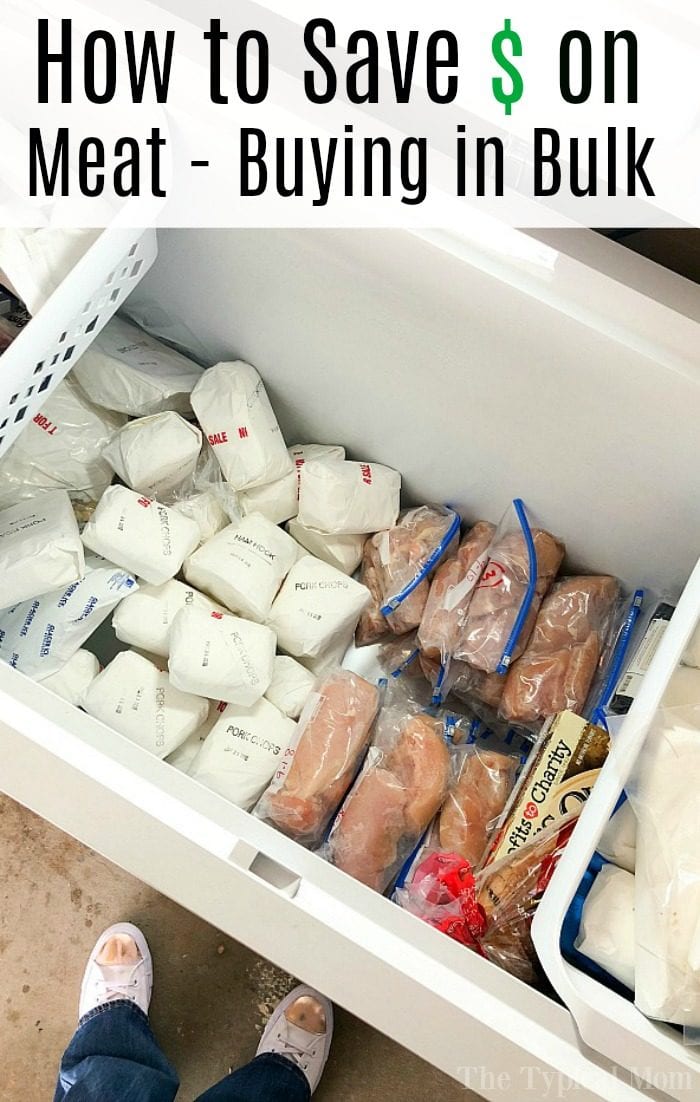 Have you ever thought to buy bulk meat online and pick it up locally to save money on groceries, or how / when to buy it in bulk at the grocery store. Well I'm here to share tips with you on when and where to buy meat in bulk so you too can stock up and save a bunch of money too. 😉
We all want to save time and money right??!!
If I could buy everything online I would, and have found many ways to do just that! (shopping in your jammies is just the best right?)
At the same time I am cheap …..frugal and am always looking for a great deal especially when it comes to groceries which is why I wrote this couponing tips for busy moms post years ago and haven't stopped there.
There are 5 of us in our family and that can get really expensive if you're not using coupons, shopping sales, and/or buying meat online.
Here are a few ways to save money on food if you're a busy mom like me too…..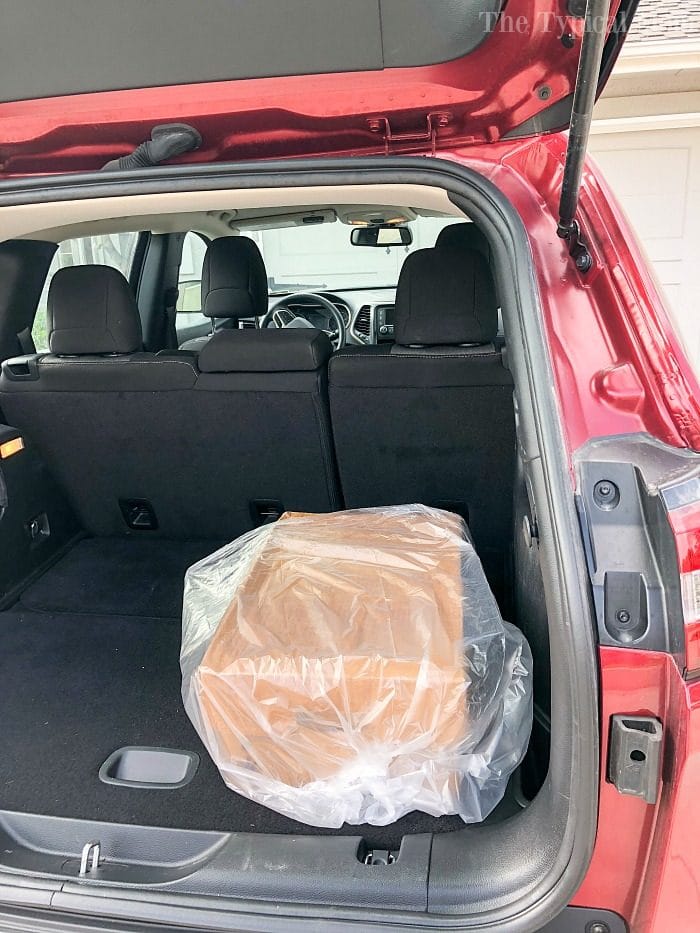 Why you should buy meat in bulk and how to do it:
This is where you can buy meat online that is low cost, high quality, and if they aren't in your are now let them know you want them to be! It's a service called The Savory Butcher where you order chicken, steak, ground beef etc… online. Then you show up locally at a designated time and location and they load it into the back of your car!

I bought 1 40 lb. box of trimmed, boneless, skinless chicken breasts and they looked great! A lot less work than buying them in the store and a lot cheaper at $1.99/lb. It's a great alternative to Zaycon Fresh if you used them and were heartbroken when they had to close their doors.
Then you just divide your meat up however you like when you get home…….I bought freezer bags in bulk here, wrote the date on each one, and divided them up into 2 breasts per bag before throwing them into my chest freezer.
I personally use about 1 lb. at a time when I am cooking my Instant Pot recipes so that is how I divided them up but you can do whatever works for you.

Look at store ads on a weekly basis

When there is a buy one get one free sale on meat you use regularly then stock up and freeze!
When ground beef (for example) is on sale buy the largest pack they offer (or ask the butcher for a very large package) and then divide it up into 1 lb. portions in freezer bags, mark the date on the outside and freeze!
Of course pair these deals with free digital grocery coupons if any are available.

Buy directly from farmers

This is common where we live now where you can buy an entire cow, pig, or several chickens and save a ton of money that way. If that is too much many times several families will come together and share the cost. You just tell the butcher what cuts you want, they wrap them up (as you see in the top picture with the white paper wrappers) and you freeze it.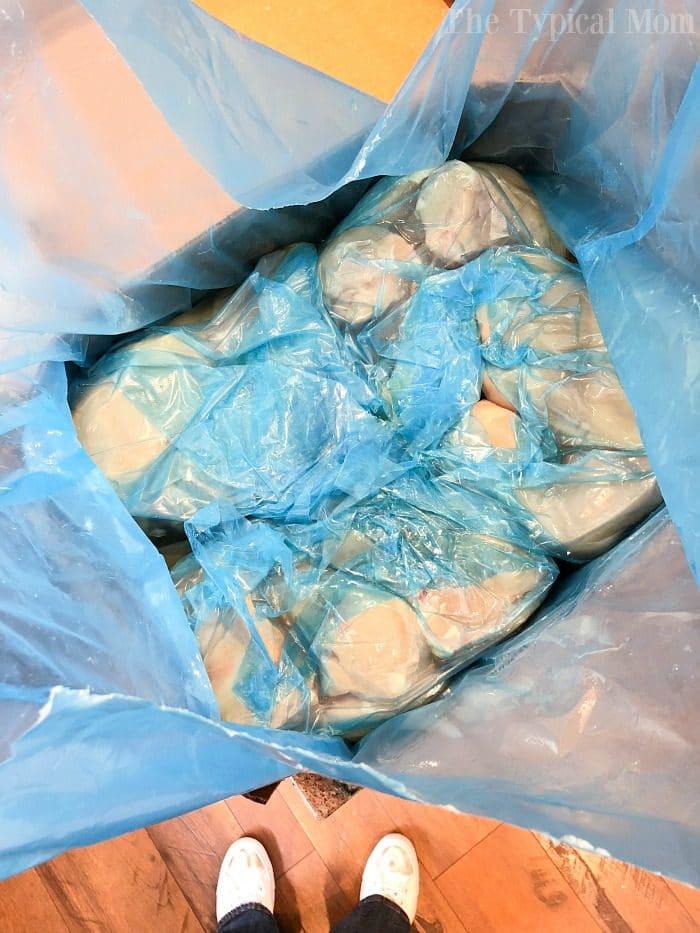 The trick once you buy bulk meat online or in the store is to ensure you get all the air out of each bag, and have a large enough freezer.
For the best result you can use a Food Saver vacuum sealer that gets every bit of air out, haven't jumped that hurdle quite yet but will soon for sure.
I bought freezer bags in bulk here, wrote the date on each one, and divided them up real quick before throwing them in my freezer.
When we started buying meat in bulk we just had a 2nd refrigerator/freezer in the garage and used that, but since we moved we upgraded to this chest freezer and it's been so much better!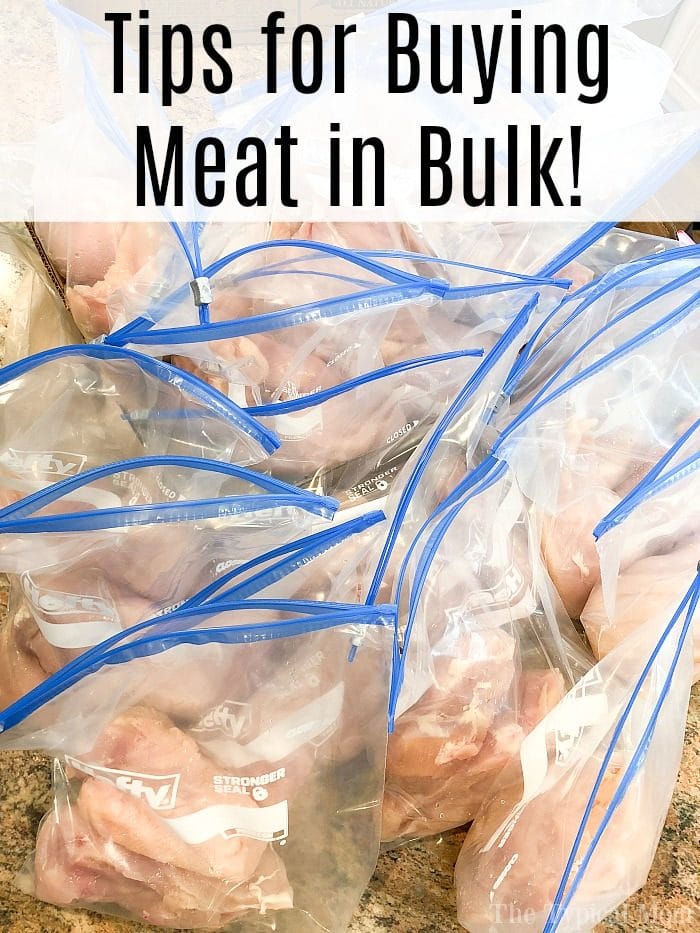 A large upright or chest freezer can save money on groceries beyond buying meat in bulk too!
When frozen pizzas are on sale you can now buy 10 and have them on hand for busy days knowing they will fit just fine.
If you're looking for more money saving tips here's one on how to save money on groceries.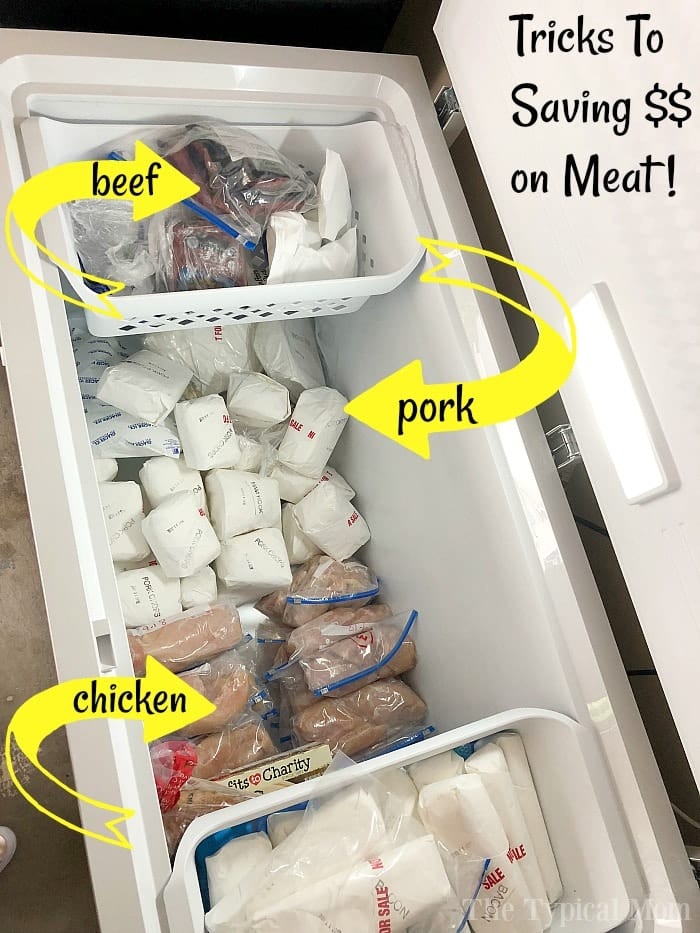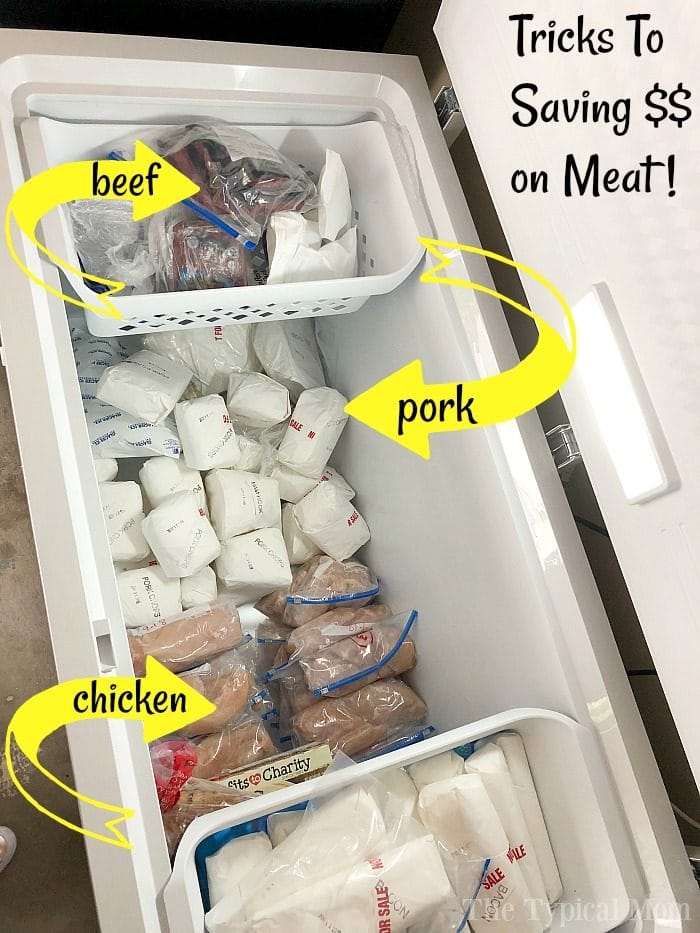 For more easy recipes, tips and free printables please LIKE The Typical Mom on Facebook and follow me on Pinterest! You can also sign up for my free weekly newsletter which is packed with goodies I know you'll love. 😉
Visit The Typical Mom's profile on Pinterest.