Cooking a frozen roast in Instant Pot is possible! You can still get a tender, flavorful, piece of beef even if it is not thawed out beforehand. Here's how!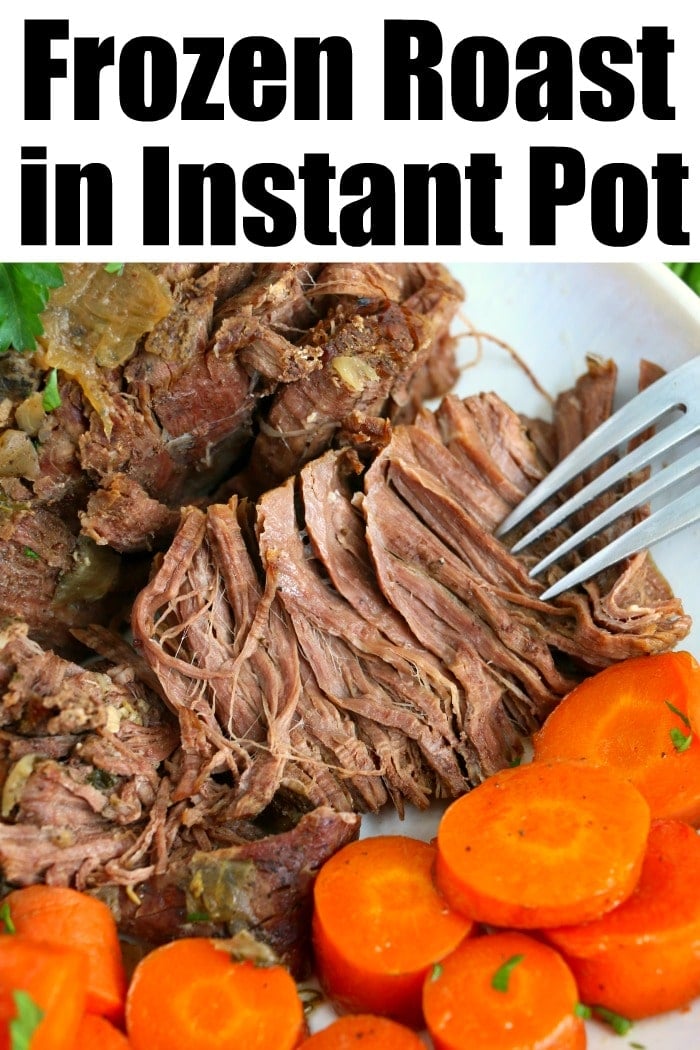 Here we share how to cook a Frozen Roast in Instant Pot here! Yes sometimes I forget to defrost dinner so this is a helpful Instant Pot recipe hack to keep on hand. (affiliate links present, originally published 3/20)
If you need easy Ninja Foodi recipes, you can use that pot instead.
If this has never happened to you, bravo.
I of course have made a pressure cooker roast before, when I have bought it fresh, but straight out of the freezer requires different directions.
You can use the same recipe below if you're using a Crockpot Express or as a easy Ninja Foodi recipe too.
If you're staring at your rock hard piece of beef right now looking for a little guidance, do not fret!! Dinner will come out perfectly and nobody will know you had a forgetful moment. 😉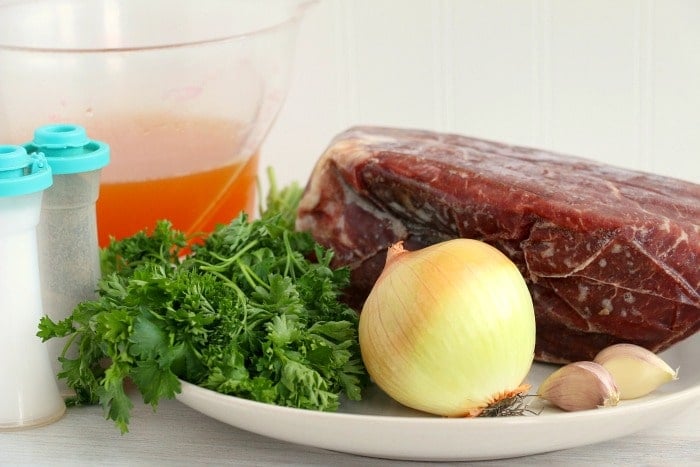 This is what you'll need to make a perfectly cooked Instant Pot frozen roast
3 lb. beef roast is what was used here

What is the best cut of roast? A boneless chuck roast is the best choice for pot roast, quite inexpensive too.

It has outstanding marbling which makes the beef tender and juicy when cooked in any method really.

Onion
Carrots

quartered red potatoes could be added

Minced garlic
Salt and pepper

onion powder and garlic powder could be added as well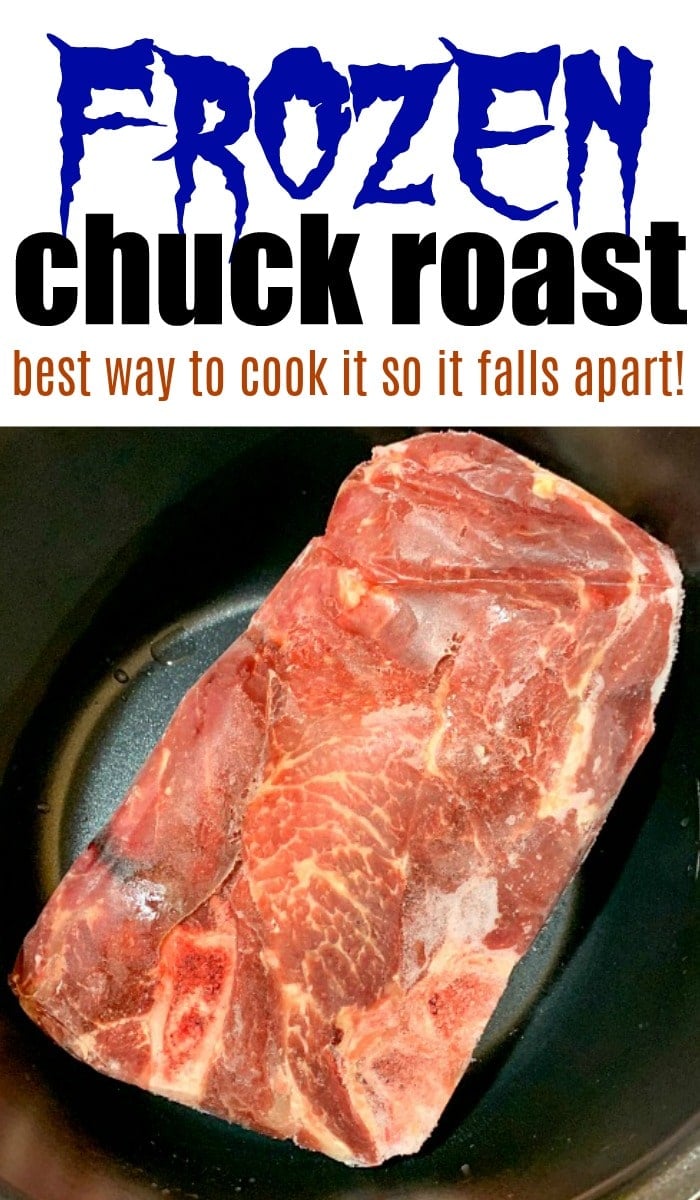 I actually wasn't so sure this would even work and wondered can you cook a frozen roast and still have it come out tender? The answer was a resounding YES!
Beef, pork, and lamb roasts are safe to cook in the frozen state. The only real big difference is that the cooking time.
Frozen meats typically take 50 percent longer in the oven, but not in a pressure cooker.
That's the game changer. Now you can cook an Instant Pot chuck roast from fresh or a frozen state and have it come out perfect! Of course if it's already defrosted it is quicker to do. Follow our directions Instant Pot beef roast recipes if it's fresh.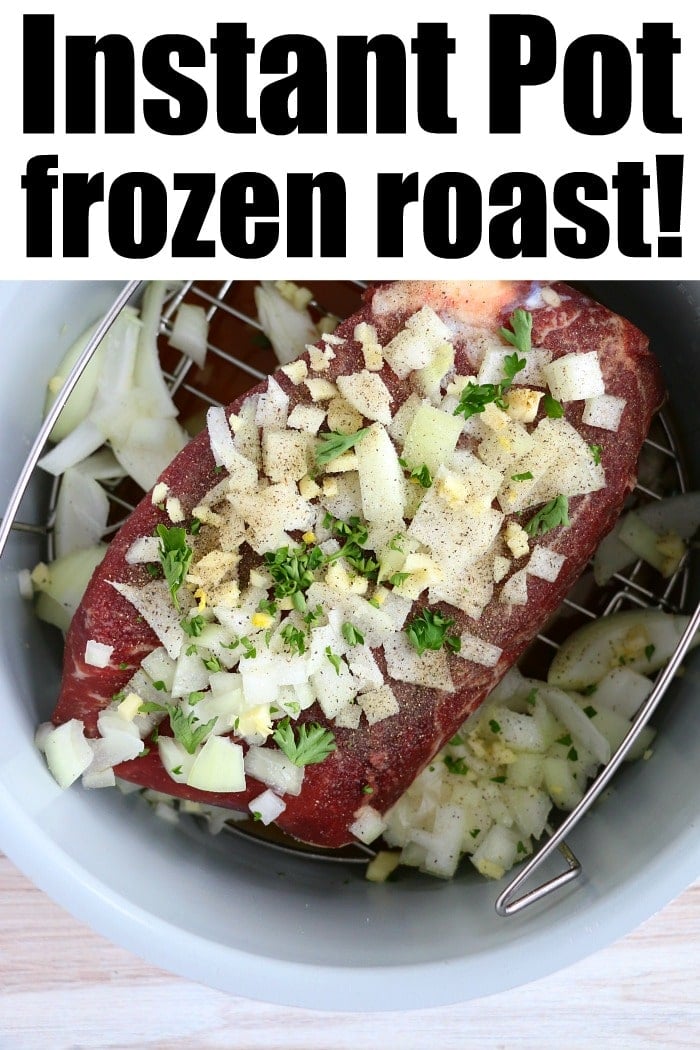 What is one of the most important steps when making an Instant Pot pot roast, or any large piece of meat?
When you cook a roast in a pressure cooker it is best to do a natural release of the pressure once the cook time is up.
Following this rule will keep your meat much more tender and almost fall apart when touched with a fork.
If you choose to quick release it instead a lot of the moisture inside will escape and you won't achieve the outcome you want.
This step may take about 20 minutes to 30 minutes to complete, beyond the cooking time, but is well worth it.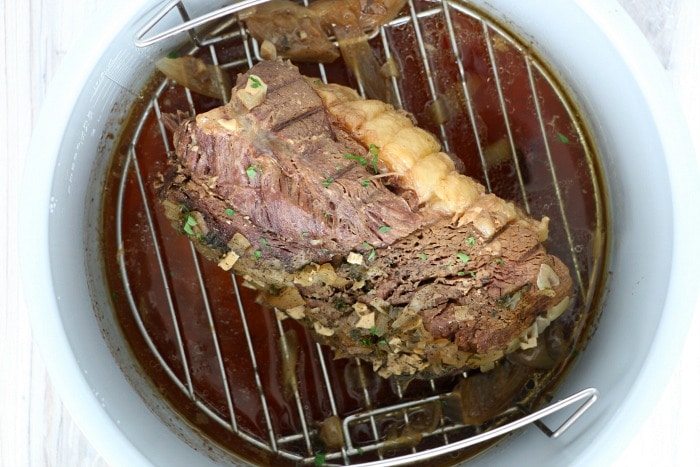 These are the steps to follow when making this pot roast recipe here.
First of course you will want to unwrap your piece of protein. Since it is frozen you won't be able to trim it at all but that is okay. For this type of meat you really want the fat in tact because it will make it more moist in the end.
Place a trivet inside your pot with your frozen roast on top.

remember that timing below is based on a 3 lb. piece
if yours is much larger than that you may need to increase a few minutes on high

Pour your broth or stock on top followed by a sprinkle of your sliced onion.
Sprinkle any and all seasonings you like on top now.

the ones we have are just suggestions, if you usually use your own mixture go right ahead and load it on.
you can also just use these ready made roast seasonings in a packet. These were originally made for the slow cooker but work great using this method as well.

Close lid and steam valve and set to high pressure for 90 minutes followed by a natural release.
Lift meat out, allow to rest for 10 minutes before slicing or shredding.
If you want to make a gravy out of the drippings, follow our Instant Pot gravy directions.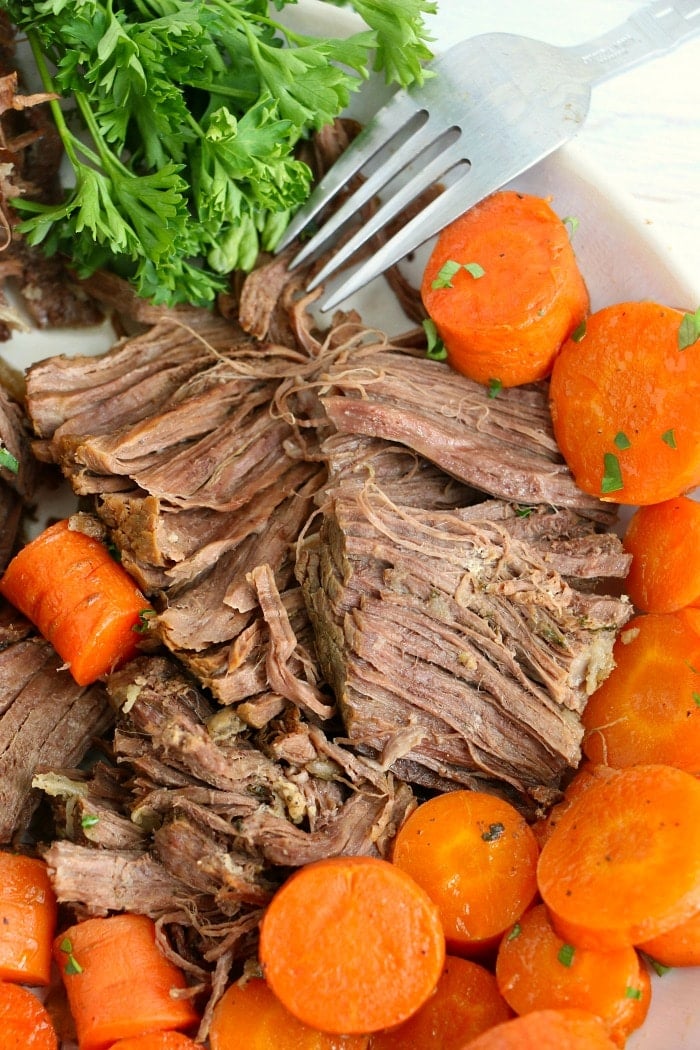 Want to try this another time defrosted? How long does it take to thaw a frozen roast?
You can put your frozen roast in the refrigerator for one to three days to soften. If it is rather large it may take up to five days at the most.
A 4 pound piece takes about 24 hours to thaw, but sometimes longer so plan for a little over a day when you're meal prepping.
How do you defrost meat? To defrost a piece of beef in cold water, do not remove the outside packaging. Be sure it is on there airtight or put it into a freezer bag free of leaks. –
Then, just submerge the meat into a bowl or sink full of cold water.
Make sure to change the water every 30 minutes so that it continues to thaw.
Small packages may defrost in an hour or less whereas a 3-4 pound roast may take 2 to 3 hours
Then you could follow one of our easy Instant Pot beef recipes.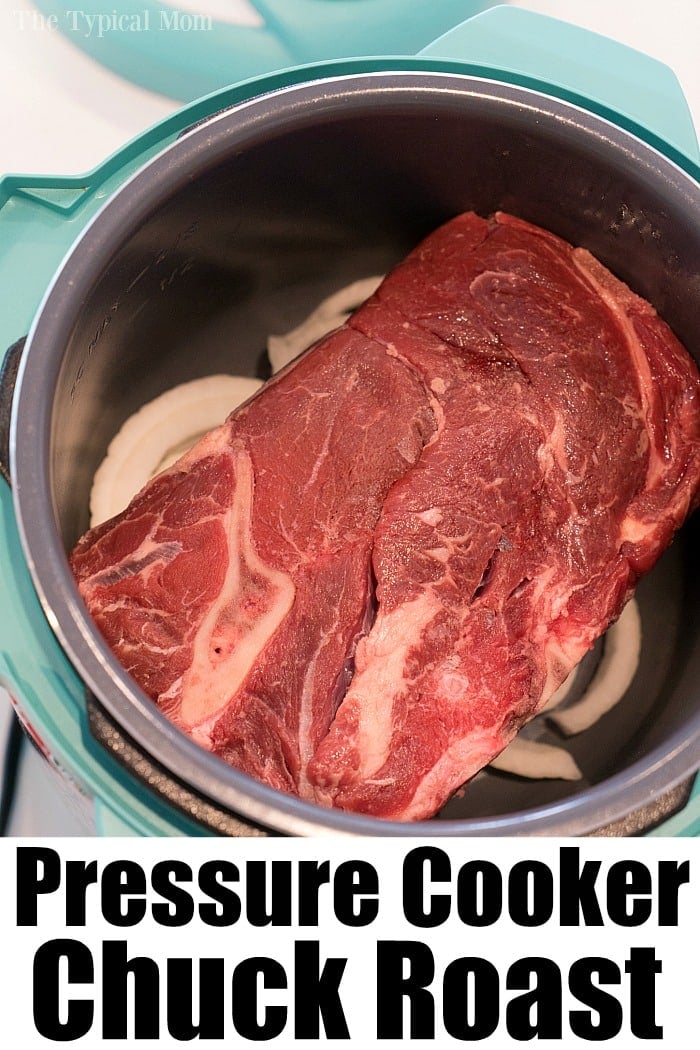 Sliced or shredded it is always a great meal option because there is a multitude of ways it can be served like:
There are a lot of different chuck roast ideas out there you can try, most are not able to accommodate a frozen piece though. That is where these directions come in handy.
We now have frozen pork roast Instant Pot directions too!
If you want to make Instant Pot carnitas, seen below, follow this recipe but the timing below if it's frozen.
What goes in a roast dinner? Well that is subjective depending on whom you ask really but typically the favorites remain the same.
Sunday roast typically consists of roast beef, potatoes, and a variety of steamed vegetables.
We add a TON of vegetables and onions in our Crockpot roast recipe here.
If it is defrosted you can marinate it like we did with our air fryer roast recipe and it comes out packed with flavor I tell you.
Want to try another method with a thawed out piece of meat? Try our marinated air fryer roast recipe and there's another one below too.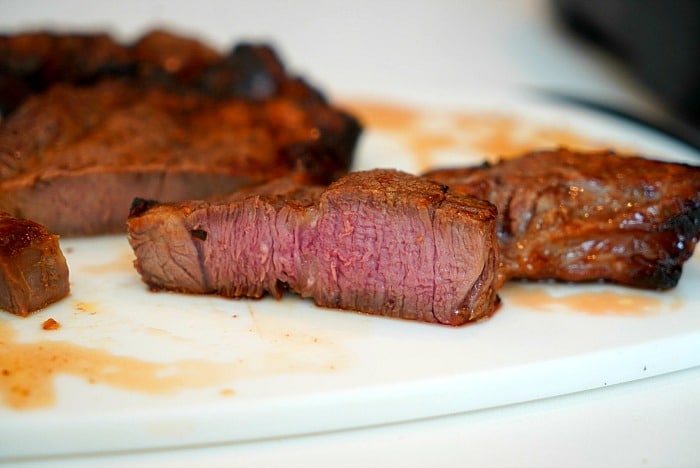 I wasn't so sure how good frozen roast in a slow cooker would be until I tried it. Yes that is totally possible too! If you want to try another method some day give this one a whirl with veggies and thick gravy.
How long is leftover roast beef good for?
If you store it properly in airtight containers or freezer bags, cooked beef roast will last for 3 to 4 days in the refrigerator. You can make an Instant Pot casserole with it, or dice it up into a batch of pressure cooker fried cabbage.
If you know you won't eat it all before then, you should freeze it in covered containers free from leaks or wrap tightly with aluminum foil or freezer wrap.
Need instructions on how to cook frozen chicken in the Instant Pot too? We have it!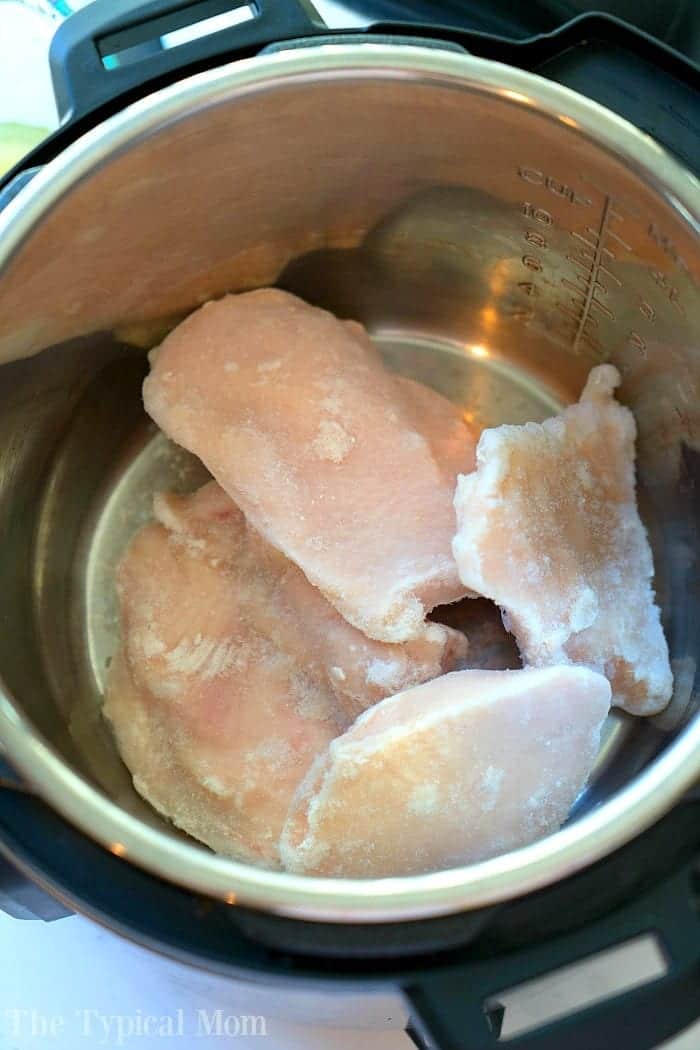 Ready to take your pulled beef to the next level once it is defrosted? Make it into Instant Pot BBQ beef like we did here!
Either way they turn out fabulous paired with a vegetable and starch of some kind.
Want to see a few of my favorite things that I am totally obsessed with?? Take a peek and see how many you might already have…twinsies!
Looking for more easy family recipes and tips? LIKE The Typical Mom Facebook page?
Then sign up for my free newsletter, and follow me on Pinterest! 😉
***** If you LOVED this recipe give it 5 Stars below and let everyone know what you thought about it. 😉
Frozen Roast in Instant Pot
Cooking a frozen roast in Instant Pot is possible! You can still get a tender, flavorful, piece of beef even if it is not thawed out beforehand. Here's how!
Instructions
Put trivet inside pressure cooker with your frozen roast on top.

Pour broth over the top, sprinkle in onions and put any and all seasonings you like on top of your meat.

Close lid and steam valve and set to high pressure for 90 minutes followed by a natural release.

If the weight of your roast differs, adjust by 10 minutes per pound.- 2 lbs = 80 minutes- 4 lbs = 100 minutes

Remove meat and allow to rest if slicing, or remove trivet and shred right in pot with liquid. If you want to thicken liquid, remove meat, set to saute and in a small bowl whisk a few tbsp of cornstarch with some of your hot liquid. Pour that in, stir and allow to thicken, pour this on top when serving.
Nutrition Facts
Frozen Roast in Instant Pot
Amount Per Serving (3 oz)
Calories 173
Calories from Fat 45
% Daily Value*
Fat 5g8%
Cholesterol 78mg26%
Sodium 2549mg111%
Potassium 436mg12%
Carbohydrates 2g1%
Protein 30g60%
Vitamin C 62mg75%
Calcium 388mg39%
Iron 3mg17%
* Percent Daily Values are based on a 2000 calorie diet.