Here's how to make pork, chicken or beef Instant Pot tacos in no time at all! Perfect pressure cooker dinners that are cheap and full of flavor. One uses Instant Pot carnitas for the meat. Loaded into a tortilla with slices of avocado, salsa, sour cream and lettuce is a great dinner.
Enjoy tender as ever or use your new lid to crisp for air fryer tacos when done! Feeds a crowd and is always a hit with a crowd for Super Bowl or on the weekend.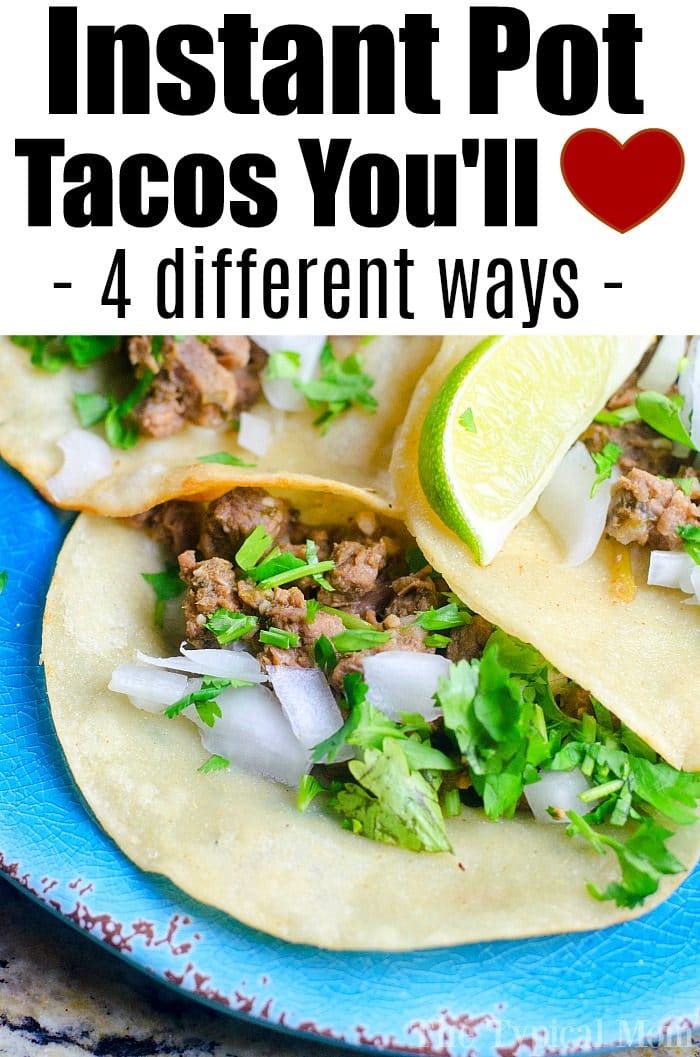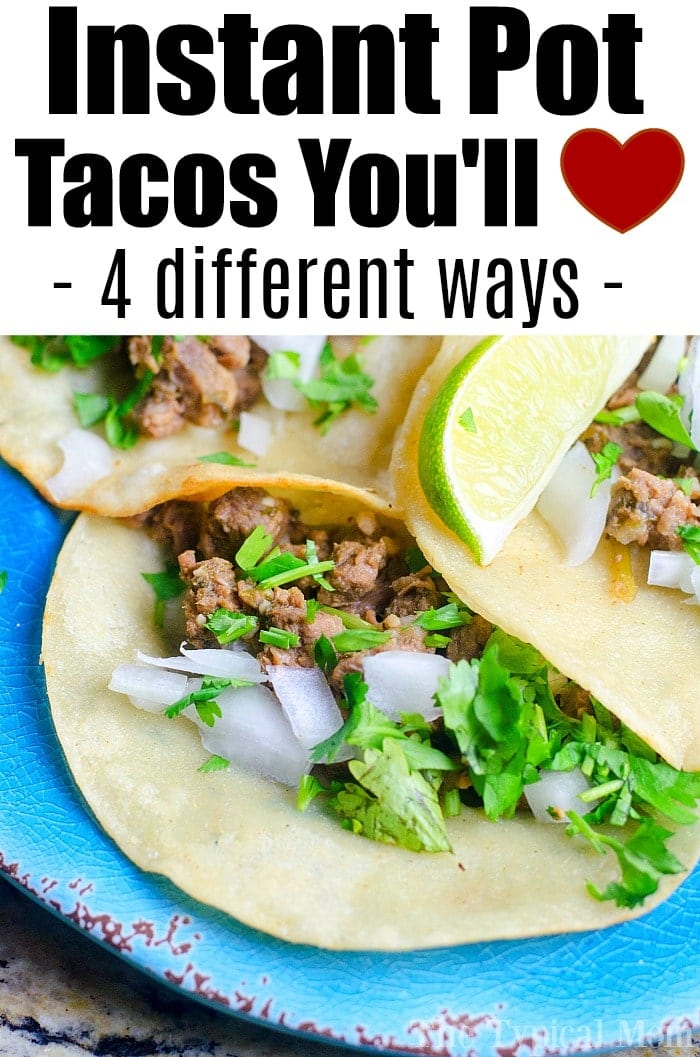 Ready for Instant Pot tacos 7 different ways for taco Tuesday??!! You'll be covered for the whole month with all of these Instant Pot recipes for sure. Using pork, beef, fish or chicken and your favorite toppings you're in for a real treat with these. (originally published 10/18, affiliate links present)
Instant Pot Tacos Shredded Beef
We have an easy carne asada tacos, healthy salsa chicken tacos, barbecue, Hawaiian tacos and of course how to make taco meat in your pressure cooker too. Load all of them up with tons of toppings and enjoy!
There are a ton of ways to make beef so tender it can be shredded. You can use our french onion pressure cooker roast or the basic instructions for pressure cooker shredded beef. It doesnt matter what brand of machine you have either. A Ninja Foodi works great as well, you will use the lid that isn't attached for that one.
FIRST – You should sign up for my free newsletter so you get new posts emailed to you twice a week and never miss out on anything! Now let's start with a few basic tips:
Make sure to Bookmark our InstaPot recipes page. We add new ones each week!
Then PRINT this —–> Instant Pot cooking times cheat sheet that will help you understand how long meat, vegetables and beans take to cook in your pressure cooker.
For reference, this is the pressure cooker I have (a 6 quart) and use for all recipe creations.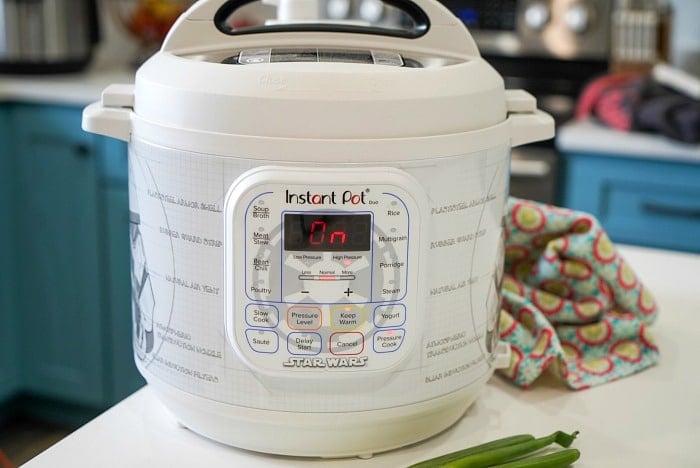 Ninja Foodi Tacos
If you do have a Ninja Foodi you have another option at the end. You can pressure cook the meat so it becomes fork tender. Then wrap that in your tortillas with fillings of your choice, spray with olive oil and air crisp with the other lid.
Below in the printable recipe card we will explain how to make our beef carnitas. Then throughout this pot I will share and explain several other ways including shredded chicken like you see here. You can use pork or beef diced to make carnitas too, really any sort of meat works but these are the two we've tried.
Your best bet no matter what meat you use is to first cut it up into chunks so each piece gets really nice and tender. This way it will fall apart with a fork I tell you once it's done. I mean you could even cook from frozen!! That is right, frozen chicken in Instant Pot can be cooked in under 20 minutes flat. Toss with sauce and you're good to go.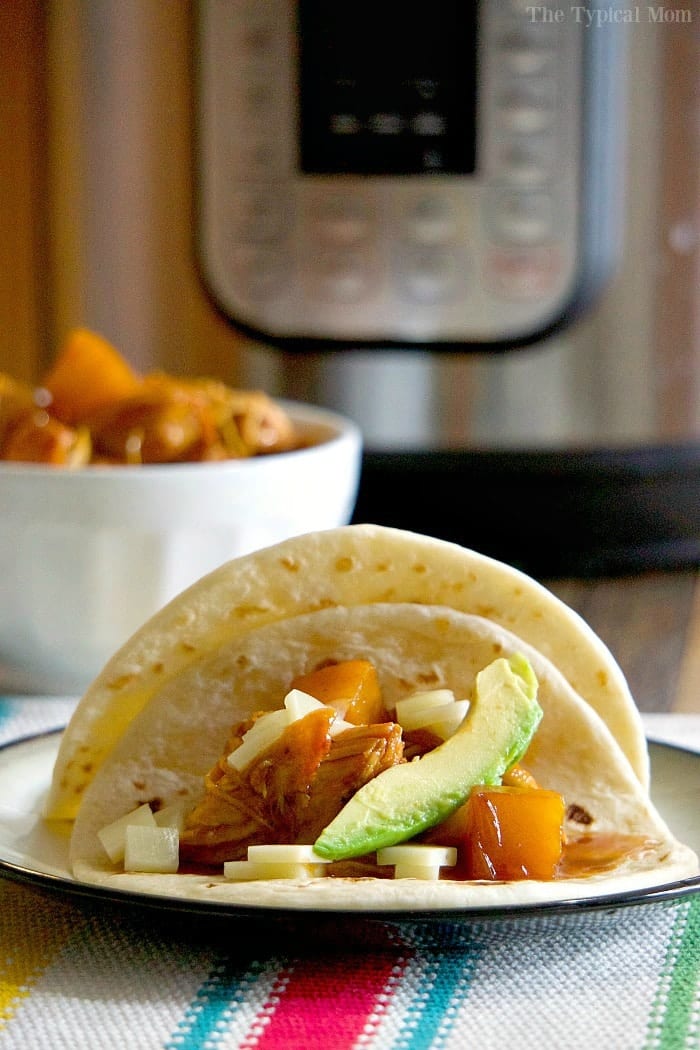 Instant Pot Taco Recipe
Ok so these aren't just for taco Tuesdays y'all. I mean yes we do have those weekly and make one of these versions on a regular basis but you are allowed to make them on like a Thursday too. 😉 This is why we love them cow tongue tacos and beyond because:
They are inexpensive to make
No taco shells are even necessary

many times we make them into taco bowls
or you can roll it up and make air fryer flautas

You can add tons of toppings, or the kids can leave them plain
Pressure cooker tacos offer tons of flavor since they're cooked under high pressure. We feel the flavors are intensified because most of the time your proteins are cooked right in the sauce.
They take less than 30 minutes to make including prep time and the time it takes to reach pressure
For the most part Instant Pot tacos are pretty healthy!
Here are our Instant Pot carnitas once everything is thrown into the pot…literally this is a dump and go meal with tons of flavor!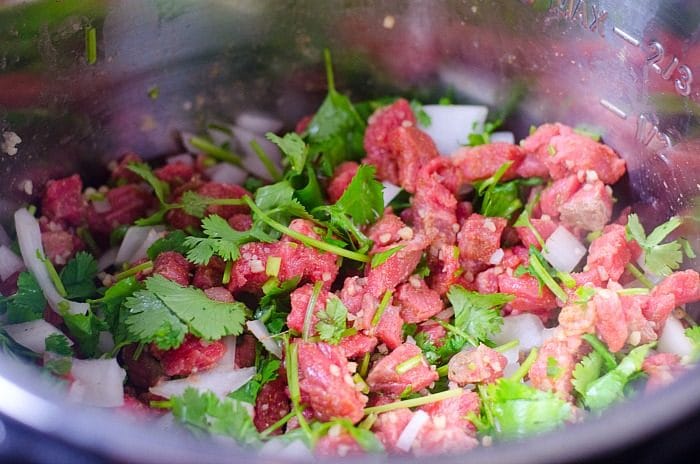 Pressure Cooker Tacos
Let's talk about having people over and creating a bar full of all the things. If you have a bunch of people over you could use your IP and then have another low and slow pot where you make Crockpot taco meat too. You could make poultry in one and beef in the other for a choice. Extras you can add into your mix to enhance the flavor to bold.
Fresh cilantro – jarred dry cilantro
Cayenne pepper – jarred dry Sriracha
Fresh limes – lime juice
Fresh minced garlic – jarred minced garlic (seriously, I almost always use jarred because I'm just lazy to chop it up & I buy bottled because I use so much of it)
I wouldn't substitute minced dried onions for fresh onions but these are decent substitutions. Just in case you have everything and realize you forgot cilantro you can have jarred cilantro on hand too. Use what you have is my philosophy. Ready for a quick cooking time meal y'all???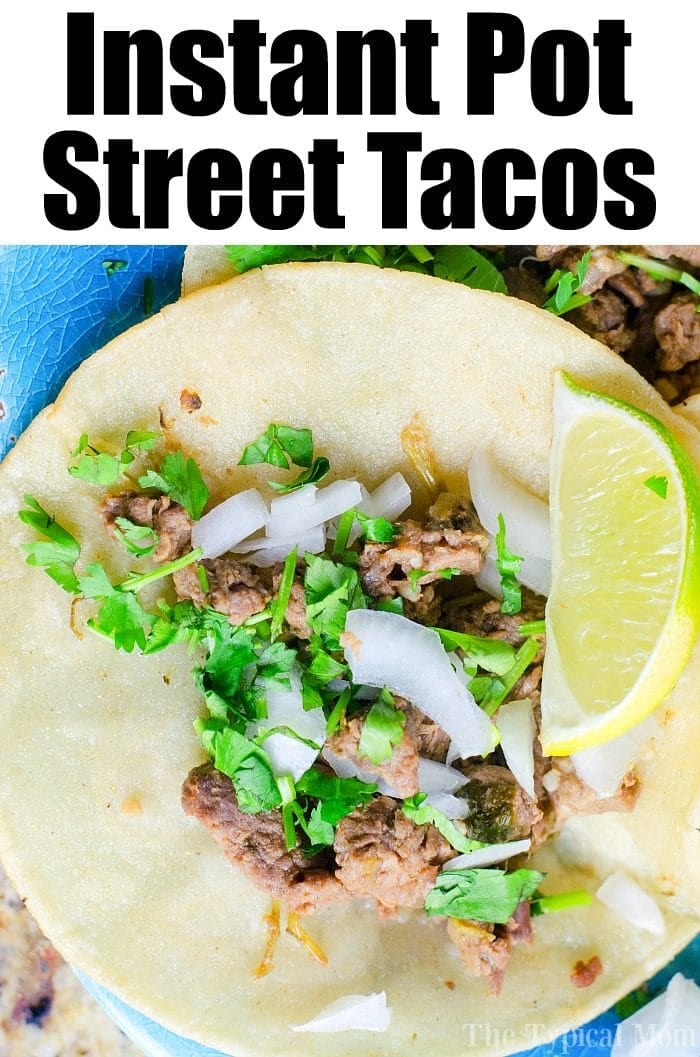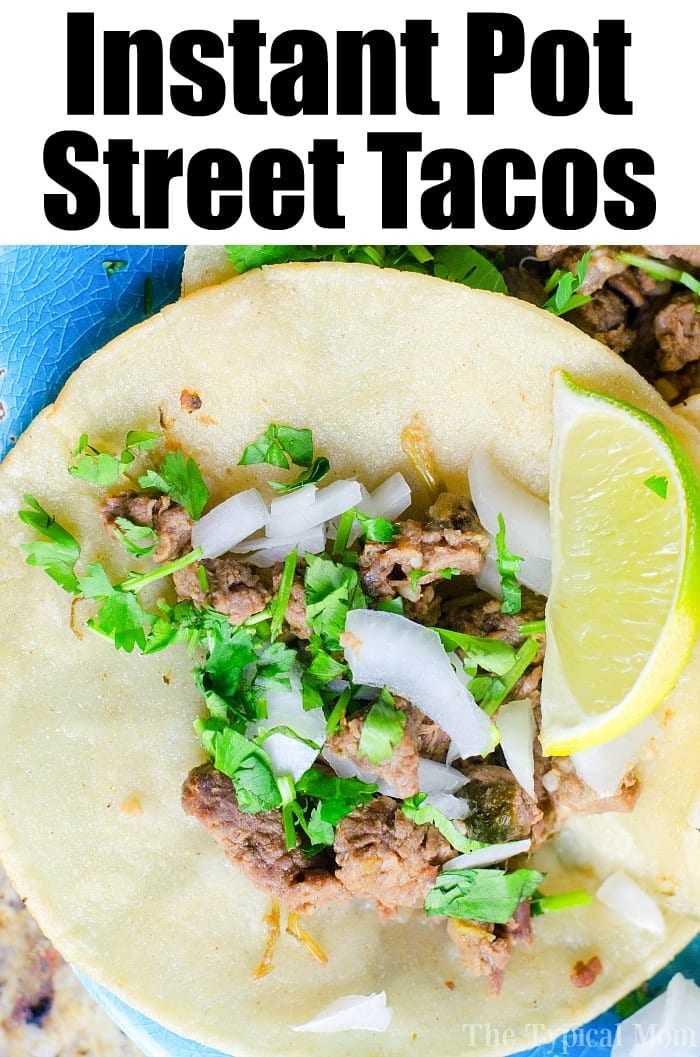 Beef Instant Pot tacos
Typically you are going to go for shredded or ground beef right? With that said don't go super lean. 80/20 is best because with a little bit of fat comes flavor! When it is super lean it will be more bland. Now if you are going to smother it in sauce or seasonings then I guess that is better but still…….
Instant Pot – I have the one you see at the top of this post.

It's plenty big to feed the 5 of us. I share here my favorite Instant Pot accessories to make all my recipes here too

Beef- stew meat or I have cut up beef bottom round steak into small strips too if need be
Fresh limes
Cumin – I have this one
Fresh cilantro
Cayenne
Onion
Homemade tortillas are great
If you want to add toppings this is what we like:
Avocado – our favorite
Raw onion
Cheese
Salsa
This is how to air fry taco shells if you want to make your own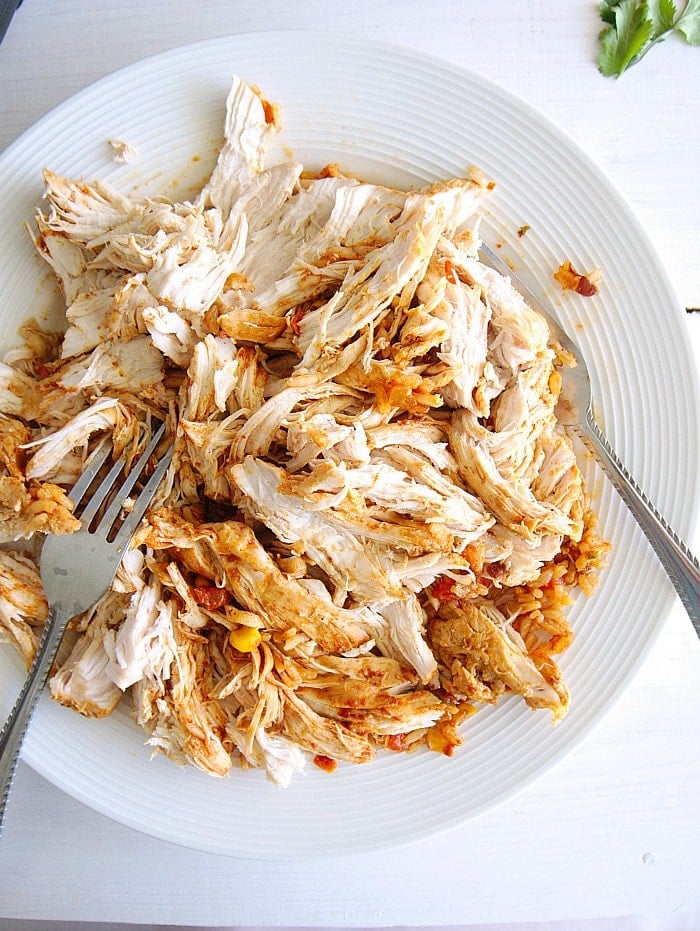 Instant Pot Chicken Tacos
If you prefer Instant Pot chicken tacos we have a few options for you too! Yes these will be lower in fat and with this machine you really can get the connective tissues to break down easily so it is OMG so good. The picture you see here are our 3 ingredient Instant Pot salsa chicken tacos, use chicken broth for more flavor.
Our Instant Pot shredded chicken is really good inside tacos too, with a barbecue flavor. You can make this in your slow cooker too but that literally takes all day. Ain't nobody got time for that!
You can make these Instant Pot pork tacos too!
Even more options for Instant Pot recipes in the way of tacos are below the recipe card too! Most of them you just throw everything in, quick release and serve 'em up with lots of toppings.
Want to see a few of my favorite things that I am totally obsessed with?? Take a peek and see how many you might already have…twinsies!
Looking for more easy family recipes and tips? LIKE The Typical Mom Facebook page?
Then sign up for my free newsletter, and follow me on Pinterest! 😉
***** If you LOVED this recipe give it 5 Stars below and let everyone know what you thought about it. 😉
Instant Pot Tacos
Here's how to make pork, chicken or beef Instant Pot tacos in no time at all! Perfect pressure cooker dinners that are cheap and full of flavor.
Ingredients
Instructions
Put small pieces of beef into your Instant Pot along with your onion and squeeze 3 limes inside (make sure seeds don't go into pot).

Sprinkle in all of your seasonings and stir so all meat and onions are well coated.

Chop cilantro bundle, tops, and add into your pot. Stir.

Close lid and steam valve and set on high pressure for 20 minutes.

Do a quick release and serve inside of small corn tortillas with more raw onion and cilantro if desired, squeeze fresh lime on top of Instant Pot taco.

Can heat some oil on your stove and lightly fry your tortillas prior to filling them if desired.
Nutrition Facts
Instant Pot Tacos
Amount Per Serving (3 oz)
Calories 299
Calories from Fat 198
% Daily Value*
Fat 22g34%
Cholesterol 80mg27%
Sodium 78mg3%
Potassium 356mg10%
Carbohydrates 2g1%
Protein 19g38%
Vitamin A 195IU4%
Vitamin C 1.9mg2%
Calcium 32mg3%
Iron 2.8mg16%
* Percent Daily Values are based on a 2000 calorie diet.
Instant Pot Fish Tacos
If you love fish tacos use the recipe for this Instant Pot tilapia and make those too!
If all you have are frozen chicken so you can still pressure cook tacos in a jiffy. Add some taco seasoning for even more flavor!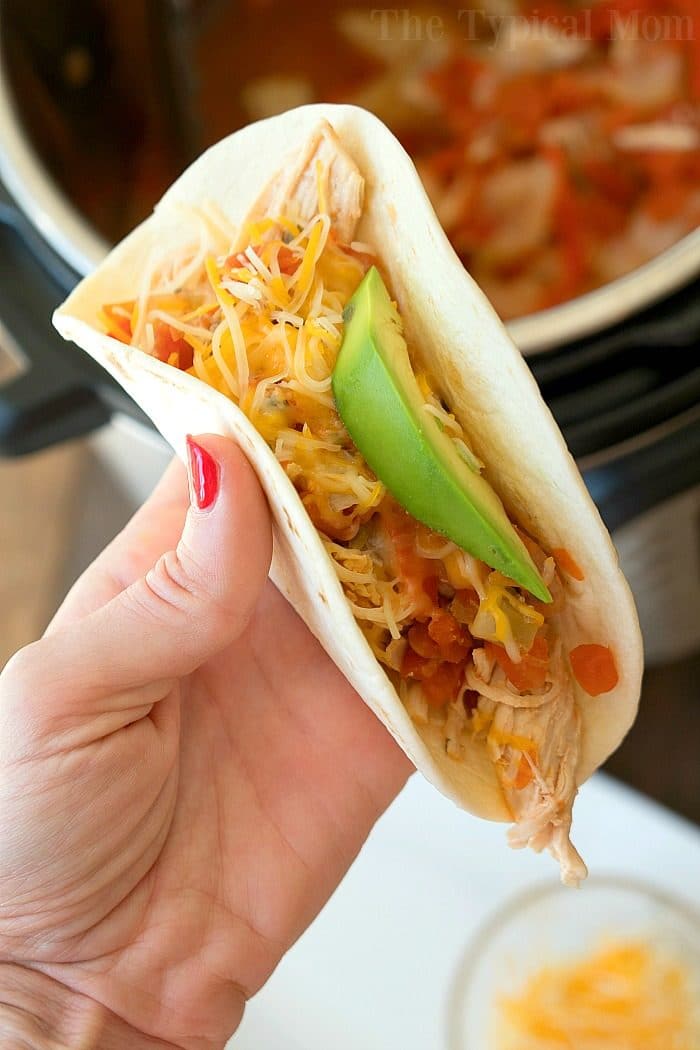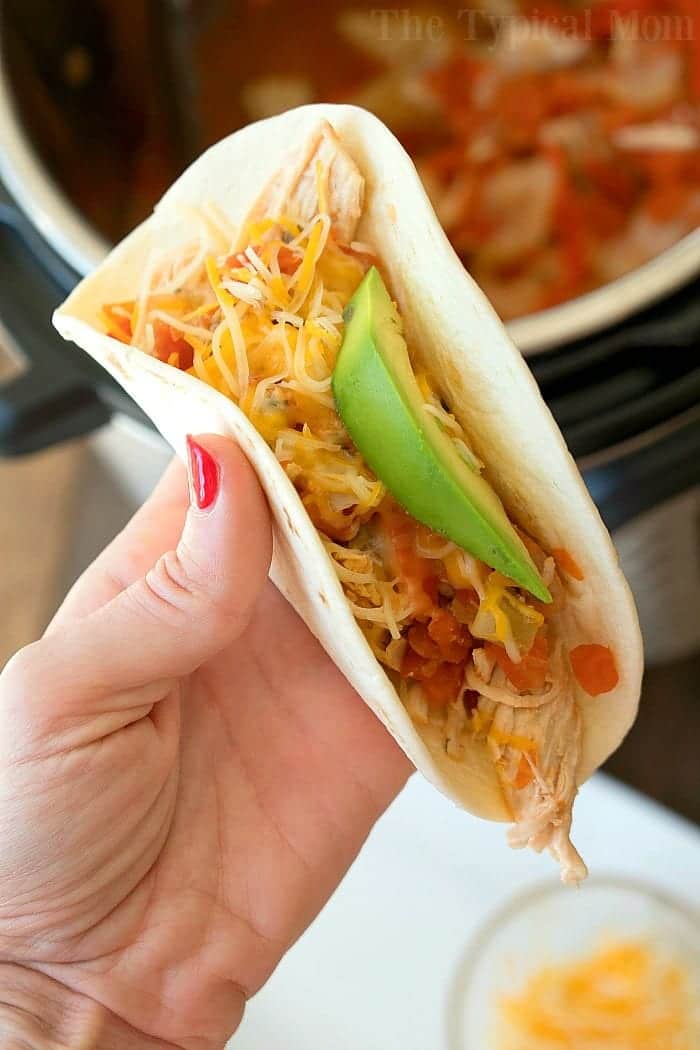 Pork Instant Pot tacos
Our favorite is to use a center cut pork loin or pork tenderloin and make this Instant Pot Hawaiian pulled pork. Once it's shredded in this sauce goodness then put it in small tortillas or others can put it on small slider buns.
If you love an Asian twist on tacos make this Instant Pot pulled pork recipe. It is sweet with a bit of heat. Throw that in small tortillas!
Here's an Instant Pot pork shoulder recipe if that is the cut of meat you choose. Comes out amazingly tender in 1 hour. Makes for a terrific homemade taco inside tortillas.
If you're interested in ground beef Instant Pot tacos we have the best recipe for flavorful Instant Pot taco meat. Then make those as well with all the wonderful toppings of your choice. Add a bit of chili powder for spice or leave it mild. Top with sour cream and it will make you love tacos!!
Here's a peek at our Hawaiian pulled pork. We made them into tacos as well as served it over rice.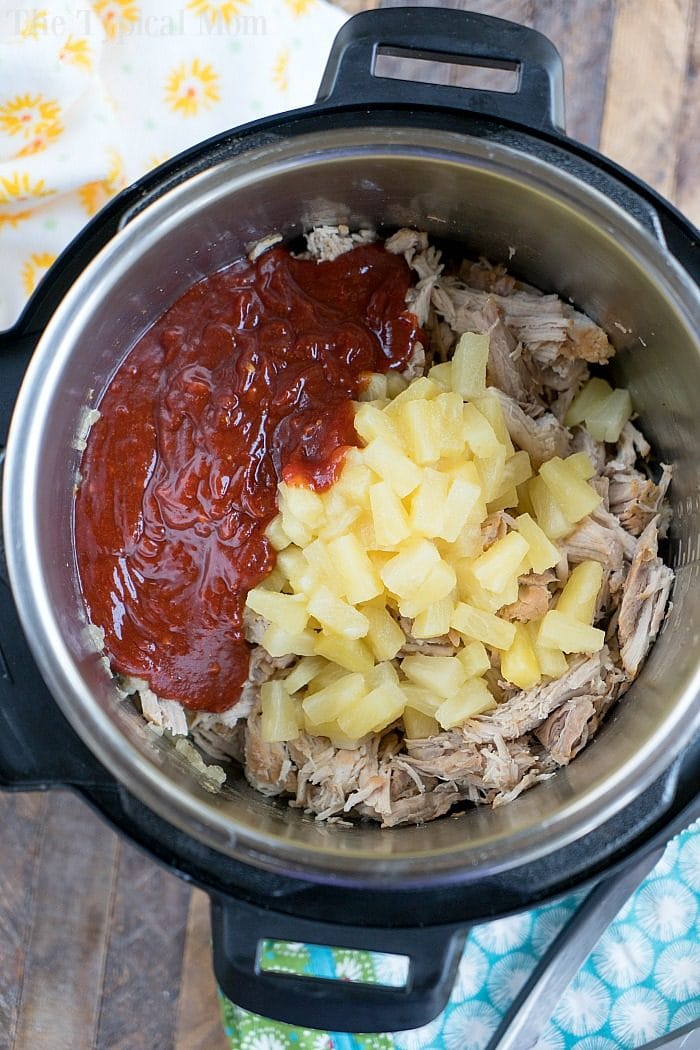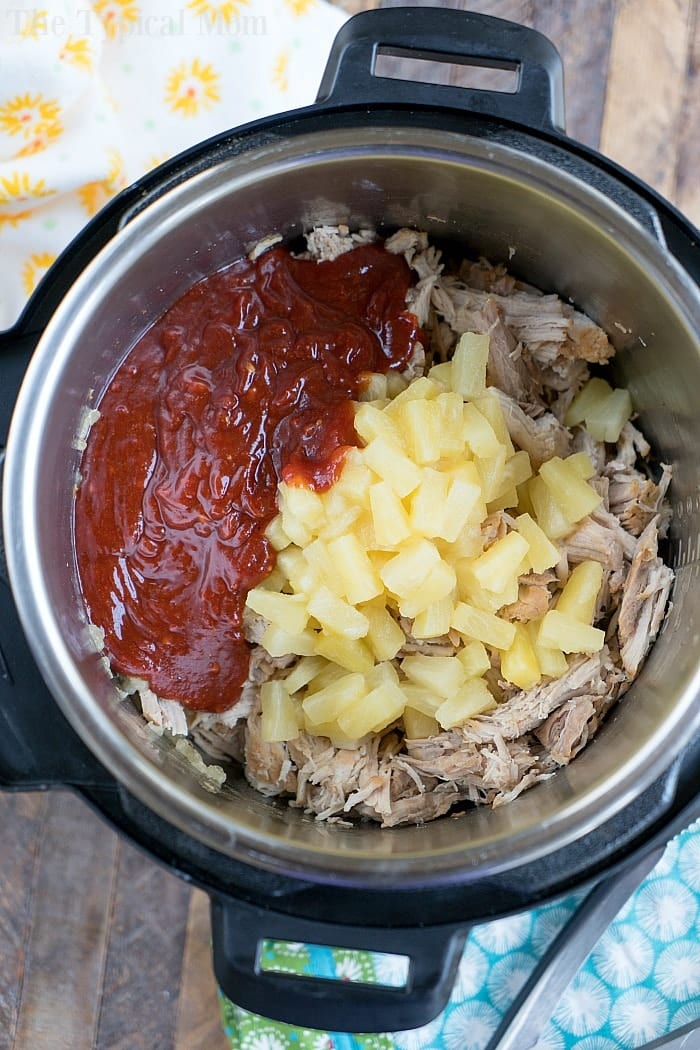 That will take us over the edge of 4 to 5 easy pressure cooker taco recipes for you!