French onion pressure cooker roast is tender with tons of flavor. Perfect Instant Pot shredded beef pot roast tacos for dinner even your kids will rave about.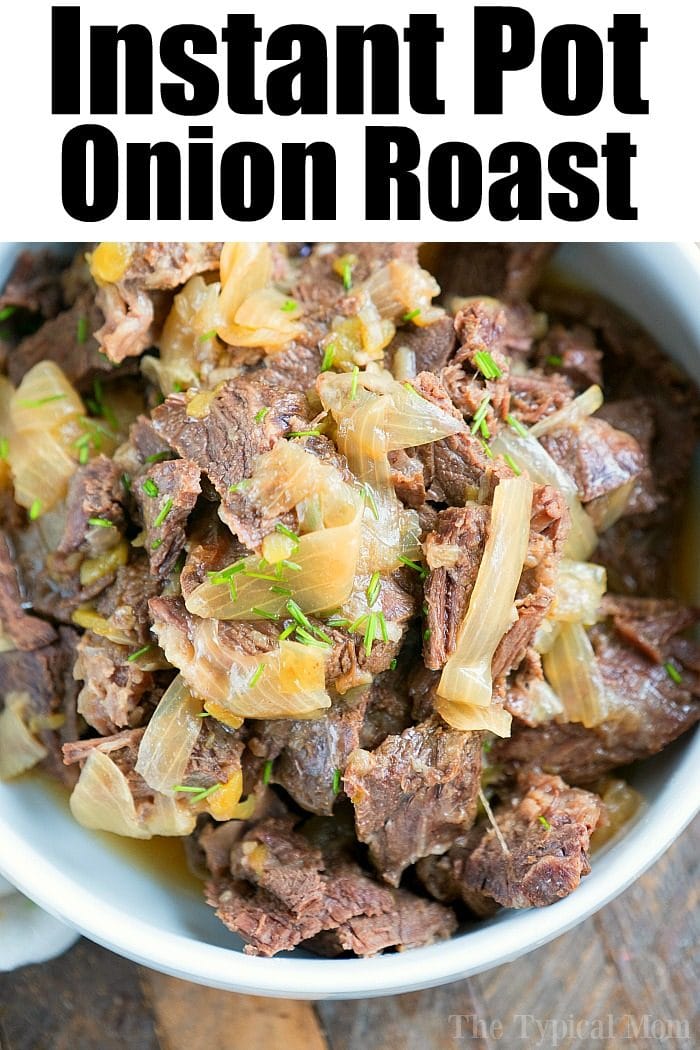 Yes we're back with more meals to add to our long list of easy Instant Pot recipes! Today we're here with what we're calling french onion pressure cooker roast. We shredded it this time and made some crazy good tacos topped with avocado that didn't last long between the 5 of us. Let us know what you think! (affiliate links present, originally published 1/18)
French Onion Instant Pot Roast
So we live in Idaho now where there are lots of farms. In this new world of ours people tend to stock up for the winter and buy half a cow, a pig, etc…
Then we can store it in a deep freezer in the garage so we're set and have to go to the store less often. Buying meat in bulk is a game changer.
FIRST – You should sign up for my free newsletter so you get new posts emailed to you twice a week and never miss out on anything! Now let's start with a few basic tips:
Make sure to Bookmark our InstaPot recipes page. We add new ones each week!
Then PRINT this —–> Instant Pot cooking times cheat sheet that will help you understand how long meat, vegetables and beans take to cook in your pressure cooker.
For reference, this is the pressure cooker I have (a 6 quart) and use for all recipe creations.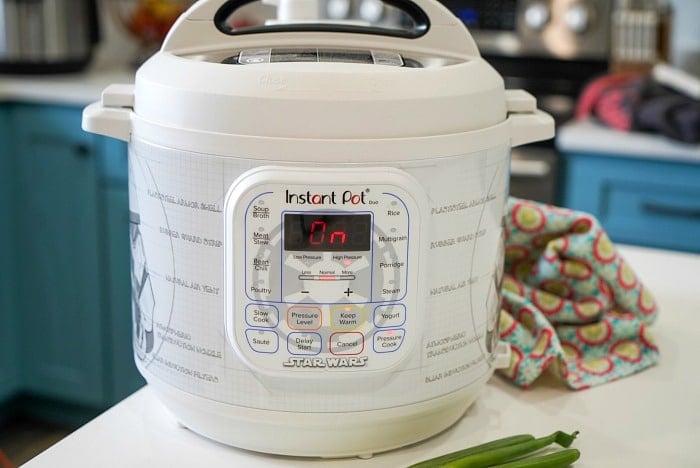 French Onion Instant Pot Pot Roast
This was a bit odd when we first got here but low and behold we did it and now we have LOTS of beef to use! I decided to add to our Instant Pot beef recipes and make a sort of shredded beef using one of the roasts we got. It turned out great!
You can make this as an easy Ninja Foodi recipe too if that is the brand you have on hand. With that machine you are going to use the lid that is not attached with the pressure cook button. High pressure is what will be used to break down the connective tissues in the meat and make it as tender as possible.
Instant Pot French Onion Pot Roast
I don't know about you but I have been using these little packets for years and years, and never to make the dip they are for. It is a nice already mixed together with bold flavors blend that gives meatloaf, chicken and now beef a lot of flavor easily.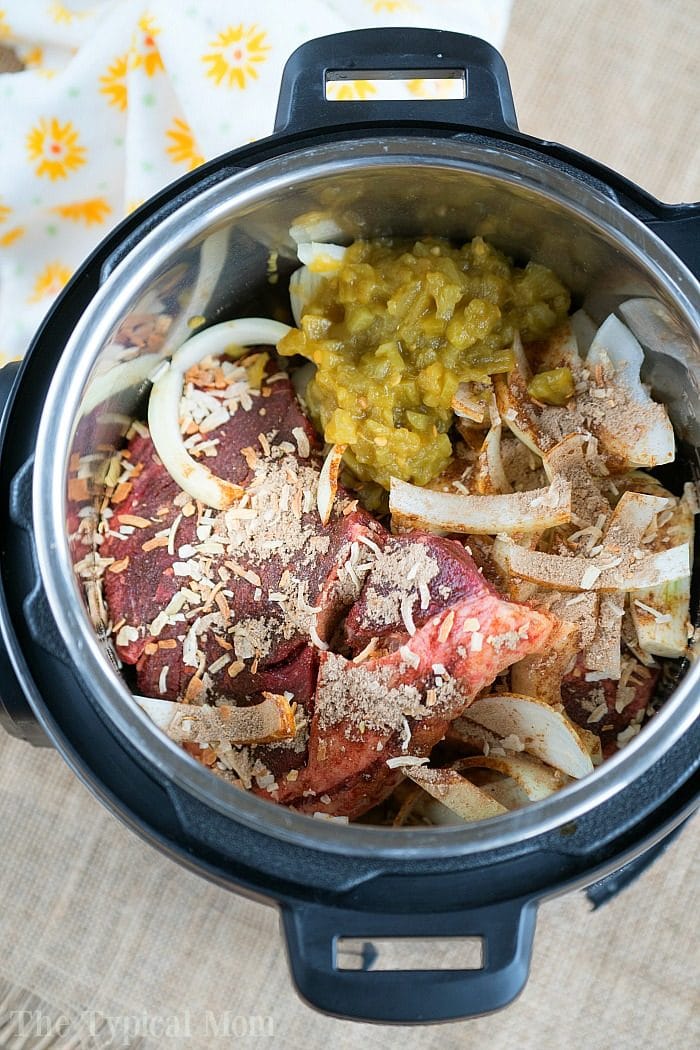 French Onion Instant Pot Roast
As always this pressure cooker roast came out super tender in no time at all as I just throw everything that sounds good together, toss, and wait until the beeper goes off to let me know it's done. Then I shred/slice the meat, put it back into the incredible juices to soak up more flavor, and get the toppings ready.
We made Instant Pot tacos out of them

Sliced roast thin
Added into small flour tortillas
Served with sliced avocado on top

Served over Instant Pot white rice
Made into a low carb meal / Instant Pot keto recipes

Served inside lettuce, as lettuce wraps
Eaten as is with a slice of avocado on top
Served inside a bell pepper sliced in half
How else would you serve this style of pressure cooker shredded beef? I mean the list is endless really so let us know if you try another that becomes your go to with your family.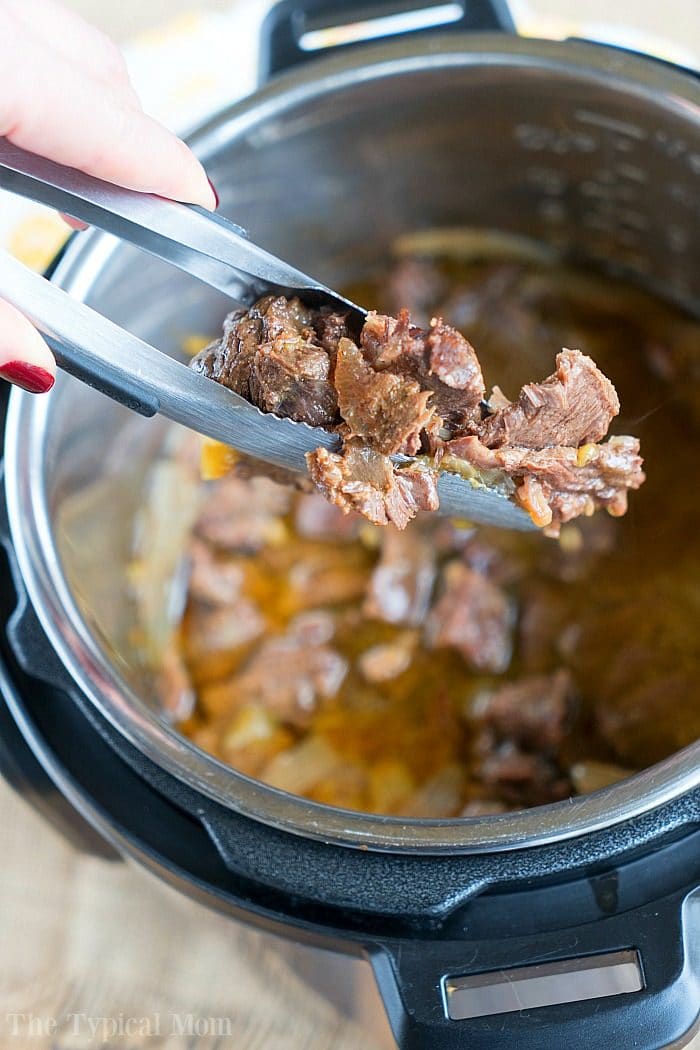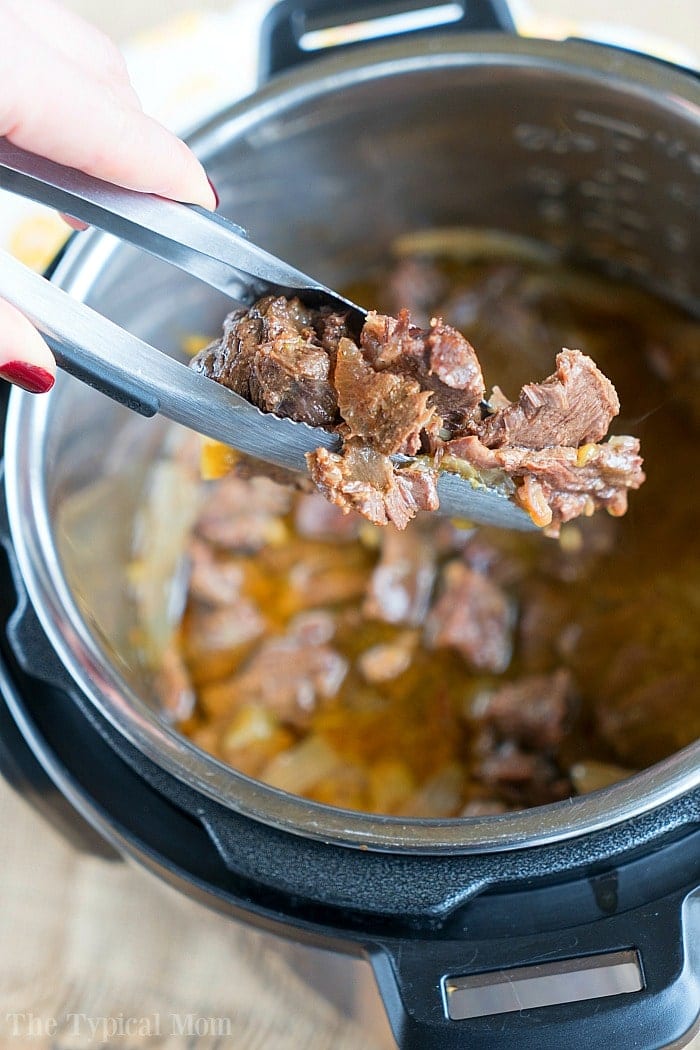 Ninja Foodi French Onion Roast
I personally like to have some sort of idea or meal schedule so I am prepared for dinner. We like to eat around 5 p.m. so I like to start early and using a pressure cooker gives me the ability to cook a large cut of meat like this one without having to spend a lot of time in the kitchen which I love.
To get a roast as tender as this one was I typically had to cook it in my slow cooker all day and I didn't always think about dinner at 9 in the morning to get it going in time.
My Instant Pot, Crockpot Express and new Ninja Foodi pressure cookers have truly changed my life and the way I cook. (yes I have all 3 and will share directions below for all)
I cook a lot more homemade meals now with this fancy thing…. You can get the same tender juiciness in just a fraction of the time vs. using your oven. Especially when it comes to large thick pieces of meat it is the way to go. You really need a lot of pressure to break down the connective tissues so it can shred easily when done.
Pressure Cooker Roast Recipe
There are many ways of how to cook a roast, this is our favorite by far. There are many different cuts out there too on a cow that work well. A bit of fat on it is good, even if you are going to trim that off when it is done. Reason being is that fat=flavor. Leave it on at the beginning to add moisture and tenderness to the dish.
Roast – we used a 2.75 lb. blade roast, chuck roast works well too
Onion
French onion soup mix packets
Beef broth, red wine or stock (french onion soup can be used as your liquid as well for a bolder onion flavor overall)
Can of diced chiles – we used mild but spicier would be good too
Toppings for soft shredded beef tacos as well if you're serving it like that, fresh avocado slices are our favorite.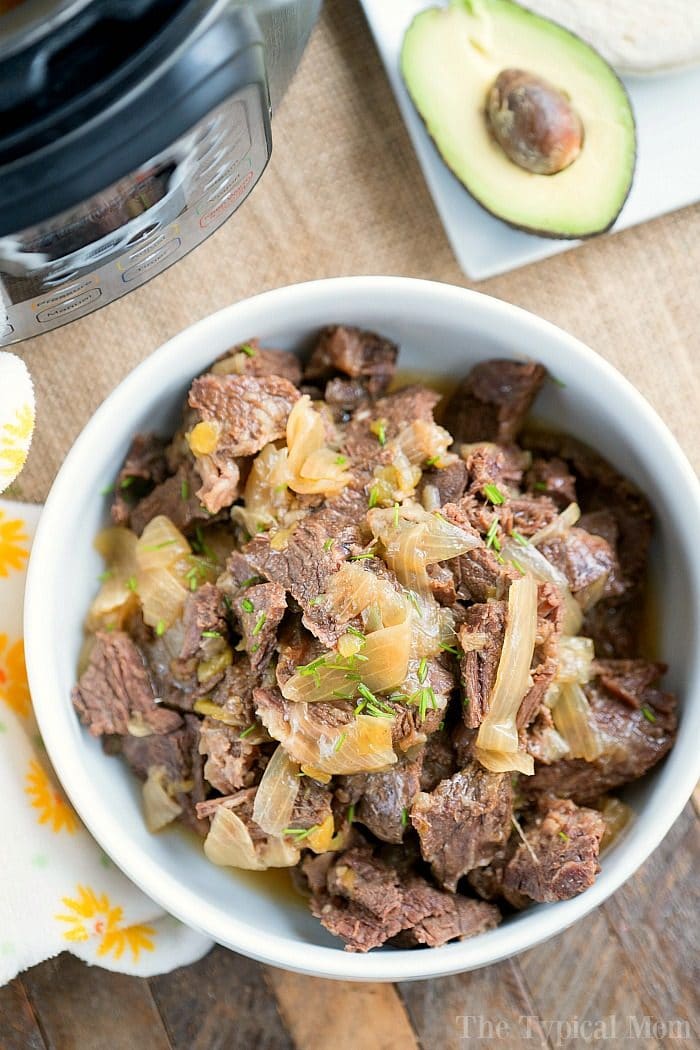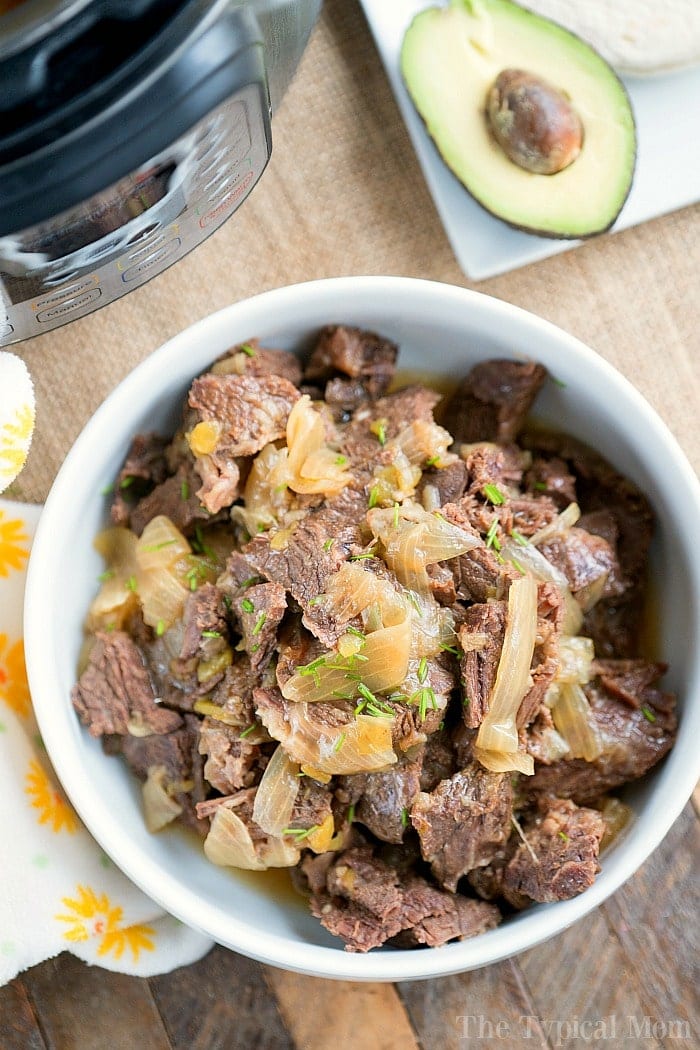 Instant Pot Blade Roast
How long does it take to cook a blade roast?
About 1 hour as a blade roast in Instant Pot under high pressure. If you are cooking it in the oven it takes much longer, closer to 2.5 hours depending on it's weight and thickness. You need time to get it fork tender to shred. Best to made with a gravy or sauce to keep it moist and add flavor.
What is a blade roast best used for?
You can cut it into smaller pieces and add it into stews or casseroles. If you want to cook it whole, slice or make shredded beef you will want to slow cook it or use a pressure cooker.
Other easy pressure cooker recipes to try after this one! Pressure cooker beef pot pie soup is great for another beef win. Again this one has small bite size pieces used so it doesn't take long to cook at all and gets really tender to melt in your mouth.
Instant Pot shredded chicken goes along with the whole shredded meat dinner thing 😉 Using poultry this one can be made into a number of different meals. Make tacos with them, serve over rice, or enjoy as a high protein low carb meal as is.
How to Cook a Blade Roast
If you're making Crock Pot Express roast directions below will remain the same but pushing the pressure adjust button, high pressure, for the designated time (or longer if your piece of meat is substantially larger). Follow rest of instructions below.

You can find more easy Crock Pot Express on my site too

Making a Ninja Foodi roast? You will follow these directions
Want to cook a dutch oven roast ? We have instructions for that method here too. We have a lot of beef to cook take a peek at our Instant Pot cooking times printable, linked above, so you can find how long each cut of meat takes to be perfectly tender.
Want to see a few of my favorite things that I am totally obsessed with?? Take a peek and see how many you might already have…twinsies!
Looking for more easy family recipes and tips? LIKE The Typical Mom Facebook page?
Then sign up for my free newsletter, and follow me on Pinterest! 😉
***** If you LOVED this recipe give it 5 Stars below and let everyone know what you thought about it. 😉
French Onion Pressure Cooker Roast
French onion pressure cooker roast is tender with tons of flavor. Perfect Instant Pot shredded beef tacos for dinner even your kids will rave about.
Instructions
Cut your roast into 4 equal pcs. if you're making shredded beef, or in 2 equal pieces if you want to slice it when it's done. (I recommend making shredded roast as it will want to fall apart)

Put meat into your Instant Pot followed by your sliced onion, can of chiles, sprinkled in packets of french onion soup mix, and then pour your broth/stock on top of everything.

Close your lid and steam valve and set to high pressure for 55 minutes. (timing good for a 2.5-3.5 lb. roast, may need to adjust if using a smaller or larger piece of meat)

Allow to naturally release for 10 minutes, then release rest of steam.

Remove meat and cut into small slices or shred if you're making tacos/serving over rice, or slice and serve as is followed by a pour of the juices on top of your meat.
Nutrition Facts
French Onion Pressure Cooker Roast
Amount Per Serving (3 oz)
Calories 181
Calories from Fat 45
% Daily Value*
Fat 5g8%
Cholesterol 80mg27%
Sodium 2224mg97%
Potassium 500mg14%
Carbohydrates 2g1%
Protein 31g62%
Vitamin C 65mg79%
Calcium 404mg40%
Iron 3.1mg17%
* Percent Daily Values are based on a 2000 calorie diet.