This easy homemade flour tortilla recipe with no lard requires only 4 ingredients. This no yeast bread alternative is great when you're in a pinch to serve with dinner. If you love homemade naan but want something a bit thinner these are easier to make than you'd think.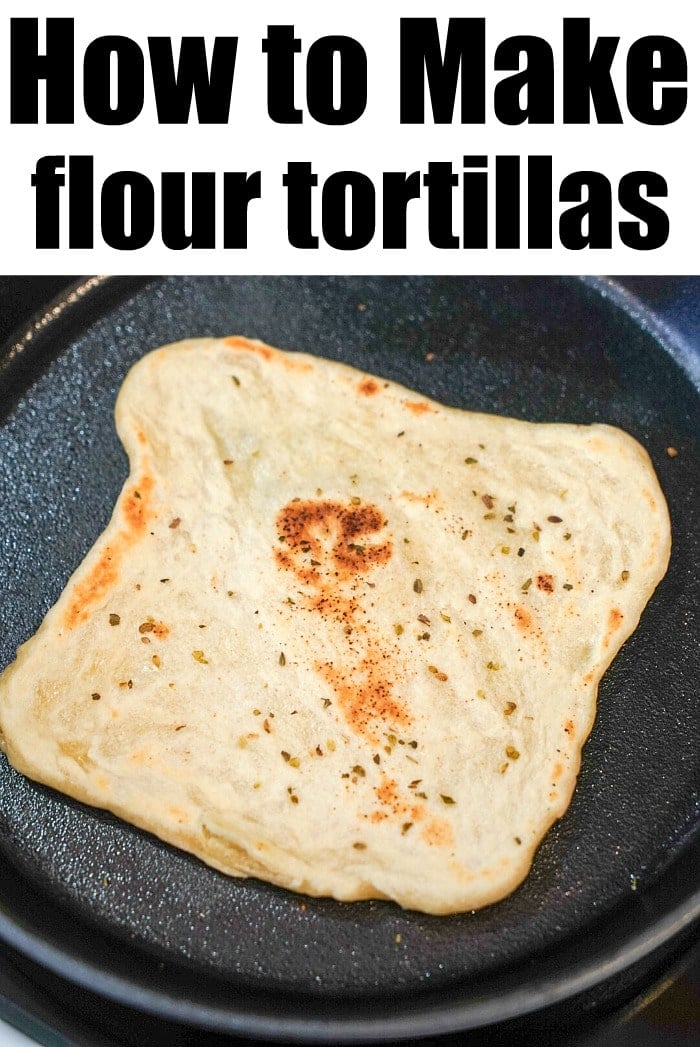 We have made this homemade flour tortilla recipe several times this last week. Filled with taco meat or made into quesadillas they're easy to make and never last long around here. 😉 I hope your family enjoys them too. (affiliate links present, originally published 3/20)
Homemade Flour Tortillas
They are WAY easier than you might think to make y'all. No they don't taste like the packaged type, they are amazingly better! You'll probably never going to buy them in the store after this. Beyond the great taste is how simple homemade Mexican flour tortillas are to make. We will share how to make them in a cast iron skillet on the stovetop as well as air fryer tortillas too.
OH Yes my friends! We know how versatile they can be. Cut into strips and fry for chips, fill with beans and cheese for burritos or use to scoop up shredded chicken.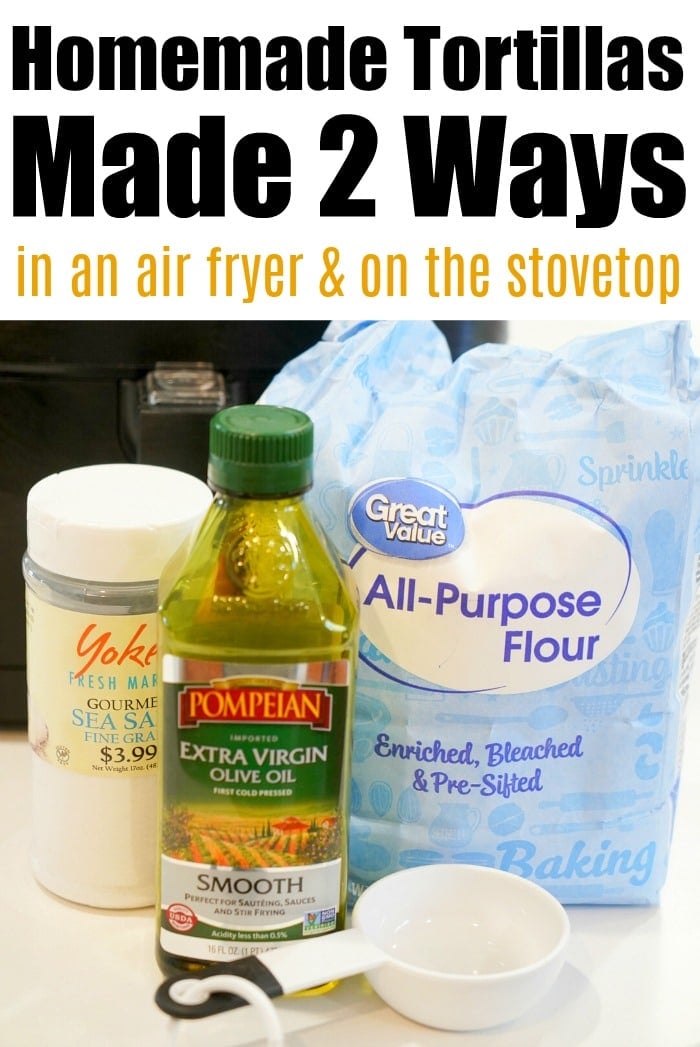 There have been many times where I'm preparing dinner, want some type of bread on the side and realized we had nothing. After making these a few times in a pinch, they were liked so much by my husband and girls that they became a go to for taco Tuesdays and beyond.
How to Make Tortillas
We have you covered, and you need NO yeast to make them too (which I love). There's really no need since the best tortillas are flat and don't need to rise like bread does.
If you're baking with kids this is a great recipe too! That is what we have been doing lately and you cannot worry when they don't look perfect, they'll still taste great.
Roll them out nice and thin, or just use your hands to flatten the tortilla dough out and cook!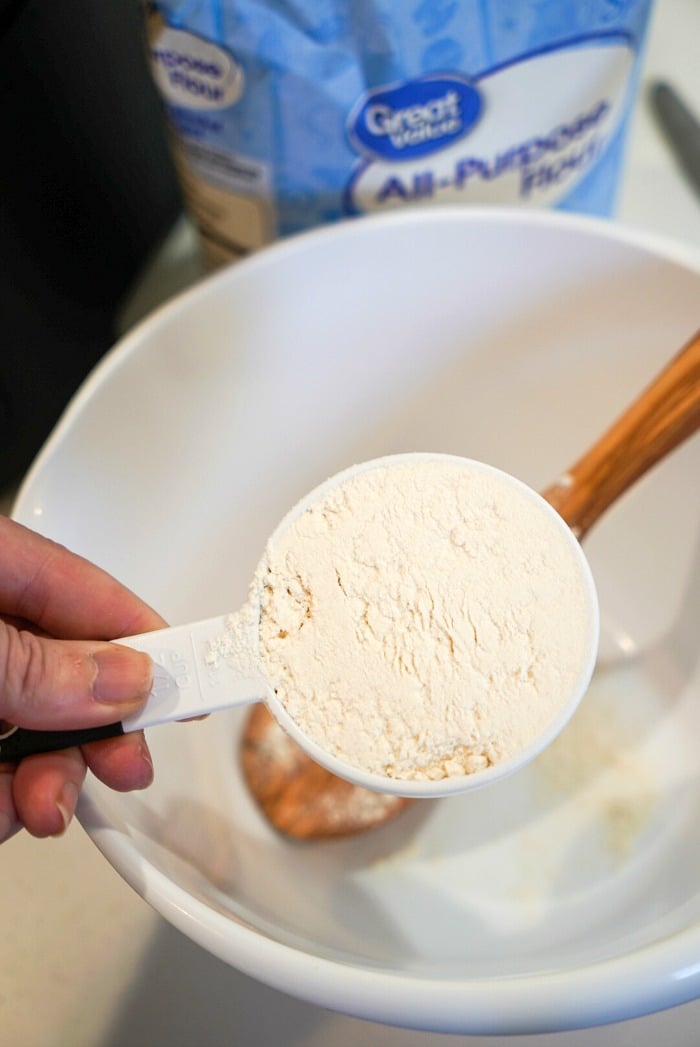 First you need to make sure you know how to measure flour properly. If not your dough will be too dense, and you want that fluffy light texture.
Homemade Tortilla Recipe
Another tip is to allow your dough to rest after mixing all the ingredients, and kneading it a few times on your lightly floured cutting board.
All purpose flour
Olive oil
Salt
Water
I used a cast iron skillet
That is it!!! As usual, mix together your dry ingredients, and then incorporate the wet until everything is well combined.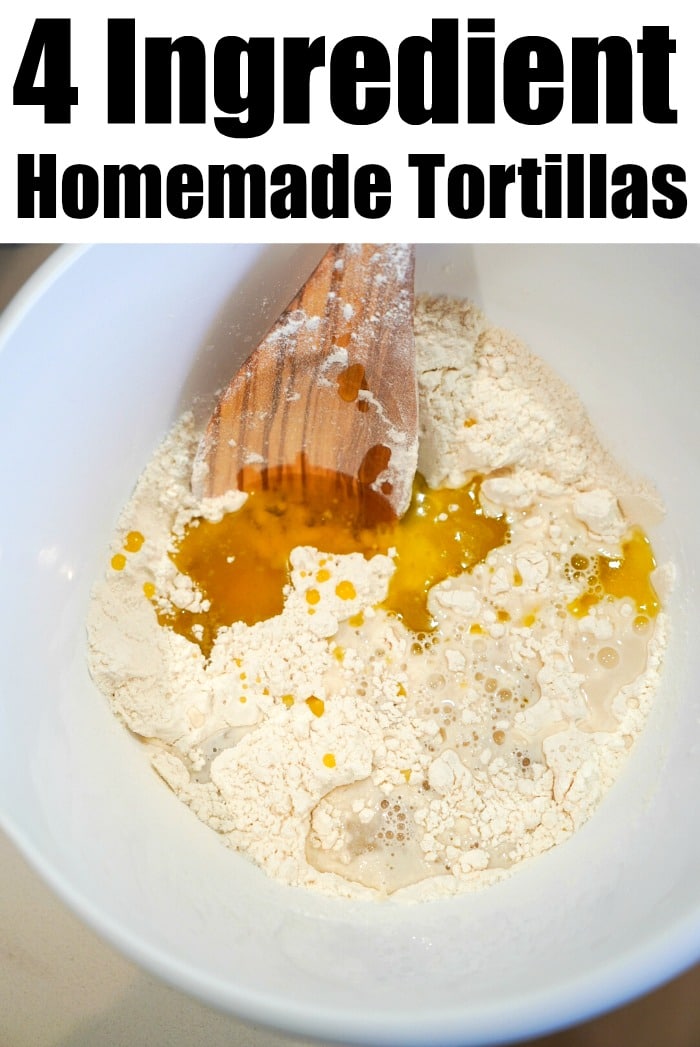 How to Make flour tortillas no lard
I mean who wants to have that inside what you're eating anyway? NO need for that y'all and they can still be great for tacos, burritos or quesadillas.
Once you've mixed your dry ingredients and added your olive oil and warm water, dump your dough ball on a lightly floured surface and knead.
This doesn't require a lot of kneading, 15 times is adequate.
Flatten slightly so thickness all the way around is the same and dough is smooth.
Allow to rest for at least 10 minutes.
Divide the dough into 4-6 equally sized pieces.
Use hands to flatten into circles for thick tortillas, or us a lightly floured rolling pin (or put dough in between 2 pieces of parchment paper) and roll thin.

I like to sprinkle a bit of garlic powder, salt, on both sides before cooking.

Heat a hot skillet or set stovetop to medium heat and heat a large cast iron pan with a bit of olive oil rubbed into pan.
Lay flattened dough in pan and flip when it is lightly browned on each side.
Then place to the side and add another.
If you cook one at a time the whole process may take 30 minutes total but well worth it!!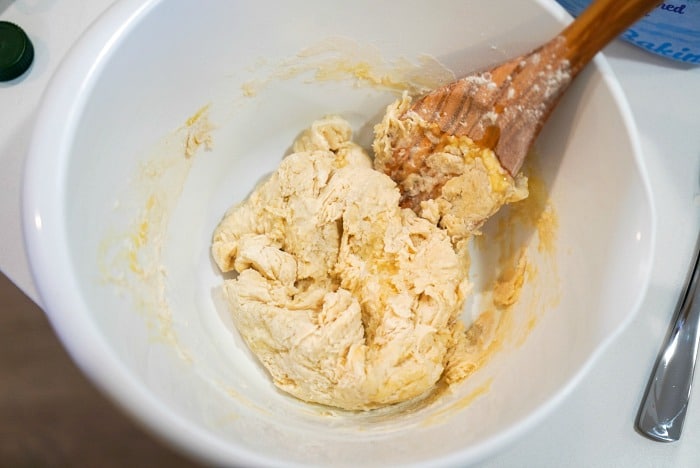 How do you make a flour tortilla puff?
This will only happen if you roll it out thin. Using your hands to flatten as much as possible will not yield a thin puffed up tortilla, as you see here. Personally we like both versions. I suggest you try both and compare.
If you've rolled them out nice and thin, once you place it into your pan it will puff up rather quickly.

if it doesn't, increase the heat

5-10 seconds is all you typically need on each side.
Flip when light brown spots arise, then remove on to a plate, and add the next one.
If you look on the left top corner you can see what it looks like when it is not cooked thru yet. If you use your hands your dough will likely not be the same thickness all the way across. Therefore, your cooked tortilla edges may become more cooked than the middle areas.
Personally my kids love them nice and thick like this, it's really a preference.
Thick Flour Tortilla Recipe
If you've never used a cast iron pan before, I love it! They're different than a traditional pan because you just use a damp paper towel to wipe it out after you're done cooking. You actually WANT to keep it "seasoned" and soaking or scrubbing to clean is a no no.
Yes you can use a "regular" pan to cook the best homemade flour tortillas here, this is just my preference.
To change it up a bit today though, we made air fryer tortillas and air fryer naan too!!
Follow directions above.
Let us know which one you like best!
What can I make with tortillas?
Well the list goes on and on and honestly we have eaten them with just butter on top time and time again. For more tortilla recipes you could:
Use as a pizza base, top with ingredients, melt in microwave, roll it up and enjoy
We love air fryer quesadillas for sure!
Make a sandwich wrap with sliced turkey and cheese!
Homemade enchiladas with shredded beef or just cheese are great.
Roll up into cream cheese pinwheels.
Spread on some butter, sprinkle with cinnamon and sugar and roll up for a sweet treat.
Make our chicken tortilla bake casserole.
Tacos are always a winner of course.
For more easy recipe ideas like this one, sign up for our newsletter here to get them via email each week.
Want to see a few of my favorite things that I am totally obsessed with?? Take a peek and see how many you might already have…twinsies!
Looking for more easy family recipes and tips? LIKE The Typical Mom Facebook page?
Then sign up for my free newsletter, and follow me on Pinterest! 😉
***** If you LOVED this recipe give it 5 Stars below and let everyone know what you thought about it. 😉
Homemade Flour Tortilla Recipe
Homemade flour tortilla recipe with only 4 ingredients. This no yeast bread alternative is great when you're in a pinch to serve with dinner.
Instructions
Mix together flour and salt in a bowl, then add water and oil and gently mix with a spoon. (can add a bit of dry herbs and a bit of garlic power and/or salt into the mix if you'd like)

Then lightly flour a cutting board and put dough on top. Knead 15 times, then leave alone and allow to sit for 10 minutes.

Flatten out so large chunk of dough is about 1.5" thick, then use a pizza cutter and slice into 4 equal pieces.

One at a time make each piece into a circular shape, roll out or flatten with palms until it is thin all the way across the piece. Sprinkle with a bit of dry oregano and garlic powder on both sides (optional)

Place inside preheated pan on stovetop that has been sprayed or rubbed lightly with olive oil.

Watch and cook for about 2-3 minutes on each side or until they're browned to your liking.

If using an air fryer follow same directions, preheat to 380 degrees, cook for 4 minutes total flipping halfway through.
Nutrition Facts
Homemade Flour Tortilla Recipe
Amount Per Serving (1 oz)
Calories 324
Calories from Fat 99
% Daily Value*
Fat 11g17%
Sodium 295mg13%
Potassium 76mg2%
Carbohydrates 48g16%
Protein 7g14%
Calcium 13mg1%
Iron 3mg17%
* Percent Daily Values are based on a 2000 calorie diet.