The best slow cooker chicken parmesan recipe you can throw together in the morning and have tender chicken breasts with a cheesy sauce for dinner tonight.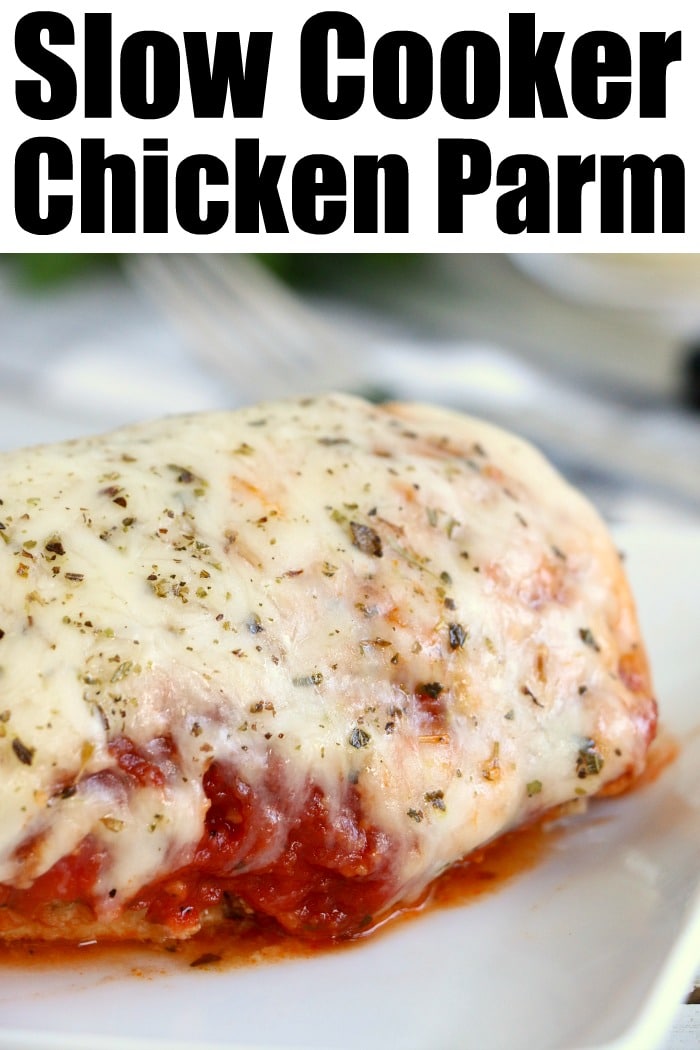 If you're looking for the best slow cooker chicken parmesan recipe, this is it! Needing only a few ingredients, it is a healthy and simple Crockpot recipe everyone (even the kids) will love.
Yes, we do have a lot of simple chicken recipes here on The Typical Mom blog but this gets 6 thumbs up from my kids.
It's also on our list of easy cheap Crockpot meals because it costs under $20 to make for all of us!
You can't get much better than that right??!! Here are the basics right here. You may think since it cooks low and slow all day that you'd need to skip the breading, wrong! It still works great to roll the meat in breadcrumbs so you still have that coated flavor and texture you love.
How do you make chicken parmesan from scratch? We will show you! Well, it's pretty homemade. 😉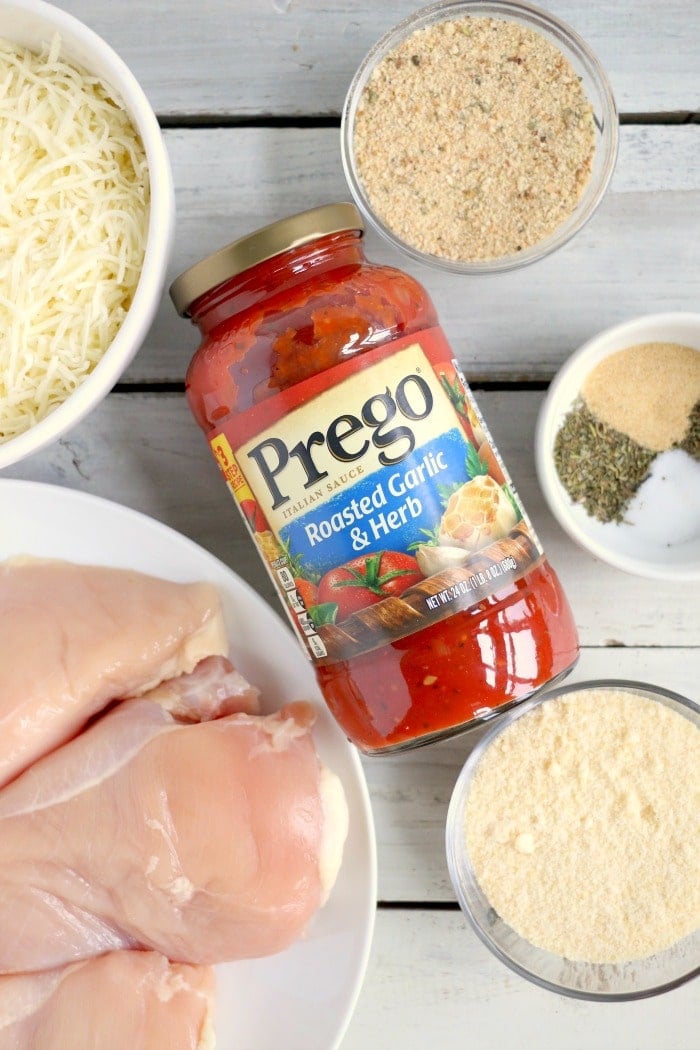 Unlike our Instant Pot chicken parmesan casserole, this dish doesn't have any noodles cooked with it. You'd have to throw those into a pot to get tender a few minutes before serving.
NOW if you want a crunchy coated outside you'll need to follow our air fryer chicken parm recipe. Honestly, I love them all but it depends on my mood and how busy I am that day.
Try them all and see which you like the best!
Now on to the ingredients you will need for this slow cooker chicken parmesan version
Boneless skinless chicken breasts
Parmesan cheese
Breadcrumbs
Italian seasonings
Mozzarella cheese
Parsley
Salt and pepper if you like
Garlic powder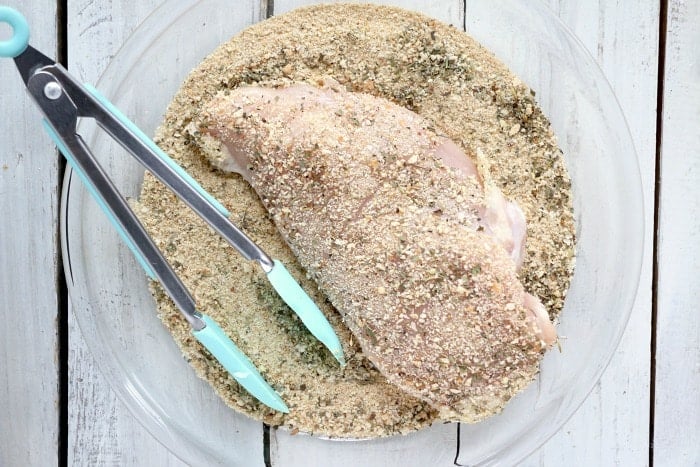 First I recommend spraying the inside of your crock with non stick olive oil spray to help with cleanup later on.
Then you're going to use a shallow bowl to combine your seasoned bread crumbs together and coat both sides of chicken well.
In the bottom of your Crock pot lay your coated chicken.

If you really really wanted some crunch you could sear/brown outsides in a large skillet and then add but I don't bother.

Then pour your spaghetti sauce on top. You could mix together your own seasonings and tomato sauce yourself but this just makes it easier on me to have it done in a jar.
Sprinkle parmesan cheese on top of that and cook on high for 4 hours or low for about 7.

I personally prefer low and slow. The meat comes out more tender and more flavorful in my opinion.

Once you're done cooking chicken, sprinkle the mozzarella on the very top about 30 minutes before serving.
Then once cheese is melted serve with a side of noodles or rice.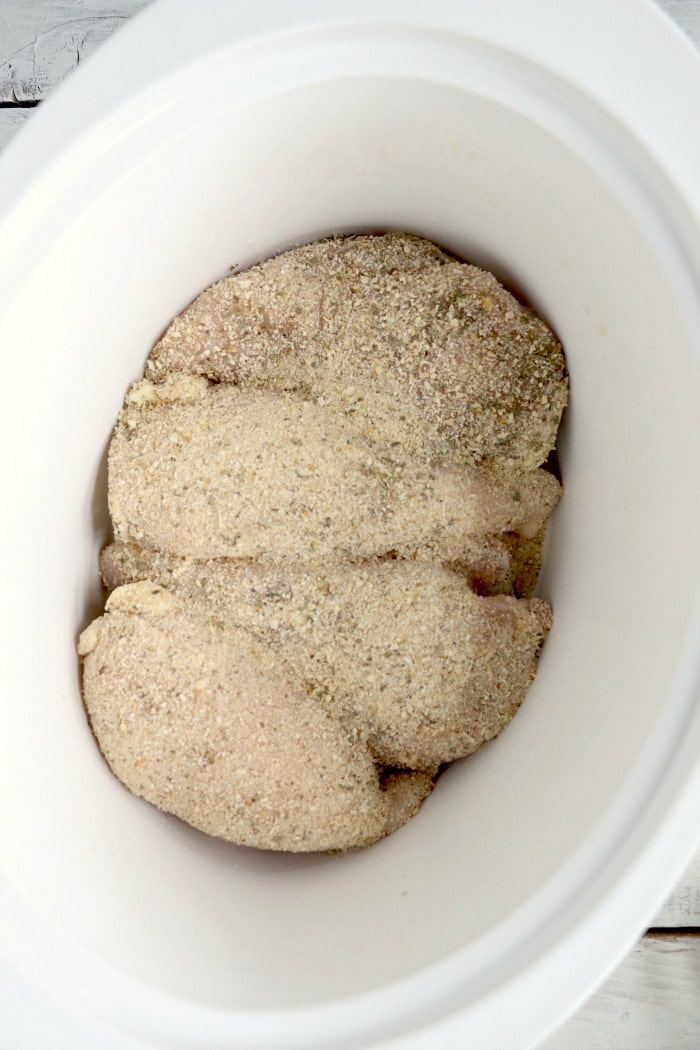 This is a really easy recipe if you're looking for a meal that is high in protein and low fat too.
What side goes with chicken parmesan?
Of course you can't go wrong with a salads. This option gives you a crispness to balance out the rich flavors of your dish.
Veggies are usually a favorite around here. A mix of air fryer vegetables like zucchini, squash and mushrooms are my go to.
Mashed potatoes are easy to throw together in your pressure cooker or another Crock.
Bread options include garlic bread or pull apart bread.
Is chicken parmigiana the same as chicken parmesan? Yes, they are both the same delicious, mouth watering meal that you know well and love.
It's a breaded chicken cutlet with lots of melted mozzarella and/or provolone cheese on top.
This recipe started way back with eggplant parmigiana in Campania and Sicily in Italy and was brought to the U.S. to be loved by many more here.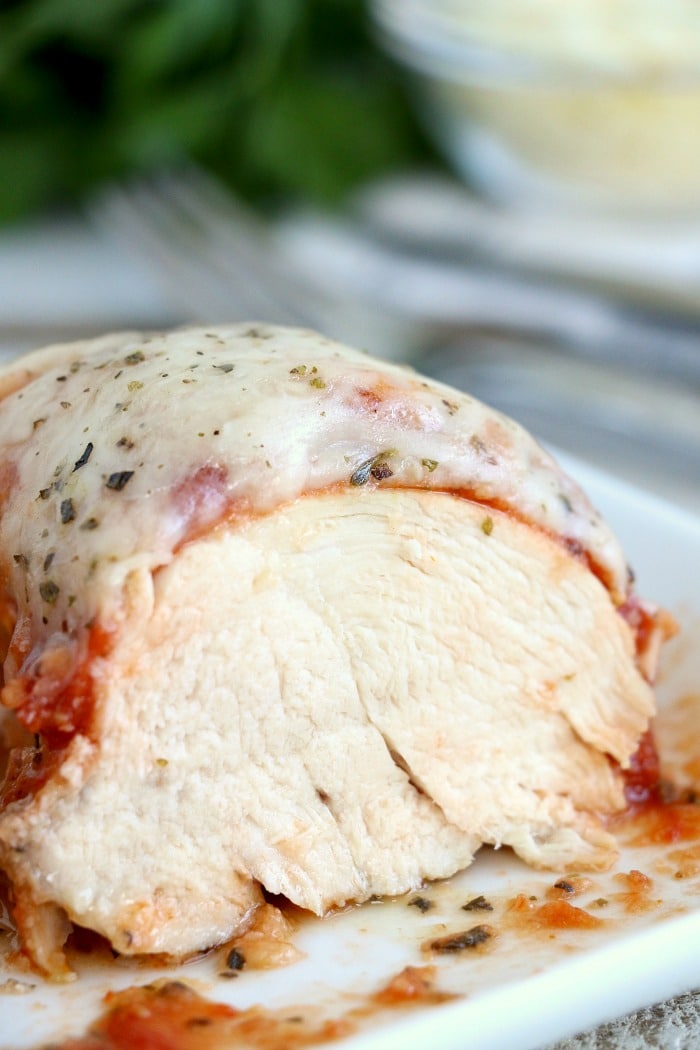 What if you want to make homemade spaghetti sauce? That is totally fine! I have done that myself from time to time. If you have a family recipe, use that. I have a link above to the throw together method I follow. 😉
Can you put pasta in a slow cooker and make something similar to our chicken parmesan casserole in the oven?
So here's the deal. I do not add it when I am making a dish that has raw meat in it. That is going to cook funky and take much longer for the meat to cook, and not have the noodles get mushy.
For something like our Crockpot hamburger casserole you can cook everything together including the pasta.

This is because the cook time is only 3 hours AND the ground beef is cooked before it's added into your slow cooker.

In this case I would say it's a flat out NO, don't do it. Instead just boil it on your stovetop, or in your pressure cooker covered with water for about 3 minutes with a quick release.
You can't go wrong with Instant Pot butter noodles with all the things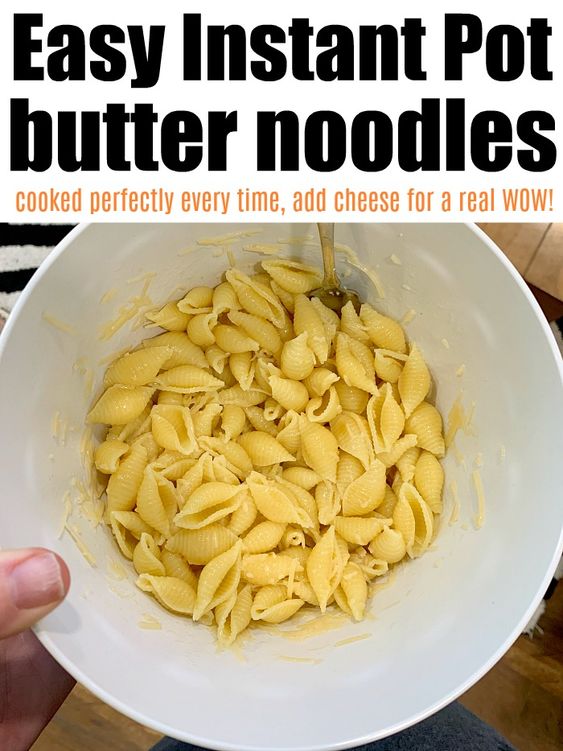 How do you cook just pasta in a slow cooker?
Pasta cooks quickly in a Crockpot and adding it too soon will leave you with a mushy mess. You'll need to add pasta, stir it into the sauce, liquid, or soup you're making. Add extra water if the liquid content is low so noodles are submerged. Cook for 20 minutes and serve.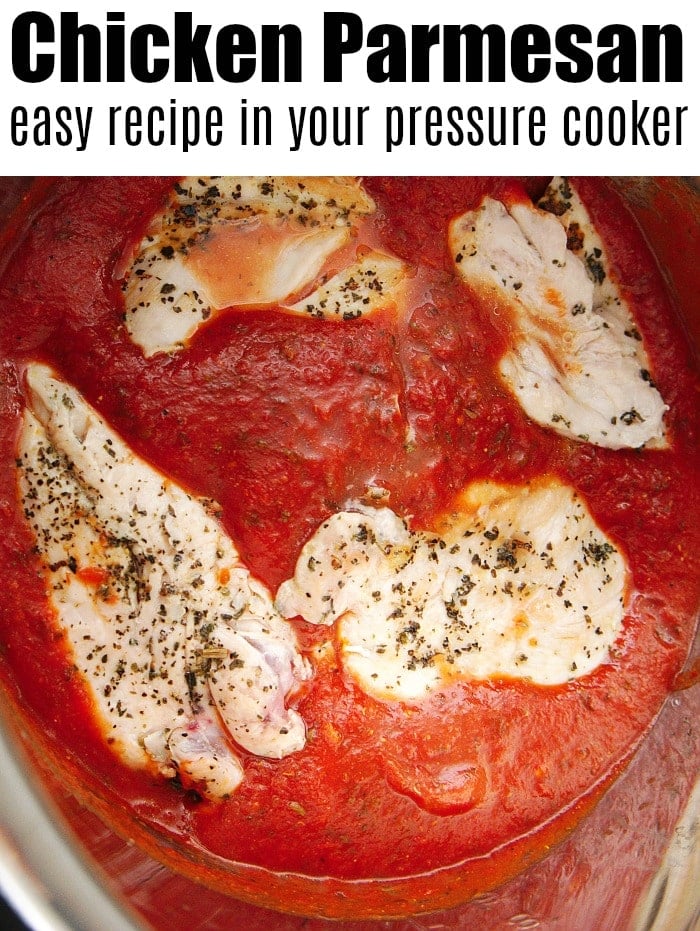 We have a printable recipe card here below for your reference with nutritional information listed in it as well. Calories and saturated fat amounts will vary slightly depending on the sauce and amount of cheese you use but is pretty accurate for each serving amount.
Slow Cooker Chicken Parmesan
The best slow cooker chicken parmesan recipe you can throw together in the morning and have tender chicken breasts with a cheesy sauce for dinner tonight.
Instructions
In a shallow bowl combine 1 tsp Italian seasonings, salt, garlic powder, dry parsley, and your breadcrumbs, mix together

Roll each chicken breast in this mixture so each is well coated

Place coated chicken in Crockpot that's been sprayed with non stick spray.

Pour jar of spaghetti sauce on top of coated meat.

Sprinkle parmesan cheese on top of that. Cook on low 6-8 hours

15 minutes prior to serving lift lid, sprinkle on mozzarella cheese + remaining Italian seasoning and put lid back on.

Once cheese is melted serve immediately
Nutrition Facts
Slow Cooker Chicken Parmesan
Amount Per Serving (3 oz)
Calories 373
Calories from Fat 144
% Daily Value*
Fat 16g25%
Cholesterol 134mg45%
Sodium 1615mg70%
Potassium 1014mg29%
Carbohydrates 11g4%
Protein 45g90%
Vitamin A 893IU18%
Vitamin C 10mg12%
Calcium 287mg29%
Iron 2mg11%
* Percent Daily Values are based on a 2000 calorie diet.