Air fryer chicken parm is the best! Crispy breaded chicken on the outside smothered with cheese with a homemade or bottled spaghetti sauce on top makes for the perfect hearty dinner even kids love.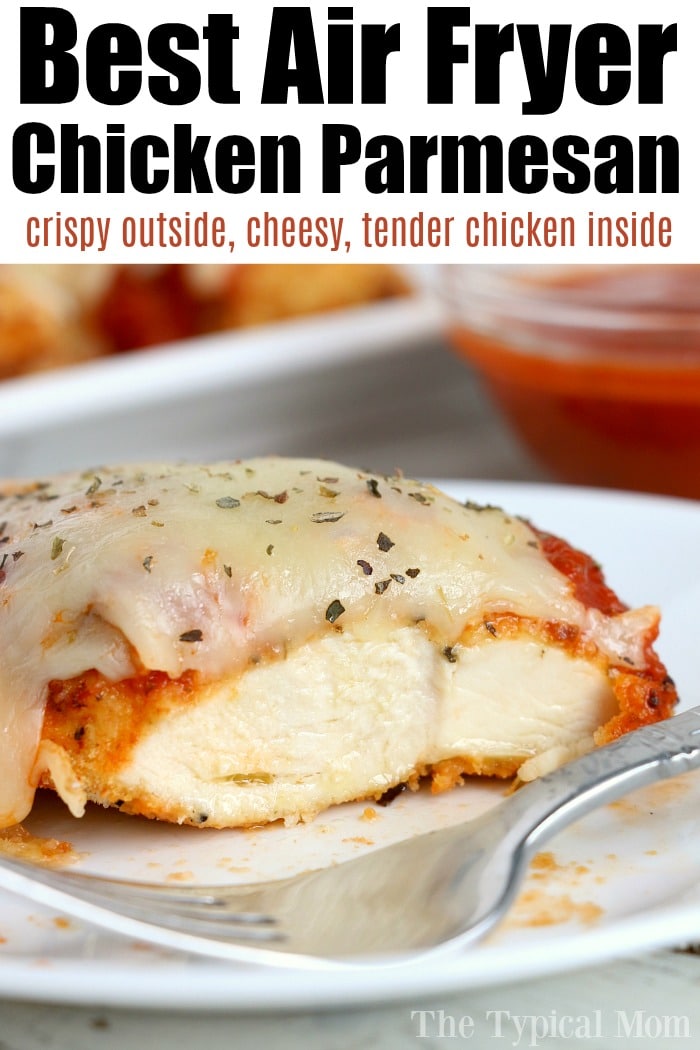 Try air fryer chicken parm in your kitchen tonight! We have been trying lots of new air fryer recipes for dinner lately and this protein packed meal has become a family favorite. (originally published 8/19, affiliate links present)
Air Fryer Chicken Parmesan Thighs
You could use breasts or make this with thighs in air fryer instead. If you love dark me, us too, you may insist on these instead which isn't a problem. You will still want boneless skinless so you can slice right thru them when done and not lose an ounce.
It doesn't matter what brand you might have at home to make this either. The only difference between all the models and brands is the size of the basket. Only difference that will make is how many pieces you can cook at once. They need to be laid in one layer so they don't overlap, otherwise the breading won't crisp properly.
FIRST – You should sign up for my free newsletter so you get new posts emailed to you twice a week and never miss out on anything! If you love air fryer recipes too, here are some resources to start with: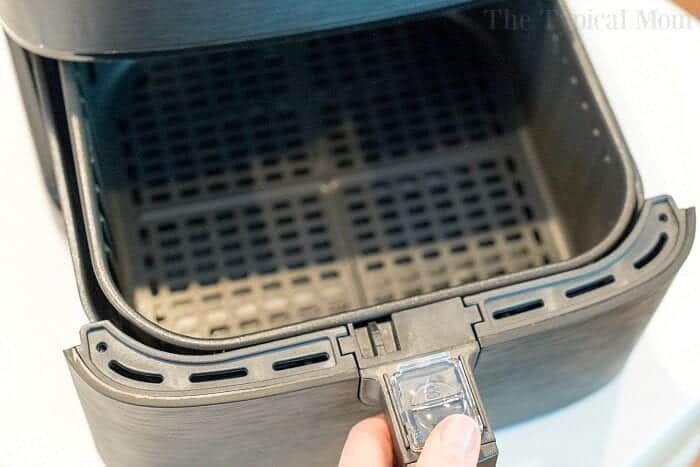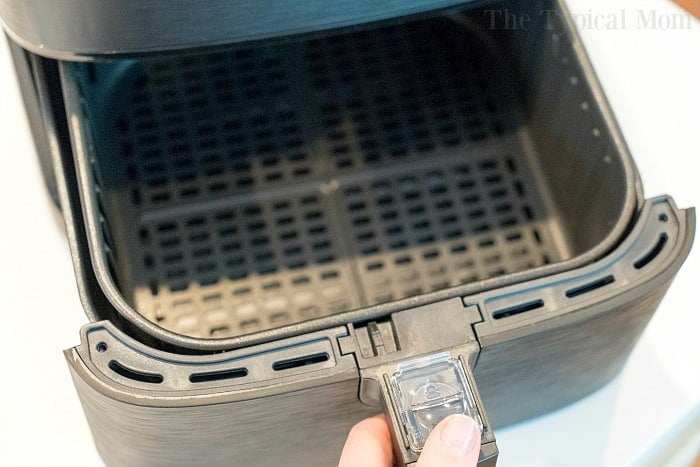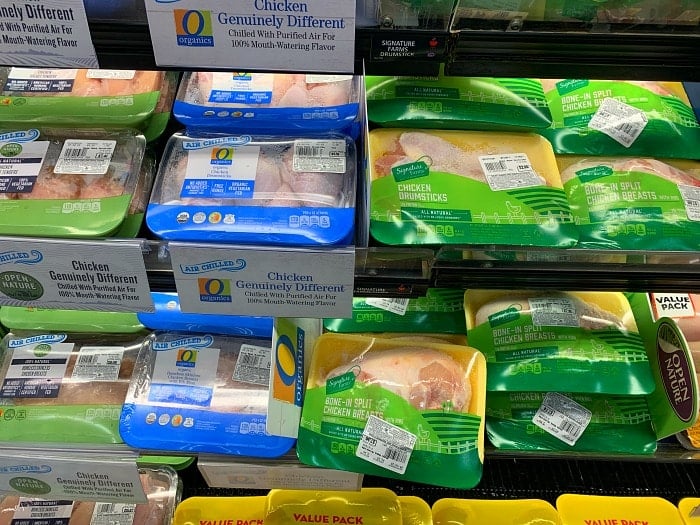 Air Fryer Chicken Parmesan No Egg
If you are allergic or don't want an eggfree piece there are other options you could use to get the crumbs to still stick. The one I use most often is mayonnaise because it adds flavor and a lot of moisture to the dish too. I have a list of other ideas for how to bread chicken without eggs here.
Air Fryer Chicken Parmesan No Breading
You could skip the outsides all together for a keto low carb dish too, but that isn't as good if you ask me. The best choice for this are a few fresh, boneless skinless chicken breasts. I suppose you could use chicken thighs but they aren't as large and typically one piece is a full meal.
How do you make chicken parmesan from scratch?
There are a TON of variations, I will start by saying that. The main difference is the type of breading, and/or method of cooking. Beyond that chicken, sauce and mozzarella are the bases.
Why is chicken parmesan made with mozzarella?
It originates from Melanzane alla Parmigiana. The classic Italian dish had eggplant cooked in olive oil, layered with tomato sauce and mozzarella cheese. Staying with tradition it still includes this.
Do you bake chicken parm covered or uncovered?
Whether you bake it in the oven or in your air fryer, you'll do so uncovered. You want to get a nice crispy outer layer so covering the top would inhibit that.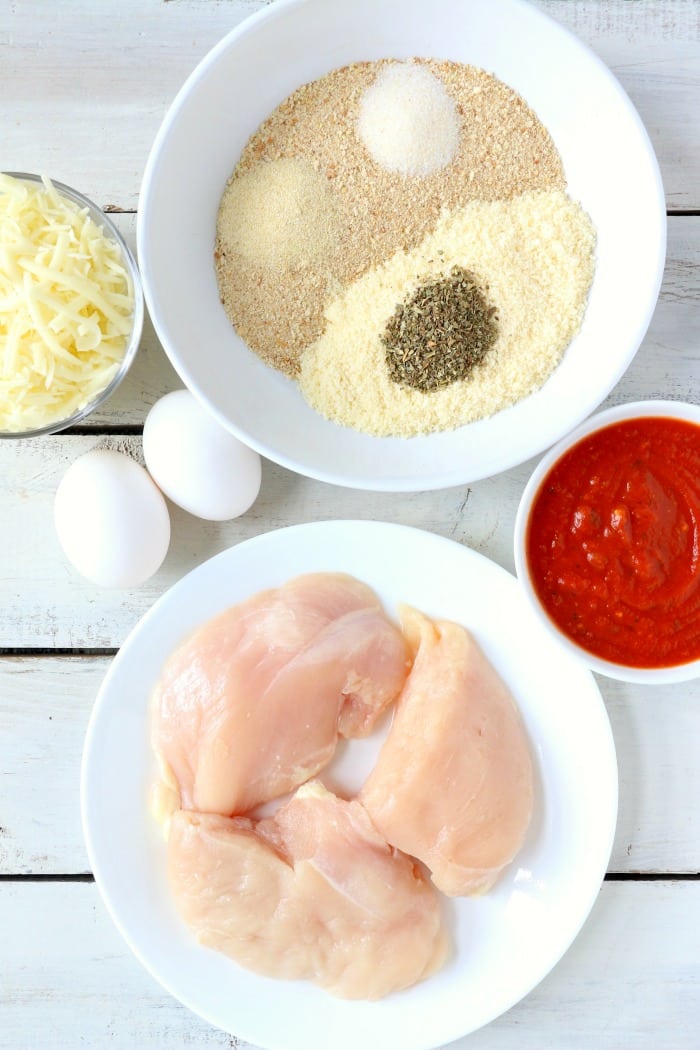 Chicken parmesan in air fryer
Chicken breasts
Eggs
Bread crumbs
Parmesan cheese
Garlic powder
Onion powder
Mozzarella cheese
Italian seasoning
When frying chicken do you dip in egg or flour first?
It depends on what you're making. This is of course air frying, minus the oil but it will get just as crispy I promise you that. The standard breading technique when you're making something like crispy chicken legs involves buttermilk, flour, then dipping it in egg wash.
Lastly you'd coat them with breadcrumbs.
This works because the flour sticks to the food, the egg sticks to the flour, and the breadcrumbs stick to the egg.
How do you make breading?
Dip each breast into the egg, then let excess drip off. Next, run the breast through the breadcrumbs mixture and pat on to both sides so it sticks well. Let any excess fall back into the bowl. Finally, lay the chicken into your sprayed air fryer preheated basket to cook and crisp up nicely.
Having 2 shallow dishes, and/or bowls to dredge the chicken in is helpful so you can lay them flat.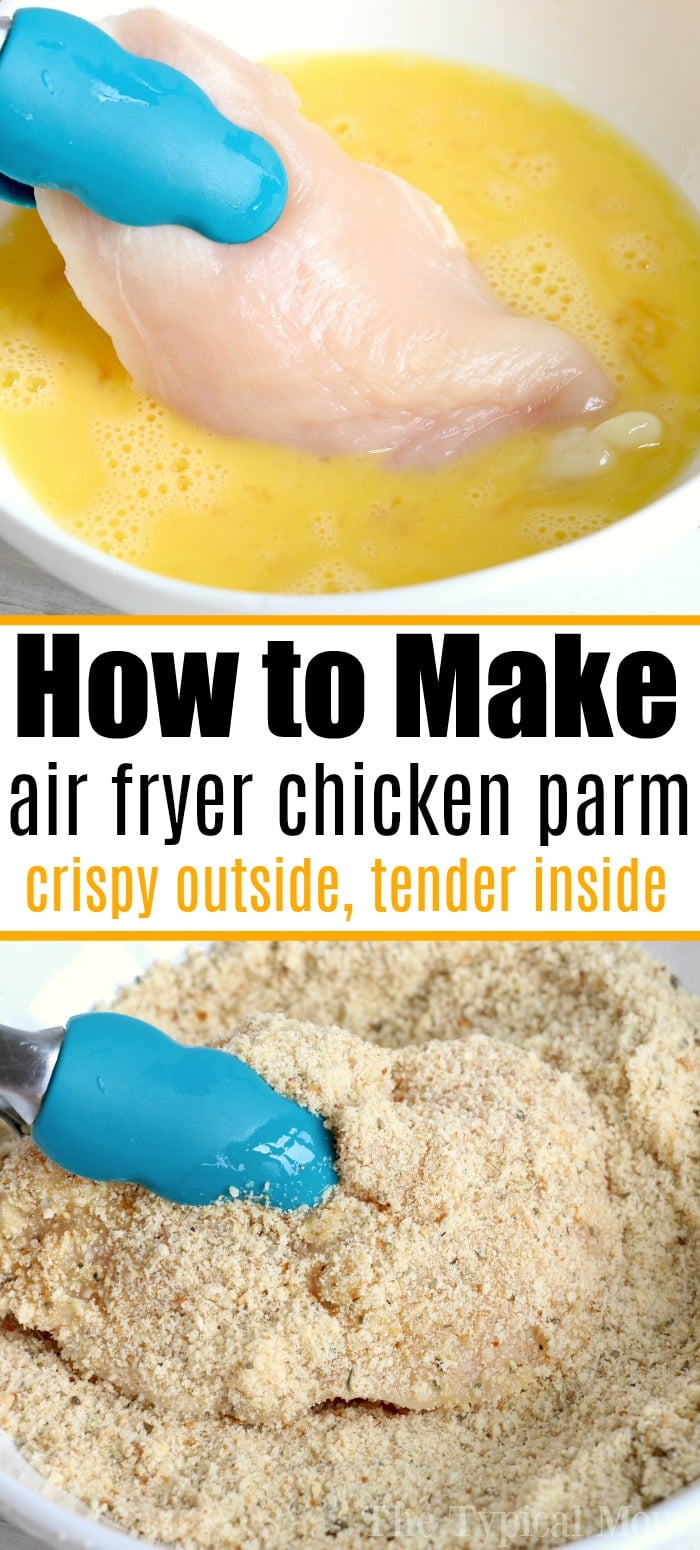 Just like when you make air fryer stuffed chicken breast you want to make sure that the pieces are the same size and thickness. That is important so they get done and cooked through all at the same time. Medium size boneless skinless breasts are best.
I would not recommend making air fryer frozen chicken parmesan, it's better if your meat is defrosted beforehand.
Also, it is best that you do not choose really thick breasts. Those can take a while to cook and by the time the middle is cooked thoroughly the outsides are a bit overdone.
Why is it called chicken parmesan?
Italian immigrants brought the recipe over with them. Today, chicken parmigiana as they called it simplified to chicken parmesan referring to the delicate cheese made in and around the province of Parma.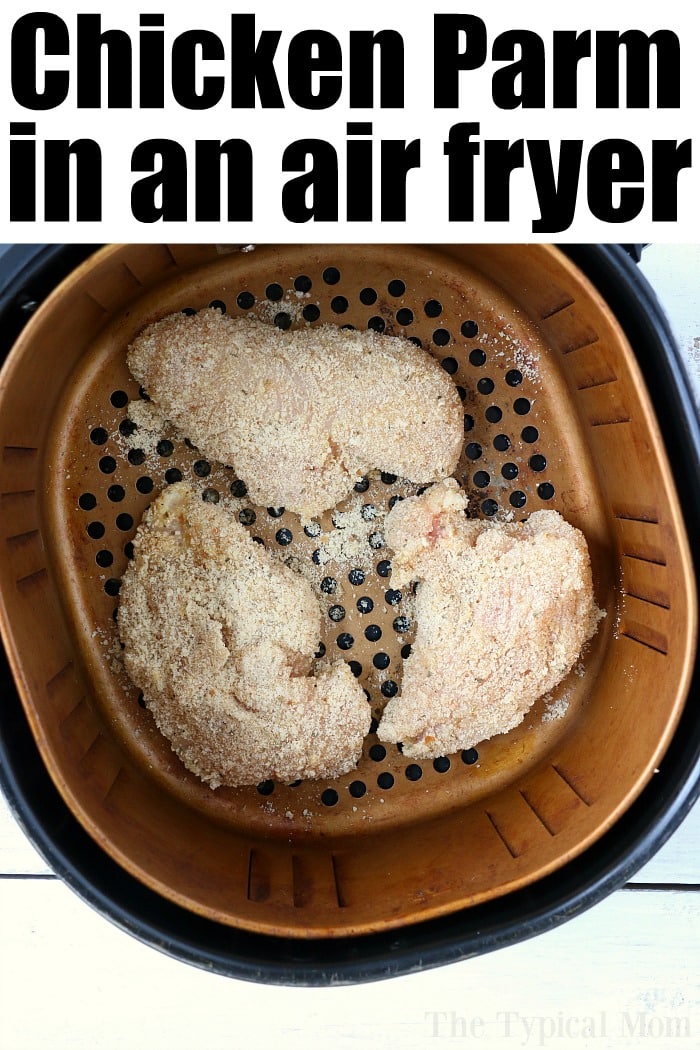 Ninja Foodi Chicken Parmesan
In a shallow bowl whisk your eggs, set aside. Mix breadcrumbs and parmesan cheese with garlic and onion powder in another bowl or dish. Dip chicken in the whisked egg, then dredge in breadcrumb mixture so it is coated. Shake off excess.
Place breaded chicken into air fryer basket in a single layer.
You can sprinkle with salt and pepper now as well if you wish.
Cook at 360 degrees F for 15-18 minutes.
Then spoon marinara sauce on top sprinkled with shredded mozzarella.
Add about 2 more minutes to melt this over the cooked chicken
We love chicken parmesan this way and hope you do too! There isn't really anything beyond that unless you want a side dish of some sort or additional seasonings.
What can I serve with chicken parmesan?
Air fryer cauliflower is a great side dish.
How long does cooked chicken parmesan last in the fridge?
Poultry pieces are safe in the refrigerator for 1-2 days and safe in the freezer for up to nine months. After it's been cooked, chicken is safe to be refrigerated for 3-4 days and in the freezer for 2-6 months.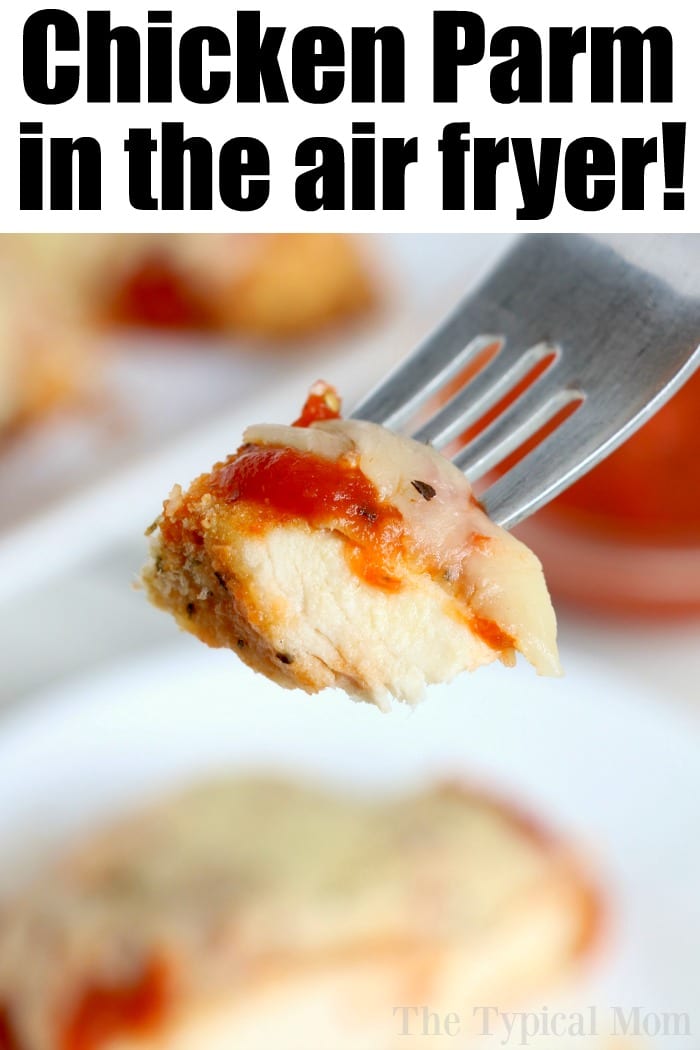 Can you freeze cooked air fried chicken parmesan?
Wrap the frozen pieces in a couple layers of plastic wrap, or use foil. Reheat in an oven at 350 degrees for 20-30 minutes or until heated through. Other Ninja Foodi recipes you should try (any brand works really)
And now you can make Instant Pot chicken parmesan or Instant Pot chicken parmesan casserole too!
How do you reheat leftover chicken parmesan?
You can preheat your air fryer once again and set for same temp. 5-8 minutes should be enough time to reheat to the center core of your breasts. OR, heat up the oven to 350 F. Set the chicken in an oven safe dish.
Cover loosely with aluminum foil and warm it up for 15-20 min until the center is warmed through. May add more cheese and sauce on top near the end. Follow these tips when reheating chicken in air fryer.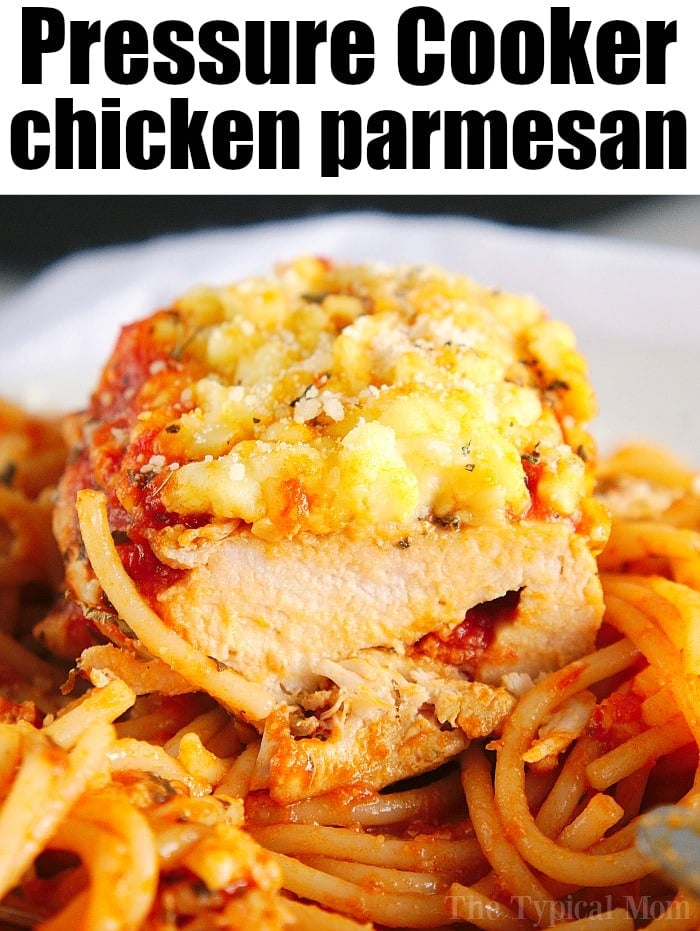 Want to see a few of my favorite things that I am totally obsessed with?? Take a peek and see how many you might already have…twinsies!
Looking for more easy family recipes and tips? LIKE The Typical Mom Facebook page?
Then sign up for my free newsletter, and follow me on Pinterest! 😉
***** If you LOVED this recipe give it 5 Stars below and let everyone know what you thought about it. 😉
Air Fryer Chicken Parm
Air fryer chicken parm is the best! Crispy outside smothered with cheese and tender chicken parmesan inside makes for the perfect hearty dinner.
Instructions
In a small bowl whisk eggs, in another bowl combine bread crumbs, parmesan, and onion and garlic powder.

Dredge chicken breast in egg, then cover in bread crumb mixture generously shaking off excess. (make sure breasts are about med. size and are all similar sizes so they cook evenly)

Spray inside of air fryer basket with non stick spray and put coated breasts inside.

Close and set air fryer to 360 degrees for 15-18 minutes. Cook time will depend on thickness of chicken.

Open basket and spoon marinara sauce over cooked breasts, then sprinkle with cheese. Air fry for additional 2 minutes until cheese is melted.

Sprinkle top with Italian seasonings and serve!
Nutrition Facts
Air Fryer Chicken Parm
Amount Per Serving (3 oz)
Calories 462
Calories from Fat 153
% Daily Value*
Fat 17g26%
Cholesterol 277mg92%
Sodium 1238mg54%
Potassium 1312mg37%
Carbohydrates 14g5%
Protein 61g122%
Vitamin A 929IU19%
Vitamin C 11mg13%
Calcium 217mg22%
Iron 3mg17%
* Percent Daily Values are based on a 2000 calorie diet.