Air fryer eggplant parm done in slices can be served as a dinner, appetizer or snack. Yummy parmesan smothered tender vegetables. No breadcrumbs are needed but can be added if desired. A vegetarian version of our popular chicken parm done a similar way.
If you love eggplant parmesan at restaurants, you'll love how easy air fryer eggplant parm is to make at home. Sliced and easy to pick up they have even become my kids favorite treat after school. Let us share this latest easy air fryer recipe we have made a few times recently. (affiliate links present)
Ninja Foodi Eggplant Parmesan
It doesn't matter whether you have an AirWave, Foodi or Cosori. They all work basically the same, the biggest differences are the size and shape of the basket itself. That doesn't matter much other than some fit more than others. Since you always want food in one single layer you may want a larger version for bigger families.
We made air fryer eggplant a while back. It was lightly breaded eggplant and a bit like air fried zucchini but with a different veggie. They were such a hit that I went a bit healthier this time. SO good either way.
FIRST – You should sign up for my free newsletter so you get new posts emailed to you twice a week and never miss out on anything! If you love air fryer recipes too, here are some resources to start with: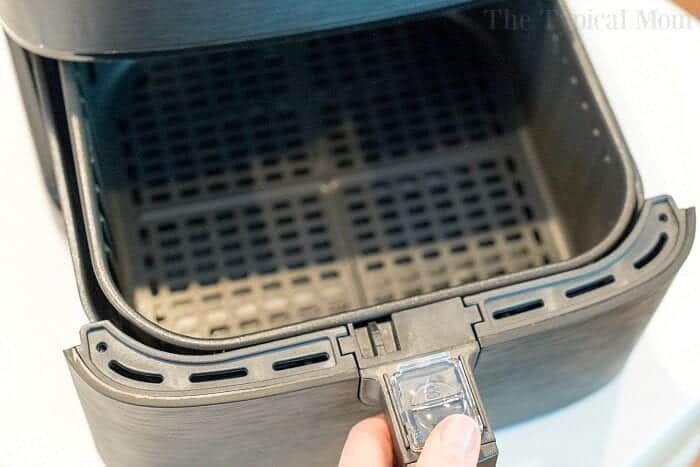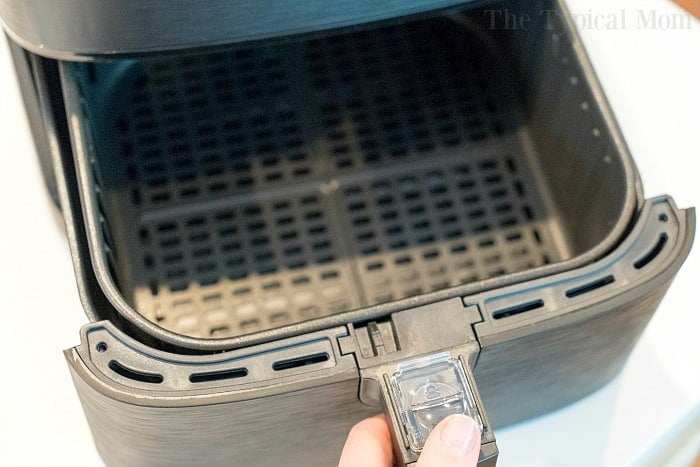 Is this purple vegetable intimidating when you see it in the produce section? Don't let it be. Once you cook with it once you will get the hang of it and use it more and more often. It's great for you after all and your kids will probably be curious enough to try it since it's so pretty. 😉
NO Fry Eggplant Parmesan
I do not like deep fried foods. It makes me feel a bit sick about an hour after I've enjoyed it and feels a little like a brick in my stomach for the rest of the day. BUT if I can get that same crispy crunchiness another way without submerging it in fat laden oil, I'm all about it. That is why I am obsessed with my air fryer y'all.
Do you leave the skin on eggplant for eggplant parmesan?
Yes. You kinda' need to because if not it will likely fall apart. I compare it to working with zucchini. You know how the skin kind of keeps the whole slice in tact when you cook it, same goes with this baby.
Just rinse the outside and slice into 3/4″ pieces or so and then add your other ingredients to the top.
Air Fryer Eggplant Parm No Breadcrumbs
I suppose if you were layering it more like our zucchini lasagna you could remove the outside first. Haven't done it using that method yet but I bet it would be hella delicious. The crumbs really are a texture play and not needed so add if you wish or omit if desired.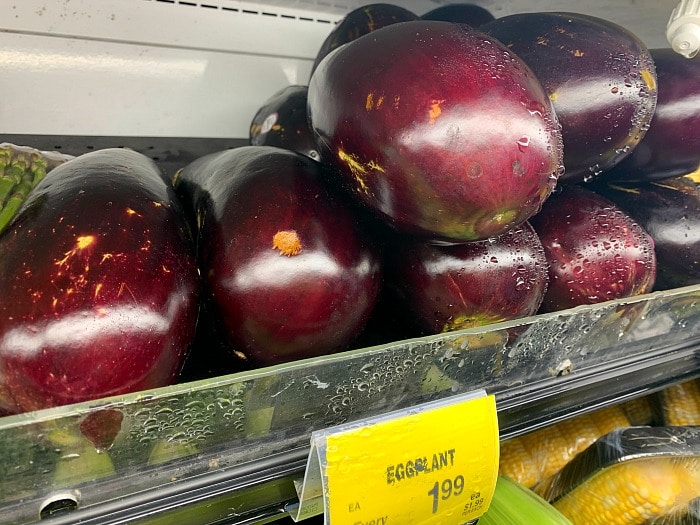 How do you choose a good eggplant?
Ok so you have never bought one of these babies before so how do you know if one is "good"? I get you, I was new about a year ago too. So think of it a bit like a squash. You don't want any soft or discolored spots on either of them. Press all around the outside gently and if it is firm but not rock hard it's a good choice.
I like medium sizes, they have more flavor. Really big ones have a lot more moisture to them and are milder in flavor. The last one I got in my Imperfect Foods box which was perfect.
Below you can see the slices that are ready to prep. I mean you could just spray with olive oil and sprinkle with salt and pepper. Throw them into a preheated machine at 350 for about 4 min. on each side.
That is the super uber healthy snack idea, but that doesn't really make this classic dish. You'll want spaghetti sauce, shredded parm and bread crumbs for that.
Crispy Eggplant Parmesan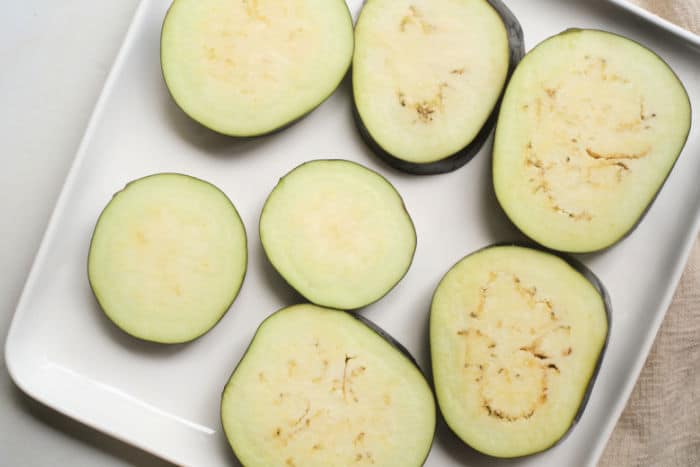 Air Fryer Eggplant Parmesan
When slicing you have options. 1/2″ is the thinnest I would suggest. If you like a little "bite" to them (meaning not as soft) I'd go with 3/4″ instead. The smaller the diameter the firmer they will be as well, just the way it is.
You could use vegan parmesan if you wanted this to be air fryer vegetarian eggplant parmesan.
We are huge cheese lovers in our house and go all out, with as much as possible. All in moderation my friends, and you only live once. It's being made healthier without frying it so let's add more yum to the top people. 😉
First slice your eggplant into 1/2″ – 3/4″ inch slices. Preheat your air fryer to 350 degrees F for 5 minutes.
Lay eggplant sliced into air fryer basket, spray lightly with olive oil, and put a spoonful of sauce on top of each one, use back of spoon to cover tops.
Sprinkle on breadcrumb mixture, then top with your shredded parmesan.
Cook the eggplant for 6-8 minutes or until you air fry it long enough for parmesan cheese to melt and becomes lightly browned on top.
If you want to brown the tops more you can spray a bit of olive oil on the tops as well for the last minute or so.
If you are making multiple batches lay a paper towel on a shallow dish and when done keep them warm with another piece on top. Keep in microwave on warm or on a baking sheet in the oven covered until you're ready to serve them all as a main dish or side dish.
Sprinkle with salt and pepper and/or garlic powder when done and enjoy. You can jump to recipe below. It is printable so you can keep it handy, or just come back over and over again. After all, we love seeing you so sign up for our newsletter below since we post something new every single day!
What can you serve with eggplant?? The best dipping sauce really is just more marinara in a shallow bowl. Kids seem to love ranch dressing too.
How do you save leftover eggplant parmesan?
If you make it more like eggplant lasagna you can reheat it pretty well in the microwave. BUT if you make it this way I will say that they don't save well. If you make it for lunch you can easily set the extras aside and throw them back into your air fryer for 2 minutes later to crisp and warm back up. But after refrigerating they're kinda' a floppy mess.
Want to see a few of my favorite things that I am totally obsessed with?? Take a peek and see how many you might already have…twinsies!
Looking for more easy family recipes and tips? LIKE The Typical Mom Facebook page?
Then sign up for my free newsletter, and follow me on Pinterest! 😉
***** If you LOVED this recipe give it 5 Stars below and let everyone know what you thought about it. 😉
Air Fryer Eggplant Parm
Air fryer eggplant parm done in slices can be served as a vegetarian dinner, appetizer or snack. Yummy parmesan smothered tender vegetables.
Instructions
Slice eggplant into 1/2" thick slices. Preheat air fryer to 350 degrees F for 5 minutes.

Then lay eggplant slices into air fryer basket, spray VERY lightly with olive oil spray and put a spoonful of sauce on top of each one, use back of spoon to cover tops.

Sprinkle on some breadcrumbs, and then your shredded parmesan.

Air fry for 6-8 minutes or until cheese melts and becomes lightly browned on top.
Nutrition Facts
Air Fryer Eggplant Parm
Amount Per Serving (2 oz)
Calories 121
Calories from Fat 45
% Daily Value*
Fat 5g8%
Cholesterol 13mg4%
Sodium 418mg18%
Potassium 373mg11%
Carbohydrates 13g4%
Protein 6g12%
Vitamin A 236IU5%
Vitamin C 4mg5%
Calcium 115mg12%
Iron 1mg6%
* Percent Daily Values are based on a 2000 calorie diet.