How to make white chocolate fudge in the microwave is easy. Try dark or white chocolate fudge with add ins all the holidays like microwave pumpkin fudge for Halloween, Easter, Valentines Day or any holiday.
Are you ready to learn how to make homemade fudge? This great recipe will show you how to get that chocolate flavor and creamy texture fast! Once you've made this fudge recipe and are cutting it into squares, the pan is going to be empty before you know what happened! (affiliate links present, originally published 2/22)
How to Make Fudge with Condensed Milk
Homemade white chocolate fudge is one of those holiday recipes that you just can't pass up. Even if you feel as though you're stirring constantly to get that delicious fudge texture, you know that the end result is going to be 100% worth it. for Christmas fudge, with sprinkles for a birthday or for whatever.
But this year, I'm passing along a simple fudge recipe that will change your fudge-making game. I'm adding in some mini marshmallows for gooey goodness and the option to use white chocolate chips deliciousness instead of milk chocolate chips. Just one easy microwave recipe we have come up with lately. 😉
It's not only a simple and easy way to make this type steps work with other flavors like Microwave Fudge with Velveeta too. All are insanely popular in my house. You can have a piece after dinner, in between meals or serve a few on your bunny charcuterie board for Easter time.
White Chocolate Fudge in Microwave
The world seems quite divided on white chocolate or dark chocolate fudge. (I'll honestly eat whatever as I don't judge!) Sometimes, I'll make a batch of both classic fudge recipes just to have that delicious contrast on the dessert table.
I also think that having fudge options is excellent for taste as well. Can you imagine creating a charcuterie board full of just fudge? I'm talking chocolate fudge, fruit-flavored fudge, peanut butter fudge…the works!
Since I'm all about white chocolate this year, it makes sense to focus on this simple homemade fudge recipe instead. We did this at Christmas time with a sprinkle of peppermint flakes in and on top for a holiday twist. You can try this version of microwave peppermint fudge too.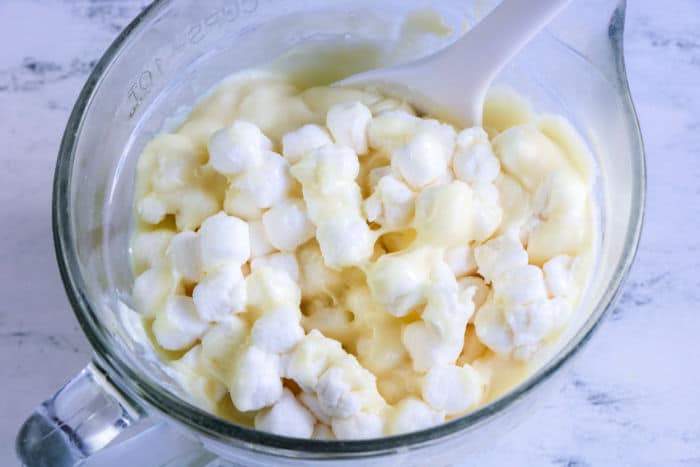 Microwave White Chocolate Fudge Recipe
What you'll find with this easy white chocolate fudge recipe is that it's very similar to others that you might have had in the past. The only difference is that I like to have marshmallows as an added sweet treat and can be made in under 30 minutes. You will need;
White chocolate chips or use milk, dark, semi-sweet, whichever type you want to make
2/3 c sweetened condensed milk
Marshmallows mini are best
Pinch of salt
Jelly beans or sprinkles are fun for color
Large microwave safe bowl
The process of making fudge truly doesn't change from one recipe to the next. You'll want to be sure that you stir the ingredients with a wooden spoon. Also, have a large microwaveable bowl to melt the chocolate chips.
I also think that it's super smart to line a pan with parchment paper. This is so the fudge doesn't stick as it sets. Having a prepared pan is key to keeping the fudge nice and neat. It also holds their shape as delicious little squares.
Vanilla Fudge Recipe
Even though there actually isn't any vanilla extract in this recipe, I still call it my "vanilla fudge" recipe. This is because it's white in color from the chocolate chips and marshmallows. The evaporated milk also helps add a lighter color to the dessert too.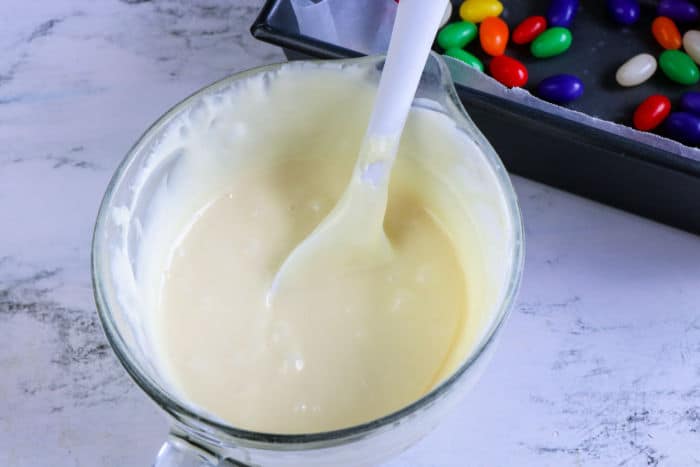 The kid and I had a discussion the other day about the best way to eat fudge. We were torn on our responses. I think that room temperature fudge is the best as it gives it a creamier texture. However, the kids were all about wanting to eat it cool out of the fridge. They said it provides the fudge with the consistency to melt in your mouth.
What do you think about eating fudge? Do you like it room temp or do you prefer it to be chilled?
Fudge with White Chocolate Chips
I love this simple fudge recipe because there is no need to have a candy thermometer on hand, or tricky double boiler either. Since the heating is actually happening in the microwave, you just heat it until it's melted. This makes for a fast and simple dessert that everyone can help with.
Since the end result is going to be adding jelly beans to the top, I recommend adding them in 1/2 cups at a time so that you don't overload with sweetness if you don't want it.
You can even add the jelly beans to half the pan or just to a few pieces at a time. I also let the kids decide as well if they want to decorate their own pieces of fudge.
The jelly beans are an optional topping but add fun coloring to the fudge. My creative kids even use them to make words or pictures on the top of the food, which is always fun to see. We have made reeses peanut butter fudge with those on top too.
Jelly Bean Fudge
Keep in mind that if you're not keen on having the added jelly beans, you can leave them off. There are plenty of other toppings for fudge that will work just fine.
Powdered sugar, caramel drizzle, or even Christmas sprinkles are all great choices, too. I also think that added crushed nuts or even more mini marshmallows would work out awesome as well.
If you're not a fan of toppings on your fudge, leave them off entirely! Toppings aren't a must at all, so it's totally up to you. The only equipment you'll need is a piece of parchment paper and a loaf pan to get started.
Condensed Milk Fudge Recipe
Have fun making this easy fudge recipe. Just be sure to store it in an airtight container and keep it in the fridge. It needs to be kept cold due to the added ingredients.
If you prefer to eat it at room temperature, you can remove your piece of fudge and give it a few minutes outside the fridge. It will warm up quickly and be ready to eat in no time at all. You just don't want to leave it out all the time especially during the summertime or it may completely melt on your counter.
This holiday season, have fun making fudge! It's a classic holiday dessert that everyone will love! Just follow the recipe below and add any sort of add ins you like and enjoy!
Can You Make Fudge in the Microwave
Yes! We have a similar recipe for microwave pumpkin fudge linked at the top of this post too. You'll love that during Thanksgiving and Halloween time of year. Jump to recipe and create your own fun combo with candies on top, or plain!!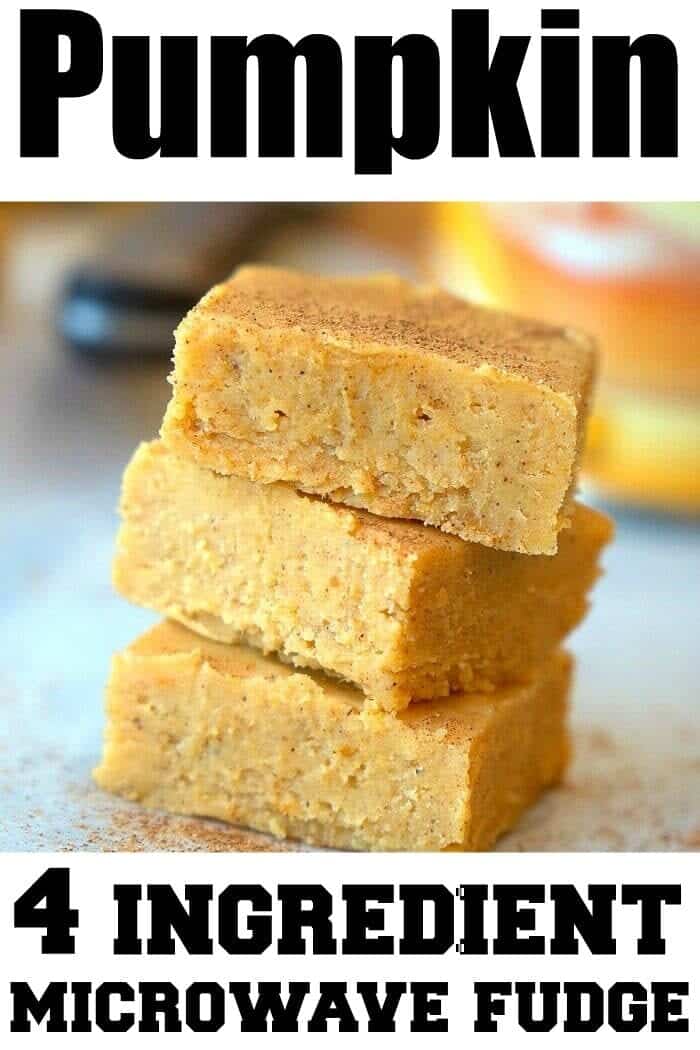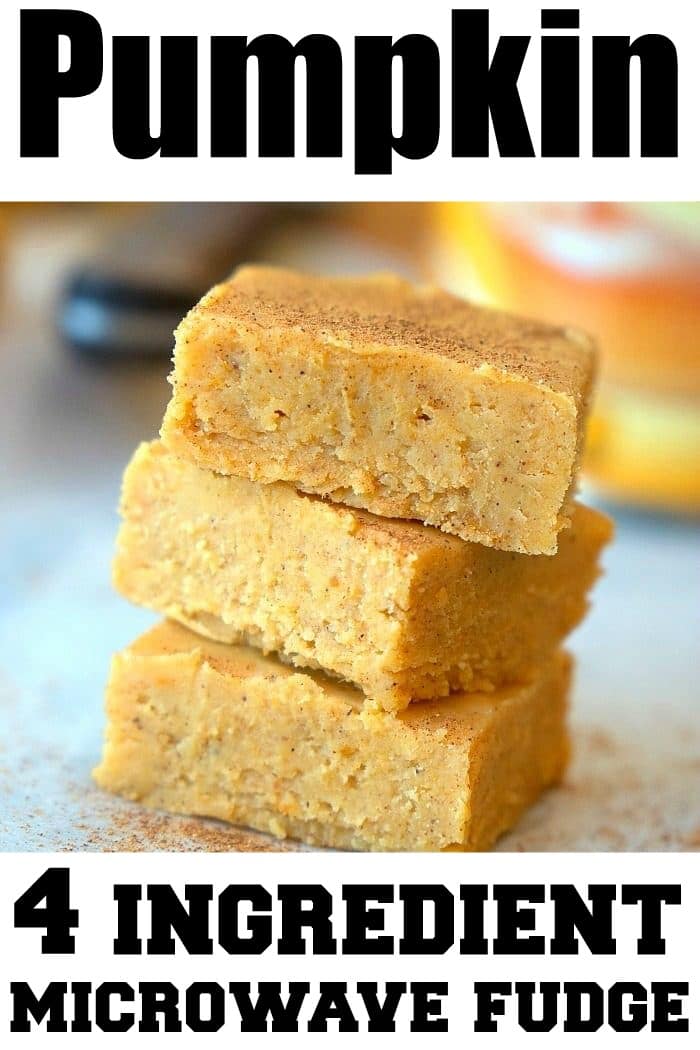 To save well wrap what is left in plastic wrap and store it in the fridge. Cut small pieces and enjoy, then wrap again until it is all eaten up. It needs to stay cold so the texture stays stiff or it may get too soft on your countertop depending on the temperature outside.
Want to see a few of my favorite things that I am totally obsessed with?? Take a peek and see how many you might already have…twinsies!
Looking for more easy family recipes and tips? LIKE The Typical Mom Facebook page?
Then sign up for my free newsletter, and follow me on Pinterest! 😉
***** If you LOVED this recipe give it 5 Stars below and let everyone know what you thought about it. 😉
Easter Fudge
How to Make White Chocolate Fudge in the Microwave
How to make white chocolate fudge in the microwave is easy. Try dark or white chocolate fudge with add ins for Christmas, Easter, Valentines Day or any holiday.
Instructions
Place parchment paper sprayed with non stick spray inside a loaf pan.

Pour half of your jelly beans into the bottom, spread out.

Put chocolate chips and condensed milk into a microwave safe bowl.

Heat in microwave in 30 second intervals stirring in between times until it is completely melted, careful not to cook too long or chocolate will harden

Pour in mini marshmallows and stir. Microwave 15 seconds, stir, 15 seconds again until melted.

Stir in salt and 1/2 tsp vanilla if desired.

Pour melted mixture over jelly beans in pan and pour remaining beans on top. Gently press down so they stick.

Put pan into fridge to cool overnight.

When ready to serve allow to come to room temperature. Lift out parchment paper and slice into small squares.
Nutrition Facts
How to Make White Chocolate Fudge in the Microwave
Amount Per Serving (1 oz)
Calories 340
Calories from Fat 90
% Daily Value*
Fat 10g15%
Cholesterol 11mg4%
Sodium 93mg4%
Potassium 148mg4%
Carbohydrates 61g20%
Protein 3g6%
Vitamin A 53IU1%
Vitamin C 1mg1%
Calcium 101mg10%
Iron 1mg6%
* Percent Daily Values are based on a 2000 calorie diet.