Reheating chicken in air fryer is quite simple, but there is a trick to it so it doesn't dry out. Here is how to warm up cooked chicken legs, wings, thighs and breasts perfectly.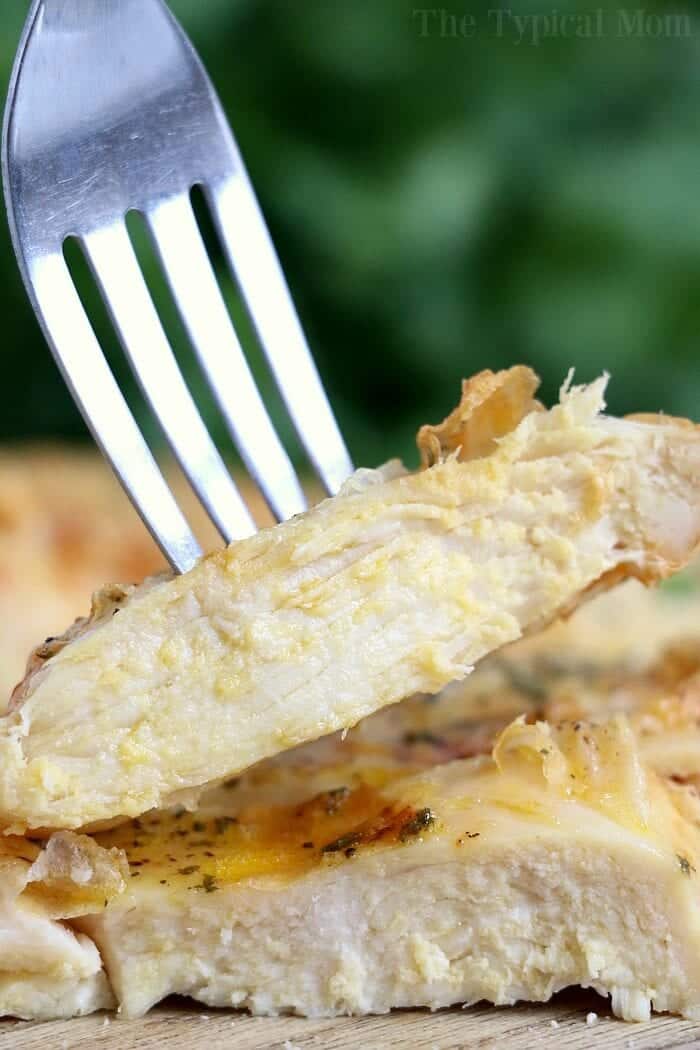 Reheating chicken in the Air fryer can be a great way to crisp up your leftover chicken fast. Most times it takes only 3-4 minutes to be perfect! Added to our list of easy air fryer recipes and tips here on The Typical Mom blog. (affiliate links present)
Reheat Fried Chicken in Air Fryer
The best part about this machine is that you can cook air fryer chicken in a short amount of time. Warming whole breasts or reheating chicken tenders in air fryer the next day is the question though right?? Microwave makes it dry and rubbery, nobody wants that.
Whether you have a piece that was grilled, smoked or fried this is the best way to warm it again. Cold chicken is a thing of the past when you have the best air fryer in your house. A great tip for Ninja Foodi chicken recipe lovers too.
If you love air fryer recipes too, here are some resources to start with: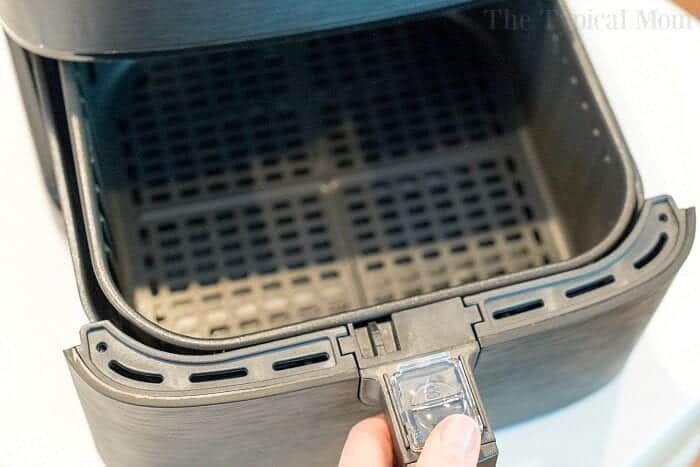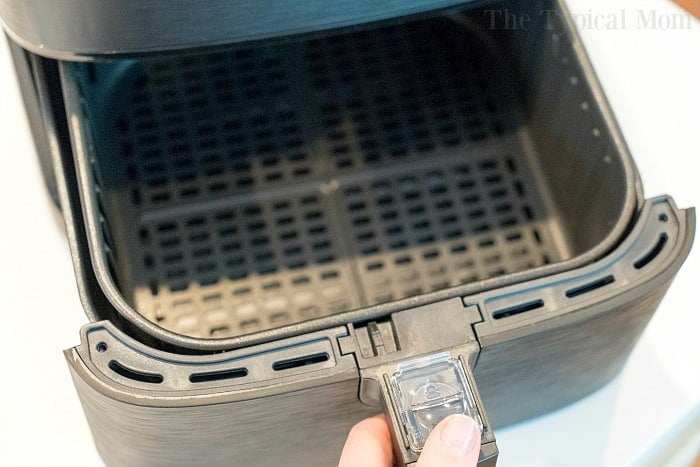 Reheat Chicken in Air Fryer
These are the 4 things you should keep in mind when doing this with any part of the bird y'all:
Preheat for 5 minutes before adding food.
Allow meat to come to room temperature before warming. (or will take longer and won't be as crispy)
Flip pieces halfway through cook time.
Brush on a sauce 1-2 minutes at the end to add moisture, or add at the end.
These are important to do whether you want to reheat chicken wings in air fryer or thighs, breasts, or drumsticks.
You can use whatever goodness you want before serving. If you add a dry rub at the beginning this isn't always necessary for flavor but for moisture it is a must for me.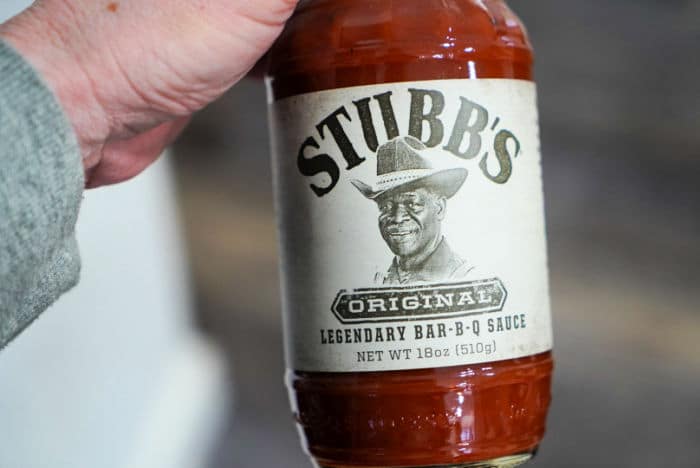 Reheat Fried Chicken in Air Fryer
While there are many methods for reheating chicken, putting the leftover chicken in the air fryer basket is one of my favorite ways to do so. A lot of people like to reheat chicken in the microwave.
I like the crisp that only my air fryer can do. I must say that fried chicken leftovers can be heated to taste just like they're freshly cooked!
The key is putting legs with legs, wings together, thighs and breasts in at different times so they don't overcook and dry out. Also, remove it from your fridge so it can come to room temp. before popping it into your basket.
This is KEY to your success I tell you especially if it is breaded.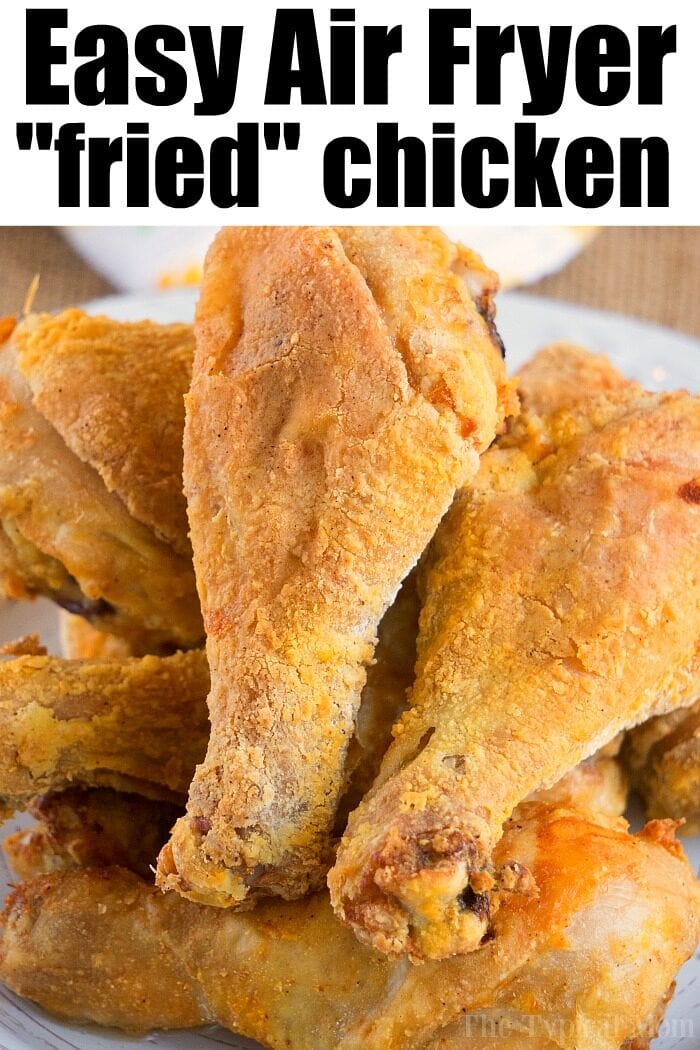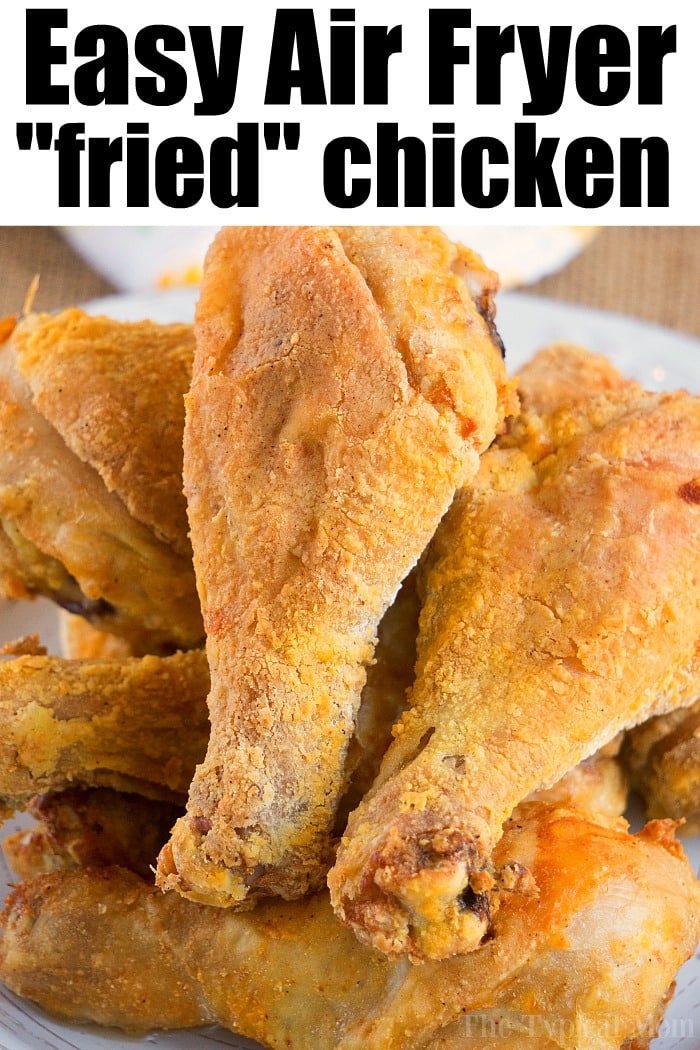 Reheat chicken wings in air fryer
The biggest thing to keep in mind when reheating food in air fryer is that you need to give the food space for the hot air to circulate.
It doesn't matter if you have the heat setting at 350 degrees or 400 degrees, if you don't give the chicken room, it's not going to crisp up.
When you're reheating air fryer chicken wings or precooked air fryer frozen chicken wings, you should definitely flip them halfway through. This will ensure that all sides are nice and crunchy.
I would suggest that you spray a bit of coconut oil or olive oil on the outer skin before heating so that they get nice and crispy again. Try for 3 minutes at 350 degrees, then increase to 400 F for another 3 minutes and see what you think. (don't forget to flip halfway through)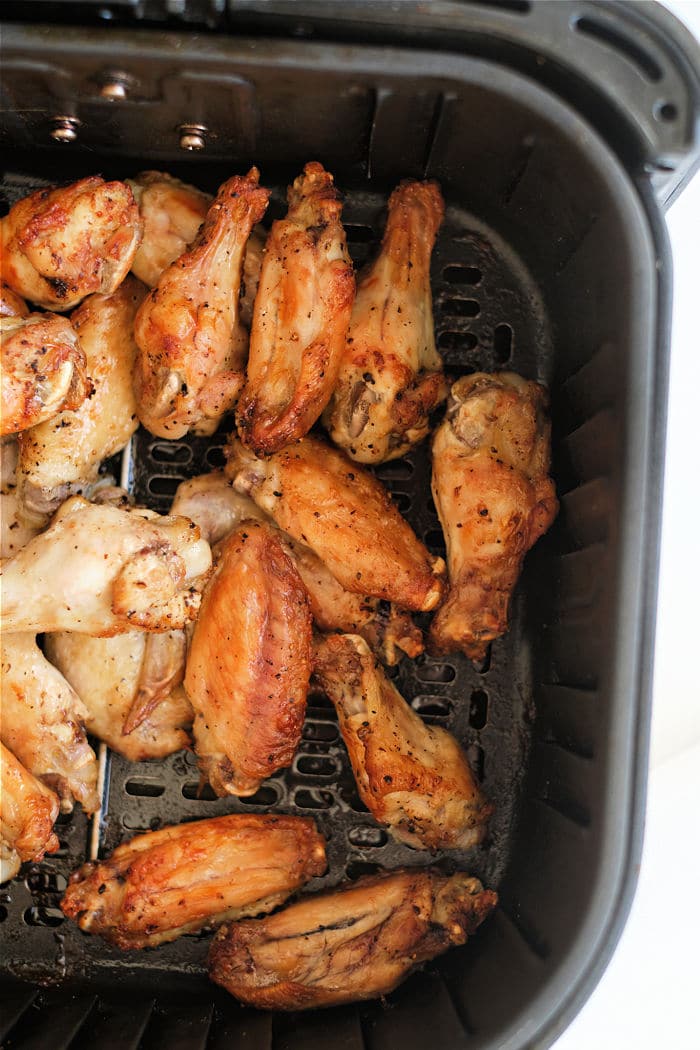 Reheating chicken thighs in Air Fryer
Especially if the leftover air fryer chicken thighs are breaded and fried, you need to remember this tip for reheating.
Make certain that you remove it from your fridge and let it come to room temperature FIRST before popping it into your basket. This will help it cook quicker and not release moisture, too.
Reheating fried chicken thighs are closer to 6-8 minutes at 375 degrees flipping halfway through cook time. It might take longer depending on whether they are boneless or bone-in.
You can add more time beyond that if it isn't warm all the way through.
If it's chicken with no breading I would follow the same tips and instructions to crisp it up.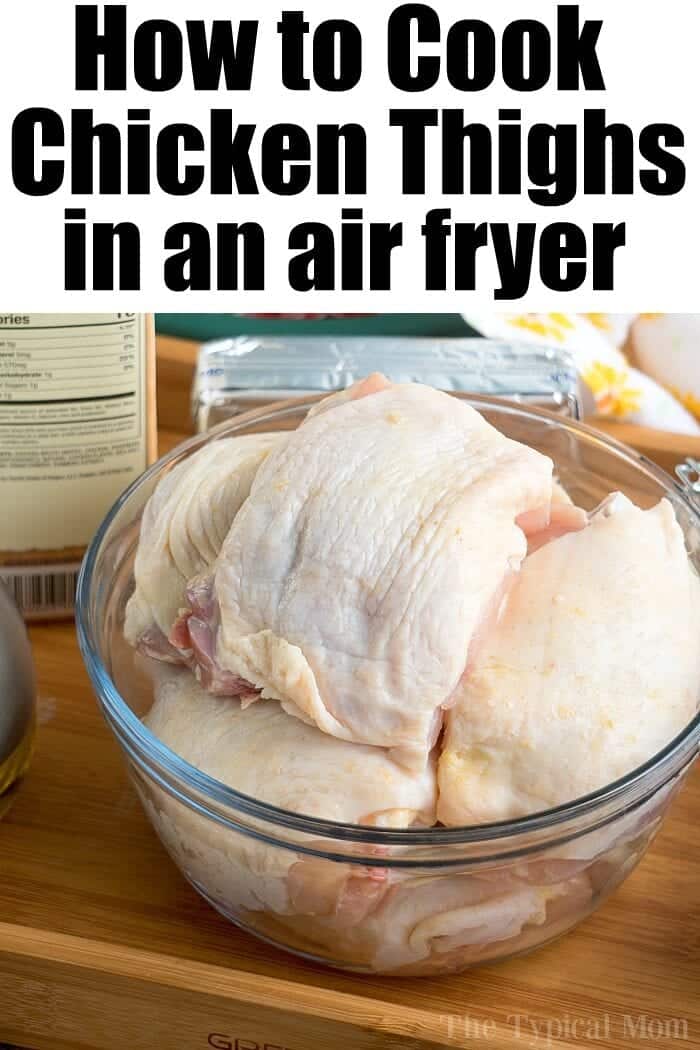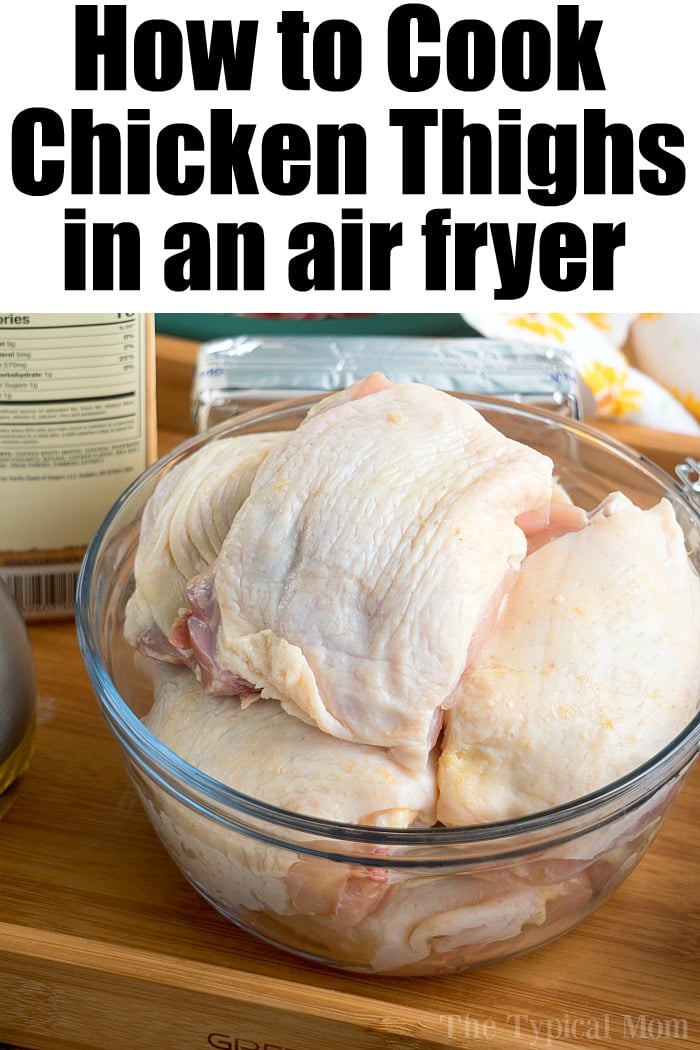 Reheating Chicken Breasts in the Air Fryer
The same rules apply as above for reheating frozen chicken breasts that have been cooked and air fryer chicken quarters. If they are fried, you want to give them the chance to come to room temperature first.
Once they do, you can then add them to the machine.
Make sure to preheat for 5 minutes ahead of time so that the meat cooks at an even temperature the whole time. Preparing and preheating shouldn't take much more than 15 minutes of time, so keep that in mind.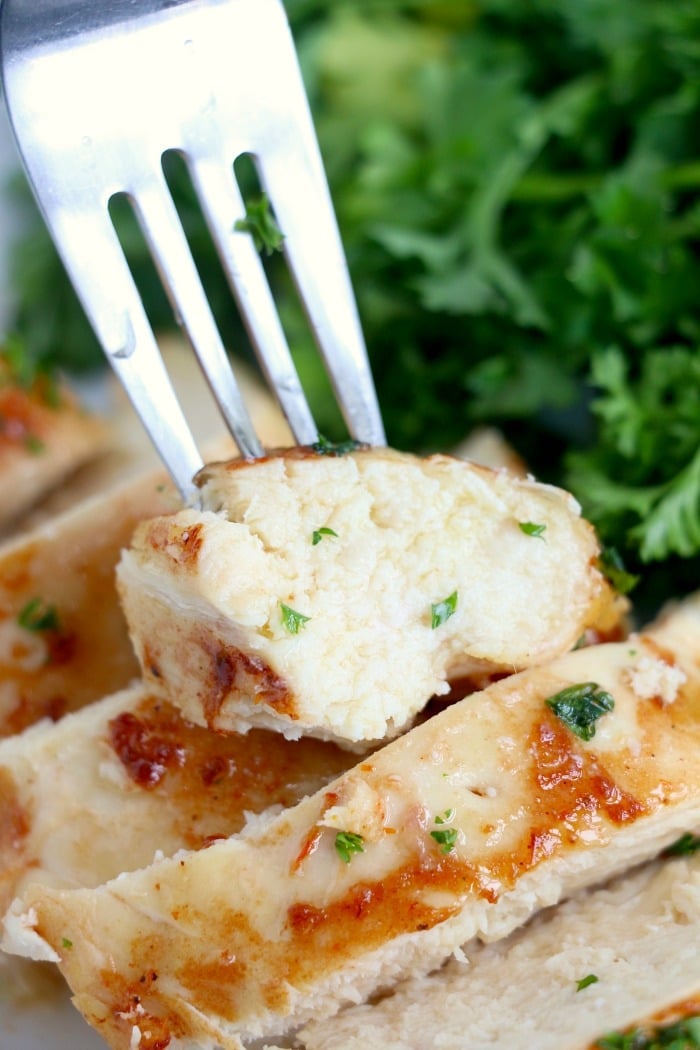 Spray some oil on the outside of the skin to help it crisp up a bit during reheating. Since you're only heating up the chicken you don't have to worry about it cooking all the way though and it's internal temperature.
Just start with 8 minutes flipping halfway through and then cut open and feel the insides, longer with bone in pieces. You can add more time beyond that but don't want it to dry out.
Adding a sauce to the outside is also a great idea to add moisture.
Reheating leg quarters in air fryer would follow these same rules and times.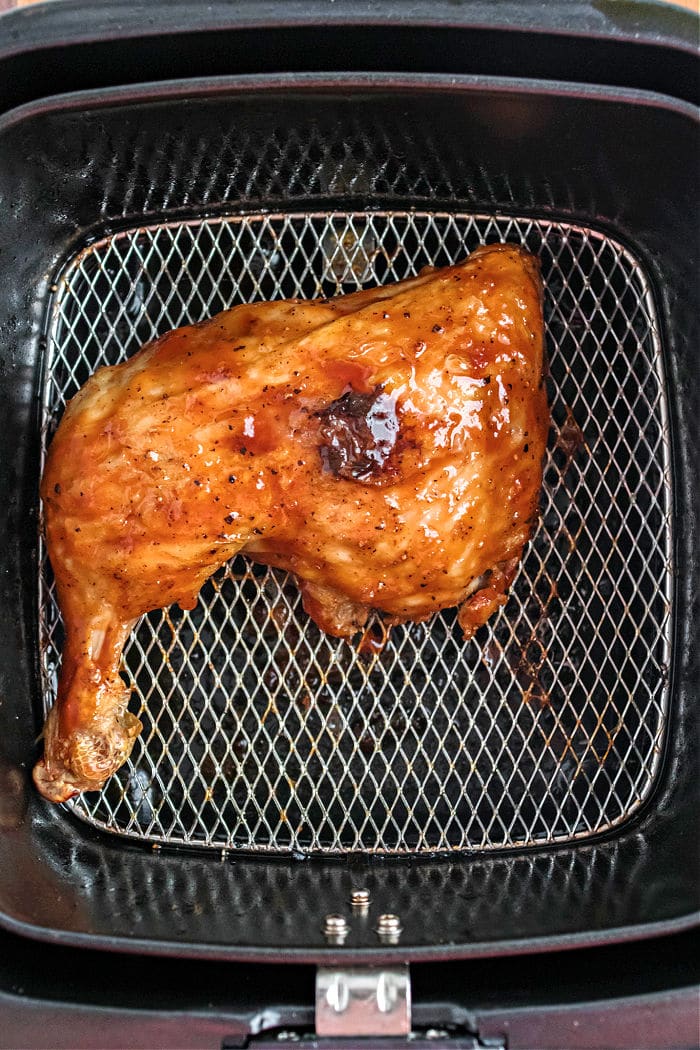 Brush on your favorite barbecue sauce for the last 2 minutes. It will not only make sure it stays moist, but will add a bunch of flavor too.
It's also just as important to remember to allow space in the basket all the time. Don't have the chicken touching or on top of other pieces. Space is the key to reheating this tender protein!
Reheat Chicken Tenders in Air Fryer
We have made homemade chicken tenders wrapped in bacon as well as air fryer frozen chicken tenders. Remember that these aren't very thick and don't need much more than 4 minutes or so at 400 F. Check after that for warmth.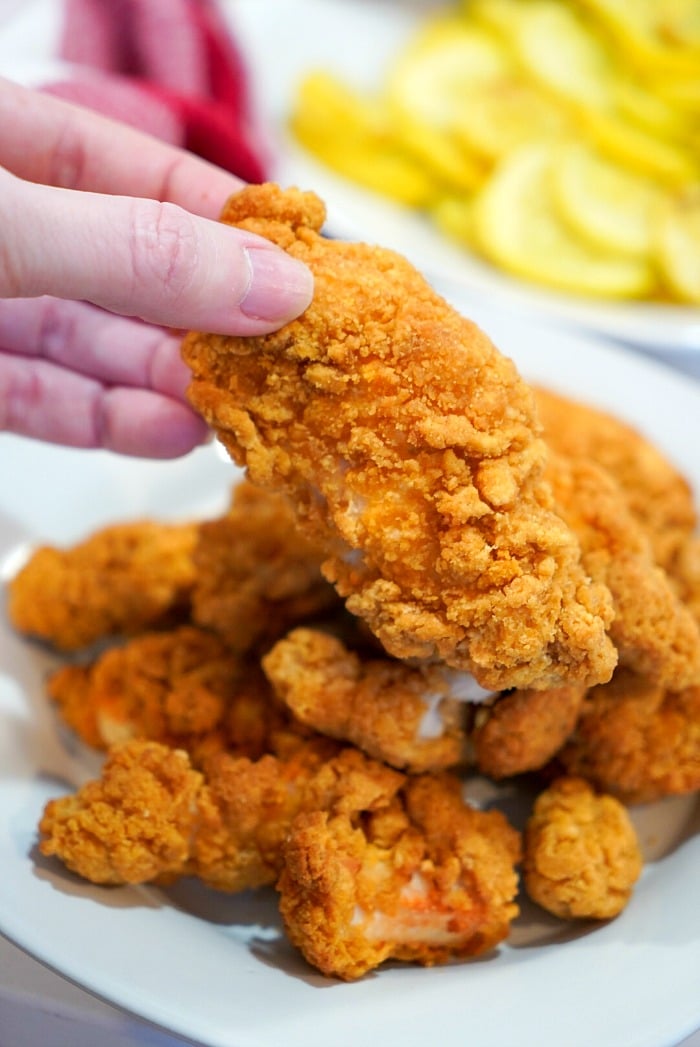 Reheating Chicken in the Air Fryer
One of the worst things to happen to reheated leftovers is that they get OVERCOOKED during the process. This is really common and most times done completely by accident.
Since the air fryer will cook and reheat chicken at a high temperature, you need to be certain that you don't cook it for a long period of time. Most times 3-6 minutes is going to be enough. Longer being with bone in pieces.
If you really want to get an accurate reading of the inside without slicing it have a meat thermometer handy. That way, you'll know for certain that it gets to the right temp. to enjoy.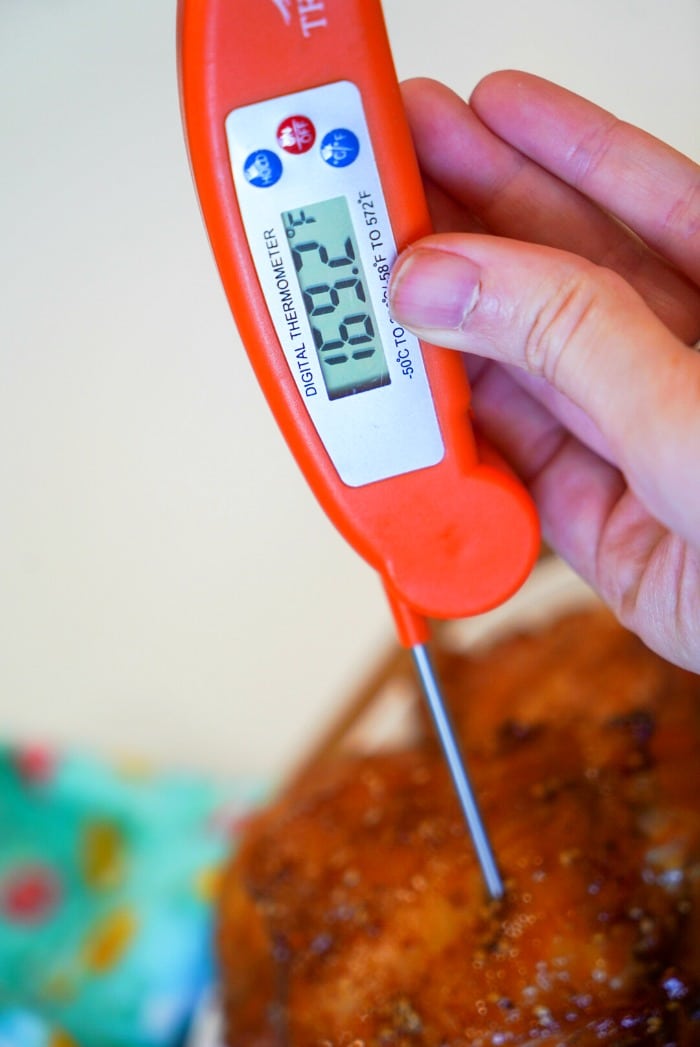 Reheat Rotisserie Chicken in Air Fryer
For this I would assume you don't have the entire thing left. Most often when I buy one we will make chicken taco bowls with it and have a few thighs and legs left over.
If we have made an entire air fryer whole chicken (that tastes way better than store bought I must add) the same would hold true. If you do have the whole thing then cut it up into pieces.
Place like sized pieces in at a time and follow suggested times above. The basic rundown would be at 350 – 375 degrees F:
Tenders = 4 minutes
Wings = 6 minutes
Thighs = 6-8 minutes, longer with bone-in
Breasts and quarters = 8-10, longer with bone in
Whole = cut into pieces and follow rules above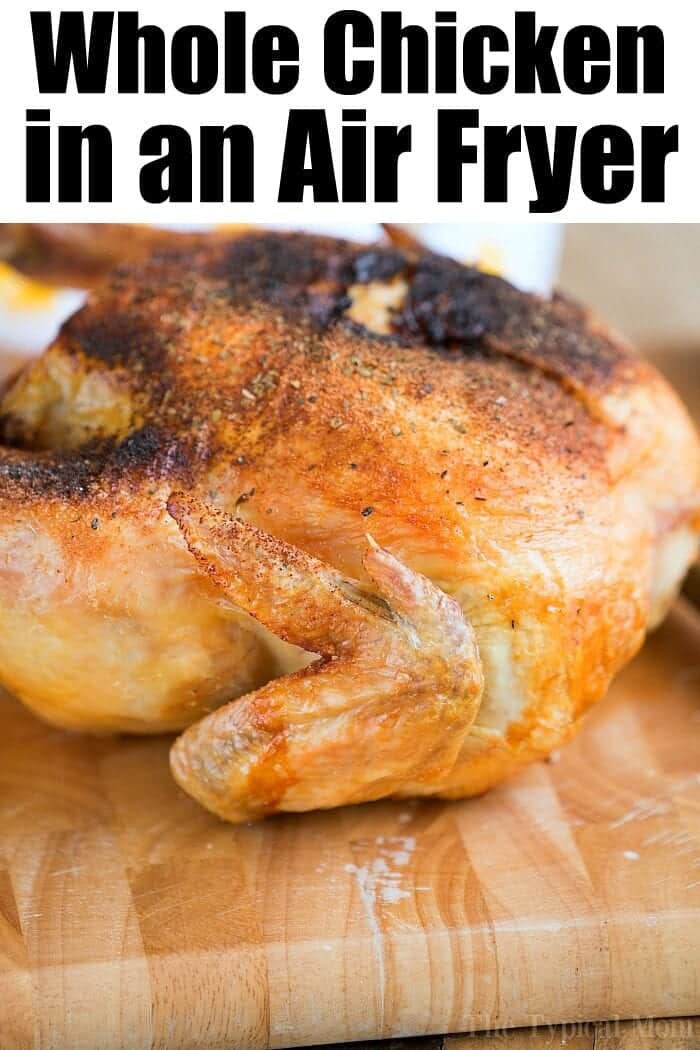 How to store leftover air fried chicken
One other big tip that is super helpful in reheating chicken is that you want to be certain that you're storing it properly in the first place. Let it cool down completely. Then add it to a container with a lid.
If you don't let it cool down, it will trap moisture droplets in the container. This will make the crust of the chicken soggy and damp. This goes for air fryer chicken fried steak too that has a thicker coating.
While it's not impossible to heat up, this will make it take longer to do. You might also then have the possibly overcooking it in the process.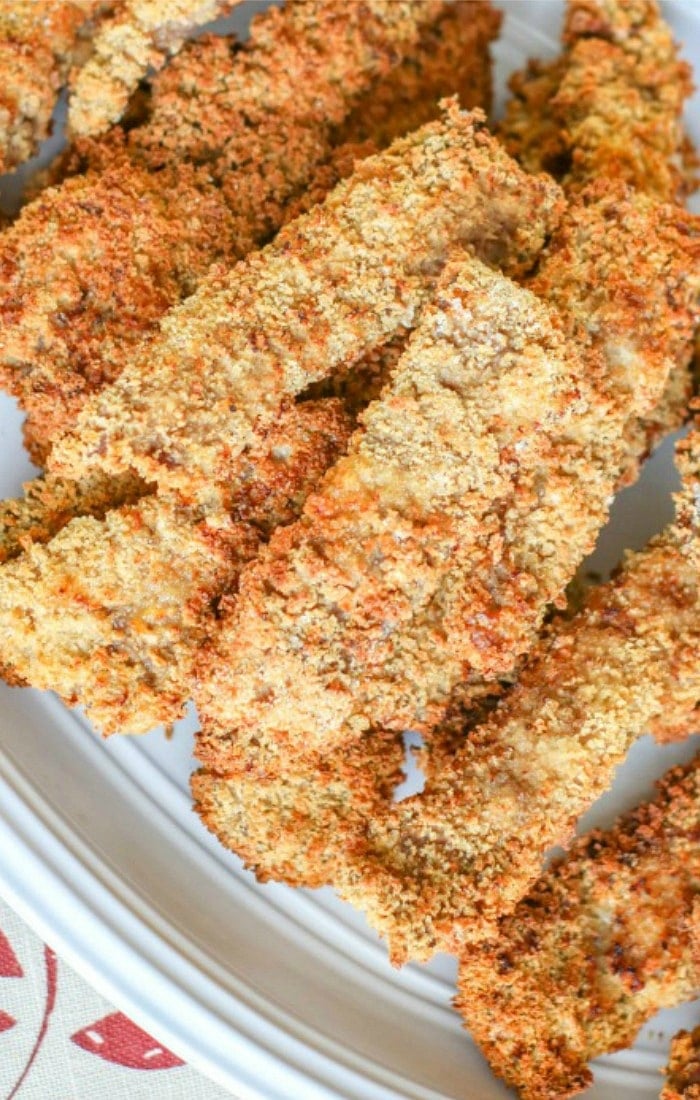 Letting the chicken cool and then storing it in an airtight container will help in the reheating process of getting the chicken skin crispy.
No matter what cut of chicken that you're reheating, the tips for reheating chicken listed above will help. These tips will help ensure that you're doing all you can to get back that wonderful crispy outside texture and taste.
If you need to reheat it longer, just keep an eye on it so that way you don't overcook it. I typically stay pretty close to the air fryer when reheating chicken since it's only a couple of minutes of time. That way I can push the button for a few more minutes to get the chicken crispy and perfect.
For a bunch of air fryer chicken breast recipes to begin with check out our round up here.
Want to see a few of my favorite things that I am totally obsessed with?? Take a peek and see how many you might already have…twinsies!
Looking for more easy family recipes and tips? LIKE The Typical Mom Facebook page?
Then sign up for my free newsletter, and follow me on Pinterest! 😉
***** If you LOVED this recipe give it 5 Stars below and let everyone know what you thought about it. 😉