Reheating chicken tenders in air fryer has never been easier. This is how to get leftover chicken crispy again so you can enjoy a second meal. If you made too many air fryer frozen chicken tenders no worries, this is how to make them great again.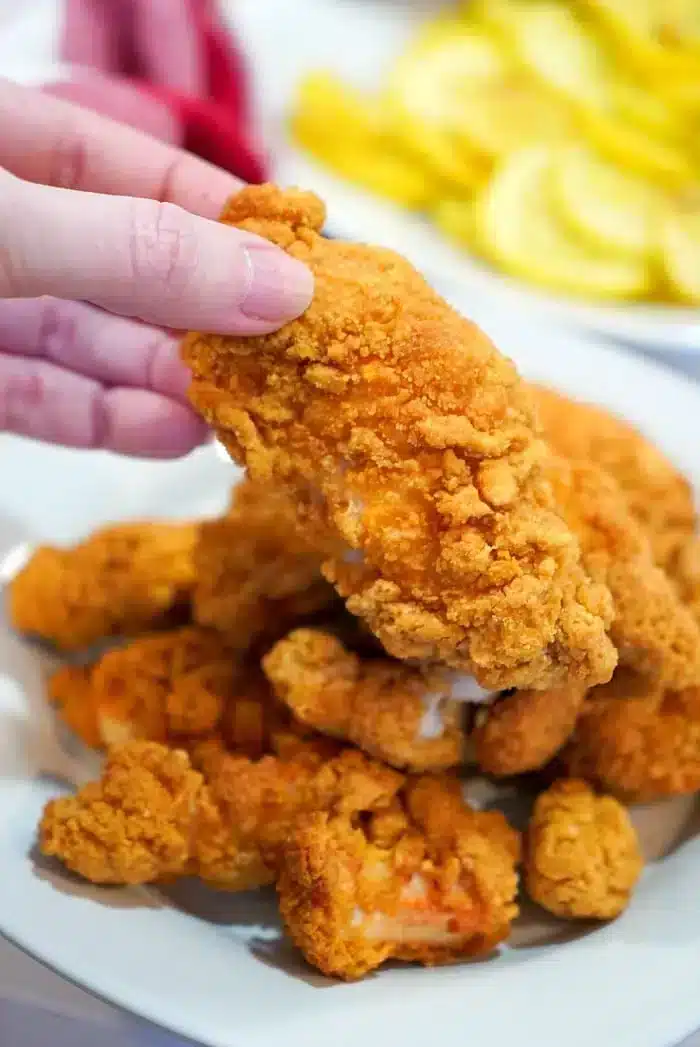 You know what the biggest game changer is? Reheating chicken tenders in air fryer or Ninja Foodi! That is right, no more sad flimsy leftovers, you can get crispy chicken again and again so even your kids will eat them next day. Just one hack we have in our easy air fryer recipes page. (affiliate links present)
How to Reheat Chicken Tenders in Air Fryer
There isn't a whole lot of difference between this and reheating chicken wings in air fryer, other than the timing. If you too hate throwing food away this is for you. Yes I'm one of those people. I didn't grow up with a ton of money so leftovers were a thing. Fridays we ate whatever was left in the fridge. I wish I had an air fryer then y'all!!
Using your microwave is a no go. You cannot get them crispy at all and they just get mushy on the outside and limp. Whether you cook homemade chicken tenders or frozen chicken this works, that is the next day when you take them out of the fridge.
If you love air fryer recipes too, here are some resources to start with: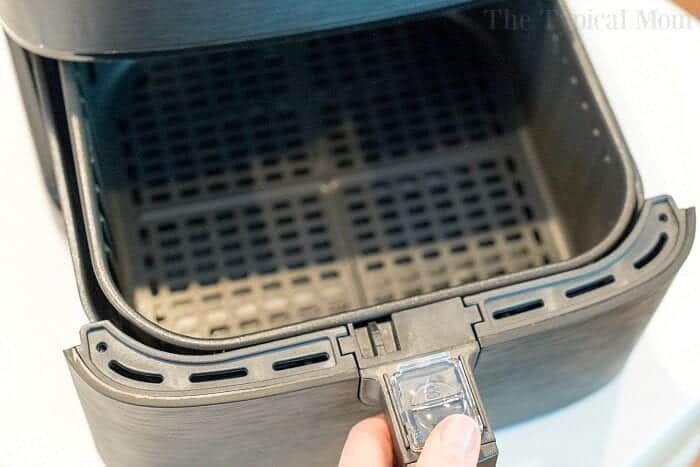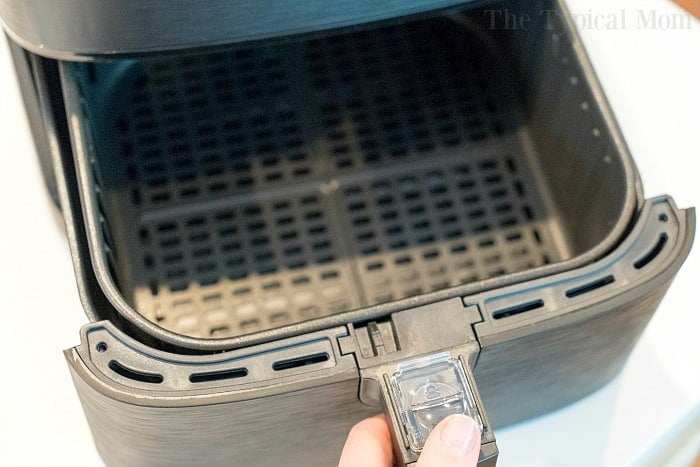 First off let's go over how to store leftover chicken;
Always make sure food is at room temperature
Slide into a freezer bag with a piece of parchment paper in between
Suck all the air out of the bag
Store in fridge for up to 3 days
Reheating Chicken Tenders in Ninja Foodi
Ok so it doesn't really matter what brand you used initially, or to warm them back up. Especially if yours are wrapped in bacon you want the outside to get crunchy again. Who wants floppy and flimsy pieces, crisping them up just tastes better. Texture is just as important as flavor in my opinion.
The biggest difference between any of the brands would be the size of the basket. That means you could rewarm more or less at a time. You do NOT want to overlap the pieces because that would defeat the purpose. The hot air needs an opportunity to circulate all the way around the food to work well.
I wouldn't say there is a huge need to spray your basket with non stick spray, even if you are reheating chicken tenders with no breading. However, if there isn't a coating on the outside I would brush sauce on top of each piece so it can kinda' brown.
How to Reheat Chicken in Air Fryer Without Drying it Out
Moisture is key if there is no breading. Using a low temperature instead of scalding it is important. Remember, it is already at temperature, you just want to heat it again, crisp the outside a bit, and maybe bake the sauce on top to a glaze if they're naked.
This is the case whether your have leftover fried chicken in air fryer or you are just heating chicken breast in air fryer.
Let's talk about adding moisture into the mix;
You want to make sure to preheat the air fryer
Allow protein to heat for about a minute, then brush sauce on the top
After you flip each piece over I would brush more sauce on your cooked chicken to moisten it up.
Barbecue sauce or a great homemade teriyaki sauce will not only keep it from drying out but it will also add a ton of flavor to the dish. We use bbq when reheating chicken tenderloins in air fryer.
What Temperature to Reheat Chicken Tenders in Air Fryer
Ok so now that I have that all out (I want you to get it done perfectly so just hear me out), here are the step by steps of how it's done. When you are done and ready to enjoy your leftovers I would serve with our chicken dipping sauces that take each piece from yum to OMG.
Let us know what you think and how often you enjoy this!
Time needed: 4 minutes.
Reheat Chicken Tenders in Air Fryer
Preheat

When you use an air fryer to reheat anything I always recommend that you preheat your machine. This time, set it to 350 degrees F. This will ensure that they heat at the same temp. the whole time they are in there.

Add Food

Lay your leftover chicken tenders or chicken fingers inside the air fryer basket in one single layer, do not overlap them in order to achieve crispy skin again.

Air Fry

Reheat at 350 F for 4 minutes total flipping each one over after 2 minutes cook time. If your pieces are much thicker you may need an additional minute but this should make the outside nice and crunchy again.

Add sauce

If you want to add a sauce, brush on the top after cooking 1 minute, then 1 minute after you flip them.
This is much faster than reheating chicken in the oven which takes closer to 30 minutes when you take into account the time it takes to preheat. You don't heat up the entire house using this method either.
Want to see a few of my favorite things that I am totally obsessed with?? Take a peek and see how many you might already have…twinsies!
Looking for more easy family recipes and tips? LIKE The Typical Mom Facebook page?
Then sign up for my free newsletter, and follow me on Pinterest! 😉
***** If you LOVED this recipe give it 5 Stars below and let everyone know what you thought about it. 😉