Here is an easy hummus recipe with canned chickpeas you can add garlic, sun dried tomatoes, jalapenos or just make plain. It just takes 5 minutes to prepare this homemade hummus right at home. Naturally gluten free it's a snack my whole family enjoys.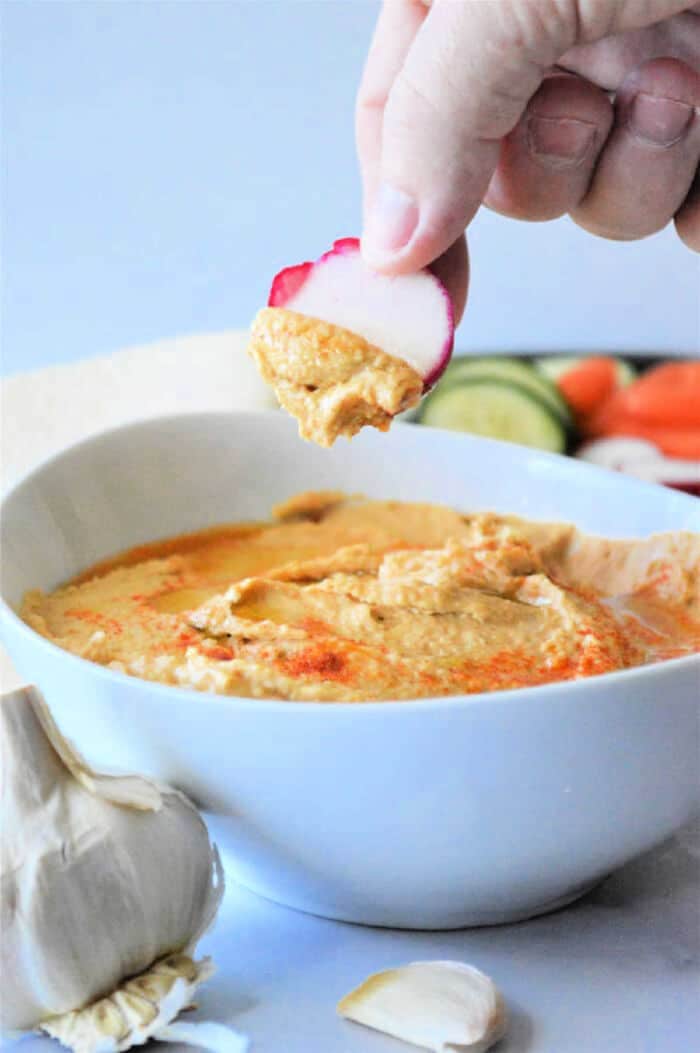 Once we put my oldest daughter on a gluten free diet due to health issues. We began eating hummus and other gluten free foods much more often. After a while we came up with an easy homemade hummus recipe we had to share. (originally published 1/17, affiliate links present)
How to Make Homemade Hummus
Like I said, even before my oldest daughter began a strict gluten free diet we all loved hummus. We once bought large packages at Costco but not anymore. OH MY is homemade so much better, and cheaper! This is how to cook garbanzo beans, but we will show you the faster method with canned!
I think we seriously tried all the different brands and flavors on the market at the beginning of this journey. From garlic, to plain, everything bagel and roasted red pepper they all had something that we liked but wanted to slightly tweak to our liking.
Each one for some reason had something about it that "just wan't right", so I thought I would try to come up with the best homemade hummus. It was much easier than I thought! It is best to have a food processor handy so it gets nice and smooth. You can add heat if you like or keep it mild.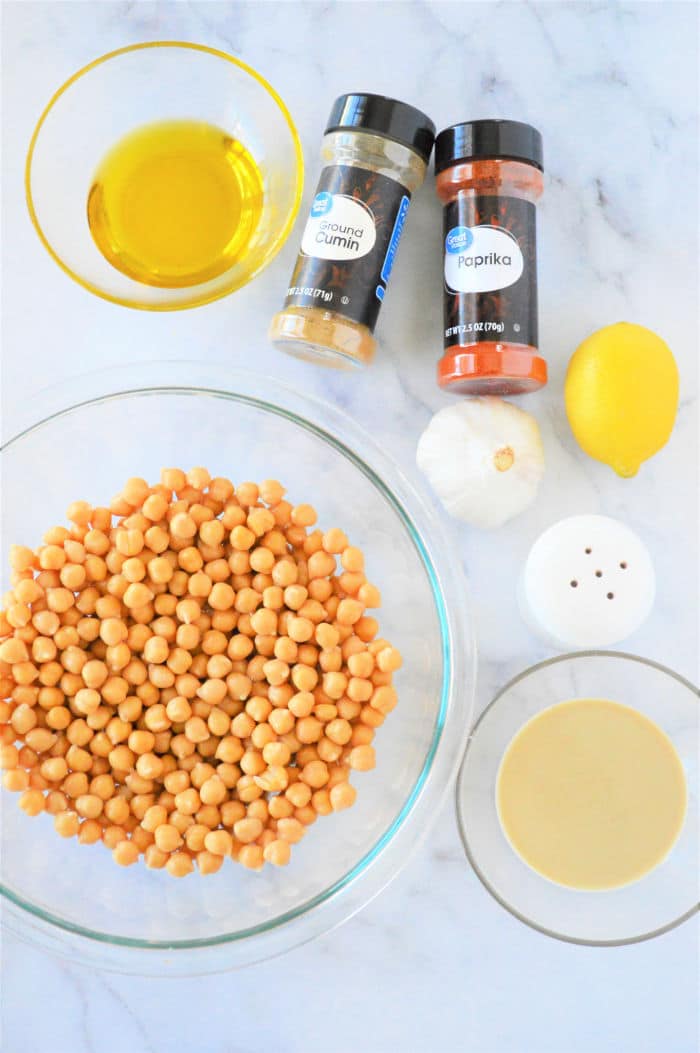 Easy Hummus Recipe with Canned Chickpeas
I gathered all the simple ingredients I knew all hummus recipes needed like garbanzo beans, spices, and of course crackers. We always pair with our hummus, and went to work.
Since Daddy and I like a little spice, and the girls generally like it plain, I made one batch for each of us. Garlic is something we all like and really gives it a great flavor.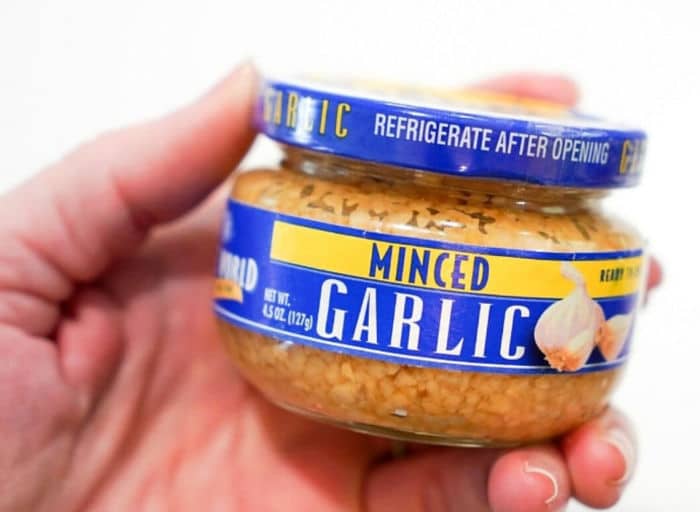 Here are a few questions you may have before you get started on this:
How do you make hummus from scratch?
We will show you here! It is SO easy you'll kick yourself for not making it earlier. Just garbanzo beans, tahini, olive oil and spices is all you need. Easy and gluten free too.
What can I add instead of tahini in hummus?
You can leave it out entirely, that is up to you. If you want an alternative; sesame seeds, sesame oil, cashew butter and almond butter are popular add ins.
Is it cheaper to make your own hummus?
Depends on what brand you buy but yes. The best part though is you can add your favorite flavors, make spicy, plain, garlic or otherwise.
Homemade Hummus Recipe
Garbanzo beans – canned

you could cook dried chickpeas from dry if you preferred
we use canned to make it easier but do love cooked chickpeas in air fryer as snacks too

Olive oil
Tahini – buy it here or make it homemade

then use the rest to make tahini chicken with it

Garlic
Lemon
Cumin
We used salt and paprika too but really the seasonings are totally up to you. Keep as plain as you want or really amp it up. Add some spicy flavors with red pepper flakes, dry Sriracha is pretty darn good or chili powder works if that is what you have on hand. Add light, mix, taste and adjust as you wish.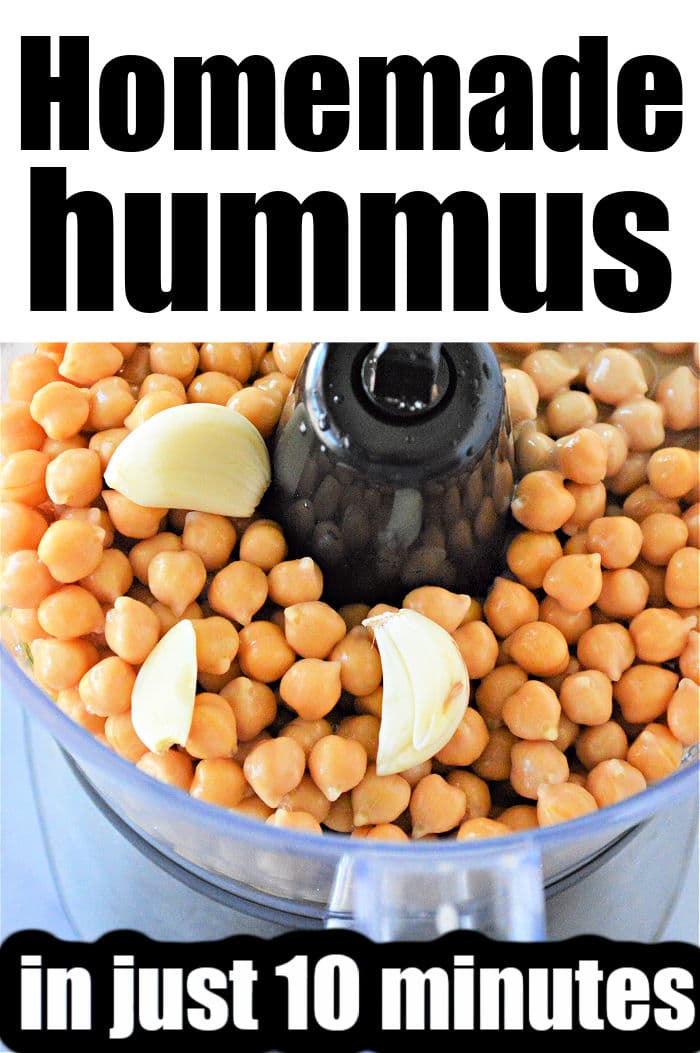 I am usually in a hurry so already minced garlic in a bottle is what I use. A fresh clove or three is fantastic if you can spare a few more minutes. 😉 For snacking we all like pita chips with herb and garlic seasoning. They pair really well with hummus or a cheese and cracker snack.
Even though the other 4 of us aren't necessarily on a gluten free diet they're still our favorite pair. You can make an endless amount of different yummy varieties too.
What types of hummus are there?
If you make it homemade you can add anything but the most common are:
Avocado
Sweet potato
Black bean
Sun dried tomato hummus
Roasted garlic
Pumpkin and chocolate can be made as a dessert hummus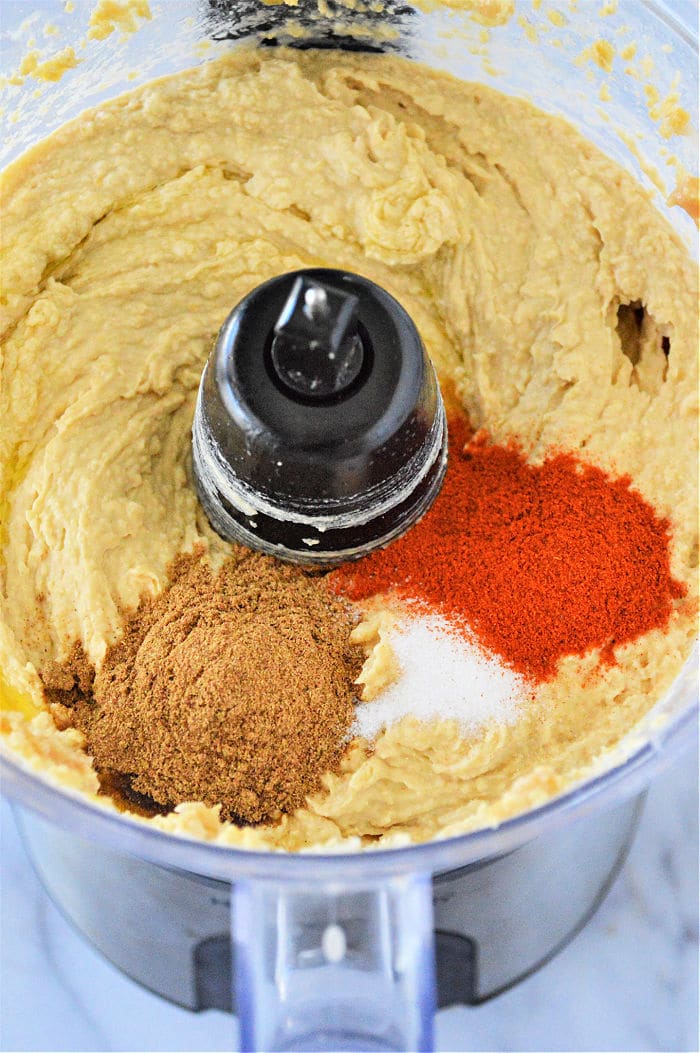 Easy Hummus Recipe with Tahini
I like this easy hummus recipe with canned chickpeas because it doesn't have hard to find ingredients, takes less than 10 minutes to make, is healthy, and very versatile with the extras you can add in or omit. Here are quick step by step directions but there is a printable recipe card at the bottom of this post as well:
Drain your cans of garbanzo beans but keep 1/4 c of the liquid from your cans in reserve.
In a food processor blend together beans, 1/4 of liquid from the can, tahini, olive oil, fresh lemon juice and cloves of garlic. If you're adding roasted red peppers add now too. Do so until it's a creamy texture.
Once smooth and creamy open lid and add dry seasonings. Blend again a bit so it is smooth.
If you want to thin it out and get super creamy add another drizzle of olive oil until it is the desired consistency you want.
Serve in a bowl topped with fresh parsley, sesame seeds or a sprinkle of ground cumin. Serve with lots of different sliced vegetables, pita chips and crackers on the side.
This pairing is great for an after school snack, a snack for Mommy. Yes I snack often and try to keep it as healthy as possible. Also it's a GREAT appetizer when people come over!
I have found that several guests say they had never tried garlic hummus until they came to my house (seriously shocking to me)!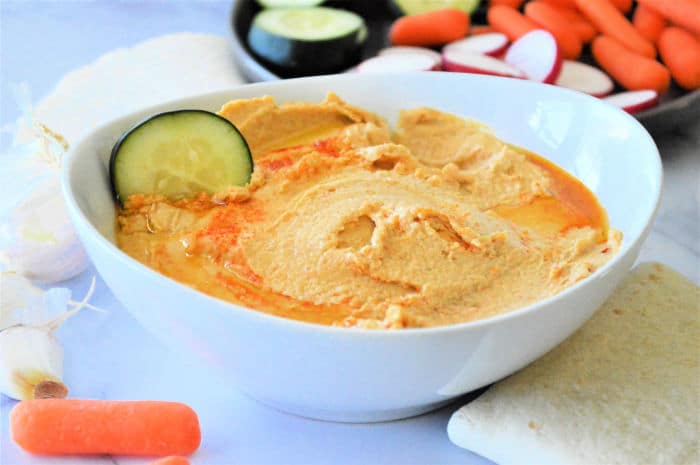 Easy Hummus Recipe without Food Processor
If your kiddos are a little hesitant (I know, it isn't the prettiest color), put a dollop on top of a cracker with a slice of tomato. You don't have to have a bunch of appliances either. If you don't have a processor you can use a blender too.
Yes you can make this "fancier" when guests come over. Just use a freezer ziploc baggie, spoon it inside. Snip the corner off and squeeze a dollop on top of sliced cucumbers!
No…..don't go out and buy special bags for decorating cakes at a specialty store, these work great!
Like I said, this recipe is versatile. You can add some diced red bell peppers even for a little crunch. You will NEVER buy it at the grocery store after you've made it perfectly yourself at home again. Love this recipe!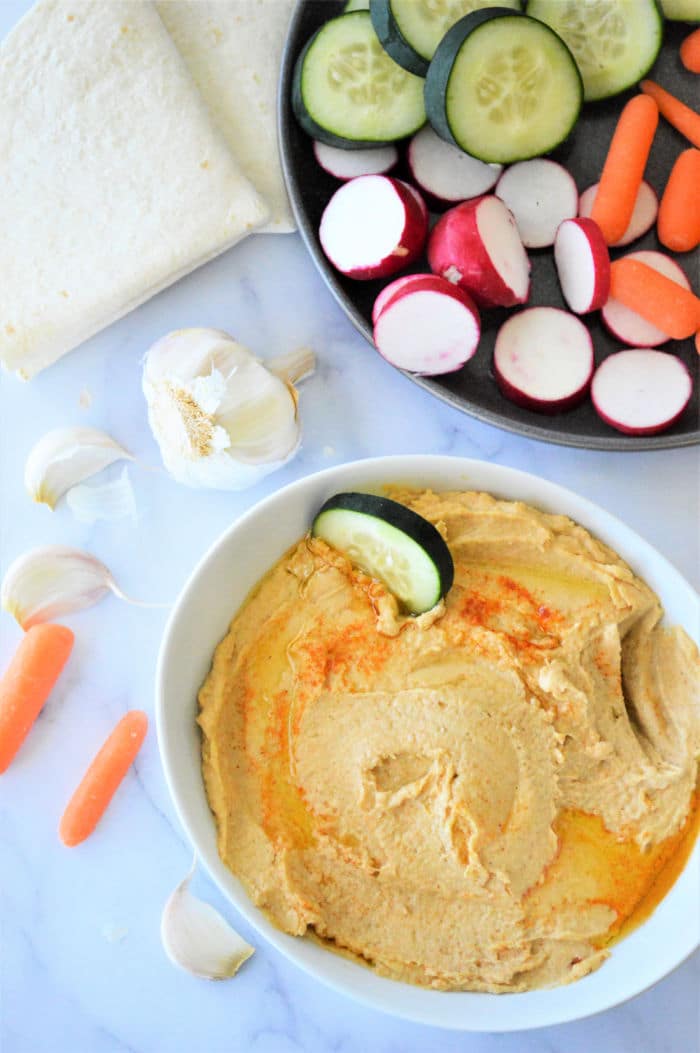 Leave in the fridge overnight to let the bell peppers soften and permeate the hummus. It is a great recipe and fantastic addition to your snack tracks in the future. You could easily double or triple this if you had a large crowd at your house. I would suggest serving half and keep the other part in the fridge. Refill when necessary.
To keep it cool longer too you should set a bowl of ice underneath. Fill the pretty dish with your mixture and set that inside. The ice will melt but continue to keep it nice and cool as people enjoy it hour after hour.
How long does homemade hummus last?
You want to keep the most air out of what you're saving as possible, that is key. If you spoon it into an airtight container and then put a piece of plastic wrap on the top that is best. Gently touch the top with the wrap so no air gets in.
From there store with a lid in your fridge for 3-5 days. We always gobble it up within 2 or 3 so there's never a worry but you can put a piece of masking tape with the date it was made on the bottom. Then you'll remember easier.
What do you serve with hummus dip?
Pita chips are quite popular but you can also make air fryer tortillas, slice into triangles and we like that they're a bit softer. Then fill them with air fryer falafel while you're at it. Make a veggie tray filled with large chunks of celery, radishes, baby carrots, zucchini, cucumbers and even jicama!
Some like sliced apples for a sweet and savory flavor.
You can spread it on bread instead of mayonnaise for a tasty sandwich.
I have even heard of people using this as an alternative to mayo. inside pasta salad! Haven't tried that yet but it sure sounds amazing.
Printable instructions are below which include nutritional information as well. That is calculated by the recipe card itself using the exact ingredients listed, including optional items. Enjoy and let us know what "extras" you may have added into your creation(s).
Want to see a few of my favorite things that I am totally obsessed with?? Take a peek and see how many you might already have…twinsies!
Looking for more easy family recipes and tips? LIKE The Typical Mom Facebook page?
Then sign up for my free newsletter, and follow me on Pinterest! 😉
***** If you LOVED this recipe give it 5 Stars below and let everyone know what you thought about it. 😉
Easy Hummus Recipe with Canned Chickpeas
Easy hummus recipe with canned chickpeas you can add sun dried tomatoes, jalapenos or just make plain. It just takes 10 minutes to prepare this homemade hummus right at home. A naturally gluten free snack.
Ingredients
Instructions
Drain the cans of garbanzo beans but keep 1/4 c of liquid in reserve.

In a food processor blend together chickpeas, 1/4 liquid from the can, tahini, olive oil, lemon juice and garlic.

Once smooth open lid and add dry seasonings. Blend again a bit so it is smooth.

If you want to thin it out add a bit of olive oil until it is the consistency you desire.

Serve in a bowl with sliced vegetables, pita chips and crackers on the side.
Nutrition Facts
Easy Hummus Recipe with Canned Chickpeas
Amount Per Serving (2 oz)
Calories 183
Calories from Fat 171
% Daily Value*
Fat 19g29%
Sodium 101mg4%
Potassium 65mg2%
Carbohydrates 3g1%
Protein 2g4%
Vitamin A 53IU1%
Vitamin C 5mg6%
Calcium 19mg2%
Iron 1mg6%
* Percent Daily Values are based on a 2000 calorie diet.