Air fryer chickpeas are crispy high protein snacks with tons of flavor. Tossed in taco seasoning they cook in no time. Both vegan and vegetarian, everyone will love bringing these to eat on the go.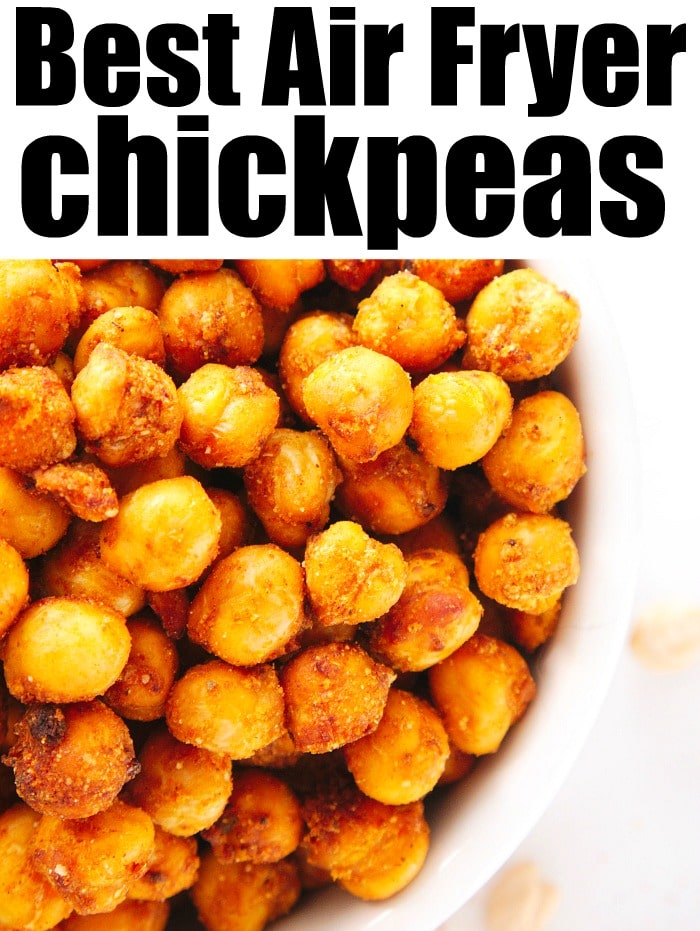 Have you made air fryer chickpeas yet?? If you're looking for a crispy crunchy snack that isn't deep fried like potato chips, these are the answer! One of our favorite easy air fryer recipes here on The Typical Mom blog. (affiliate links present)
Tip #1 – You really need to remove all of the moisture before you proceed any further. An easy way to do this is to drain the can and pour your chickpeas on a few paper towels. Press and absorb all liquid.
To get a really crispy air fryer chickpea, transfer to dry paper towels and allow to sit for an additional 30 minutes or more.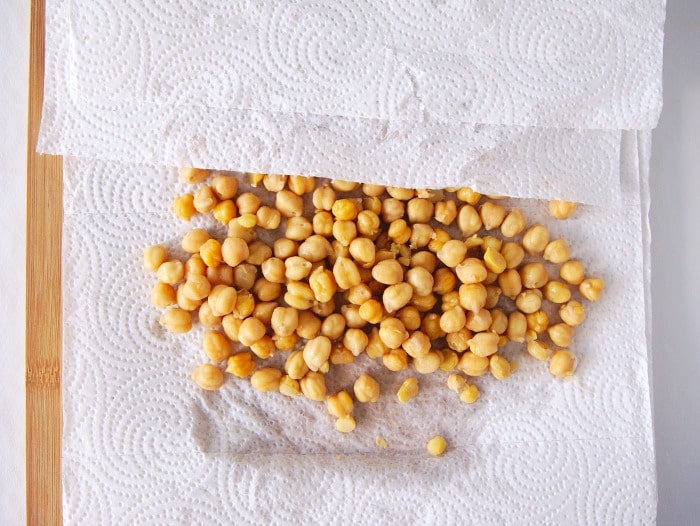 The drier they are to begin with the crispier they will get on the outside. If you've ever eaten bagged dried chickpeas with seasonings they resemble and taste kinda' like Corn nuts.
I first had some in my Graze box and became totally obsessed!
Are chickpeas good for you?
YES! They are a rich source of vitamins, minerals, and fiber. Chickpeas may offer a variety of health benefits too such as improving digestion, helping to manage your weight, and may reduce the risk of several diseases.
Additionally, as I said before they are high in protein and make an excellent replacement for meat in vegetarian and vegan diets.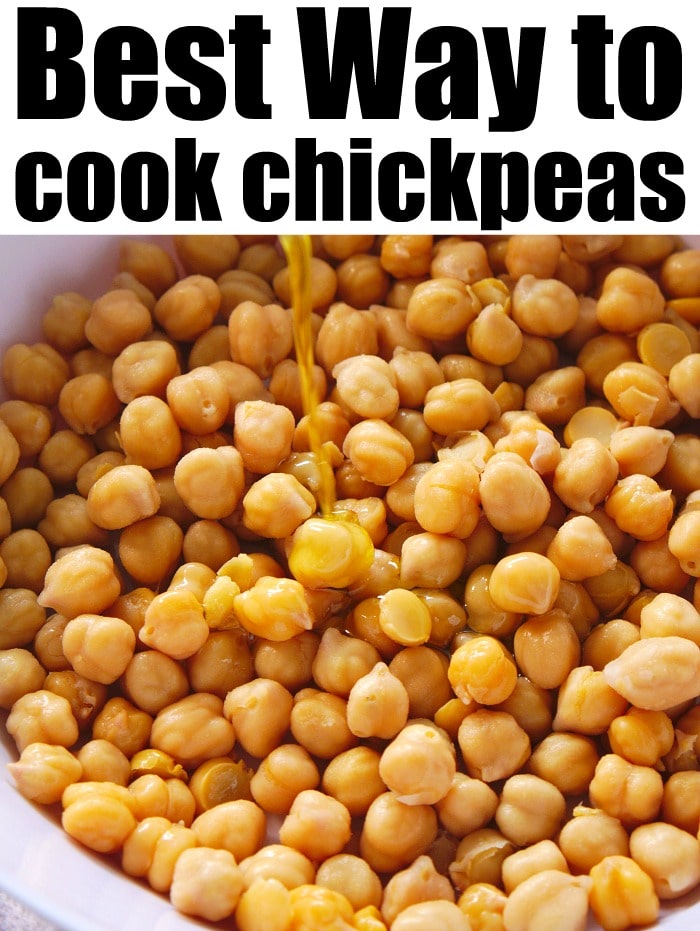 The only liquid per say we will use to make chickpeas in an air fryer will be some oil. I use olive oil for everything but avocado works just as well.
Once you have them nice and try put them into a bowl and stir in your oil so they're nice and coated.
Then we're going to use taco seasoning to bring a BANG of flavor to this chickpea recipe.

I buy that stuff in bulk because I make lots of other things with it like Instant Pot taco meat and our air fryer fried shrimp that are to die for!
Honestly once you try these and you want another batch, try other flavors like chili seasoning, curry powder and garlic powder, or another others of your choice.

Stir in oil and seasonings, then squeeze half of your lemon on and stir again.
I like to preheat my air fryer to 390 degrees but if you forget, don't fret. It will be fine either way.
Dump them into your air fryer basket in one layer (not overlapping) and cook at 390 degrees for 12 minutes.

After 6 minutes shaking the basket is necessary, for best results.
This will yield tender insides with a crispy chickpeas on the outside
If you want them crispy on the inside too increase the time to 14 minutes total, adjust as needed for preference.

Allow to cool so you don't burn your mouth and enjoy!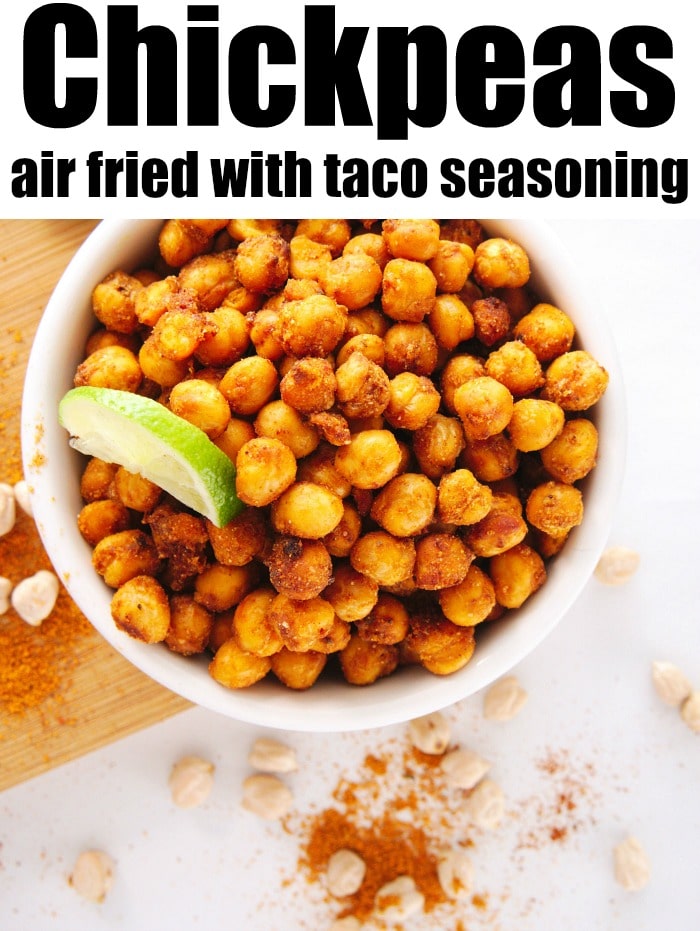 That's a super quick and easy way for roasting chickpeas right?? In literally 15 minutes you can have them ready to pop right into your mouth and they save great too!
Can you eat chickpeas the next day?
If you want to use an opened can of chickpeas the following days or weeks, treat them like you would treat frozen peas or frozen vegetables. Cook / boil them for a few minutes in hot water and store in airtight containers.
With air fryer chickpeas however they'll save nicely in freezer bags with the air removed for up to 2 weeks.
Of course they are best the fresher they are and honestly these haven't lasted long enough to really store them beyond one more day.
This way you can make a large batch and take them on road trips with you or put them inside backpacks for a quick snack.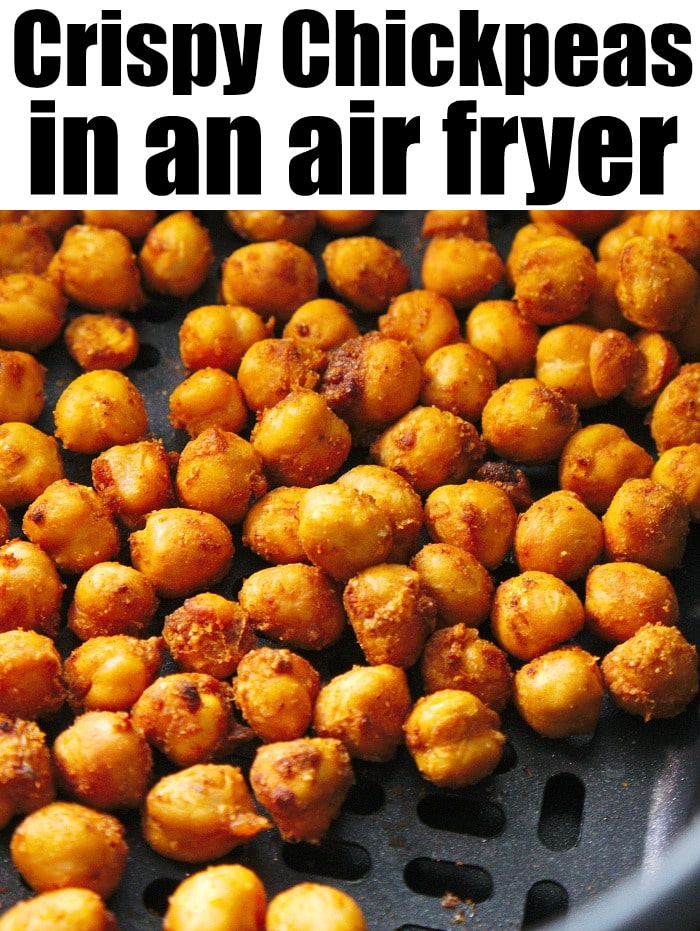 These are great on the go snacks for sure. Are chickpeas a protein or carb? Chickpeas are also known as garbanzo beans. This type of legume is full of protein, fiber, and carbohydrates too.
Air Fryer Chickpeas
Air fryer chickpeas are crispy high protein snacks with tons of flavor. Tossed in taco seasoning they cook in no time. You'll love bringing these on the go.
Instructions
Drain and rinse the canned chickpeas. Pat dry with paper towels to remove as much moisture as possible. You can leave on counter on paper towels for 30 minutes to really dry them out for best results.

Then dump them into a bowl and drizzle with olive oil. Toss so they're coated. Sprinkle taco seasoning on and stir so they're well coated.

Squeeze 1/2 of lime on to coated chickpeas.

Pour them into your air fryer basket. If your basket is small make in two batches so they don't overlap too much so they get really nice and crispy.

Set temp. to 390 degrees for 12 minutes flipping/tossing halfway through cook time.

This timing will crisp the outside and leave center tender. If you want the whole thing crispy cook for a few minutes longer. Pour on paper towels and allow to cool before eating, they will be hot.
Nutrition Facts
Air Fryer Chickpeas
Amount Per Serving (2 oz)
Calories 114
Calories from Fat 36
% Daily Value*
Fat 4g6%
Sodium 42mg2%
Potassium 163mg5%
Carbohydrates 16g5%
Protein 5g10%
Vitamin A 58IU1%
Vitamin C 3mg4%
Calcium 29mg3%
Iron 2mg11%
* Percent Daily Values are based on a 2000 calorie diet.