Best air fryer snacks that kids love, protein packed, keto low carb friendly options and on the go breakfast ideas too. From sweet treats like apple fries to more savory bites like our mashed air fryer potato bites all of these can be popped into your mouth and eaten on the go!
Now that you've become an expert, or maybe you're just beginning your journey, you might want some air fryer snacks! From after school snacks to sweet treats to enjoy late at night with a movie we have them all. Tons of easy air fryer recipes to choose from but these may be our faves. 😉 (affiliate links present, originally published 10/21)
Air Fryer Snack Recipes
I started this whole journey with a Ninja Foodi that offers 2 main functions. I liked it so much I then added a Cosori to the mix of small kitchen appliances and from that moment I was hooked!
Yes of course we make dinners in this all the time and there are some dishes that can be both a snack and a meal. Our air fryer dry rub chicken wings have been both, depending on the day. Sometimes you want to whip up something quick for your kids, or you, and I refer to this list every time for that.
FIRST – You should sign up for my free newsletter so you get new posts emailed to you twice a week and never miss out on anything! If you love air fryer recipes too, here are some resources to start with: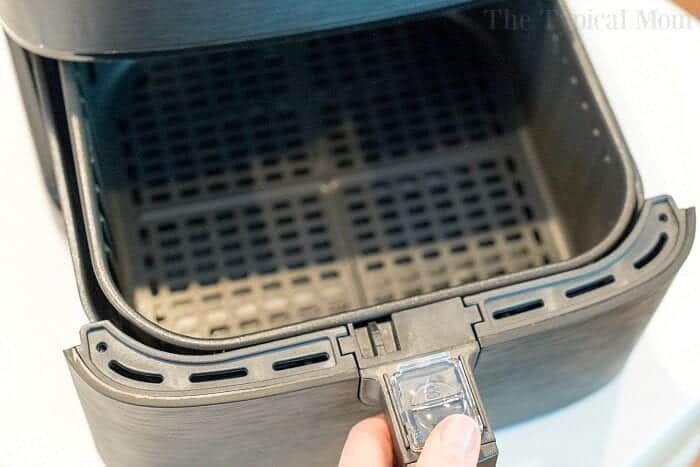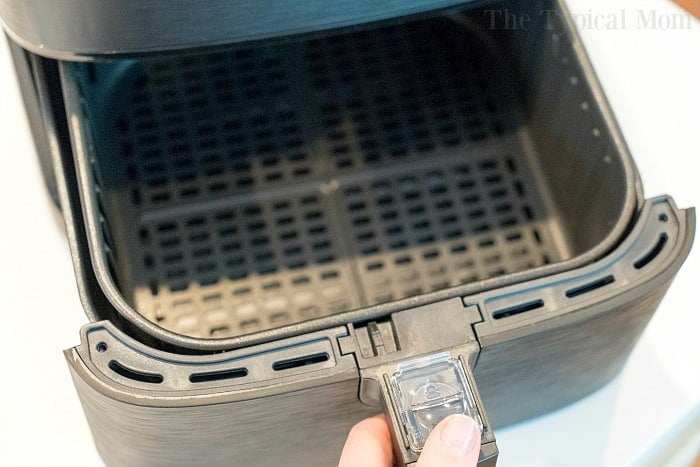 Healthy Air Fryer Snacks
If it's the beginning of the year and your resolution is to get in shape (mine every year) you might want to choose from this list here. Vegetables in the air fryer are always the healthiest, but not always a great finger food without any breading. So……let's share a few others.
This is how to make tortilla chips in air fryer and then the toppings are endless. You can serve them as a snack with cheese sauce or salsa or make into a meal with chili!
I mean you can bread just about everything and "fry" in the hot air. Whether you do it with a piece of fish or a fried pickle this will be a game changer for all of you.
Spinach chips are very similar to our air fryer kale chips recipe but with a different veggie of course. Made almost the same way I'd recommend trying both and see which is your favorite. Believe it or not my girls love kale after trying this one.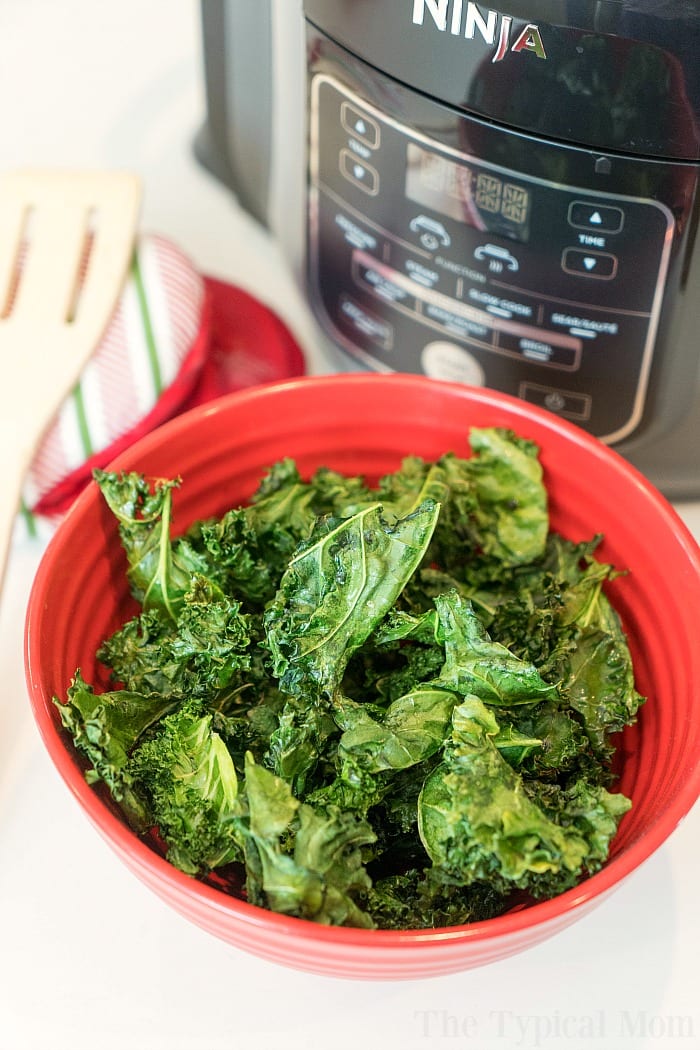 Ninja Foodi Snacks
Now it doesn't matter what brand you have at home. I also own an AirWave (because it was pretty) and Farberware has one too. The biggest difference between any and all of the brands is the size and shape of the basket. I have a 5ish quart and it's fine for the 4 of us.
When my oldest daughter was still home I used this large air fryer. It was great to pop in a few grilled cheese in air fryer for all of us so we could eat at the same time.
Of course if you want a pressure cooker and air fryer then go for the Foodi that does both of them. Here are a few more my kids love:
Sweeter and more tender than the chips above, these air fryer apples sliced into rings are the bomb. Still sweet but lower in carbs, air fryer jicama fries are the bomb too.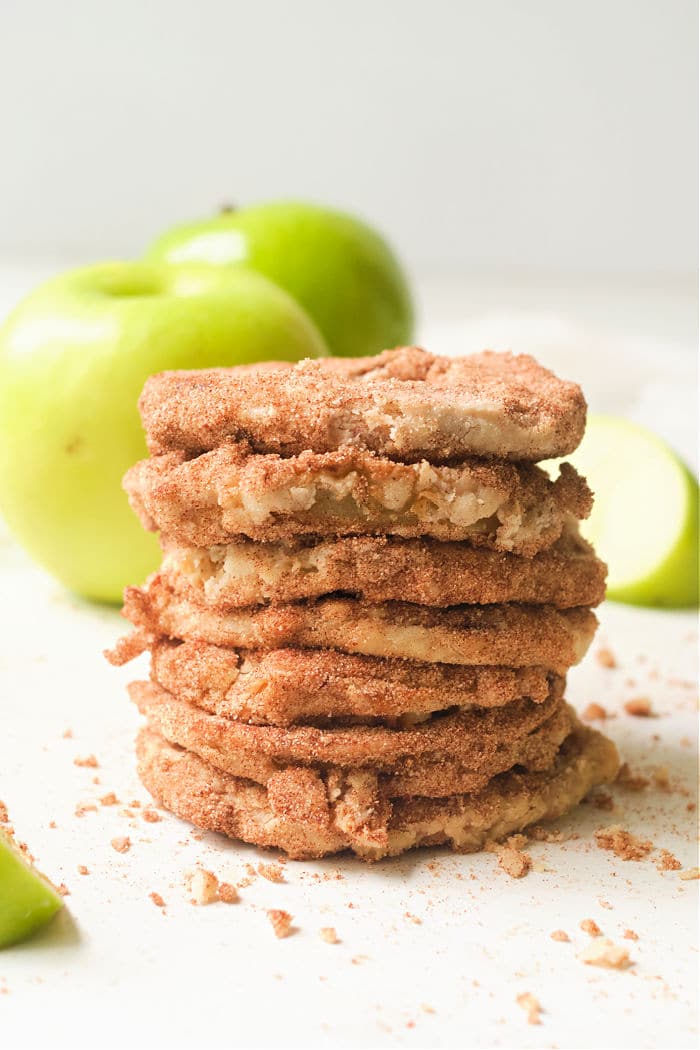 Easy Air Fryer Snacks
I will say those are a bit more labor intensive than some others with the "batter". Remember you cannot use wet like tempera, rather a light coating of flour and a quick dip in egg will do the trick. Then add your favorite seasonings and everything comes out great. Air fryer zucchini chips are probably my all time favorite.
If you don't have time for breading though, I get it. During the summertime when fruits are fresh you can make all sorts of little treats like air fryer peaches or apple crisp in air fryer!
Transform packaged or frozen gnocchi into crispy air fryer gnocchi some day. You can use wonton wrappers and stuff with all sorts of things like pie filling and/or cream cheese inside. Spray with olive oil and crisp for a few minutes at 380 – 400 degrees.
Air Fryer Recipes No Breading
Air fryer hot pockets can be thrown right in from frozen, or I share a way to make them homemade too. Using just defrosted frozen dough or refrigerated biscuits as the dough they're easy.
Let's continue on the frozen route shall we? That is the easiest for sure whether it's for a party food or snack for your kiddos. I will say that air fried vs. cooking in the microwave is SO SO much better. Whether you use it for egg rolls or sweet potato fries for a quick and easy game day bite the crispy is so much better.
Snack Recipes Air Fryer
I think the perfect air fryer party appetizer would be something where I can throw it in and not check on it at all. Pair it with a bunch of different dips to make eating fun. You can do this with:
I mean any of our air fryer appetizers would work just as well for a quick snack, so there is a longer list there too. From cooking frozen onion rings in air fryer to sweeter treats like air fryer cake in tiny ramekins so they serve just one, there is anything that hasn't come out well in this machine.
Air Fryer Finger Foods
Did you know you could make cheese it snack mix in this machine too? Yep. Want a protein packed bite? Try our air fryer edamame some afternoon.
It goes beyond that though. I am sure if you're a mom you have done breakfast for dinner and it's always been a huge hit for your kids. Well think of this, you could easily make snacks for dinner too! I mean there are enough healthy and high protein finger foods to choose from as your "main dish".
Then you can move on to side dishes and pair your fish nuggets let's say with artichoke in air fryer. Using the mini palm size versions it may be a new veggie they've never tried and become their favorite!
On to bite size air fryer desserts there are so many options there to choose from. Apple fritters are small hand sized and leftovers can be saved for breakfast the next morning too. Bonus!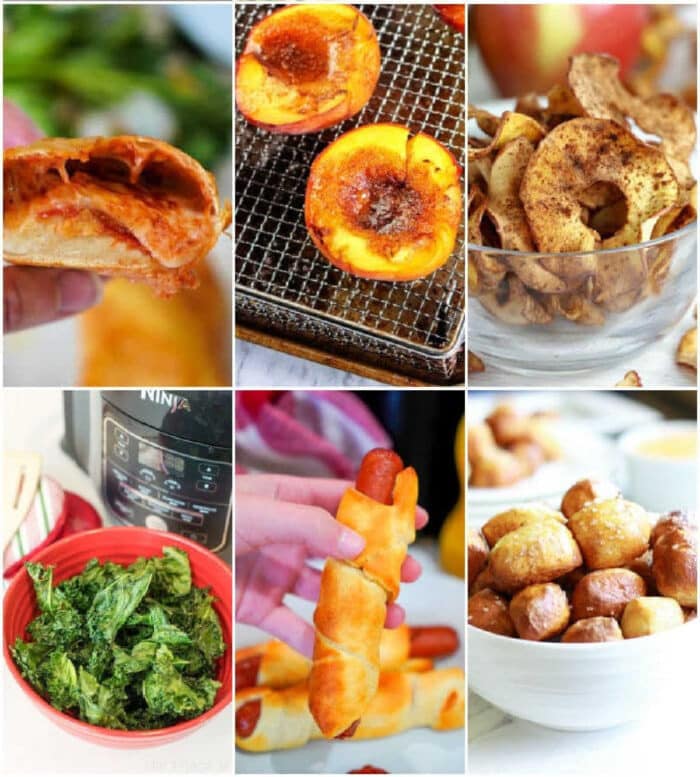 6 healthy snacks to make in air fryer
Many of these will save well too so y'all can snacks in air fryer the next day(s) too. For all of them the best tip is to eliminate as much air as you can in a well sealed bags. Some things like kale chips don't save well at all, you'll just need to eat them fresh for best results.
Apple chips can stay fresh for a good week in tightly sealed baggies and you can reheat chicken in air fryer pretty easily the next day. It is better than nuking it because it will get crispy once again.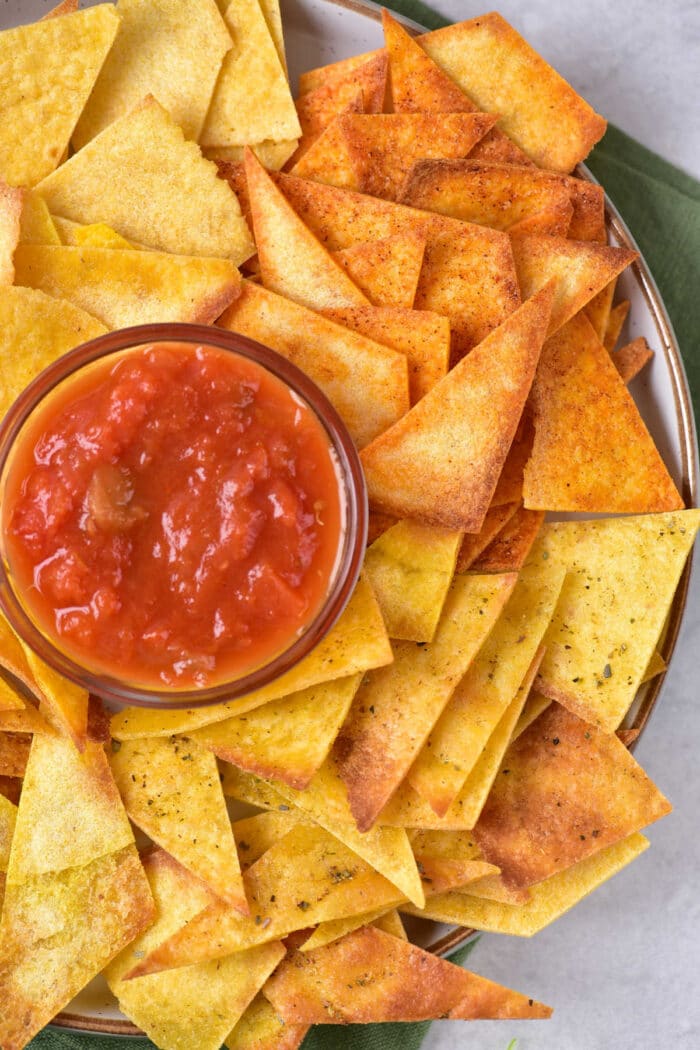 Want to see a few of my favorite things that I am totally obsessed with?? Take a peek and see how many you might already have…twinsies!
Looking for more easy family recipes and tips? LIKE The Typical Mom Facebook page?
Then sign up for my free newsletter, and follow me on Pinterest! 😉
***** If you LOVED this recipe give it 5 Stars below and let everyone know what you thought about it. 😉
Air Fryer Snacks
Lots of air fryer snacks recipes like tortilla chips, beef jerky, easy bite size on the go bites that are family friendly.
Instructions
Preheat air fryer to 360 degrees F for 5 minutes. Prep one tortilla at a time by brushing top and bottom with olive oil and sprinkle with salt and any other seasonings you'd like.

Use a pizza cutter to cut into 8 equal triangular pieces. Lay inside air fryer basket in a single layer and cook for 2 minutes. Shake or flip over pieces and cook for 1 more minute or until browned to your liking.

Continue with the next tortilla until done.
Nutrition Facts
Air Fryer Snacks
Amount Per Serving (1 oz)
Calories 77
Calories from Fat 45
% Daily Value*
Fat 5g8%
Sodium 110mg5%
Potassium 19mg1%
Carbohydrates 7g2%
Protein 1g2%
Calcium 22mg2%
Iron 1mg6%
* Percent Daily Values are based on a 2000 calorie diet.