An air fryer Monte Cristo sandwich is a bite of heavenly perfection. If you love the ham and Swiss battered version at Disneyland, you'll go crazy over this!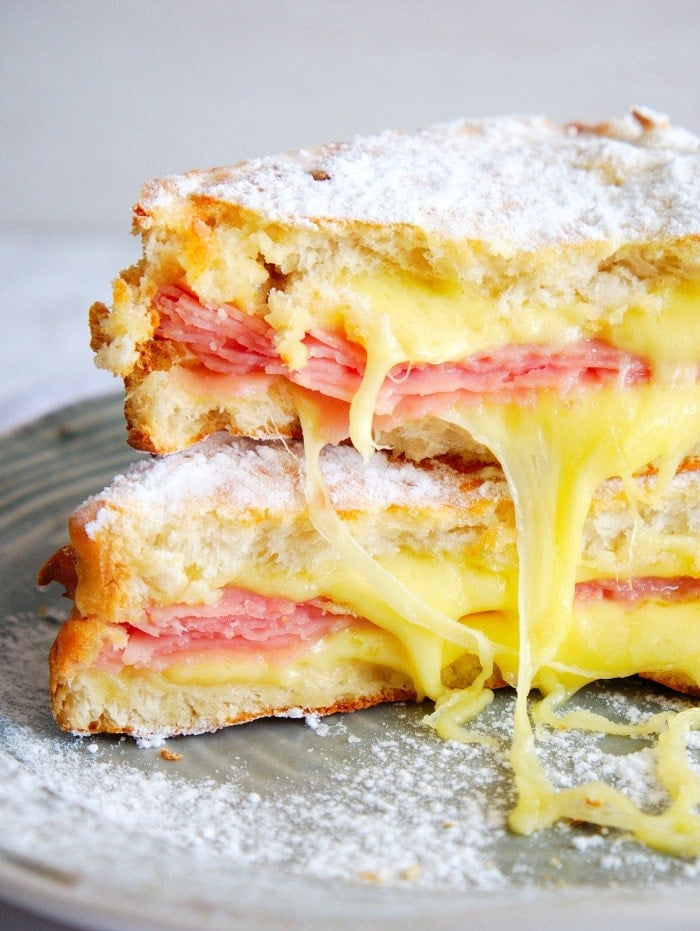 I bet you hadn't thought about making an air fryer Monte Cristo sandwich when you got your kitchen device, but I bet you want to now! After you fall in love with this, you'll have to try our other easy air fryer recipes here on The Typical Mom blog. (originally published 4/20, affiliate links present)
If you love the Monte Cristo sandwich Disneyland has, you'll love this!
Maybe you haven't heard of this layered, salty and sweet bite of heaven but wanna' try it! We have used leftover ham before, or turkey lunch meat. Melted, warm with some sweet jam in between the layers you are in for a real treat for sure.
Use any brand of hot air machine you have at home, most of them work the same they just may have a different sized basket. That just means you will be able to make a small or larger batch each go around.
FIRST – You should sign up for my free newsletter so you get new posts emailed to you twice a week and never miss out on anything! If you love air fryer recipes too, here are some resources to start with: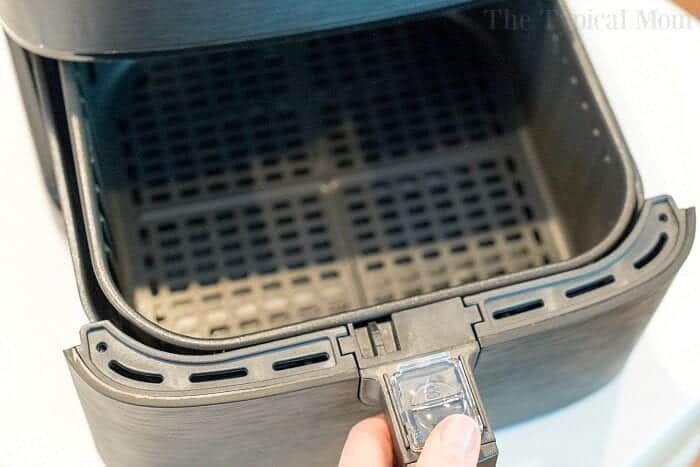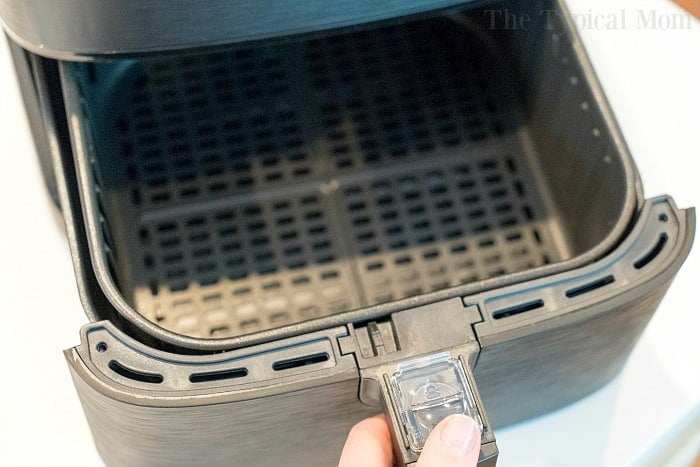 Ninja Foodi Monte Cristo
If you haven't made any sort of air fryer sandwich yet, they are amazing. Even if you just melt cheese and cold cuts it takes an otherwise cold boring bite into the next dimension. We make air fryer tuna melts all the time and even my kids are obsessed.
NO need for this to be deep fried though because hot air is going to crisp the outside to perfection. Then sprinkle with some sugar and dip in a bit of jam and WOWZA!
What is a Monte Cristo sandwich made of?
It is known as a quick and easy sandwich with ham, turkey and Swiss cheese slices. From there it's dipped in a batter and fried to a golden brown perfection. Using an air fryer though requires no oil or oily after taste!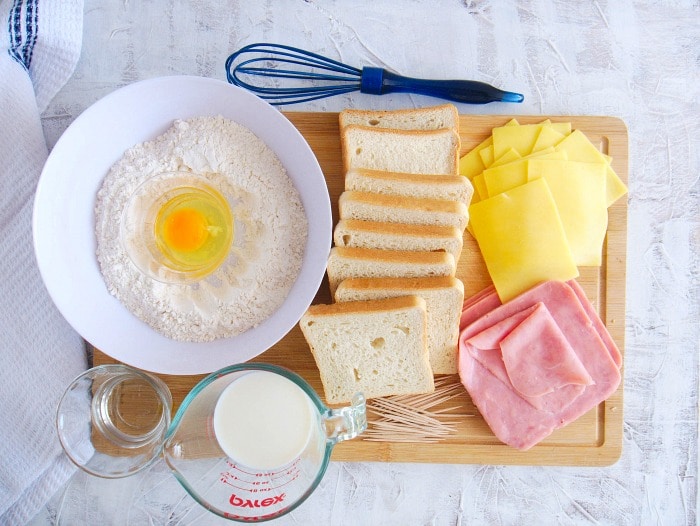 This is what you need to make this Monte Cristo sandwich recipe
You'll want an air fryer paper to go on the bottom

choose either circular or square depending on what shape basket you have

Bread
Ham and/or Turkey slices
Cheese

Swiss, Gouda or Guyer is great

Egg
Milk and water
Toothpicks to hold the 4 sides together before you dip your slices of bread
Powdered sugar at the end is great
As well as raspberry jam for a little dipping is great. You can also spread a bit on the sandwich itself. I prefer to have it not hot and instead dip it so that portion is kinda' cool.
Monte Cristo in Air Fryer
Generally once you make this meat and cheese sandwich, you dip it into an egg batter of some kind. Pancake batter was used this time! Why? Well, why not right??!! Who doesn't love light and fluffy, yet a little sweet batter like this?
You want it to be on the thicker side so it sticks to the outside.
Too thin and it won't create a coating so the outside gets nice and crispy.
Yes, it's a bit messy…but so worth it!!
Best bread for Monte Cristo sandwich
This will depend a bit on whom you ask but white is what we use and generally have on hand. Square is easiest too when securing the edges and dipping in one piece so it doesn't fall apart.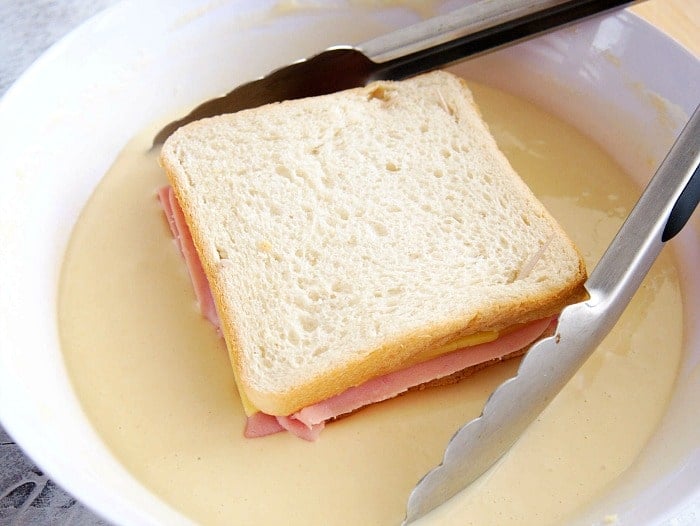 Why do they call it a Monte Cristo sandwich?
It's really a variation of the French croque-monsieur. In the 30s cookbooks had recipes for this under such names as "a French sandwich".
Now YOU can make this French toasted bite of perfection right at home now though, and tweak it any way you want. You don't want to mess with perfection though really. 😉
How much is the Monte Cristo sandwich at Disneyland?
It's about $21 each if you're going to eat at Disneyland which is rather pricey.
I would say it costs about $5 each with this method!
Use your Ninja Foodi machine or any other brand you have on your countertop.
Here are the steps to follow when making Monte Cristo with jam
I always like to preheat my air fryer for 5-7 minutes at the temperature you want. This way your food cooks evenly at the same temp for the entire cook time duration. If you are leary of putting food into a hot machine you can skip this step.
Make as many sandwiches with meat and cheese layered inside as you want.
Secure all 4 ends with toothpicks
Mix together pancake mix with egg, milk and water. Should be on the thicker side.
Once machine is preheated to 380 degrees, use tongs to dip sandwich on both sides.

Allow excess batter to fall off.

Place air fryer paper into basket with the sandwich on top.
Allow to cook for 7 minutes, then open and flip to the other side for an additional 1 minute.

Timing will vary slightly depending on how much batter was on the bread, thickness of bread, and how brown you want it.
Remove, sprinkle with powdered sugar, slice in half and dip in jam before biting for the ULTIMATE YUM!!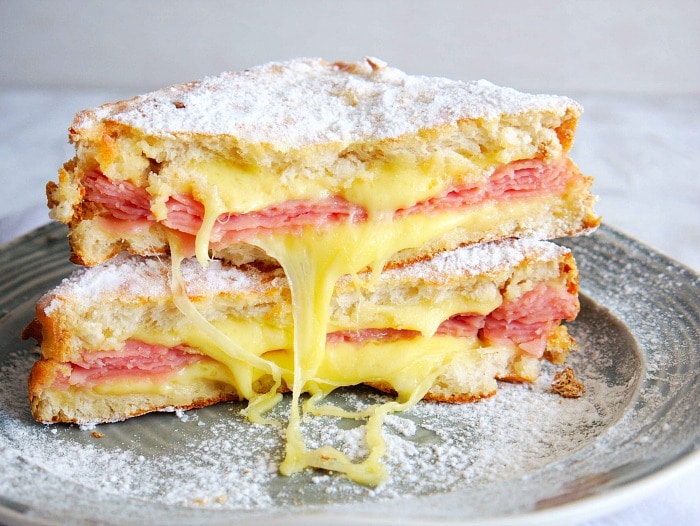 What to serve with Monte Cristo
I personally think this is a complete meal or lunch but if you need a little something else I would suggest:
Want to see a few of my favorite things that I am totally obsessed with?? Take a peek and see how many you might already have…twinsies!
Looking for more easy family recipes and tips? LIKE The Typical Mom Facebook page?
Then sign up for my free newsletter, and follow me on Pinterest! 😉
***** If you LOVED this recipe give it 5 Stars below and let everyone know what you thought about it. 😉
Ninja Foodi Monte Cristo Sandwich
Air Fryer Monte Cristo Sandwich
An air fryer Monte Cristo sandwich is a bite of heavenly perfection. If you love the ham and Swiss battered version at Disneyland, you'll go crazy over this
Instructions
Preheat your air fryer to 380F for 7 minutes. In the meantime, in a wide mixing bowl combine the pancake mix with the egg, milk and water.

Stir until you have a thick pancake batter – you want it to be thicker than your normal batter, not watery, so gradually mix in the water and the milk. Set aside.

Assemble the sandwiches like this: On a piece of bread place 2 slices of cheese, then add 4 slices ham then 2 more cheese and then the second piece of bread.

Gently use your palm to press down on the sandwich. Carefully, at an angle slide in 4 toothpicks on every edge of the bread to hold the sandwich together. By now the air fryer should have finished preheating, place an air fryer paper liner into the basket and close without turning back on.

Dip the assembled sandwich into the pancake batter and coat well on one side then gently flip over and coat on the second side. Lift up and allow excess batter to run off (don't skip this step). Then place on top of the liner paper into the air fryer basket.

Set time for 7 minutes at 380 degrees. Then flip over and set temperature to 360F and time to 1 minute, just to finish browning and cooking the second side. (timing will vary slightly depending on how thick your batter is)

Remove from air fryer, pull out the toothpicks and keep warm by wrapping in a container with aluminum foil and continue to cool all of the sandwiches.

To serve, dust each sandwich with as much powdered sugar as desired then slice in half and serve with a little bit of raspberry preserves for dipping into. Enjoy!
Nutrition Facts
Air Fryer Monte Cristo Sandwich
Amount Per Serving (2 oz)
Calories 980
Calories from Fat 558
% Daily Value*
Fat 62g95%
Cholesterol 254mg85%
Sodium 2509mg109%
Potassium 652mg19%
Carbohydrates 40g13%
Protein 63g126%
Vitamin A 1312IU26%
Calcium 1003mg100%
Iron 4mg22%
* Percent Daily Values are based on a 2000 calorie diet.