How to make a vegetable garden inexpensively in your own backyard! Growing your own vegetables and fruits is fun and believe me, kids love gardening too.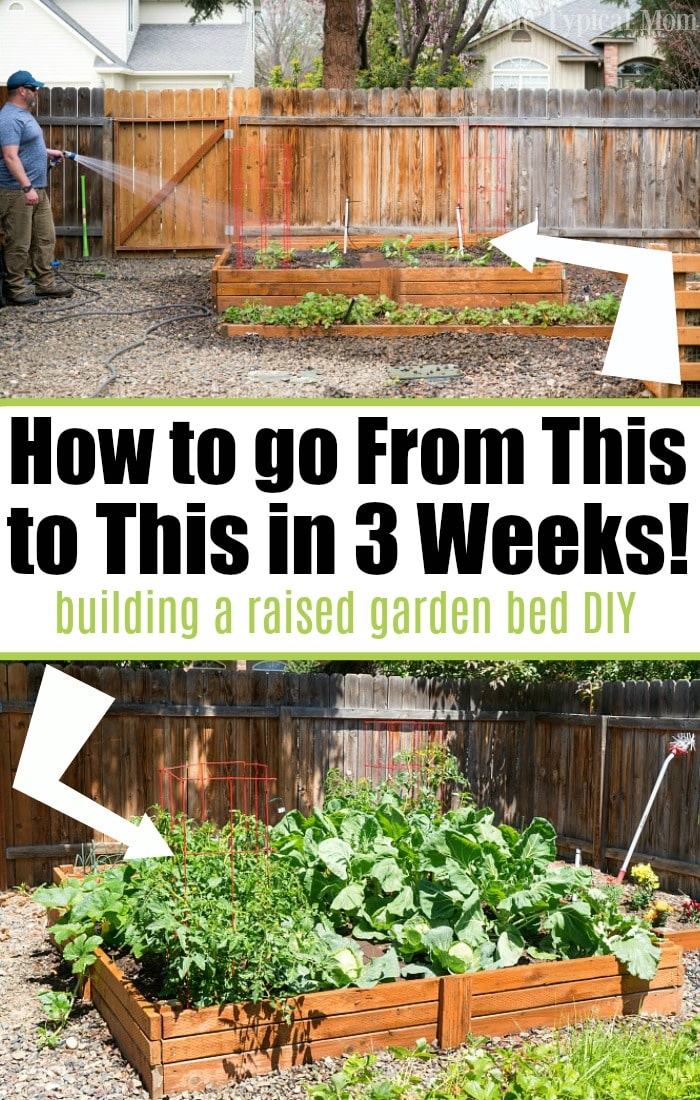 Lots of people love gardening, but they're not sure about starting a vegetable garden of their own. It is easier than you think to build raised garden beds in your backyard. We will show you how step by step. It's been one of our favorite do it yourself projects. (affiliate links present, originally published 4/19)
How to Start a Vegetable Garden
I can say as a child I didn't garden. We lived in California where the backyards are the size of a postage stamp and didn't think of planting things anywhere else other than right into the ground.
Had my parents knew how to build a raised garden bed I would have loved this! So glad I can now garden with my kids.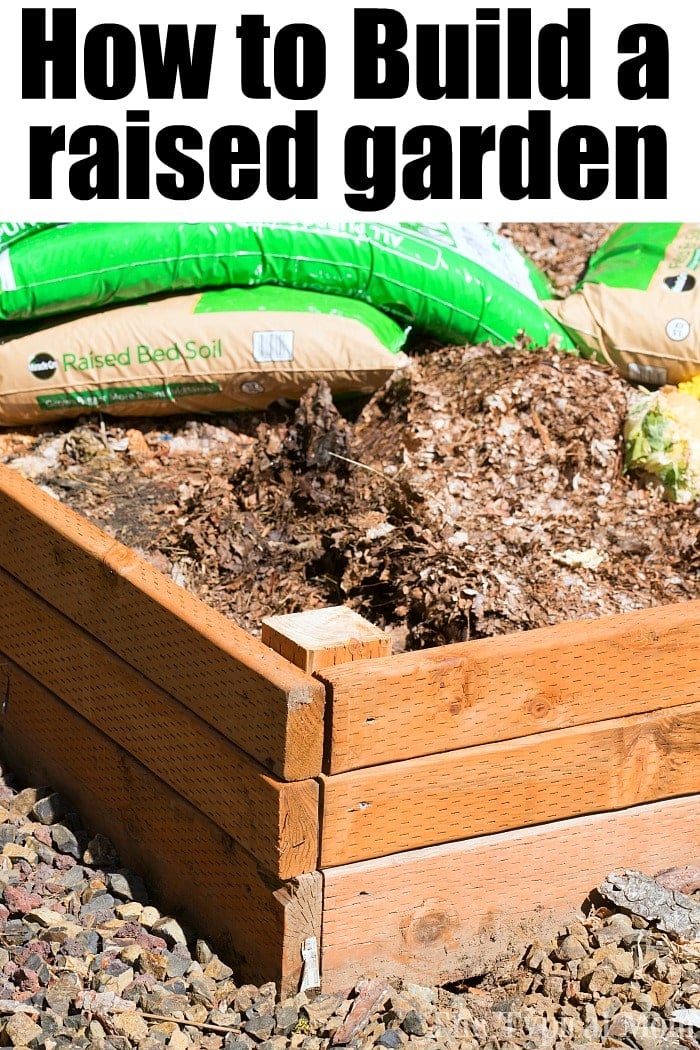 How do You Start a Vegetable Garden for Dummies
I mean let's not go that far, but you may need a 101 of some sort to get you started on it right? You will want to start with basic planting boxes first. We will show you step by step how we made ours out of just 2×4 wood.
Are you ready to make some garden plans this year?? It really is fun to watch plants grow before your very eyes.
I loved being able to pick lettuce, tomatoes and peppers I planted for a salad that night. Knowing right where it came from, in my own small garden and involving my kids in the process has been a great experience for us. You can start small to start, and add on from there.
DIY Plantar Boxes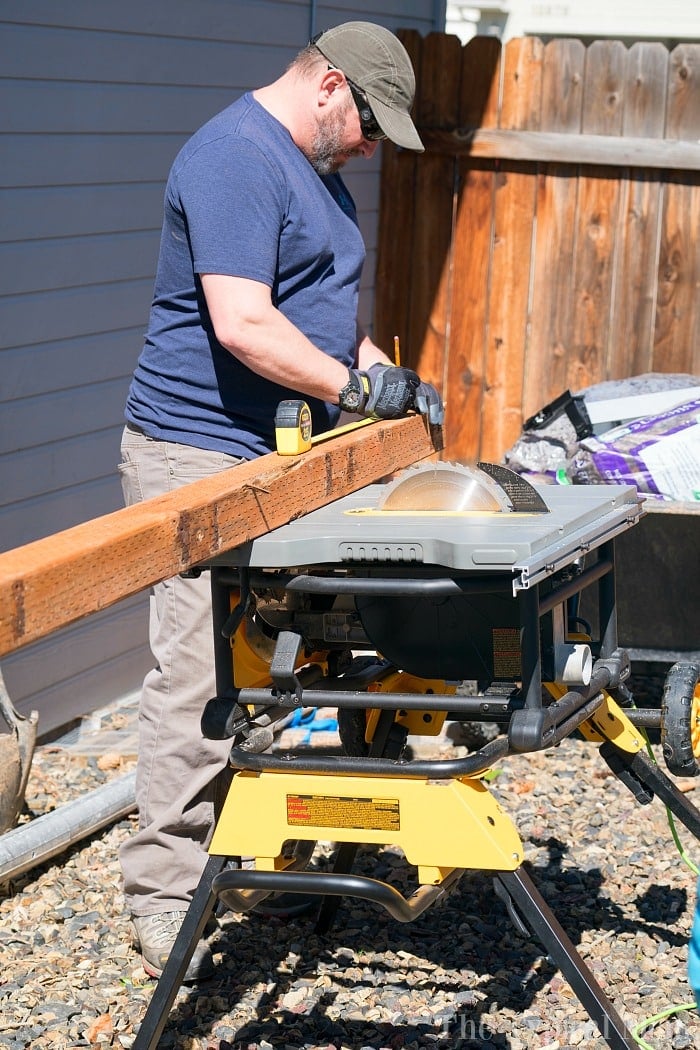 How do Beginners Start a Garden
What you'll need to build raised garden beds:
4x4s – 1 for each corner of your soon to be above ground garden
2x4s – 1 for each side = 4 for each level, we made ours 3 high so the roots could really grab hold
Garden soil – we used 3/4 compost from the year before and 1/4 bagged soil
Plants – I suggest purchasing easy to grow vegetables that are already sprouted (seeds take quite a while longer.
Note: Our original garden bed was only 1 board high. We found it wasn't deep enough so this year he added another piece of 4×4 to make it taller and deeper. Photos show how we added more 2x4s to make it taller this year! Instructions will explain the whole process start to finish though.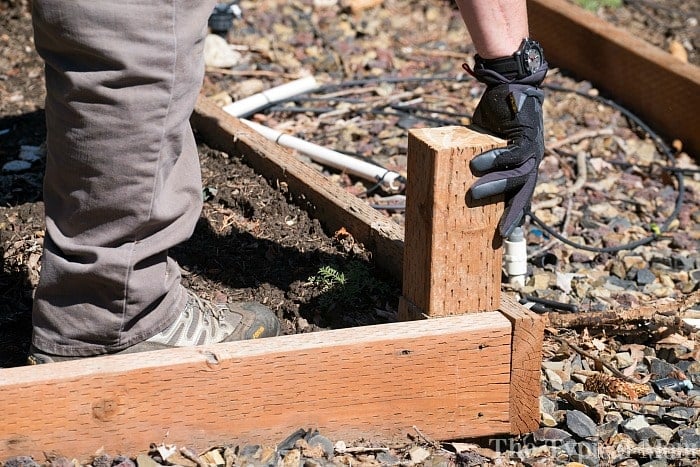 How to start a vegetable garden from scratch for beginners
Find an open area that is flat – or flatten the area you're interested in using
Measure the square foot area you have to work with – so you can plan on the amount of wood you'll need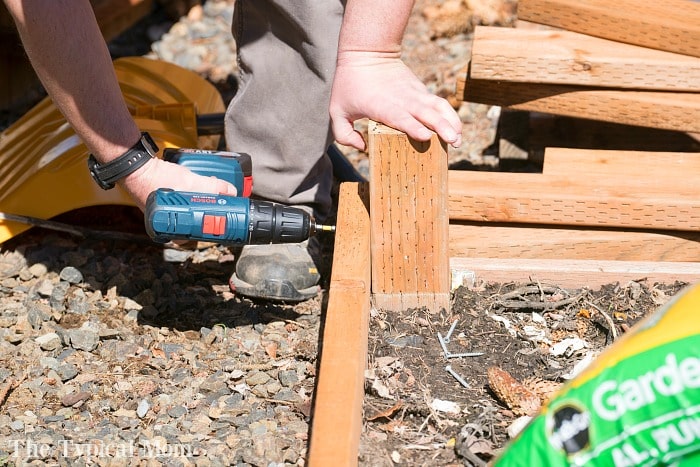 Vegetable Garden at Home
Here's where you start:
Plot out where you want your raised garden bed placed

Make sure it is a flat or flattened area
You want an area that is sunny as well

Then dig holes in the 4 corners of your area

Measure as you go to ensure there is equal distance on all 4 sides, unless you're creating a rectangular box
Secure your 4×4 pieces in into the ground as high as you want to build your garden bed

Next screw the ends of each 2×4 on to the 4×4 wood pieces, do this for all 4 sides so you now have a box
If you want a taller/deeper above ground garden then add another 2×4 on to each side as you see him doing here
For 2 or more boards high add a cut piece of 2×4 that is the height of your garden on to the outside to support it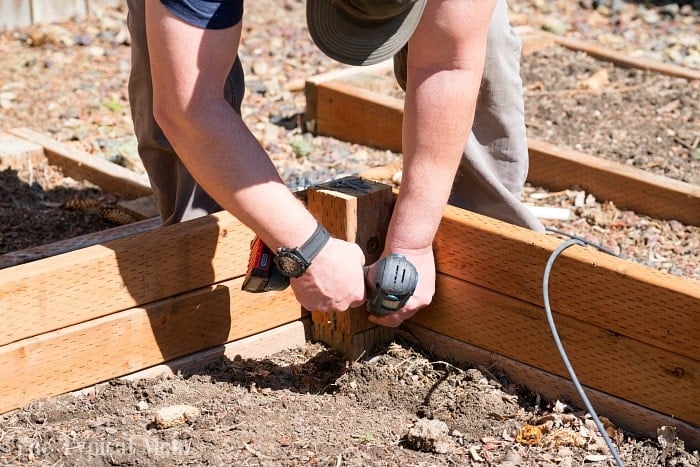 Large Outdoor Plantar Boxes
Can you start small and make your vegetable garden bigger over time?
Yes! We did.
We started with 1 row and you can see here we raised it to 3 high this year.
If you're new to gardening you should start small in order to feel success and want to continue.
What next? It's time to fill your planter with great soil!
This year we were paying attention to the time of year so we could start all this before the growing season began. Luckily last year we started a mulch pile you see here so we had quite a bit to use on the bottom.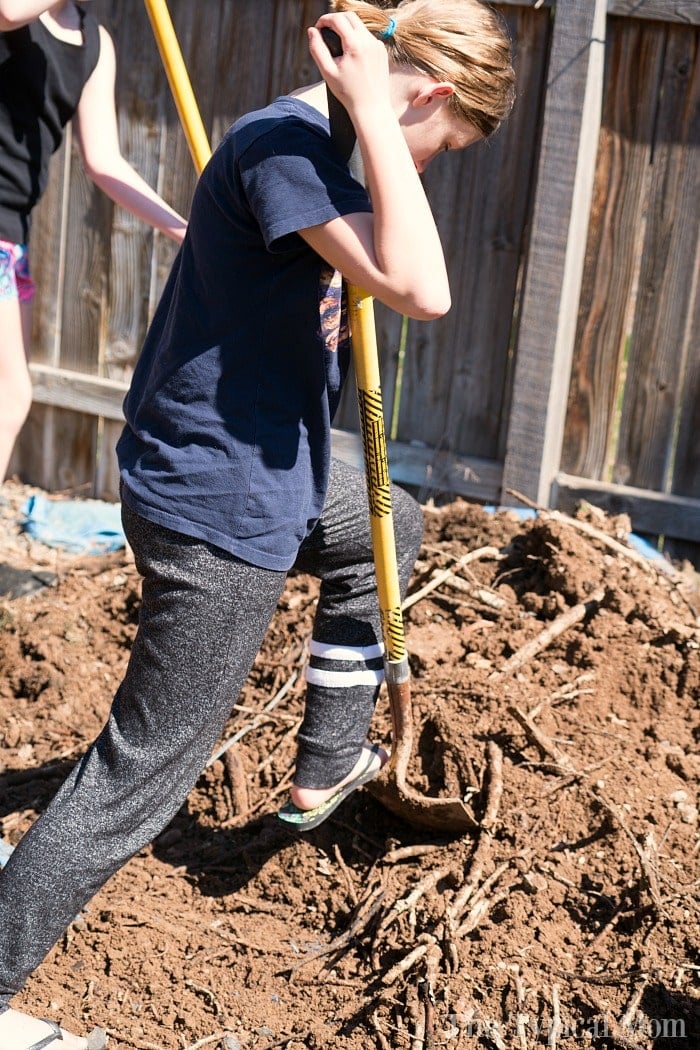 Once that was used we did purchase quite a few bags of soil which we added to the top layer.
You want it to be nutrient rich so your fruits and vegetables grow strong, quickly, and produce as much as possible.
Once the soil in your compost bin is workable you can go ahead and build a vegetable garden in your yard. It may be smart to wait a bit beyond that to actually plant your seeds and plants though. Make sure the frost in your area is gone before planting.
When to plant your vegetable garden?
Start with grabbing this garden planner that shows when each thing should be planted.
You want to prep seeds 4-6 weeks before the last frost date

research frost dates of years past to determine and estimate this time period

Some vegetables can be planted as soon as the soil is workable

peas and broccoli fall into this category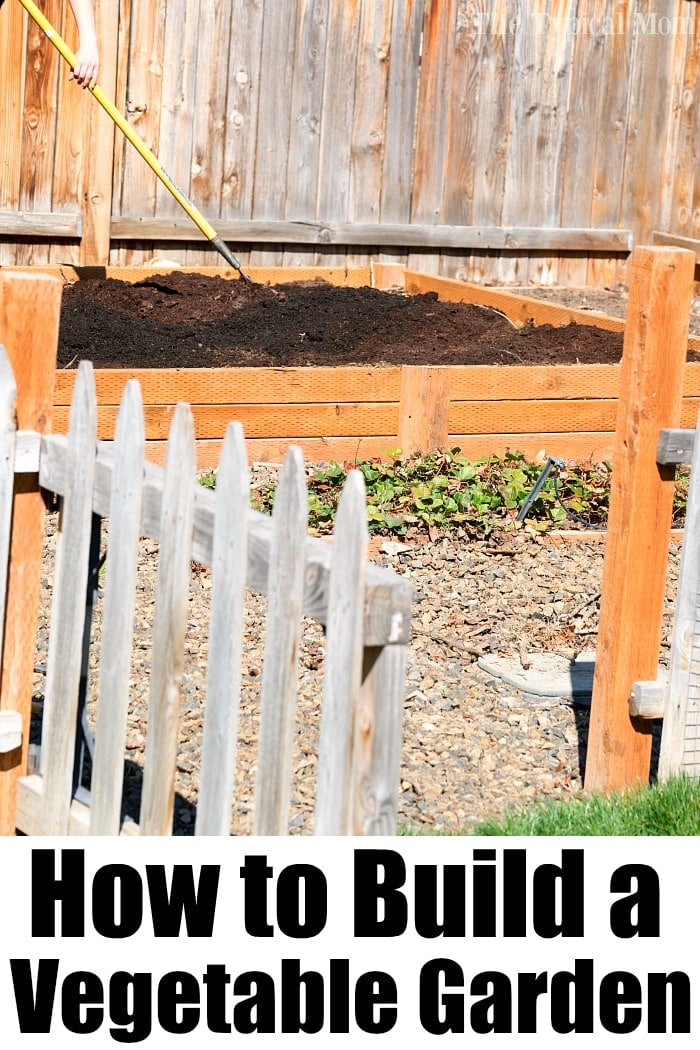 The best plants to start gardening
Zucchini – seriously you'll have so many you won't know what to do with them
Strawberries – they're super hearty, will go dormant during the winter but come back once it warms up
Lettuce
Carrots – kids love pulling these out of the ground when they're ready
Herbs – almost all of them are quite resilient and if you cook it's fun to pick them and use them for dinner
These are great to plant if you're gardening with kids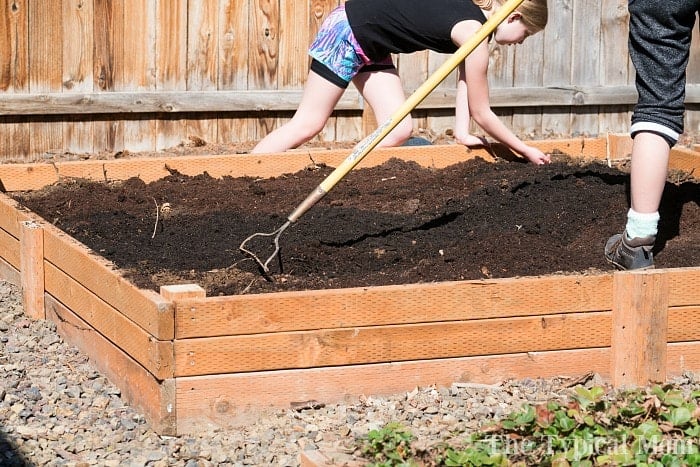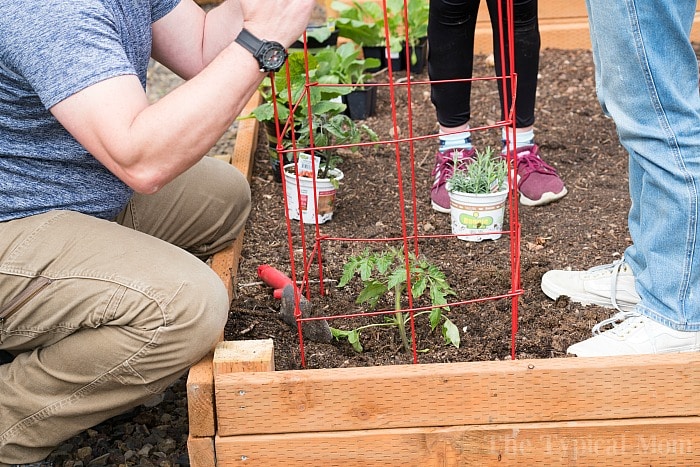 Planting a vegetable garden:
Now it's time to plant all the things!!
Use this companion planting information to know which plants work best next to one another to promote growth.
Make sure to use tomato cages if you choose to plant tomatoes.

You can see the ones we used are heavy duty and easily used again year to year. If you are just beginning you can find cheaper versions that really only last one season at your local hardware/gardening center. We started with those and they were okay, but upgraded this year to these.

Ensure you leave enough room in between plants for them to grow properly.

Most outside packaging on pots will tell you the necessary distance apart.

Read up on succession planting so you'll have the most successful garden.
This is the best way to grow strawberries, they're fun if you have kids for sure.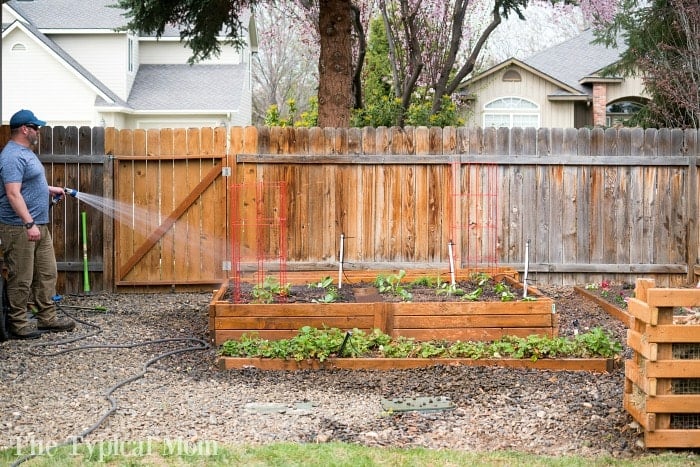 Last steps are to water, prune plants to remove dead leaves, and pick your vegetables and fruits!
Don't water just to water, feel the soil first to see if it's needed.

More precipitation means less watering on your part.

Follow this watering chart to see how much each plant needs.
You can also install a garden watering system or drip system so there's little to no effort on your part in that area.
Here's an updated photo of our raised garden bed just 1 month later!!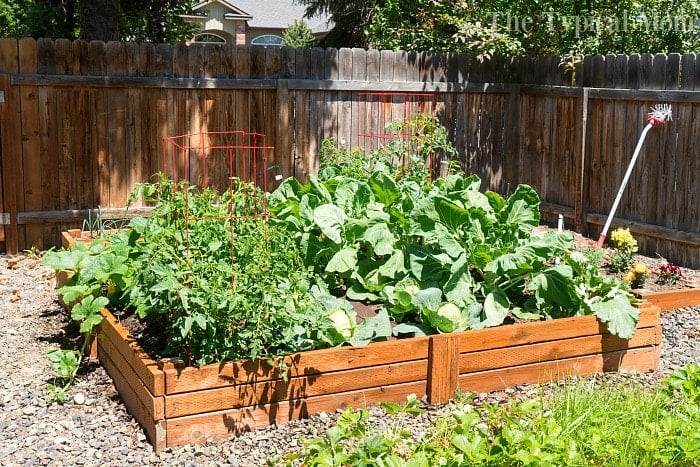 This is what our garden drip system looks like.
We also added some rubber pavers in the center to act as a walkway since our garden is wide. You might consider this so you can reach the middle plants easier.
We hope this helps you in building a garden of your own, and you have success too! Let us know, we'd love to hear about your gardening journey. It's been an amazing addition to our family.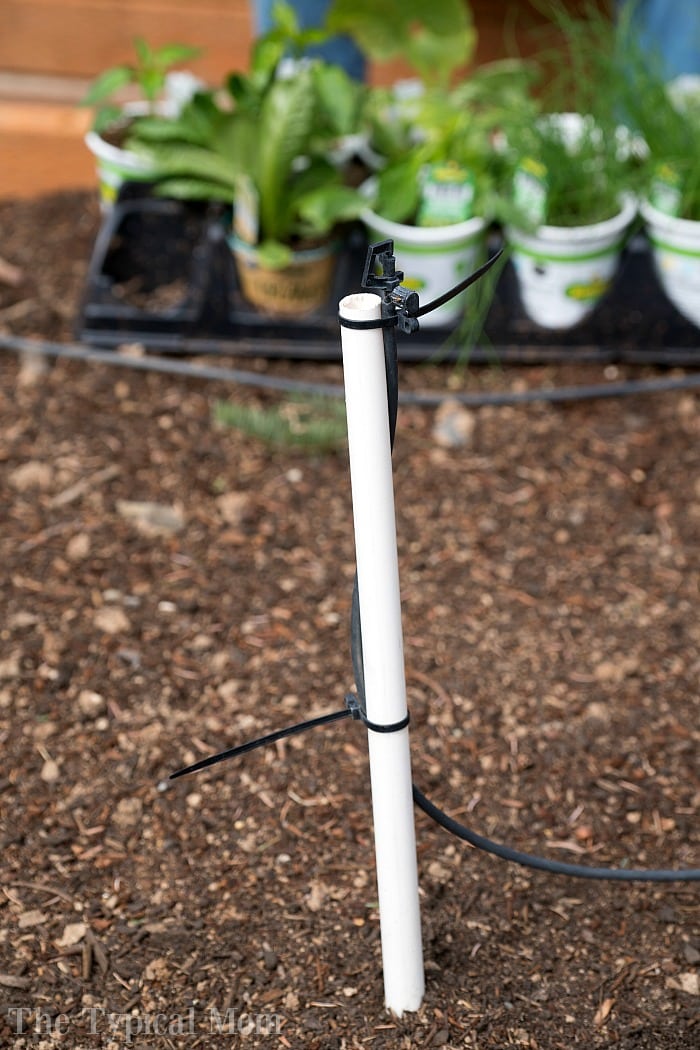 Want to see a few of my favorite things that I am totally obsessed with?? Take a peek and see how many you might already have…twinsies!
Looking for more easy family recipes and tips? LIKE The Typical Mom Facebook page?
Then sign up for my free newsletter, and follow me on Pinterest! 😉
***** If you LOVED this recipe give it 5 Stars below and let everyone know what you thought about it. 😉