These are the basic kid safe slime ingredients you'll need to make a variety of slimes. Try this borax free winter glitter slime this year for lots of fun!
Yes my kids are obsessed too! Well at least my youngest who makes a different type of slime every day it seems like. We are adding these slime ingredients information and winter glitter slime recipe to our long list of the best way to make slime post which has a lot of ideas as well but starting with the basics is a must. (affiliate links present, originally published 8/20)
What is slime made of
Of course with any homemade slime experimentation (and kids being involved) they will be parental supervision so please read our safety disclosure before starting any slime recipes on The Typical Mom…..but these items create borax free slimes so it is as "safe" as you can get.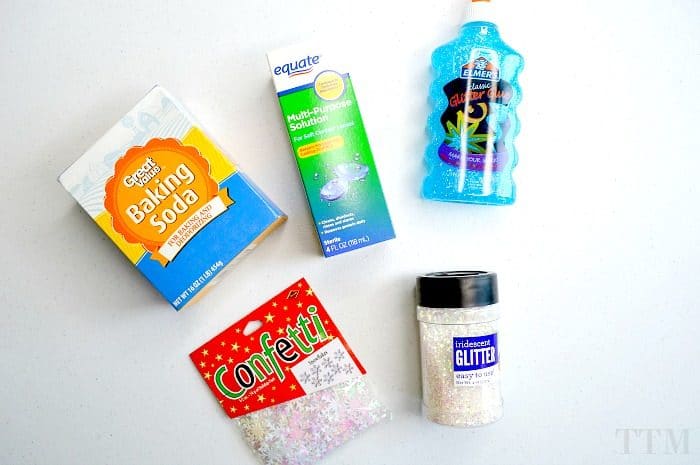 Kid Safe Slime ingredients
I buy everything online because it's easier and most of the time they are cheaper or the same price so it's less work for me and usually cost effective.
Glue – white or clear or colored / glitter glue like we used

Elmer's glue does tend to work the best

Baking soda – this one has a lid and SO much better than the boxes
Saline solution

otherwise known as contact solution which is used for slime with no borax to stiffen it up

Shaving cream
If you want to make glow in the dark slime you'd need glow in the dark paint
You may add a few drops of food coloring too but if you have glitter glue it is already colored
If you want everything to just come together and you just want to do one batch and be done then this glitter slime kit is the answer.
Add ins

Glitter
Confetti – we used snowflake confetti
Beads – like we did with this easy baking soda slime
Floam – we opened an airplane neck pillow we had and used those once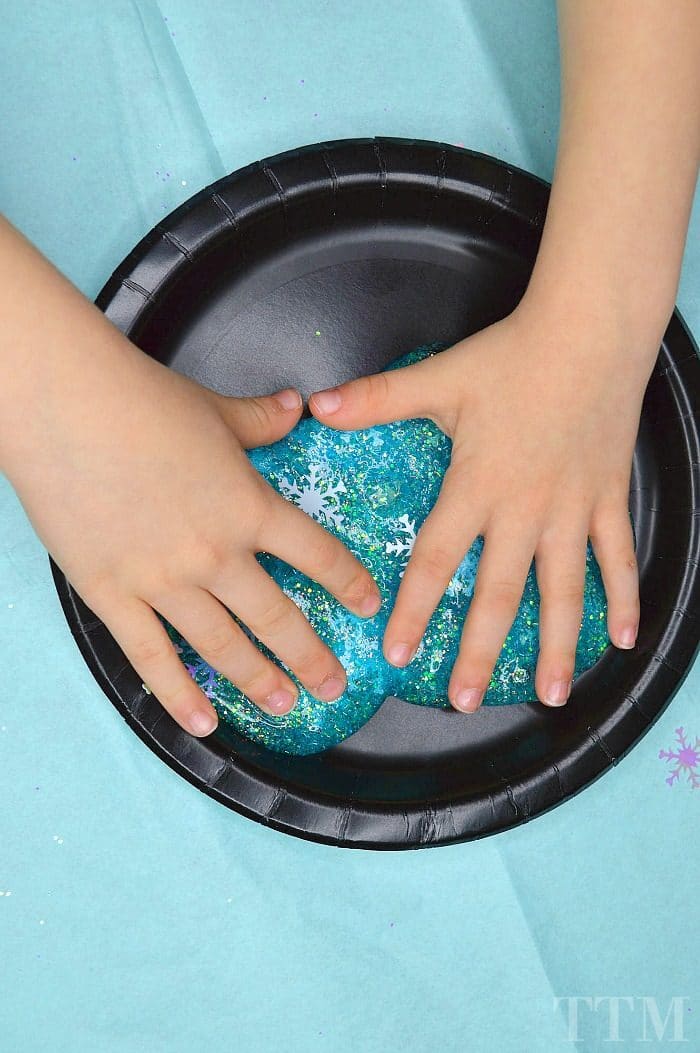 No Borax Slime Ingredients
We have a few ways of making slime without borax on our site. One of the best ones is shared below in the how to card below which can be printed out.
To create winter glitter slime, in a bowl combine these together

6 oz. blue glitter glue (or any other color)

a bit more than 1/2 cup of school white glue
Elmers glue does tend to work better than store brands

1/2 tsp. baking soda

In a mixing bowl stir in approximately this much glitter and snowflake confetti

2 tbsp. gold glitter
1 small bag of snowflake confetti

Add 1 tbsp. saline solution
Knead the slime to desired consistency, until mixture becomes solid (using your hands works best)
May add a bit more solution to make it more solid but use sparingly or it will become stiff
Enjoy your science experiment.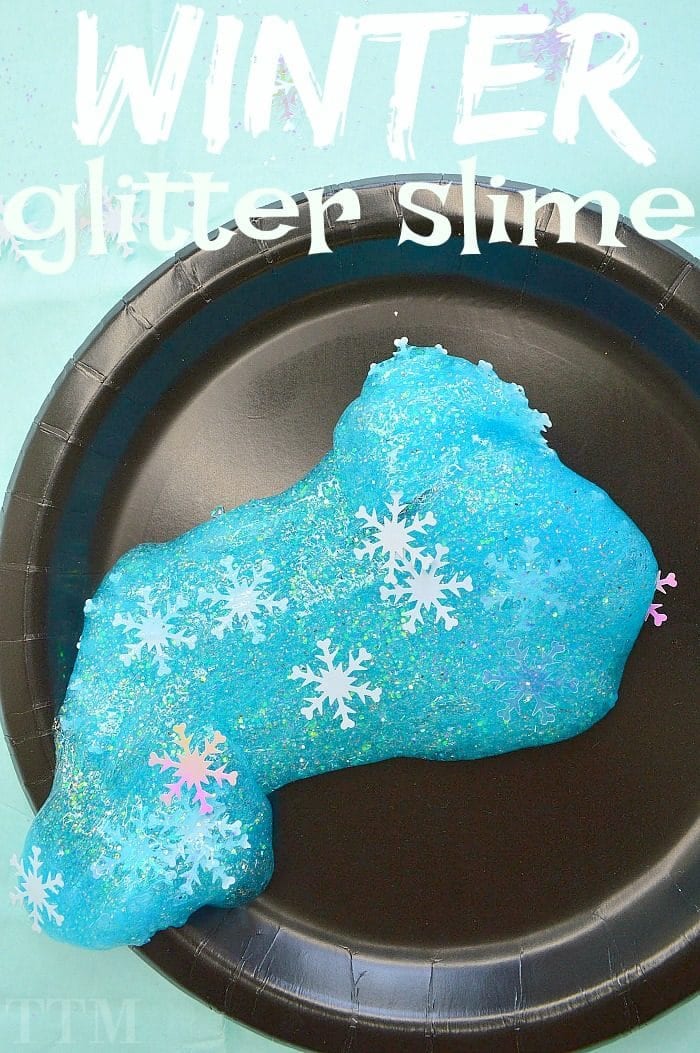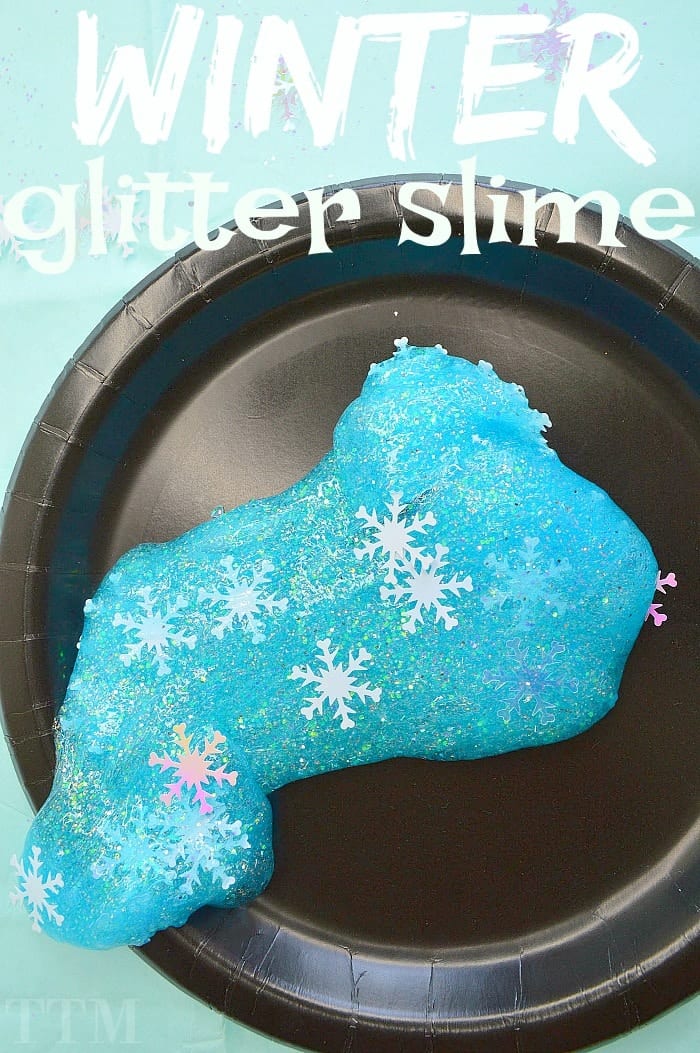 Basic Slime Ingredients
We will share a basic combination below that is safer than others since there are no detergents or chemicals. You still need to watch children as consuming lens solution will make them sick as well and it is not completely safe like our edible slime recipe is.
1/2 c glue
1/2 c water warm
1 tsp baking soda
3-4 tbsp contact lens solution
Basic instructions are as follows;
Mix warm water and baking soda in a bowl until dissolved.
Pour glue into a bowl and mix in baking soda water mixture together.
Squirt in contact lens solution and mix again. Knead with hands to incorporate well.
If it is too sticky add 1 tsp of contact lens solution more at a time, knead until it is the right consistency.
Ingredients to Make Slime
From there into your slime add surprises like little toys, marbles, buttons and/or confetti. If you're looking for other fun, safe homemade slime recipes that are free from using borax powder or liquid starch, here are a few we've made:
What are the ingredients in slime?
It depends on what type you want to make. If you want to make no borax slime you will need warm water, glue, baking soda and some contact lens solution to stiffen it up. Key is to mix it all and at the end use the lens solution a little at a time until it is the right consistency. Too much will make it too stiff.
What is the best DIY slime activator?
Your best bet is a thinned out borax solution. You will want to fill a bowl or measuring cup with 1 cup of warm water, then add in 1 tsp of borax and stir to combine the two. This slime activator is the best way to turn glue into slime quickly.
Best Way to Store Slime
By following these storage tips, you can help extend the lifespan and playability of your slime. However, please note that over time, slime may naturally degrade, lose its elasticity, or become less appealing to play with.
Select a container that has a tight-sealing lid to prevent air from getting in and drying out the slime. Good options include plastic containers with screw-on lids or resealable plastic bags.
Ensure that the container you use is clean and dry before placing the slime inside. Any moisture or residue can affect the texture and quality of the slime.
Before storing the slime, check for any foreign objects like dirt, hair, or lint. Clean the slime if necessary by gently picking out any debris.
Put the slime into the airtight container, ensuring that it is well-contained and not sticking to the sides. If the slime is too large for the container, consider dividing it into smaller portions to store individually.
Find a cool and dry location to store the slime container. Avoid areas with excessive heat, direct sunlight, or high humidity, as these conditions can affect the consistency of the slime.
When storing slime, minimize its exposure to air as much as possible. Air can cause the slime to dry out and become less stretchy. Ensure that the lid or seal is tightly closed to create a barrier against air.
Occasionally check on the stored slime to ensure it remains in good condition. If you notice any signs of drying or changes in texture, you can try adding a small amount of water or slime activator (as per the recipe) and knead it thoroughly to revive its consistency.
Want to see a few of my favorite things that I am totally obsessed with?? Take a peek and see how many you might already have…twinsies!
Looking for more easy family recipes and tips? LIKE The Typical Mom Facebook page?
Then sign up for my free newsletter, and follow me on Pinterest! 😉
***** If you LOVED this recipe give it 5 Stars below and let everyone know what you thought about it. 😉
Slime Ingredients
3 basic slime ingredients you need to make homemade slime is here. Other types like no borax slime, glitter slime and edible slime recipes shared here too.
Ingredients
1/2

c

glue

1/2

c

water

warm

1

tsp

baking soda

3-4

tbsp

contact lens solution
Instructions
Mix warm water and baking soda in a bowl until dissolved. Pour glue into a bowl and mix in baking soda water mixture together.

Squirt in contact lens solution and mix again. Knead with hands to incorporate well. If it is too sticky add 1 tsp of contact lens solution more at a time, knead until it is the right consistency.