It's all the rage! This is how to throw a slime birthday party which will make you the coolest parent around and the kids will have an absolute blast! With just a few ingredients and some outdoor fun you too can throw the perfect slime party for a boy or girl. It's fun for all ages.
Yes my kids are obsessed with making slime too! Recently we went to a friend's house who threw a slime birthday party and it was so much fun for the kids! I thought it was so cute I wanted to share how she put it together and what they did!. Included in our list of the best way to make slime x 50 different recipes! You'll find lots of ideas to incorporate into your slime birthday party there. (originally published 6/17, affiliate links present)
First of all she is lucky enough to have a wonderful pool in her backyard which is always a great addition to any party, but if you didn't you could skip that part or just have water fun activities set up on the lawn that are inexpensive and great to have during summertime!
Of course all safety precautions should be taken to avoid any adverse effect from any experimentation such as this one, read our safety disclaimer here.
Slime birthday party
Things to have set up with a table where you can make slime too!!
Slime Birthday Party Ideas
Set up a table before the kids get there with all the materials they will need to create their own little tub full of slime, and take home with them in the small tupperware containers you will provide (means no goodie bags you have to put together).
Either have a set of parents volunteer to help with the "make your own slime table", or if you have teenagers they could be volunteers too.
Of course making slime requires parental supervision so you need to make sure you have that covered beforehand.
While the kids are playing with water play activities call a few of them over to the slime birthday party table. They can mix some themselves and watch their few ingredients turn into slime! Have a bowl of party punch available for everyone to enjoy and have a great day together.
We have a few slime party ideas below depending on what kind you want to make and how to make it go smoothly.
Now this was a party with a group of 8-10 year olds and they are old enough to not taste the things on the table. I would recommend a slime birthday party for older children who know this is not for consumption of course and just for play…and they need to wash their hands after playing with it.
I also would recommend that you use simple slime recipes like the ones I will share below.
You can have items to make different types of slime on the table, or just what you need to make one.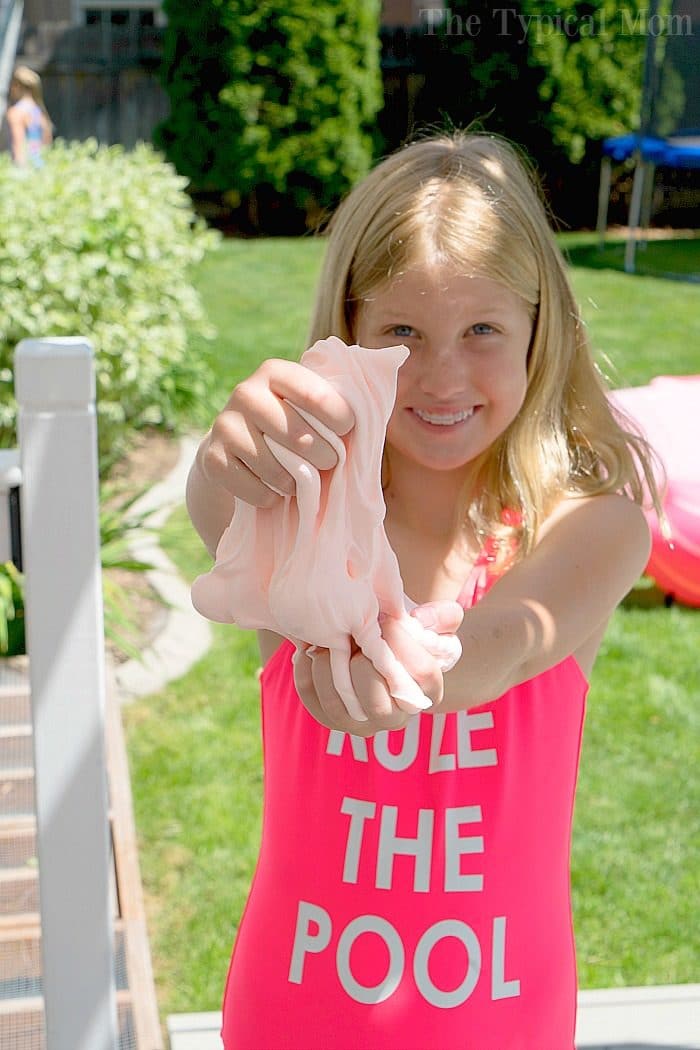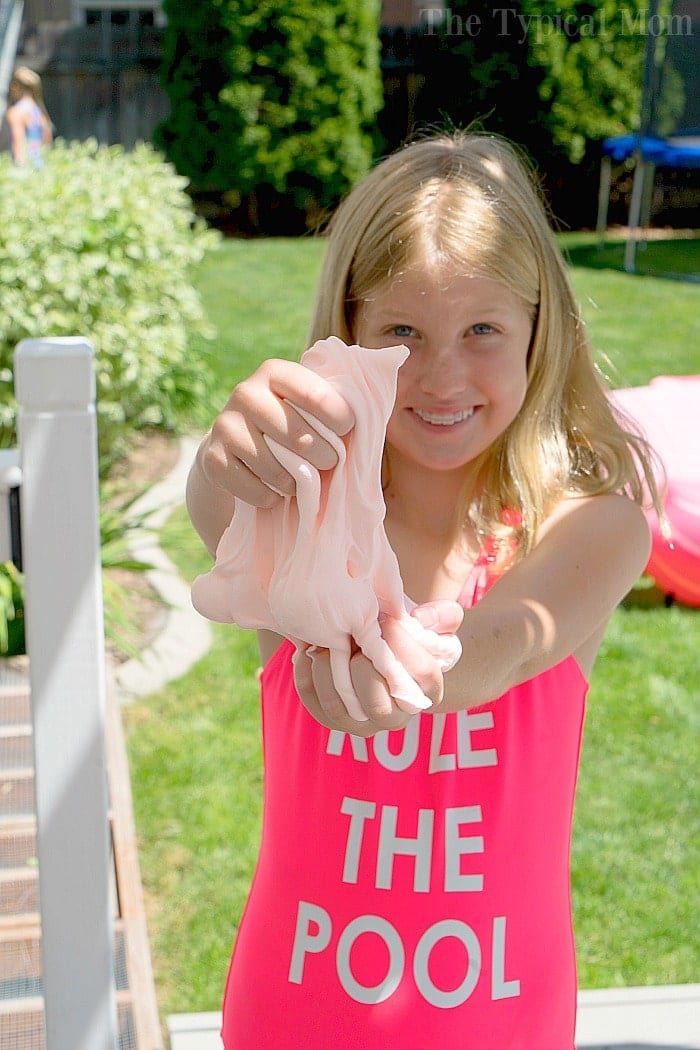 Here's what you need to do to get your slime birthday party station set up:
Folding table (in the back yard)
Disposable tablecloth
Large bowls (that can be thrown away, can be found at the Dollar Store too)
White glue, large gallon jug will save you money
Shaving cream
Contact lens solution
Laundry detergent – if making that version, adults must do this portion
Plastic spoons
Hose (for spraying off kids when they're done experimenting)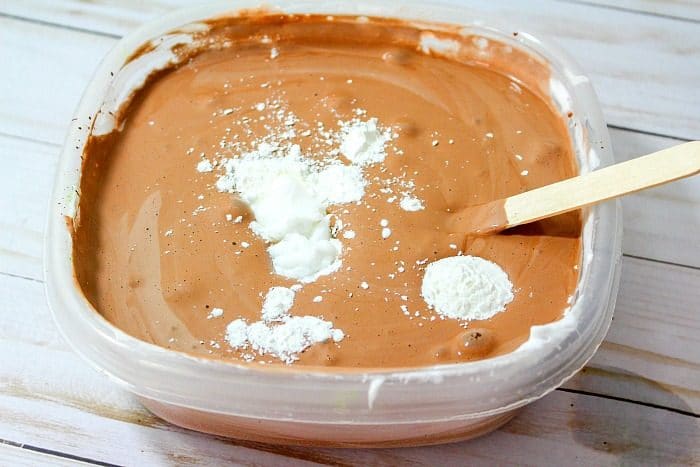 Easy Slime recipes
Laundry detergent slime recipe (not recommended for young children as detergent has trace amounts of borax in it, adults must handle this product)

If you have some young children at your slime birthday party you can have a separate table where they can make edible playdough, here are a few recipes for that:
I must say kids don't really want to use exact measurements to make slime. Part of the fun is using the ingredients they need but adding them in slowly, mixing, and adding a bit more of this or that to create the consistency they want.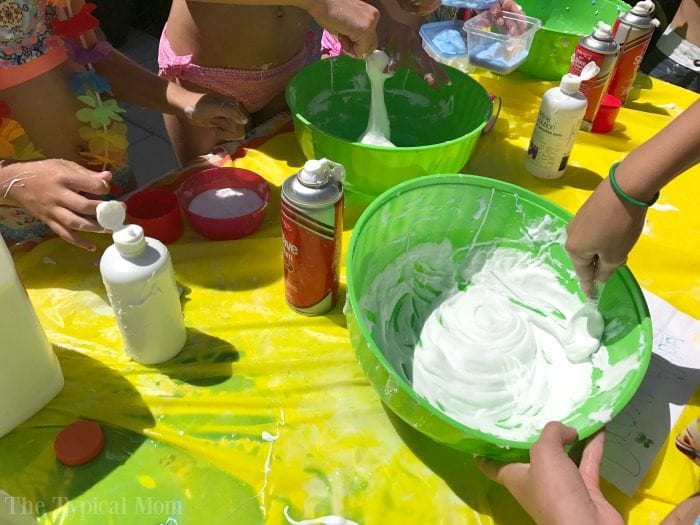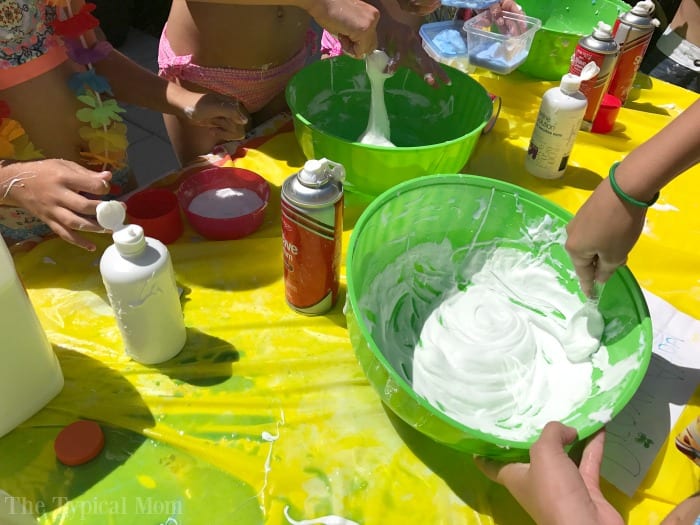 I include measurements but honestly they didn't use any measuring cups or spoons on the table. They just were told to either combine laundry detergent and glue; or shaving cream, contact lens solution and glue to create their own slime.
Then they could take home their creations in containers. Everyone had success with it and had a great time during this slime birthday party.
For more easy recipes, tips and free printables please LIKE The Typical Mom on Facebook and follow me on Pinterest! You can also sign up for my free weekly newsletter which is packed with goodies I know you'll love. 😉