This is how to make birthday cake slime with no borax at all! Chocolate scented slime that is safe for kids to play with and smells amazing too. Adding fun elements like float beads makes it really fun if you're planning on having a slime birthday party too!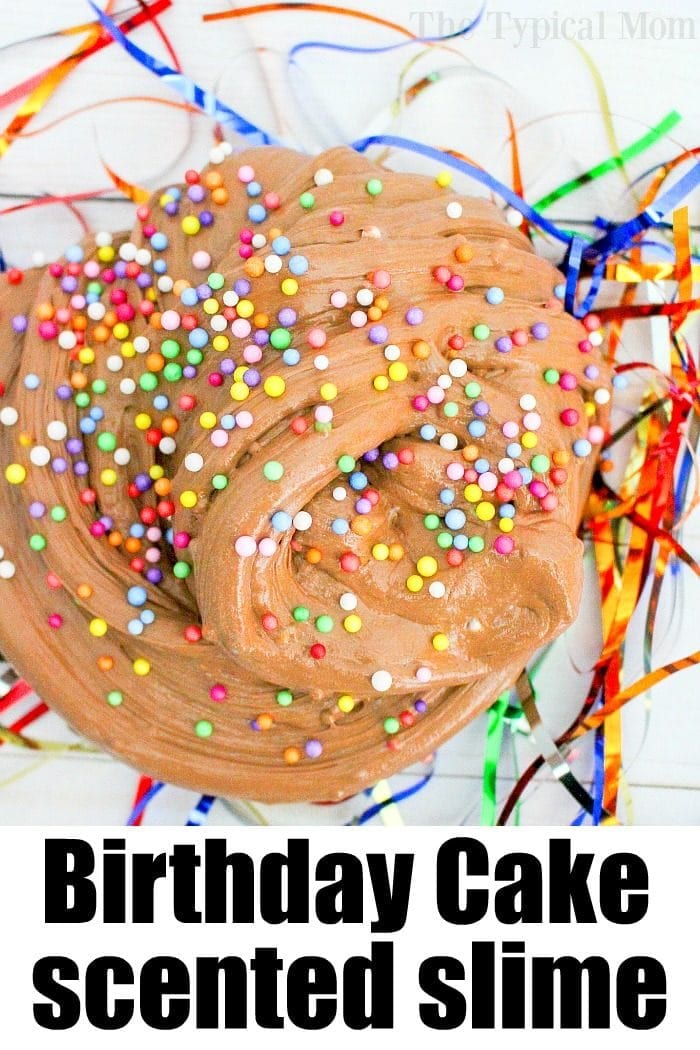 Have you made birthday cake slime or scented slime yet?? It's easy to do and you can make it any scent you like, chocolate is probably my kids favorite choice. On top of the list of our best way to make slime post, we hope you enjoy it too. (affiliate links present, originally published 10/18)
Birthday Slime
You can find just about any scent you want to make this recipe which makes it super fun. This slime without borax recipe using simple ingredients like foaming hand soap and shaving cream, items you may already have. Now this isn't one of our edible slime recipes but we have shared those too. As yummy as it smells you shouldn't consume it.
One afternoon my kiddos were experimenting with all the things. First they made a batch of Easy baking soda slime which was clear and they added foam beads into it. They loved that. it was time for all the smells though. Slime is super fun right? We will share everything you need below but here is what it looks like when you throw everything together.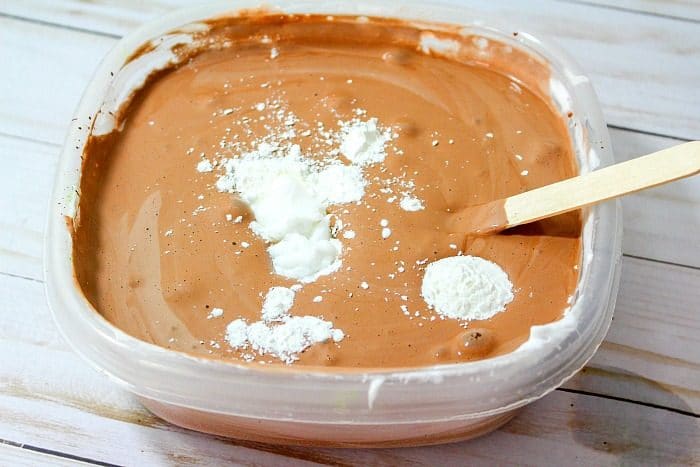 Birthday Cake Scented Slime
Even if it's chocolate you don't necessarily need to color your slime brown like you see here but you can using acrylic paints and kneading it in, totally up to you. Kids will love it either way really. A great sensory play activity even little ones will enjoy.
With younger ones you will need to explain that this is not edible birthday cake slime though, or they may want to try it.
As with any experimenting parental supervision is always required, please read our safety disclosure before following any slime recipes on our site. Let's get on to making our birthday cake slime, it's really great if you're having a rainbow birthday party.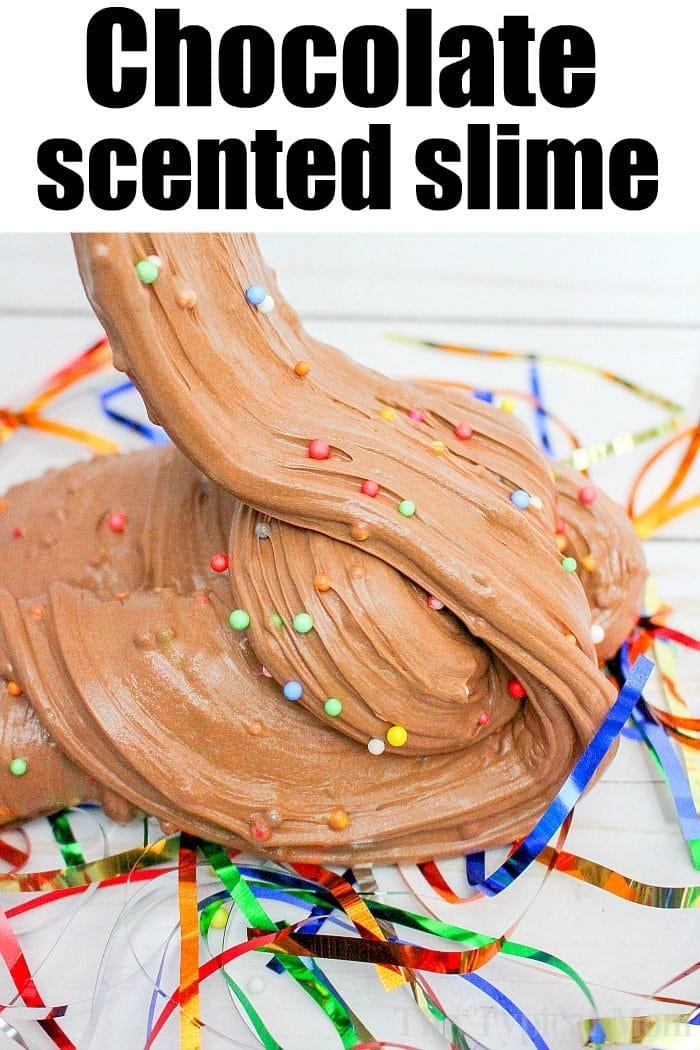 How to Make Birthday Cake Slime
You do not need liquid starch for this one like our laundry detergent slime does. That is nice to leave out and not have to worry about. Ingredients:
1 airtight container

Then

1 cup white glue

Just

1 cup shaving cream

One

cup foaming hand wash

¾ tsp baking soda

1 tbsp contact solution

Brown acrylic paint

Small bowl
How to make birthday slime
Instructions:
In a bowl, measure out

one

cup white glue.

Add 1 cup shaving cream.

Shaving cream is a little funky to measure so a little extra won't hurt it! 🙂

Mix together and add 1 cup of foaming hand wash.

Mix well. Your slime should be super foamy.

Add in 1 tsp of cornstarch and about 1 tsp of body lotion.

These will help your slime stretch and be fluffy.

Add in brown paint until you get the perfect chocolate color.

Pour in a few multi-colored foam beads.

You don't want a ton as these are just the 'sprinkles' and don't want it to turn into a crunchy slime or foam but add to your heart's desire.

Drop a few drops of chocolate fragrance oil in.

Your slime will smell just like a delicious cake – and it looks like a fluffy blob of funfetti icing! While it smells and looks, make sure it is not tasted!

Next add in ¾ – 1 tsp of baking soda.

(Start with ¾ of a tsp and add more during kneading if you need to. Baking soda is what will thicken your slime up.)
Birthday Slime Recipe
Finally, add in contact saline solution.

Start with 1 tbsp. If you need to add a bit more, you can. Saline solution makes the slime less sticky. You will know you have enough when the slime pulls away from the side of the bowl.

Knead the slime.

Store in an airtight container.
Now if you're having a poop emoji birthday party this would be a great activity to do too, or just send it home as a party favor! The recipe for slime is basic but adding fun scents and add ins like you see here makes each batch different and a lot of fun to make.
Grab some birthday freebies and make more easy slime recipes here
For more easy recipes, tips and free printables please LIKE The Typical Mom on Facebook and follow me on Pinterest! You can also sign up for my free weekly newsletter which is packed with goodies I know you'll love. 😉