This is how to make slime without glue! Looking for a safe slime recipe that has no borax or chemicals, well this is it and it is fun for kids to make!
Ok so slime is still all the rage in my house anyway with my youngest daughter. She is always coming up with the best slime recipes but I challenged her the other day to come up with how to make slime without glue and she came up with two ways!
You can call them slime, dough or putty but in any way they were fun for her to make, safe as well, and she played with them when they were done for quite a while.
I honestly think she, and others, enjoy the making slime process more than playing with the end result.
It's the experimenting and science of it all that intrigues her and I like that, especially when she can come up with a no chemical slime such as this one.
Here's how she did it and……
Here's a video showing you how to make both of these no glue slime recipes:

She explains how to do it in the video but I have written directions as well.
If you have been hesitant to let your children make slime because most have chemicals in them this is a fun one to let them make since there is no borax inside.
Here's how it is done.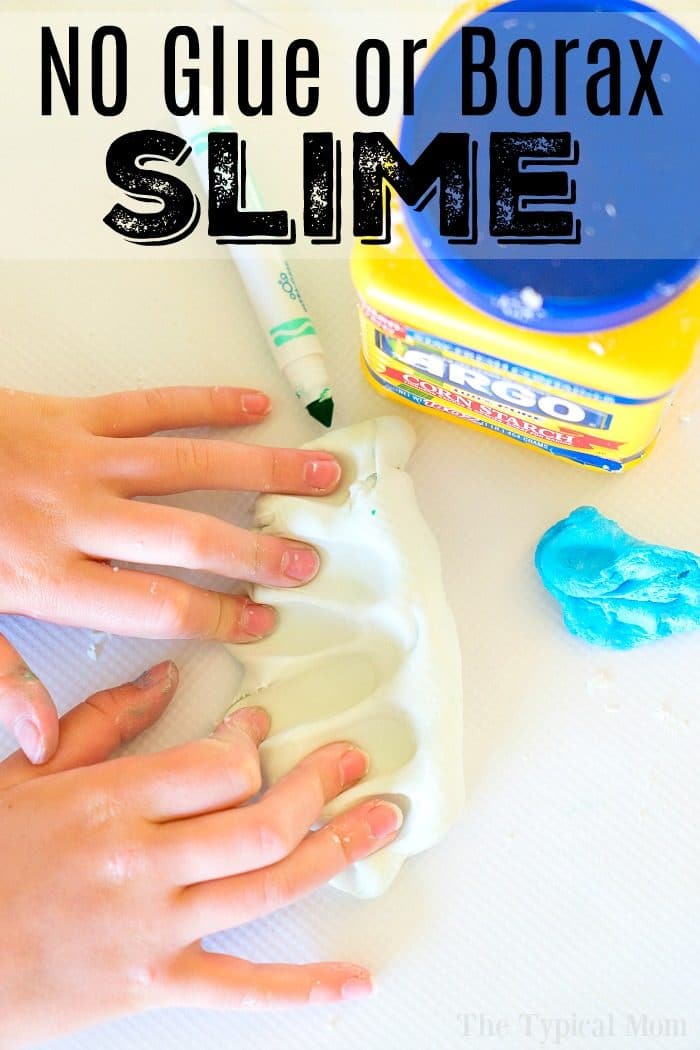 Like she said there are two different ways to make slime without glue or borax.
No glue slime ingredients using blue tac
Blue tac or mounting putty
Directions
Knead together blue tac and soap

adding 1/2-1 squirt at a time
knead together until desired texture is achieved
add small amounts of soap at a time to make it smoother
No glue slime that is similar to a dough
1/2 cup corn starch
hair conditioner
Directions
Add corn starch to a bowl
Then 1 pump of hair conditioner at a time and stir
Pump more in and knead when stiffer
Add a bit more at a time and knead until desired consistency is achieved
If you're looking for other safe slime recipes here are some:
For more easy recipes, tips and free printables please LIKE The Typical Mom on Facebook and follow me on Pinterest! You can also sign up for my free weekly newsletter which is packed with goodies I know you'll love. 😉