This is how you make honey slime with glue! A fun gold glitter slime with bees buzzing around inside just for fun. A great addition to any slime birthday party or just a weekend activity the kids will love to make together with you. Here are the slime ingredients you need and how to make it.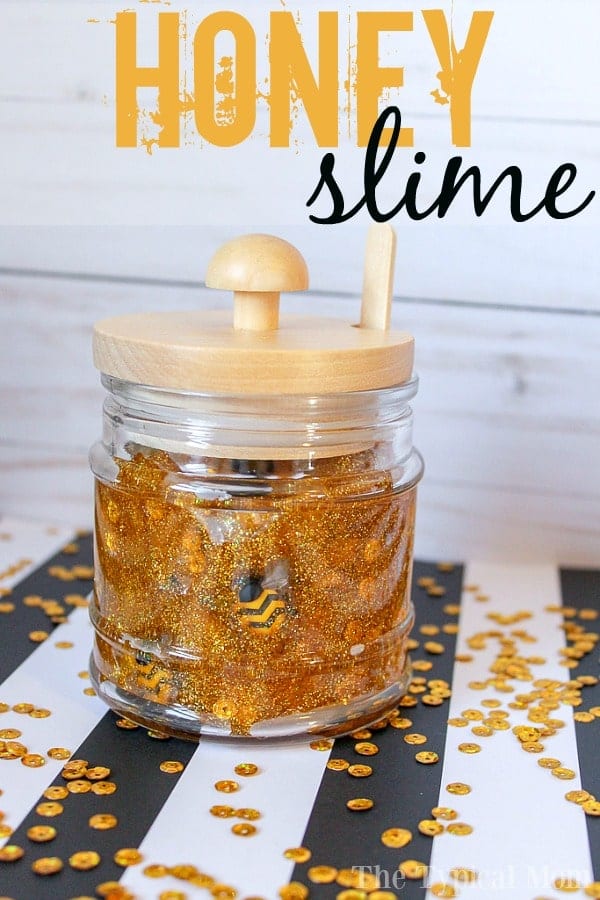 We have shared tons of easy slime recipes here on The Typical Mom but none may be quite as fun as this honey slime! With gold glitter and flecks of gold these plastic bees can hide inside their honeycomb slime until you're ready to dig them out. Added to our popular post of 51+ best way to make slime roundup.
Honey Slimes
Using just a few ingredients it can be made in a small amount of time and not only is a fun weekend craft but perfect if you're throwing a slime birthday party! Isn't this just too fun??!!
Gold glitter slime with hidden friends inside. Of course you could leave the bees out but that is part of the fun. Soft slime is perfect because you can hide anything in there and surprise someone.
Any color can be made really. If you're having a Superman party you could make superhero slime with his trademark colors and hide plastic S pieces inside. The possibilities are endless.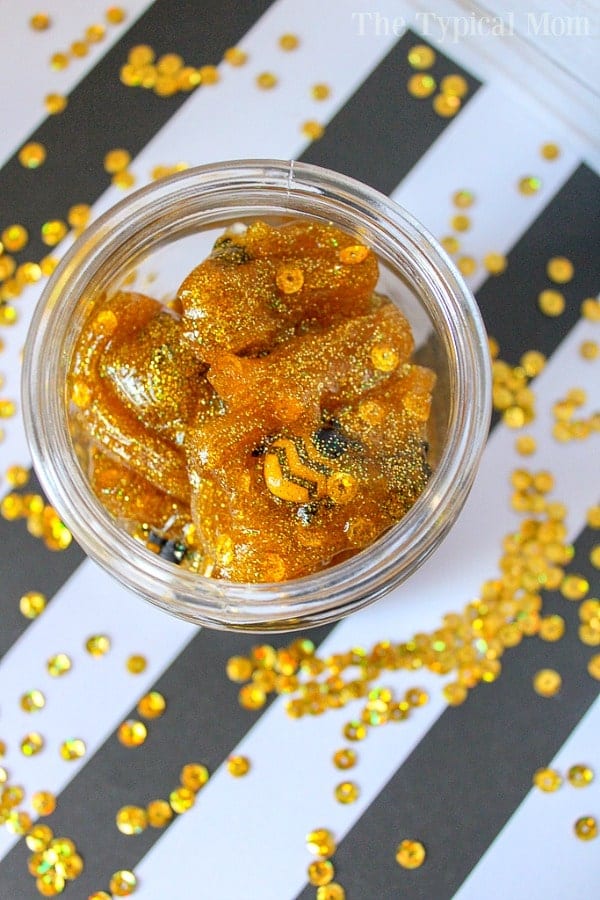 In this case honey and bee slime was our focus so gold was the color of the day. Look at your local store for little plastic friends like this, but if you would rather shop online (me) I will share where you can find them below.
Honey slime
How to make honey slime
In a plastic container, pour 1 cup of hot water and stir in ⅓ tsp of Borax.

In a second plastic container, mix ¼ cup water and pour an entire bottle of glue. Mix together gently.
Add in your mix ins! Add the glitter to your glue mixture.
Pour in some gold sequins.
If you want to add some food coloring to get the perfect honey color, add it in now. I like the gel food coloring. It only takes a tiny bit. I literally stick a knife in and whatever sticks is what I add. A little will go a long way! I used a golden yellow and a brown.
Once the glue mixture is the color you want, add your bees.
Pour the container of the glue mixture into the water and borax solution.
Let it sit for 30 seconds. You will see it instantly start to glob up. I use this time to rinse out my first container.
Reach in and pull out the slime mixture and put it back into your empty container. It will be sticky right now – that's ok. Knead it for a few minutes. If you need to firm it up, just add a touch of the remaining borax and water mixture.
Store in an airtight container!
For more easy recipes, tips and free printables please LIKE The Typical Mom on Facebook and follow me on Pinterest! You can also sign up for my free weekly newsletter which is packed with goodies I know you'll love. 😉