We're back with some fun superhero slime today! An easy glitter slime without borax that's perfect for any superhero birthday party and packaged up in mini mason jars with a free printable for extra fun. Whether your kids love Superman or Captain America this craft can be fun for any occasion and a great party favor to send home.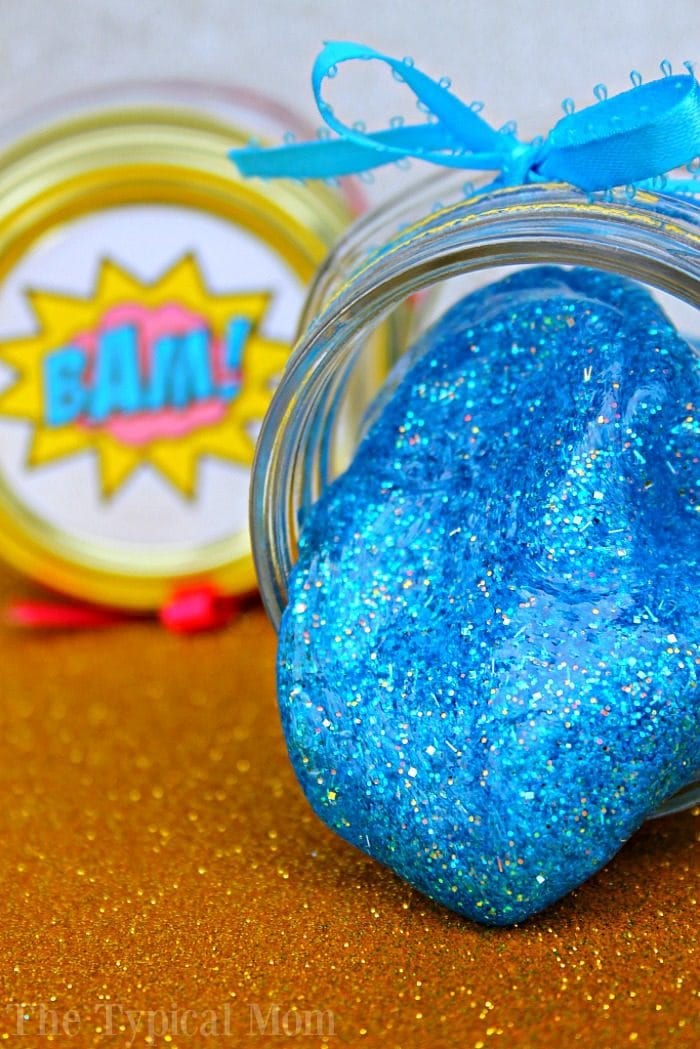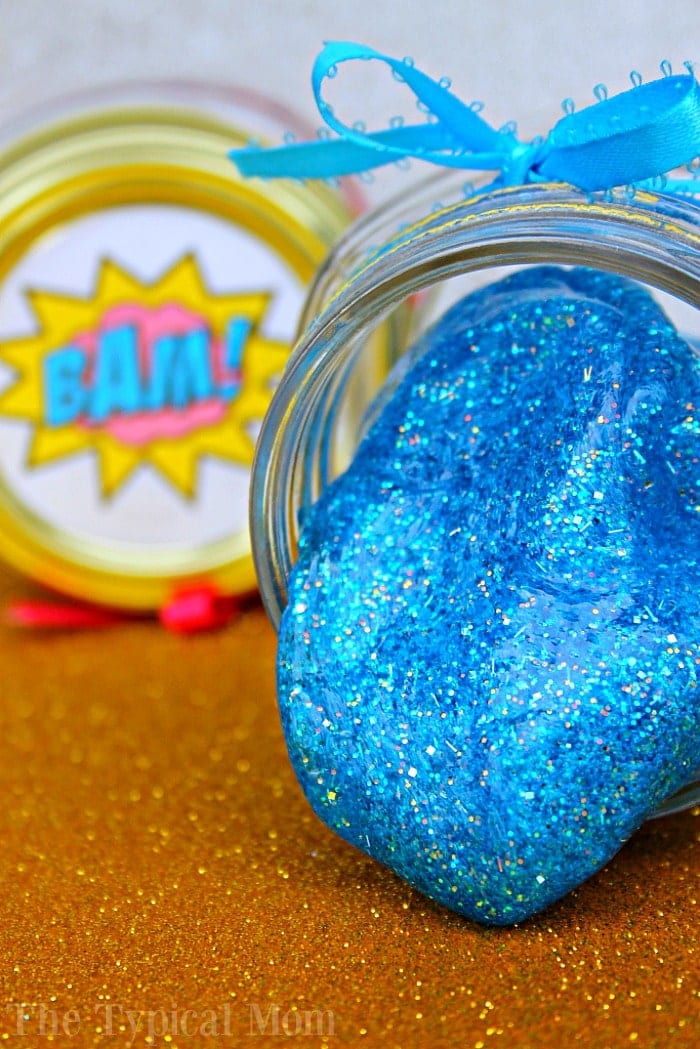 As I've said before my girls love making slime. Easy slime recipes are best and those without borax are preferred by me. Adding glitter and different colors makes this superhero slime fun. Packing it up in different ways can be great when you're having a superhero birthday party too. Just one of the many best way to make slime recipes we have on The Typical Mom. (originally published 5/18, affiliate links present)
Superhero Crafts
Here are two different colors but of course the options are endless depending on what kind of party or theme you have.
Whether you have a boy or girl it really doesn't matter. I will share how this one was made as well as share the free printable superhero mason jar topper too.
Here's the red or dark pink color, and the blue one is above.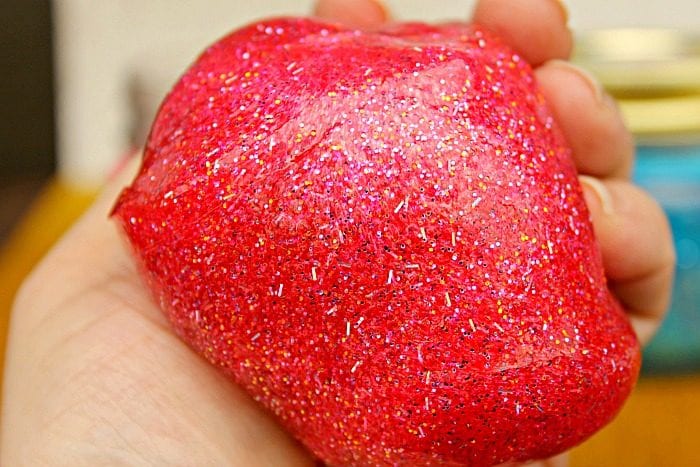 Superhero Crafts for Kids
Like I said this is a no borax glitter slime that can be made any color you like, and include any shade of glitter you desire. For those reasons the combinations are endless.
If you're having a Superman party you could make a red slime with gold glitter or red and blue for a Captain America birthday party favor.
Set up stations if you're having a slime birthday party and they can make their own superhero slime with the colors they want!
Here's what you'll need to make this:
6 ounces glitter glue (you can get all 6 colors here) or you could use clear glue
1/2 tbsp. baking soda
1-2 tsp glitter – of course optional but great if you're having a superhero party, here is a variety pack
2-4 drops food coloring – not necessary if your glitter glue is already colored like below
1 tsp contact lens solution
1-2 drops essential oils – if you want to make scented slime which is fun too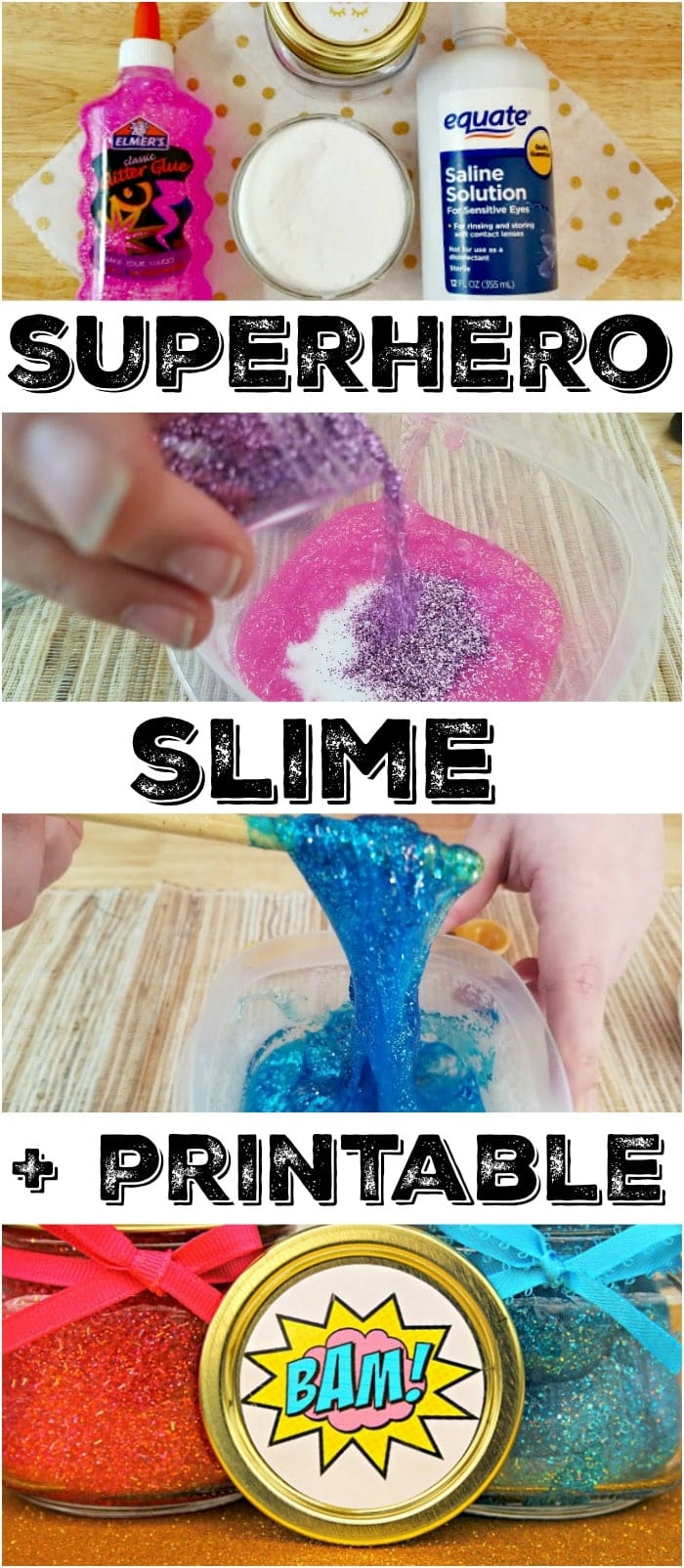 The directions are simple and similar to other easy slime recipes you've found with no borax I'm sure.
It is really a process and the experimentation is probably more fun for kids than when it is done. I guess mine loves both but making it is half the fun and she can make this on her own.
I always stress that all slime recipes do need strict parental supervision especially with young children, please read our safety disclaimer before trying any of our slime recipes.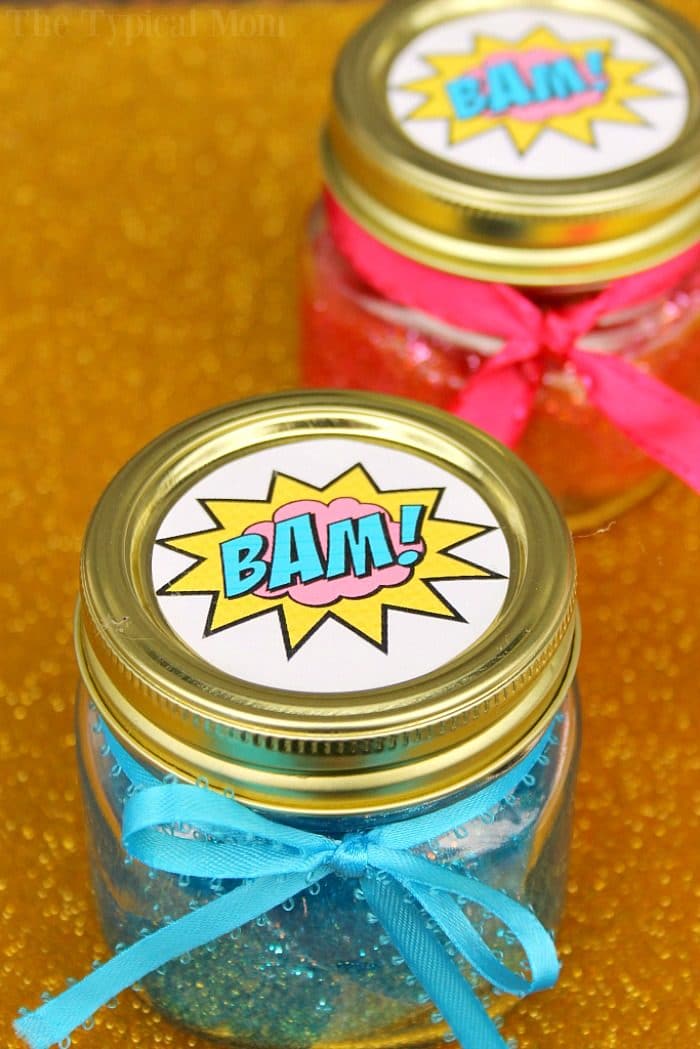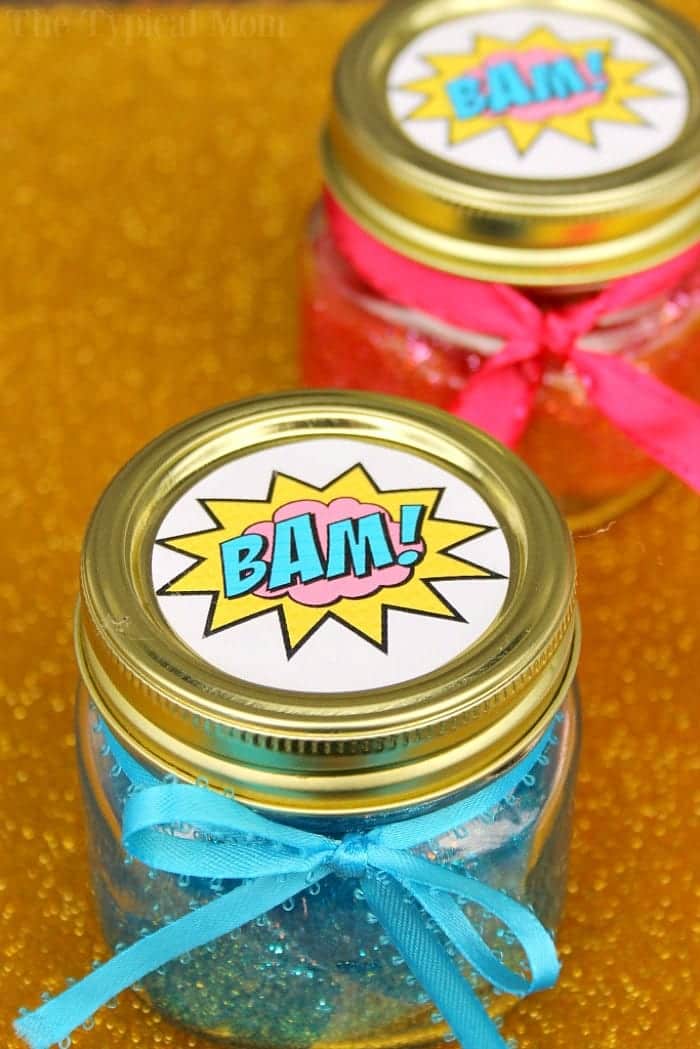 Superhero slime recipe
Add glue to small container or bowl
Sprinkle in your baking soda
Can add glitter to the bowl
Now add food coloring if you are using any
Add contact lens solution and essential oils if you'd like
Then quickly stir everything together
It will stiffen as everything combines
Once stiff pick up and knead so everything is combined well
If using food coloring you may want to use rubber gloves to avoid staining
When it is a taffy texture it is done
Put into mini mason jars
Use this free superhero slime printable on the top using paper and cutting them out or print on sticker paper
Use these granola bar wrappers, print out our Marvel coloring page options (15 in all) and enjoy an afternoon together.
For more easy recipes, tips and free printables please LIKE The Typical Mom on Facebook and follow me on Pinterest! You can also sign up for my free weekly newsletter which is packed with goodies I know you'll love. 😉