Here's a super soft slime recipe your kids will love! Ooey gooey slime that is easy to make and you just need a few household items to create some. Add any color you like and hide fun treasures inside too.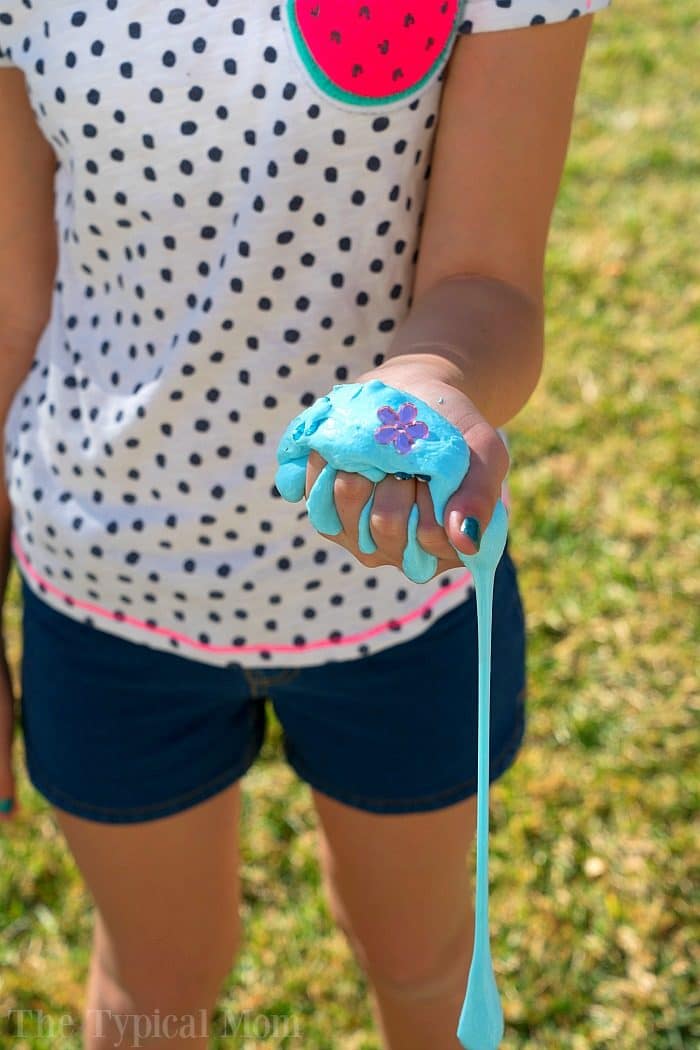 So my kids are like all the others in the neighborhood and obsessed with slime! They have made many different varieties in the past year but this is their latest easy soft slime recipe. I know…yours are probably the same. Mixing, experimenting, and looking for something new to try. On the weekends my younger two will spend hours creating new variations and most of the time I am not quick enough to snap a picture but this time I did so I could share their creation with you. 😉 We have many more listed on the best way to make slime page on our site too! (originally published 12/17, affiliate links present)
How to Make Soft Slime
Of course the best way to make slime is really to just experiment with it once you have a basic recipe.
We have many to try beyond this one, I will include links to those below for you too. Each child wants to add different "treasures" inside and some want it stickier or stiffer than others but if you have a few basic measurements you can go from there.
Here's how they made this super soft slime recipe this afternoon.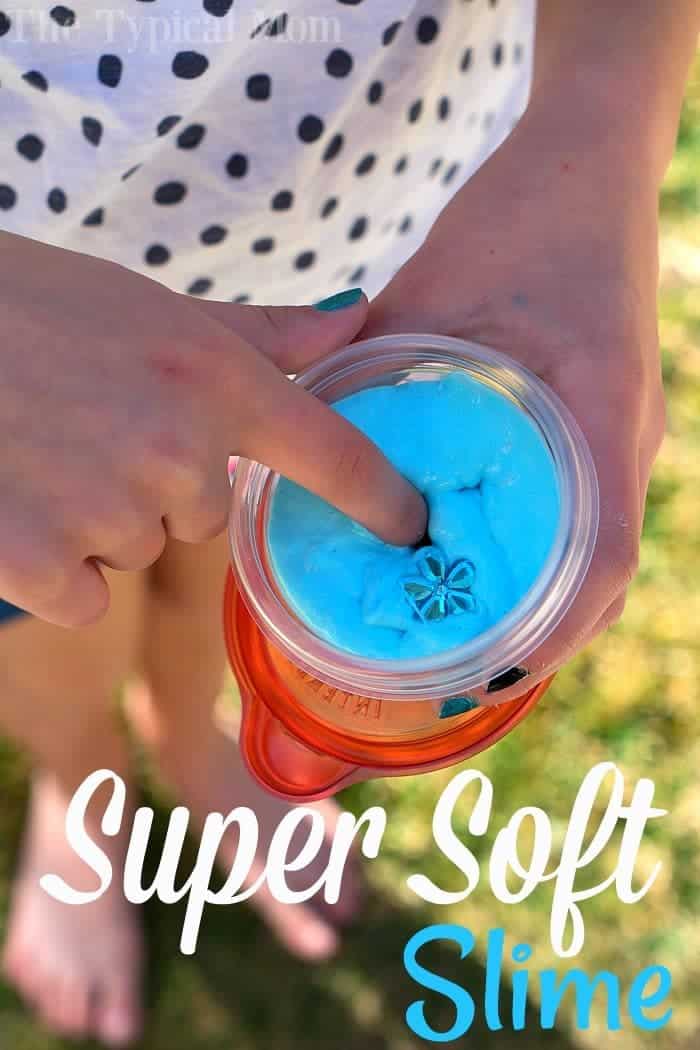 Butter Slime
My middle daughter added some flower gems I had in a bin that I wasn't planning on using elsewhere and colored hers her favorite color, blue. But….the sky is the limit on what color you can make it really.
As with any experimentation and children partaking in it you need to make sure you are present to ensure no accidents occur.
Most of the items are harmless for the most part but liquid starch is a chemical still and parental supervision is always advised no matter the child's age. Please read our safety disclaimer regarding that.
Now on to the fun part!!
Slime Without Borax
Once you have the basic items below to make your basic soft slime recipe go hog wild on the add ins! The cheapest and most fun way to do this and bring more variety into your slime is to go to the dollar store and head on over to the craft aisle.
First of all it is cheap to find little flowers like you see here, beads, mini eyeballs, and other tiny trinkets to add in…..but they change their inventory really often so each time you will probably find something new!
This is what you need to make this easy soft slime reicpe
1/3 bottle white glue (about 1/4 cup – I just buy the gallon jug of glue since they make a lot of slime)
1/2 tbsp. water
3 pumps hand lotion (I just use whatever cheap generic I can find)
8 pumps foaming hand soap
2 tbsp. shaving gel (like this, not shaving cream)
1/2 tbsp. (or more) liquid starch (we use staflo)
Directions:
Stir together your glue and water well
Add your lotion, foaming soap, and shaving gel
Stir well until combined
Then add your liquid starch
Add more liquid starch 1/4 tbsp. at a time until it reaches your desired texture (will thicken/stiffen as you stir and knead it with hands)
Play!
Looking for more fun and easy slime recipes??
If you have another way of making slime fun let us know…we'd love to share it with others!
For more easy recipes, tips and free printables please LIKE The Typical Mom on Facebook and follow me on Pinterest! You can also sign up for my free weekly newsletter which is packed with goodies I know you'll love. 😉