Easy crockpot bbq chicken recipe that uses just 3 ingredients. Great for a party, for soft tacos and cooks by itself all day in your slow cooker.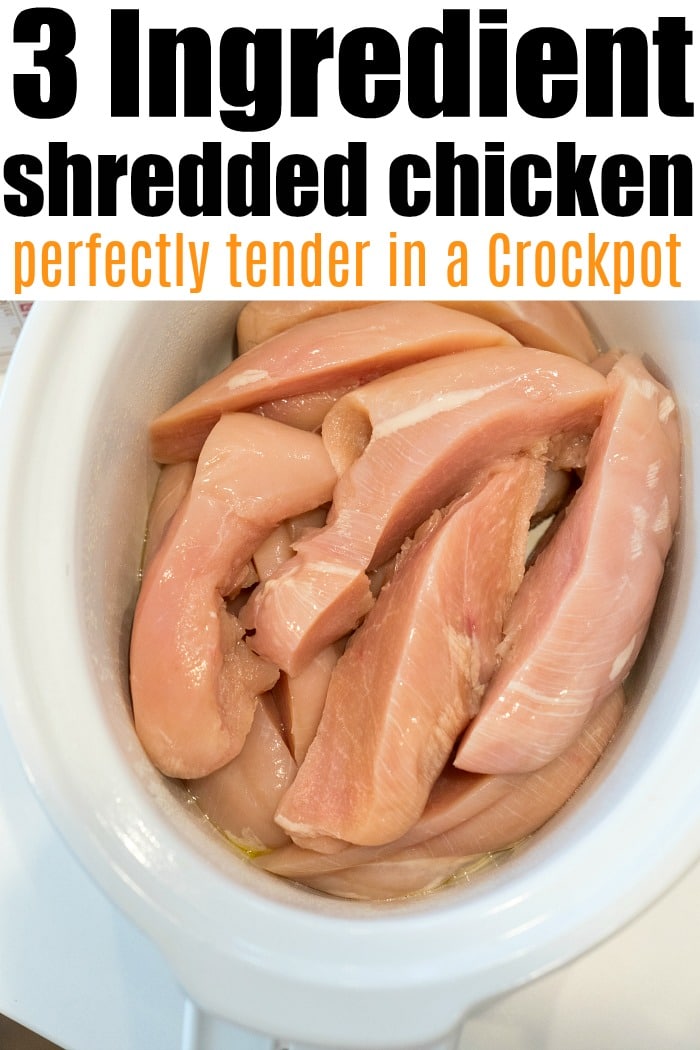 This is such an easy crockpot bbq chicken recipe! I make this one when I find chicken breasts on sale and know I won't have time to cook that night. That's pretty frequently. For this 3 ingredient crockpot BBQ chicken recipe you literally throw it in and enjoy it later! One of the best crockpot recipes for our family. (originally published 8/15, affiliate links present)
All you need is

a small can of chunk pineapple (with the juice)
jar of BBQ sauce (I buy what is on sale but sweet style is best)
boneless chicken breasts.

You can use bone in but it just makes my life easier if I buy the chicken boneless.
I have stuck frozen breasts in there too in the morning if I'm cooking it all day on low and it works like a charm. If you love sweet and tangy sauce smothered over tender chicken you'll love this. It's time to make homemade soft chicken tacos this week!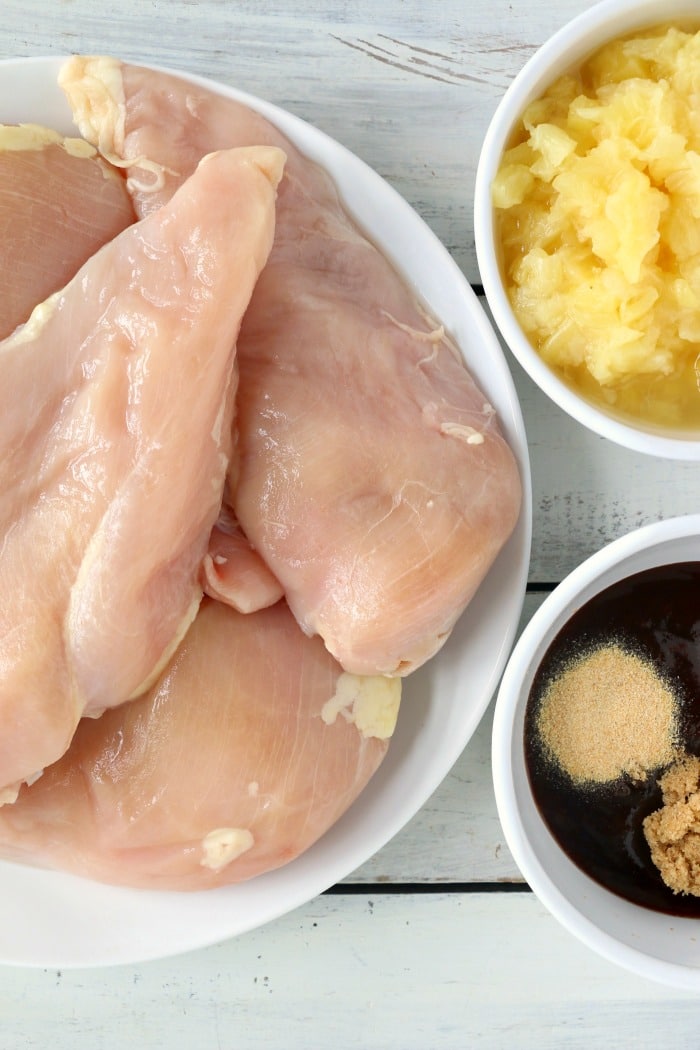 How long does it take to cook chicken in the Crockpot?
Well it depends on what else you might be adding into your pot first off but generally it takes 6 hours on low or 3 hours on high temp. We are adding a thick barbecue sauce to this one and it doesn't really alter the timing.
What will drastically change how long it takes to get fall apart tender slow cooker chicken is how thick your meat is.
I would NOT buy thick chicken breasts or thighs. In order to get the middle tender but not overcook the outsides is almost impossible.
Instead:

Use medium size breasts

If all you have is thick you should slice them in half so they're thinner, or maybe into thirds if they are really quite large.

Thaw your meat before adding. You can use frozen but for the best results I would defrost them before adding them into your pot.
My personal opinion is that organic boneless skinless chicken breasts are your BEST bet. There IS a difference in the texture of cheap chicken vs. spending a bit more if you want super tender meal.
Some worry can you put raw chicken in a slow cooker?
Yes!! We will show you how to do that here. Raw chicken, just cooked on a low setting, will usually cook in 4-6 hours if you haven't overfilled your slow cooker with other ingredients.
Do you need to put water in slow cooker with chicken? You do not really need to add some sort of liquid because the meat when heated will emit chicken broth, keep that in mind.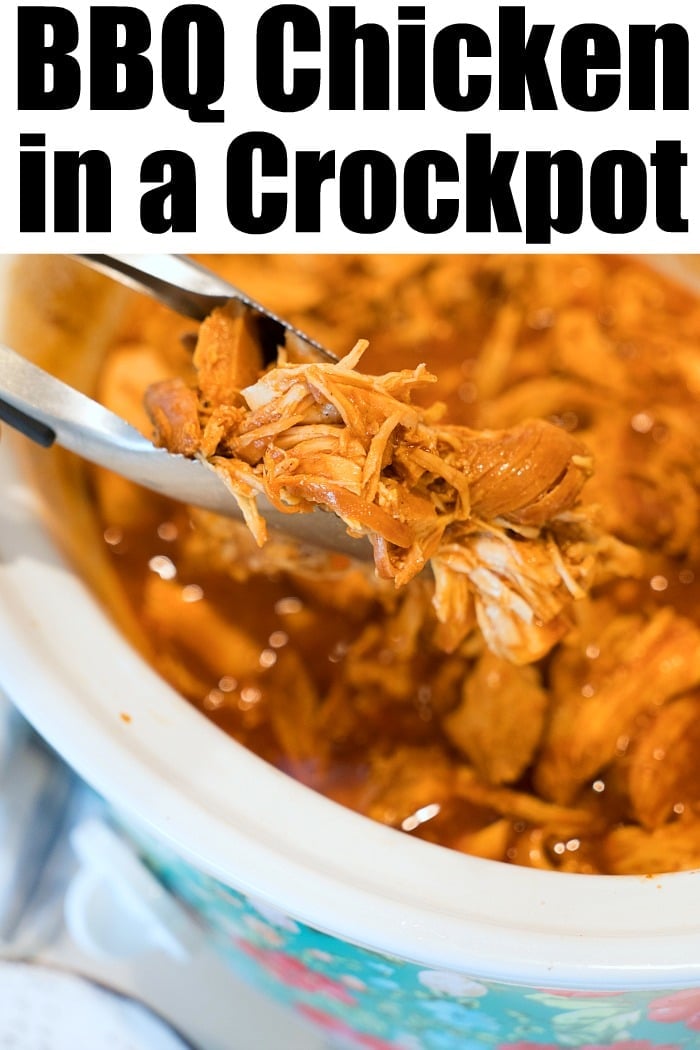 What you need to make this Crockpot bbq chicken recipe
Boneless skinless chicken breasts

I suppose you could use chicken thighs too but I haven't done that yet
Using medium size frozen chicken is fine using the same slow cooking time on low

do not cook on high if they aren't thawed

Barbecue sauce – this one is our favorite, Sweet Baby Ray brand is a close second
Chunk pineapple + 1/2 cup of juice from that can
Small tortillas
Cheese
Avocado
Occasionally I will add a few tablespoons of either soy sauce or Worcestershire sauce too if I have it on hand. It gives it a bit more of a salty sauce mixture kick. Try this Crock pot bbq chicken both ways and see which you like better.
Is it better to cook chicken on high or low in Crockpot?
You will hear me say it again and again, and yet again that chicken in a Crockpot should always be cooked on the low setting. Do not cook chicken on the HIGH setting unless you like overcooked, dried out, tough meat. Always cook on LOW!!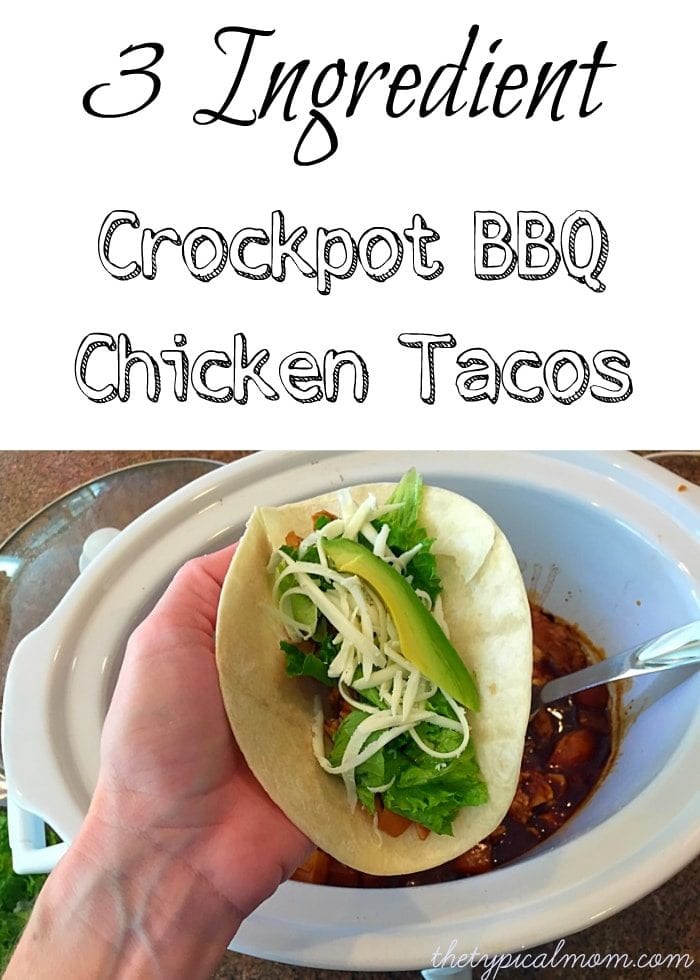 Here are the basic directions to follow:
You can spray the inside of your pot for a quicker clean up later if you want now.
Pour half your bottle of bbq sauce on the bottom.
Lay chicken on top of that. If breasts are quite thick I would slice them in half or thirds if they're quite large.

I personally like medium sized organic because they come out the most tender, just my opinion.

Pour remaining barbecue sauce over the top of that followed by your pineapple chunks + 1/2 c of juice from that can.
If you want to add soy sauce you can add a bit now.
Cover and cook on low for approximately 4-6 hours or until it is tender enough to shred with 2 forks.

Timing will vary greatly depending on how thick your meat was.
I do not recommend 3 hours on high like some do because shredded meat really needs low and slow cooking.

I like to shred the meat 30 minutes before you're ready to serve it, leave it in the sauce, cover and allow it to soak it up more.
Do you preheat slow cookers? This is important if you're making an air fryer recipe but with this type of low and slow machine it isn't really necessary. If you really feel like you need to just add a bit of water, turn it on and come back in 15 minutes. Empty out liquid and add ingredients as directed in your recipe.
Add tender chicken into tortillas with cheese and avocado immediately for the best results.
If you want to cook this even faster use the recipe for Instant Pot shredded chicken here. Our pulled pork is pretty darn amazing too.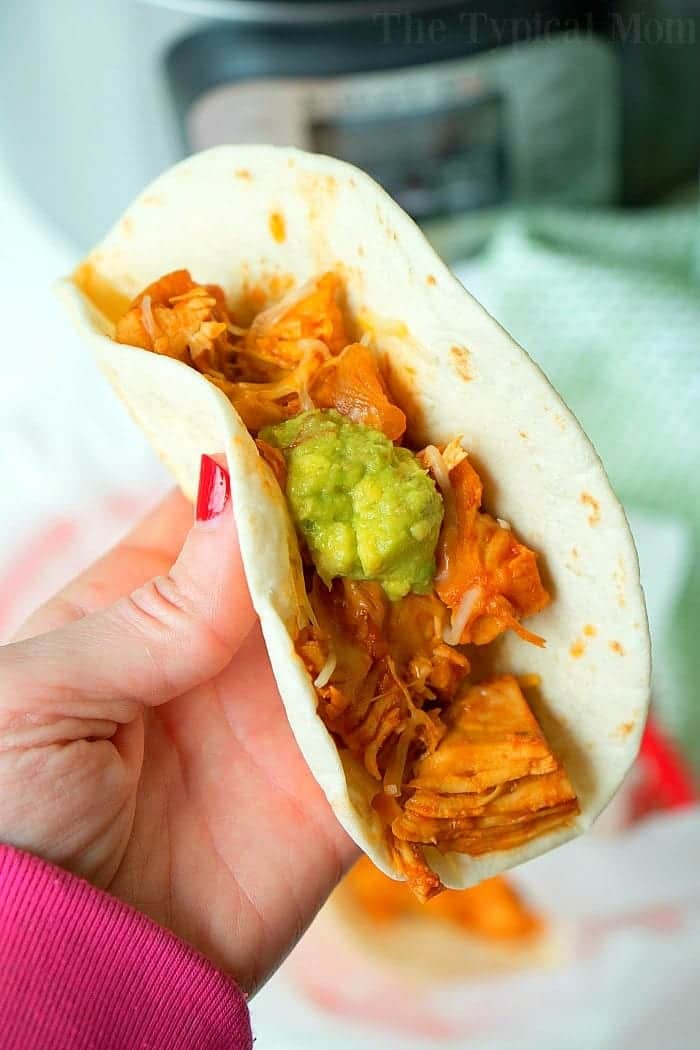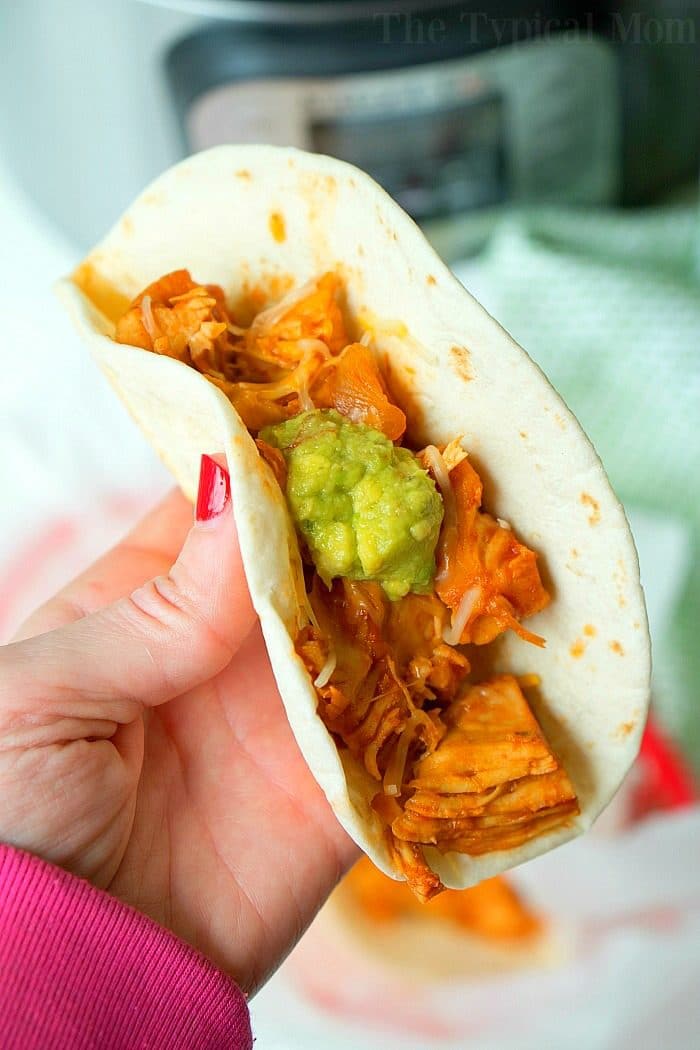 We either serve it inside a tortilla with shredded cheese and lettuce, or it's good served over rice too. This is the easiest throw it in and go recipe ever for chicken in the crockpot. Works if you are gone all day, or if you only have a few hours.
It is great when people come over or during a party too. If you move your slow cooker setting to "keep warm" it can sit there for hours and just get better because it soaks up all the juices.
Does slow cooking make meat more tender?
YES! This and putting it inside my Instant Pot are game changers and the only way to go for us. Slow cookers work well for soups and stews too where less tender cuts of meat are cut into chunks or small pieces. The moist heat and steam they provide softens the connective tissue helping chicken or beef to fall apart more easily.
Looking for more easy crockpot chicken recipes?
Try our Crockpot bbq beef recipe too! Super simple and tons of flavor in this slow cooker recipe.
Problems that may arise and answers to them:
Why is my slow cooker meat dry?
When you're cooking meat in the slow cooker the leaner the cut, the drier it tends to get. If the meat comes with skin or a fat cap, leave that intact to keep the meat from drying out. I didn't do that here because there is plenty of sauce to keep it moist. It's also possible that the meat simply cooked too long or you didn't follow my suggestion and keep it on LOW vs. the high setting. Booooo!
How do you keep meat from drying out in a slow cooker?
Keep it moist y'all! Add liquid such as chicken or beef stock, water, or vegetable juice. This is especially true with really large thick pieces such as a roast. Have it to come 1/2 to 2/3 up the height of the meat in your pot.
If you cover the meat in liquid the meat will "boil" in the sauce and will be tough. Thermometers really are not necessary with slow cooked meats, but if it is thick I would suggest using one for safety purposes.
Can you double this recipe? Yes I have done that but use a larger pot so chicken doesn't overlap as much and each piece gets nice and tender.
I am telling you that using a thick really flavorful bbq sauce on beef or chicken in a slow cooker does wonders vs. just broth or water. It keeps it nice and moist as we're speaking about plus gives it tons of flavor for a very low price.
Crockpot BBQ Chicken Recipe
Easy crockpot bbq chicken recipe with only 3 ingredients and full of flavor. Perfect slow cooker shredded chicken for tacos!
Ingredients
1

jar

barbecue sauce

3-4

chicken breasts

boneless, skinless, cut very thick ones in half so they come out tender

1

can

chunk pineapple

8 oz. + use 1/2 c. of juice in the can
Instructions
Put 1/2 bottle of barbecue sauce on bottom of crockpot, put chicken on top of that.

Pour remaining jar of bbq sauce on top, and pineapple chunks/tidbits (with 1/2 c. of juice) on top of that. (if you like a bit more salty taste add 3 tbsp soy sauce on top too)

Turn crockpot on low and cook for approx. 4-6 hours or until breasts are cooked and soft enough to shred easily.

If breasts are frozen cook for 6-8 hours on low.

Open and shred chicken 30 min. before serving, put lid back on. serve over rice or in small tortillas with spicy jack cheese, lettuce, etc.
Video
Nutrition Facts
Crockpot BBQ Chicken Recipe
Amount Per Serving (3 oz)
Calories 186
Calories from Fat 27
% Daily Value*
Fat 3g5%
Cholesterol 72mg24%
Sodium 134mg6%
Potassium 535mg15%
Carbohydrates 15g5%
Protein 24g48%
Vitamin A 81IU2%
Vitamin C 10mg12%
Calcium 21mg2%
Iron 1mg6%
* Percent Daily Values are based on a 2000 calorie diet.