Glazed Crockpot carrots are the perfect sweet side dish with dinner. Use your slow cooker and with just a few ingredients you too can make this to serve to your family tonight.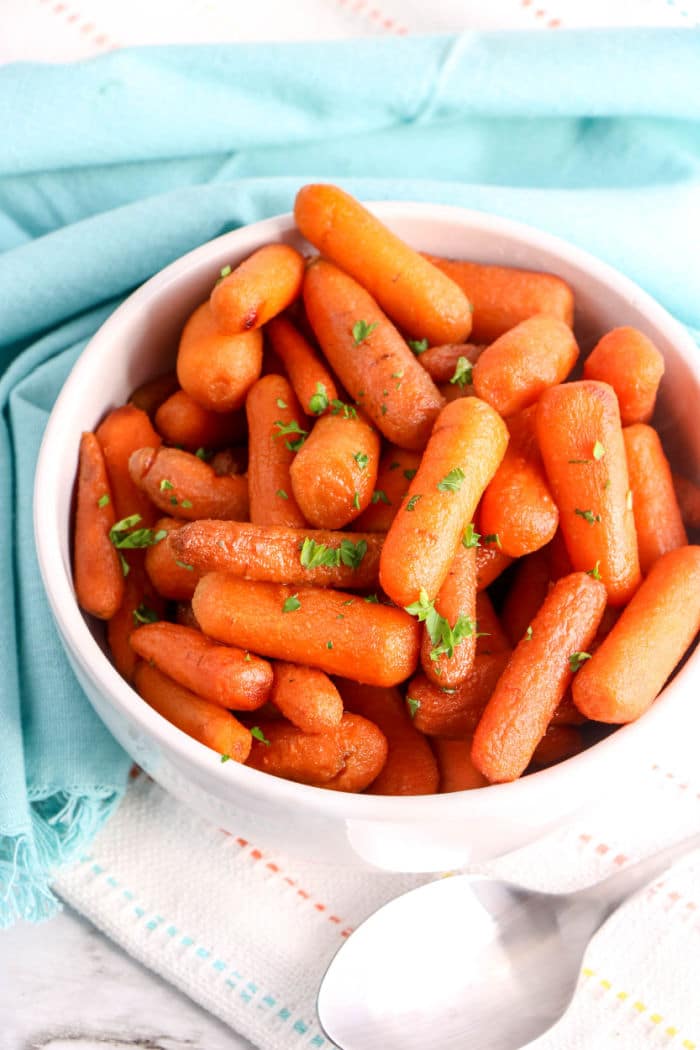 Do you love brown sugar glazed Crockpot carrots but unsure how to make them at home? Simple is an understatement. Grab some baby carrots already peeled and try this easy Crockpot recipe this week. (affiliate links present)
Crockpot Carrots
We like to change things up at dinnertime. Starting with pressure cooker carrots, we loved how quickly these babies turned out. In less than 15 minutes we were enjoying a batch with dinner.
They are a really cheap and healthy vegetable that everyone around here loves so score!
FIRST – You should sign up for my free newsletter so you get new posts emailed to you twice a week and never miss out on anything! Let's talk a little bit about slow cooking shall we?? First off I have a few different varieties and I love them all. Each one has an occasion to be used like….
This is my favorite 6 quart programmable one with a locking lid so it's great for bringing to a potluck too.
If you just want to serve a few appetizers you should get this one that sit side by side one another.
I prefer not to use liners, but rather just spray olive oil inside before adding my food for easier cleanups.
Let me give you a peek of my pretty thang I bought recently. It goes with my kitchen so I can just leave it out on the countertop all the time. 😉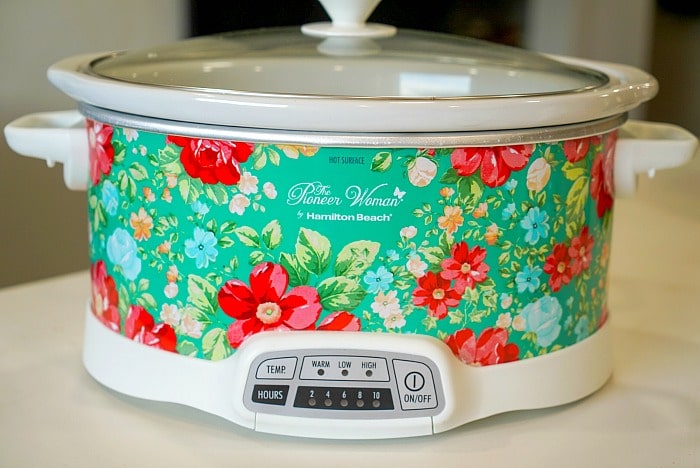 Can you put raw carrots in a slow cooker?
Absolutely. I mean you can even put frozen chicken in a Crockpot and have it come out amazing. You can use large right out of the ground with stems cut off or already prepped and bagged baby versions like you see here.
Will carrots soften in slow cooker?
You betcha'! I mean that is the whole idea right? They essentially steam to the perfect texture in your pot. With just a bit of liquid which in our case is just some butter, they'll be perfect in about 4 hours. Love this? Try Crockpot brussel sprouts too.
Crockpot Glazed Carrots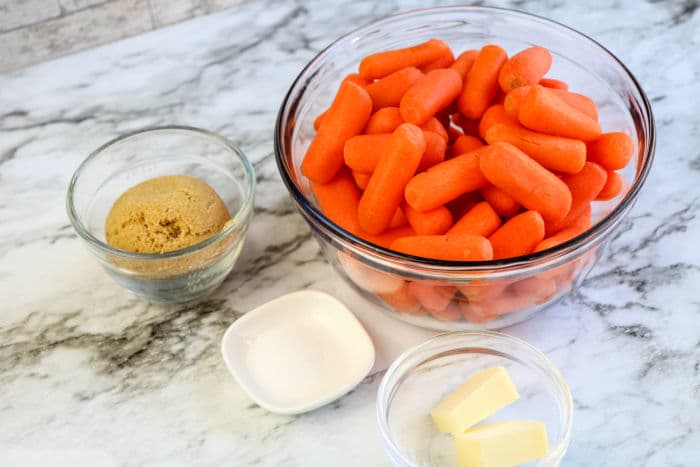 You can see here all that was used. Want them to look a bit "fancy" when they are done? Dice up some parsley and sprinkle that on top when serving. Glazed carrots are the bomb served with a Ninja Foodi recipe, with chicken, or as a quick snack.
Slow Cooker Carrots
These have a sweet and savory flavor to them. SO if your kids aren't veggie lovin' folks they may be convinced to be so with these. Try it at least. Our philosophy at the dinner table was you have to take one bite. After a while they actually acquired a love of lots of different things.
Now that they are older they have a pretty broad range of things they love. From spinach to sushi they're willing to try just about anything once. 😉 The best part about these is you just throw it all in and walk away!
You can even transform this into a one pot meal with protein too! If you love that idea, give our slow cooker chicken thighs and potatoes a whirl. We add this veggie in there too. 😉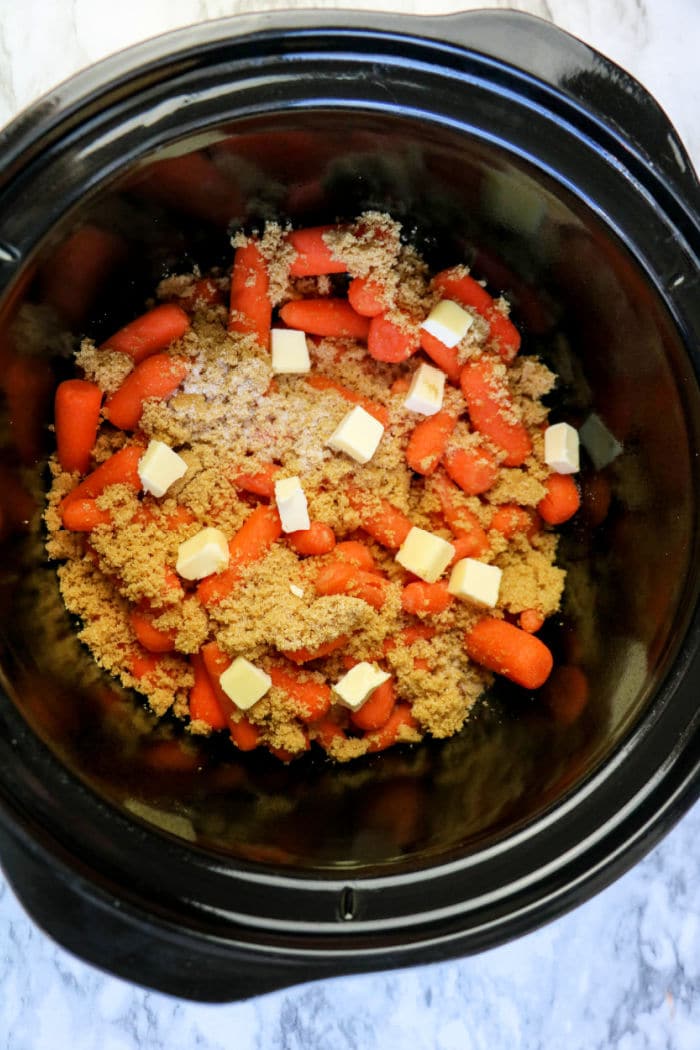 Seriously, that is why baby carrots are great. NO peeling or chopping required, you just pour those babies in and sprinkle in the other 3 ingredients. You don't want to ignore these too long though.
4-5 hours is perfect. The wide range is because everyone prefers a different texture for your taste buds. If you like a little "bite" to them then aim for 4. Really soft for your family? Five hours might be better for y'all.
Crockpot Carrot Recipe
Bag of baby carrots or sliced carrots
Butter
Brown sugar and cinnamon too if you want to throw some of those in
Salt will give you the savory and sweet nature we all love
You don't need a really large pot for this easy carrot recipe. If you have a casserole Crock pot that works pretty well too. It's nice to have different sizes so you can make multiple things at the same time, love my 2.5 quart slow cooker.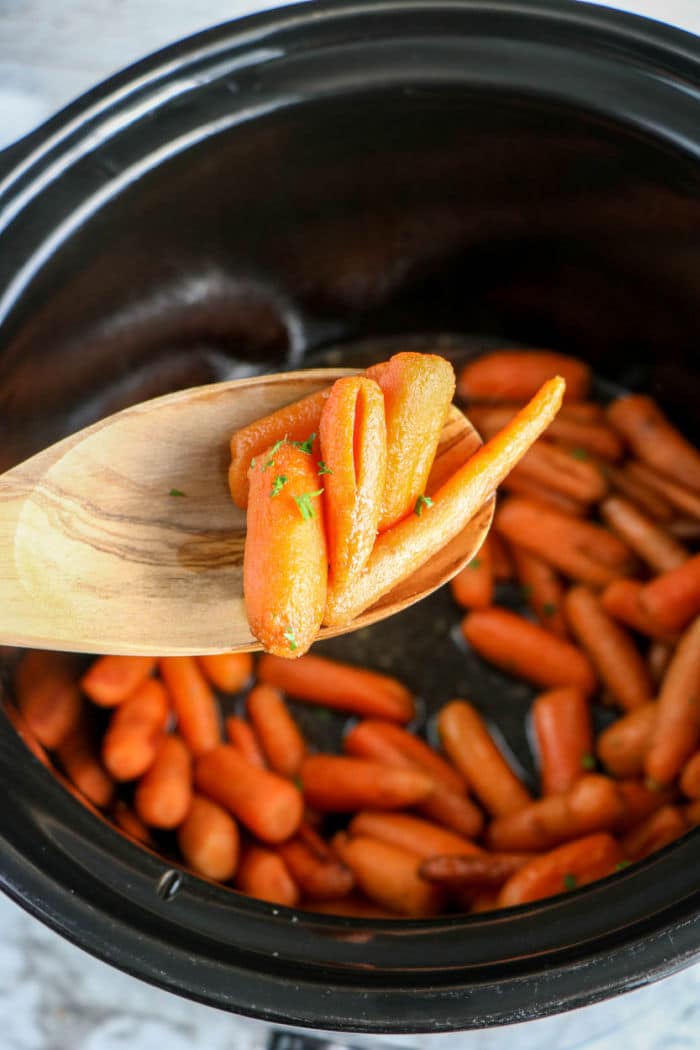 You could stir once while cooking the carrots for four hours cooking time if you are around. No worries if you are gone out running errands. They will be just fine either way you make them.
If you want some extra sweetness at the end right before you serve them with a chicken breast you could drizzle some honey on top. Personally I don't think they need anything else but for kids learning to love them at the beginning this is an idea to try.
Soon enough they will ask if you can make them again, and again, and again with dinner. It definitely makes for a easy cheap Crockpot meal .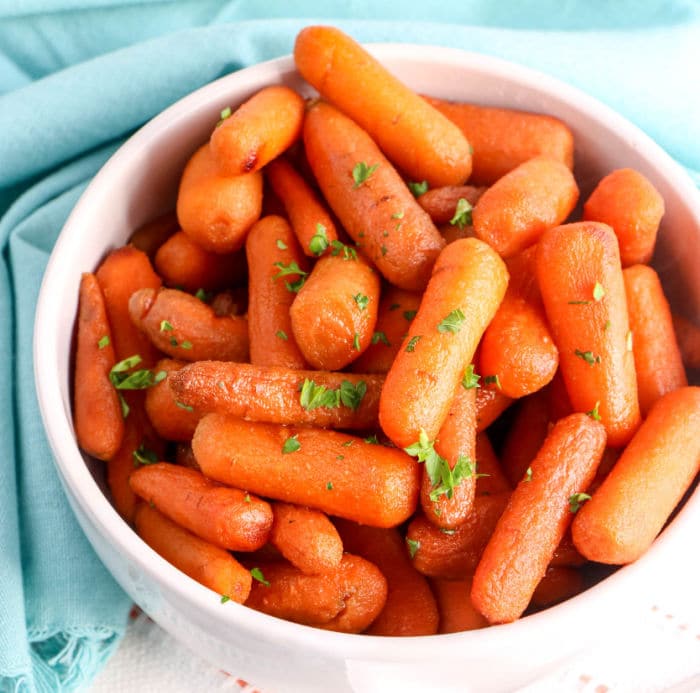 What goes well with carrots?
I mean roasted carrots are a perfect side dish that goes with just about any holiday meal or Instant Pot weeknight dinner. As far as toppings you could add some nutmeg, dill, allspice or cinnamon on it too when you're ready to serve them in a small bowl
Spray your slow cooker with non stick spray. Add your prepared carrots with brown sugar and salt on top in your pot. Put pats of butter on top of all of that.
Cover with lid and cook on high for 4-5 hours or until tender like you want them to be. Best if you can stir halfway through the cook time.
If you want to make these even faster, try a batch of air fryer carrots and see which you like better.
I have a printable recipe card for you at the bottom of this post. In it there is nutritional information that accounts for all the ingredients listed. If you sway from these then those amounts will differ of course.
All in all it is a tasty easy side dish all of you will surely love. Let us know if you add anything else to you batch that turns out beyond amazing. Want another veggie to serve too? Give Crockpot cabbage a whirl too.
Want to see a few of my favorite things that I am totally obsessed with?? Take a peek and see how many you might already have…twinsies!
Looking for more easy family recipes and tips? LIKE The Typical Mom Facebook page?
Then sign up for my free newsletter, and follow me on Pinterest! 😉
***** If you LOVED this recipe give it 5 Stars below and let everyone know what you thought about it. 😉
Slow Cooker Glazed Carrots
Crockpot Carrots
Glazed Crockpot carrots are the perfect sweet side dish with dinner. Use your slow cooker and with just a few ingredients you can make it too!
Instructions
Spray slow cooker with non stick spray. Add carrots topped with brown sugar and salt. Put pats of butter on top of all of that.

Cover with lid and cook on high for 4-5 hours stirring halfway through the cook time.
Nutrition Facts
Crockpot Carrots
Amount Per Serving (2 oz)
Calories 165
Calories from Fat 36
% Daily Value*
Fat 4g6%
Cholesterol 10mg3%
Sodium 337mg15%
Potassium 509mg15%
Carbohydrates 32g11%
Protein 1g2%
Vitamin A 25376IU508%
Vitamin C 9mg11%
Calcium 66mg7%
Iron 1mg6%
* Percent Daily Values are based on a 2000 calorie diet.