If you love the tantalizing flavors of enchiladas but don't have the time or energy to spend hours in the kitchen, I have a delicious solution for you. Chicken Slow Cooker Enchiladas!
These are truly a game-changer for busy families, delivering all the incredible taste of traditional enchiladas, but with the ease and convenience of a slow cooker. It's one of our favorite Crockpot chicken recipes.
These rotisserie or leftover chicken enchiladas are rich, creamy, and packed full of flavor. The chicken is perfectly tender, the cheese is deliciously gooey, and the green enchilada sauce adds a beautiful tanginess. What makes these enchiladas extra special is the slow-cooked chicken. The slow cooking process tenderizes the chicken, making it beautifully soft and succulent. Trust me, you'll be coming back for seconds, or maybe even thirds!. (affiliate links present)
Slow Cooker Chicken Enchiladas
Our journey begins with a simple list of ingredients, just like our Instant Pot enchiladas used. No special trips to the grocery store required. We'll need some precooked chicken, green enchilada sauce, cream cheese, green chiles, sour cream, corn tortillas, and of course, lots of Monterey Jack cheese. And don't forget you can use that jump to recipe at the top if you want to get straight to it.
Crockpot Enchiladas
These two words are synonymous so you know what I mean. You can see all of the ingredients we used here but it is very forgiving and versatile. Use what you have on hand as far as cheeses, meat and sauces. If you wanted these spicy you could do that easily with some hatch chiles or hotter sauce choices.
Leftover Chicken Enchiladas
You can use all sorts of meat to make these. Many times if I have made pork adobo in Instant Pot or Ninja Foodi whole chicken the night before, I'll make this with the leftovers. Just remember to shred the chicken or break up the cooked beef well to ensure it mixes well with the other ingredients and cooks evenly.
If you don't have anything on hand but don't want to cook your proteins first just grab a rotisserie chicken at the store. Those are always handy to shred on the spot so there's less prep work for you to begin with. Since most are already seasoned it will add to the flavor of the overall dish as well, win win.
Slow Cook Enchiladas Chicken
You can use store bought or make a batch of air fryer tortillas in the morning or the day before and use those, they tend to be a bit firmer because the outsides have a bit of crisp to them. I use the "regular" size vs. taco or burrito diameters as they lay inside better instead of overlapping.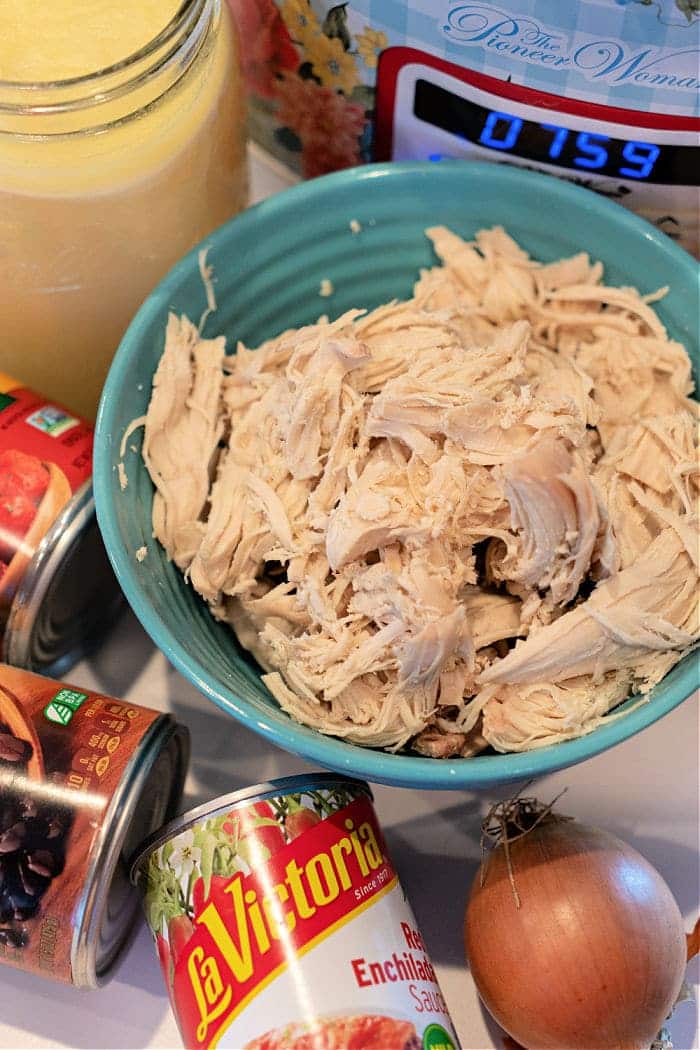 Can You Use flour tortillas Instead of Corn Tortillas to Make Enchiladas?
Yes, you can! While corn tortillas are traditional in enchiladas, flour tortillas can work just as well. They will result in a softer texture, and the flavor will be slightly different. I recommend using whichever you and your family prefer. The important part is that you're cooking together and enjoying the food you make.
Continuing with the layers, remember, we end with a final helping of enchilada sauce and cheese. The best part about making this recipe in the slow cooker is that the appliance does most of the work for you. All you need to do is layer the ingredients, set it to forget it for the day, and let it work its magic.
What is the best cheese for enchiladas?
Of course! While Monterey Jack is my go-to for this recipe because it melts so beautifully and has a wonderfully mild flavor, you could definitely experiment with other types of cheese. Cheddar would bring a sharper taste, and what we use with our Crockpot enchilada casserole. A blend of Colby and Monterey Jack is a milder blend.
If you're feeling adventurous, a smoked Gouda could add an interesting twist. Remember, the best part of cooking is making a recipe your own!
What is a substitute for green enchilada sauce?
The beauty of this recipe is its versatility. If you're not a fan of green enchilada sauce, you can easily substitute it with red or our tamale sauce. The flavor will be slightly different, but still utterly delicious. Remember, the goal is to create a dish that your family will love, so feel free to customize this recipe to suit your taste.
I've crafted this dish using a combination of ingredients that blend together to form a mouth-watering harmony of flavors. However, the true magic lies in how these ingredients interact over the slow cooking process.
The cream cheese and sour cream melt into the chicken, infusing it with a delectable creaminess, while the shredded cheese adds an irresistible gooey texture. The green chiles and green enchilada sauce provide just the right amount of zing, making this a truly well-rounded dish. You can also feel free to toss on some green onions for a beautiful and delicious garnish.
Creating this dish is like constructing a beautiful, edible tower. We begin with a layer of our flavorful chicken mixture at the bottom of the slow cooker. Next comes a layer of corn tortillas, acting as a delicious barrier between the chicken and the generous sprinkle of cheese. After that, we drizzle some enchilada sauce and start the layering process again.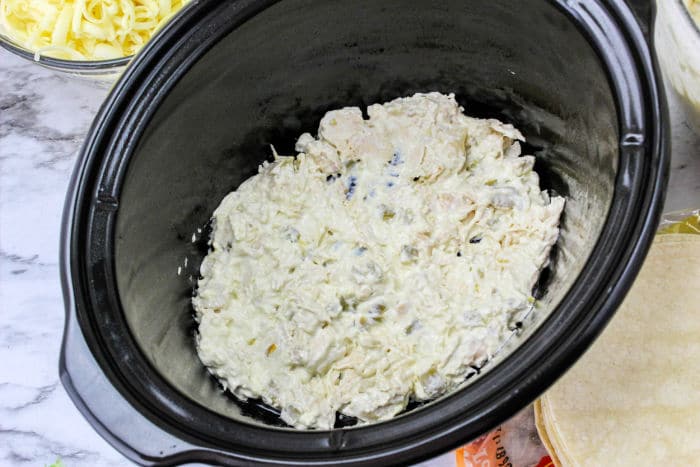 Easy Chicken Enchilada Recipe
Making these enchiladas in slow cooker couldn't be easier. First, we mix the precooked chicken with half the enchilada sauce, cream cheese, green chiles, and sour cream in a large bowl. This delightful mixture forms the heart of our enchiladas.
Next, we assemble the enchiladas directly in the slow cooker. Start with a layer of the chicken mixture, followed by the tortillas, a sprinkle of enchilada sauce and then a generous sprinkle of cheese. Repeat these layers until you have used up all your ingredients, ensuring that the last layer is of enchilada sauce and cheese.
Now comes the easy part: set your slow cooker to low and set the cook time for 5 to 6 hours. The slow cooking process allows the flavors to meld together beautifully, creating an enchilada that is both comforting and full of flavor.
After a few hours, you'll be greeted with the most divine smell filling your kitchen, a tantalizing hint of the delicious meal to come. Once the cheese is melted and perfectly gooey, you'll know you've hit that jackpot. A little bit of work as far as prep is concerned, but not bad. If I want a deconstructed version I make our enchilada casserole with pasta instead of tortillas.
How to Make Slow Cooker Enchiladas
One of my favorite things about this recipe is the flexibility it provides. For example, if you're more inclined towards ground beef or prefer chicken thighs over chicken breasts, feel free to substitute. Experiment with spices like garlic powder or chili powder to kick up the heat a notch. An easy one pot meal that is quick to throw together.
These easy slow cooker enchiladas are a game-changer for anyone who loves enchiladas but doesn't have the time or energy for the traditional cooking process. They're creamy, tangy, and packed with flavor. Once you fall in love with these you can check our how long to cook enchiladas a few other ways to see which is your favorite.
Try Slow Cooker Chicken Tacos next. This is another example of why I love slow cooker recipes. Convenient, easy to make, and the low and slow cooking process enhances the flavors in a way that other cooking methods just can't match. Next try our simple 4 Ingredient Salsa Chicken, perfect for busy weeknights.
Want to see a few of my favorite things that I am totally obsessed with?? Take a peek and see how many you might already have…twinsies!
Looking for more easy family recipes and tips? LIKE The Typical Mom Facebook page?
Then sign up for my free newsletter, and follow me on Pinterest! 😉
***** If you LOVED this recipe give it 5 Stars below and let everyone know what you thought about it. 😉
Slow Cooker Chicken Enchiladas Verde
Chicken slow cooker enchiladas can be made quickly for a cheap Mexican dinner. How to make enchiladas in Crock Pot is easier than you think.
Instructions
Prepare the slow cooker liner with nonstick cooking spray. In a large bowl, mix together the precooked diced chicken, half the enchilada sauce, cream cheese, green chiles, and sour cream until well blended.

Layer the casserole in the slow cooker by adding enough of the chicken mixture to cover the bottom. Then add a layer of tortillas, overlapping to cover the bottom contents, a small amount of enchilada sauce, and then a sprinkle of cheese.

Continue adding layers in this order ending with the remaining enchilada sauce and cheese. Cover and cook on low for 5 to 6 hours. Serve topped with sour cream, shredded cheese, and/or chopped cilantro..
Nutrition Facts
Slow Cooker Chicken Enchiladas Verde
Amount Per Serving (2 oz)
Calories 727
Calories from Fat 423
% Daily Value*
Fat 47g72%
Cholesterol 155mg52%
Sodium 1489mg65%
Potassium 371mg11%
Carbohydrates 43g14%
Protein 34g68%
Vitamin A 1888IU38%
Vitamin C 6mg7%
Calcium 516mg52%
Iron 2mg11%
* Percent Daily Values are based on a 2000 calorie diet.