Instant Pot enchilada casserole is a creamy pasta with ground beef or sausage and all the Mexican flavors you love. Cooked in 4 minutes, you'll definitely want seconds.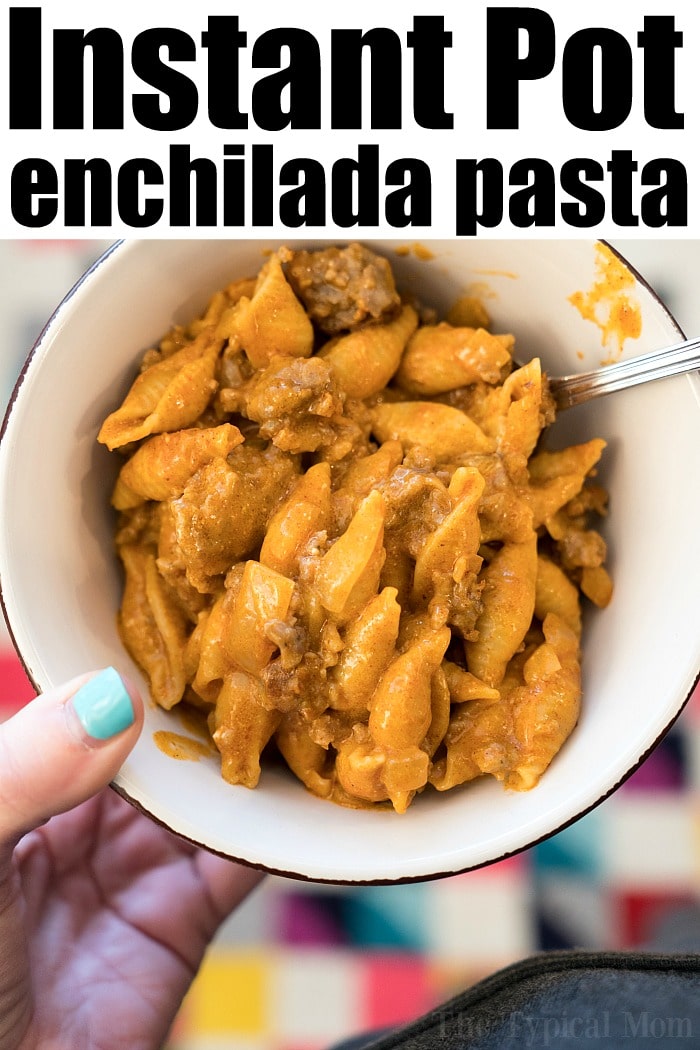 I was craving enchiladas the other day but didn't want to put the time and effort into those. SO I came up with this Instant Pot enchilada casserole and bingo, I got all those same flavors I love! If you love easy Instant Pot recipes as much as I do you'll love this one pot pasta!
I made this two different ways, I will explain them both. The overall consensus was that the ground beef method with more ingredients was favored over ground sausage. If you're in a rush you could opt for the latter though.
If you've never made an Instant Pot casserole before you're in for a treat!
I love them because there's NO boiling required. The pasta cooks in the flavorful sauce which makes them taste amazing when they're tender!
Here's how we made this Instant Pot enchilada pasta.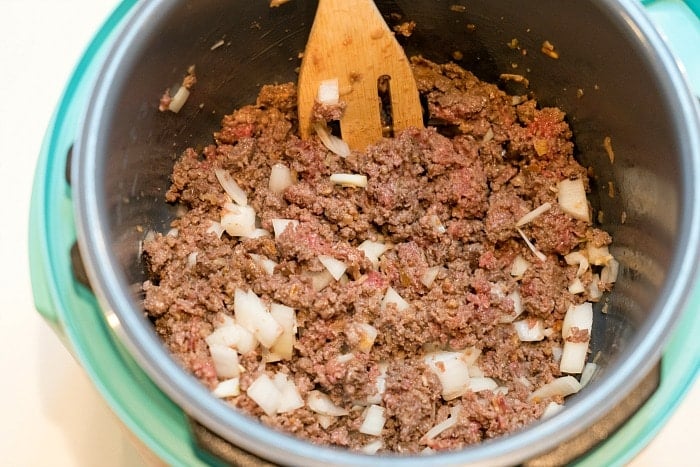 Like I said, I made this two different ways. The preferred method is in the recipe card below, and explained here. Alternatively instead of making the meatloaf recipe initially you could use just ground sausage.
I know, meatloaf and enchiladas?? May sound strange but it just means I added a wallop of flavors to my ground beef before browning it on the saute function.
This is what you'll need to make Instant Pot enchilada casserole
I HIGHLY suggest getting this non stick pot. It almost eliminates all burn notifications and eliminates need for cooking spray. Makes it easier to clean too.
Meat mixture:

Ground beef
Egg
Onion soup mix
Parmesan cheese, shredded
Worcestershire sauce
Bread crumbs

Other ingredients

Olive oil
Uncooked pasta noodles – we used rotini once and medium shells the other
Enchilada sauce – I like half mild and half medium as far as heat goes
Onion
Beef broth
Sour cream
Cheese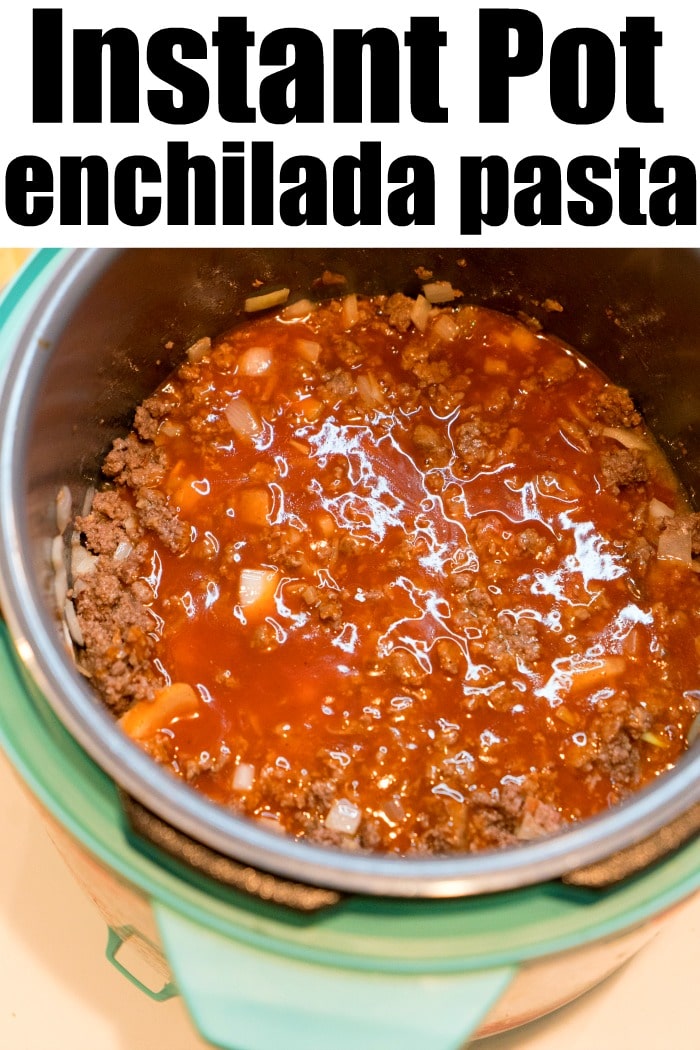 You're going to start with mixing all meat ingredients in a bowl until well combined. Then set pressure cooker to saute and add this + your diced onions. Cook until meat is no longer brown on the outside.
At this time you'll want to add a bit of your broth and deglaze your Instant Pot.

If you don't already I HIGHLY suggest getting this non stick pot you see here. I have Never had this notice while using this style.

Turn your pot off now and spread meat out evenly on bottom of pot.
Pour enchilada sauce on top of that followed by remainder of beef broth. Do NOT stir!
Sprinkle in your uncooked noodles and gently submerge into the liquid. Again, Do NOT stir!
Close lid and steam valve and set to high pressure cook for a 4 minute cooking time followed by a quick release.
Stir contents. Sprinkle in cheese and sour cream and stir.
Serve with another sprinkle of cheese on top of each bowl!
If you do not want to add the sour cream your pressure cooker pasta will look like this. That is good too, but not over the top!!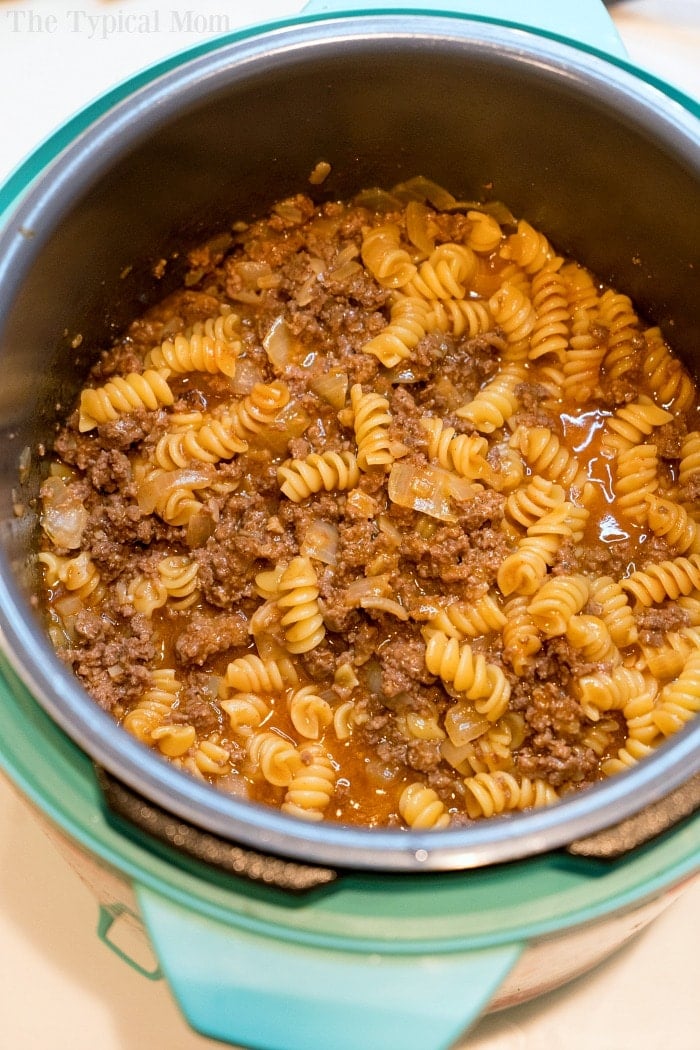 It really doesn't matter what style noodles you use. I wouldn't use whole grain because the timing will be off and personally I think they have an odd texture.
Anything small or medium size will do, you can see both types below. I use what is in my cupboard basically. Now for the good stuff!!
Add lots of cheese, it will melt quickly once you stir it in.
Sour cream brings a creaminess to this dish.
You could also add green onions and/or diced chives on the top when serving it.
The possibilities as far as toppings are endless.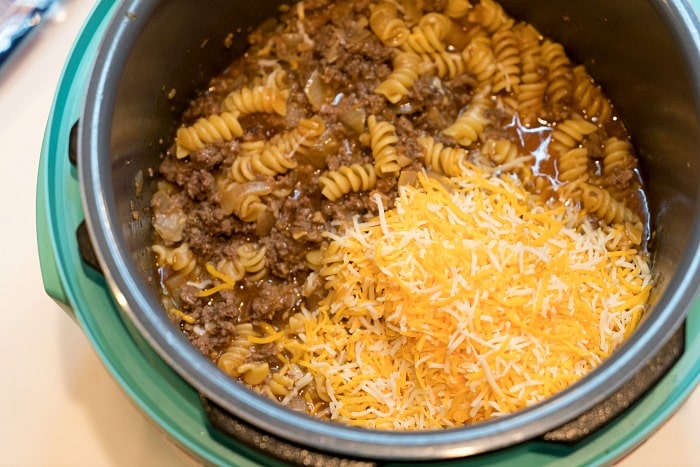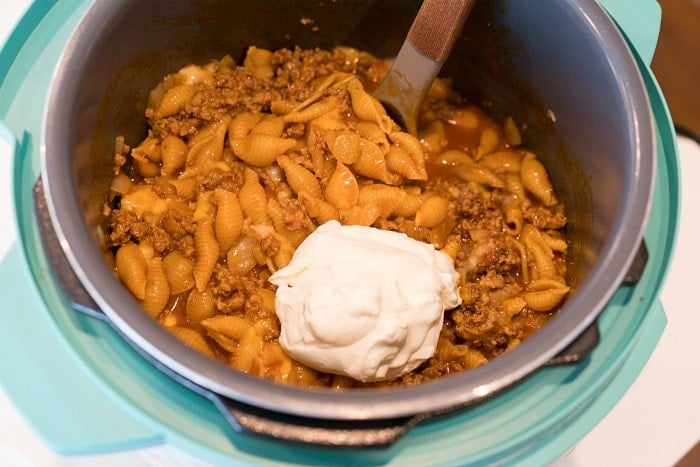 The great thing about this enchilada pasta is you can really adjust the heat level. I used mild sauce the first time, but the second I used half mild and half medium. We all thought this brought more WOW to the dish.
I suppose you may be able to make an Instant Pot chicken enchilada casserole version. You'd need to dice chicken breasts into bite size pieces. Then cook the chicken with some olive oil on saute function.
I might add the chicken with some diced onions. You'd just need to saute until outsides were no longer pink.
Then follow rest of instructions at the point where to pour in the enchilada sauce.
When I make this shredded chicken version I will add more info as far as that goes.
What can I substitute for enchilada sauce?
1 cup spaghetti or tomato sauce
1/2 teaspoon garlic powder
2 to 3 tsp chili powder
One tsp basil
A tsp oregano
1 tsp cumin
salt and pepper to taste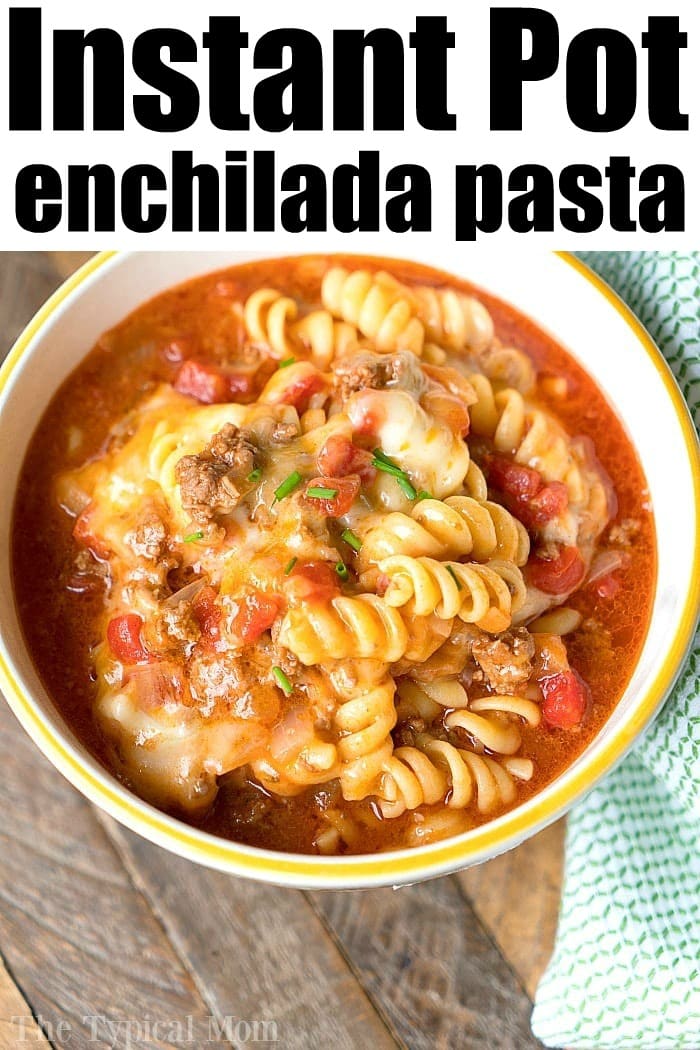 What should I serve with enchilada casserole?
Refried beans are great, we've made an Instant Pot refried beans version here.
Corn casserole is one of my favorite side dishes.
Summer corn salad
Instant Pot corn on the cob
Serve this as is or with corn tortillas on the side if you'd like. It's one of our favorite Instant Pot Mexican recipes.
How do you reheat enchilada casserole?
Preheat the oven to 350˚ degrees. Put leftovers in an oven safe dish and cover with foil. Reheat for 20-30 minutes if it's been refrigerated, or 45 minutes if it was frozen. Stir halfway through, remove when the enchiladas are warmed.
If using a microwave, reheat in a dish in 30 second increments stirring in between times.
Add a bit of extra cheese on top halfway through and/or sour cream to make it creamier.
Looking for other easy pressure cooker recipes?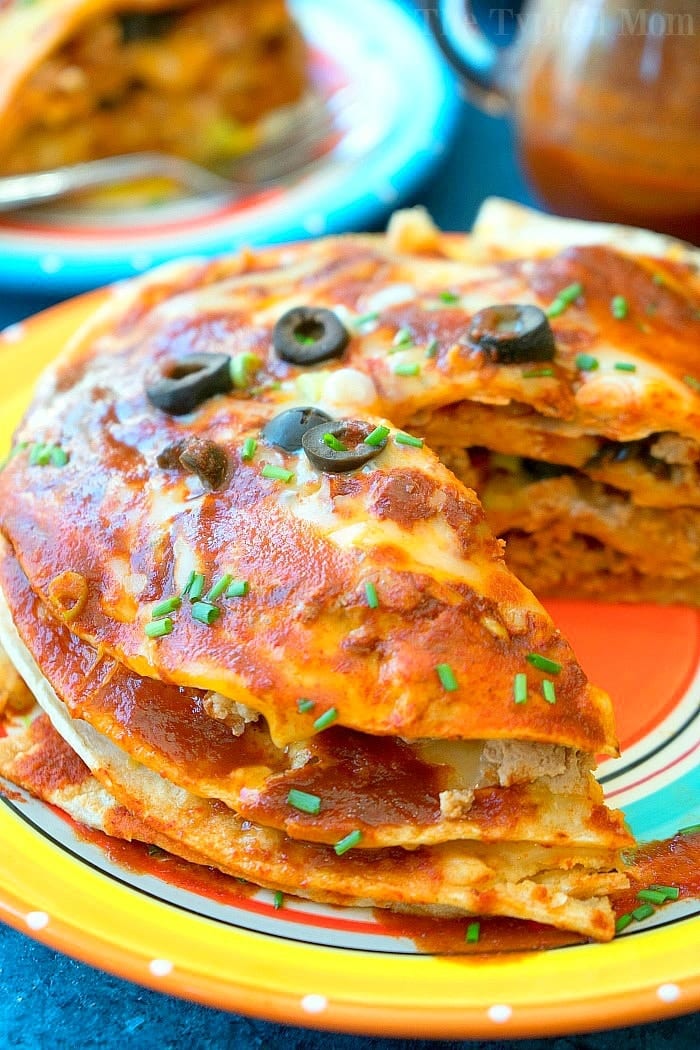 We have made hundreds of one pot meals and desserts in our "magical multi cooker". Here are just a few similar dishes you might love as well.
Above is our Instant Pot Mexican pizza. You use a springform pan for this one.
Pressure cooker Mexican rice is a great side dish, or make for a crowd and keep warm in a slow cooker.
We made what we called an Instant Pot Mexican casserole here. There are similar flavors but this one has beans and corn right in the mix too.
Printable recipe instructions and nutritional information is below. Just add all the things in my friends and ignore all of that stuff. 😉 Casseroles are meant to be feel good comfort food after all.
Instant Pot Enchilada Casserole
Instant Pot enchilada casserole is a creamy pasta with ground beef or sausage and all the Mexican flavors you love. Cooked in 4 minutes, you'll want seconds.
Instructions
Combine ground beef, egg, onion soup mix, parmesan, Worc. sauce and bread crumbs together. Mix with your hands like you're making a meatloaf.

Set pot to saute and add olive oil. When hot add ground beef and diced onions and cook until outside of meat is no longer pink. Turn pot off now.

Add 1/2 c of your broth into your pot and with a wooden spoon deglaze your pot (scrape any stuck on pieces of meat off the bottom of your pot). Spread meat out on bottom of pot now.

Pour in your enchilada sauce. Then pour in the rest of your broth, do not stir at any time during this layering.

Sprinkle in your uncooked noodles on top and gently submerge into the liquid on top.

Close your lid and steam valve and set to high pressure for 4 minutes. Then do a quick release.

Lift lid, stir, and add cheese, stir again until melted. Either stir in your sour cream now to make casserole creamy, or serve as is with a dollop on top. Can sprinkle green onions on very top if desired.
Nutrition Facts
Instant Pot Enchilada Casserole
Amount Per Serving (3 oz)
Calories 517
Calories from Fat 288
% Daily Value*
Fat 32g49%
Cholesterol 113mg38%
Sodium 1125mg49%
Potassium 400mg11%
Carbohydrates 28g9%
Protein 27g54%
Vitamin A 829IU17%
Vitamin C 3mg4%
Calcium 243mg24%
Iron 3mg17%
* Percent Daily Values are based on a 2000 calorie diet.