Mexican Cheesy Crockpot enchilada casserole is comfort food times 1,000! Packed with ground beef, tomatoes and more the flavors are great for dinner with your family. NO layering required like our enchilada lasagna recipe but still the same great flavors. Make spicy or leave mild.
Crockpot enchilada casserole is so tasty! A hearty one pot meal that's cheesy and easy to prepare in the morning. Just one of many easy Crockpot recipes we have here on The Typical Mom blog. (affiliate links present, originally published 8/21)
Crockpot Mexican Casserole
If you love super easy ground beef recipes, this is something you should try. Want more heat? Use a roll of spicy Jimmy Dean sausage instead or half and half which we love. Heck we have even used a sliced kielbasa thrown in there, anything goes really.
With green chiles, quinoa, black beans, diced tomatoes and diced bell peppers you get all your main food groups in one bite. 😉 It's a bit like the filling in our slow cooker stuffed peppers but way less work to it. A fun tweak to taco Tuesdays or any day of the week. Great one pot meal on chilly days.
FIRST – You should sign up for my free newsletter so you get new posts emailed to you twice a week and never miss out on anything! Let's talk a little bit about slow cooking shall we?? First off I have a few different varieties and I love them all. Each one has an occasion to be used like….
This is my favorite 6 quart programmable one with a locking lid so it's great for bringing to a potluck too.
If you just want to serve a few appetizers you should get this one that sit side by side one another.
I prefer not to use liners, but rather just spray olive oil inside before adding my food for easier cleanups.
Let me give you a peek of my pretty thang I bought recently. It goes with my kitchen so I can just leave it out on the countertop all the time. 😉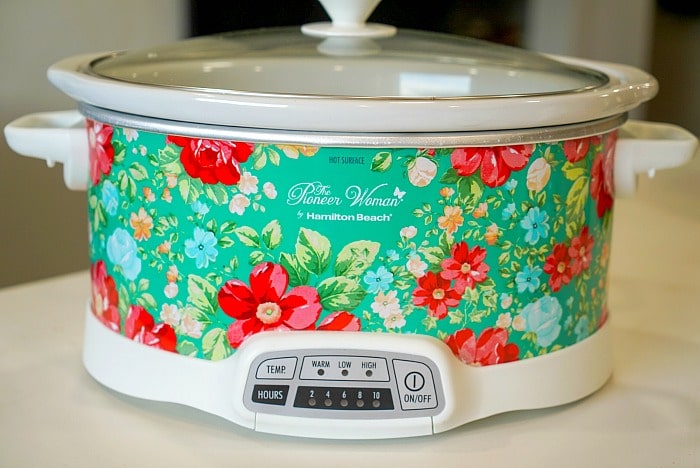 Slow Cooker Mexican Casserole
I mean you can throw all sorts of things into this baby. You'll just need to use the same amount of liquid to quinoa ratio so that will get nice and tender. It needs either water or broth to come out right, the latter is better.
Ground beef or spicy ground sausage is amazing too. This will need to be precooked before adding it into your pot. You can make Crockpot ground beef but you wouldn't have time to make that and this unless you started really early in the morning.
Quinoa is used over rice to add protein and it holds up better when cooking for a long period of time.
Can of black beans
Red enchilada sauce can be mild or hot
Diced onion and chiles
Beef broth
Mexican cheese blend with taco seasoning in it works great
Flour tortillas or tortilla chips could be served on the side
There are a lot of seasonings and spices inside too. You can adjust what is listed but what is shown is a great combination.
Crockpot Deconstructed Enchiladas
Once your meat is cooked and browned you can just literally throw everything in. It's a great one pot meal for sure. Whether you make it for Cinco de Mayo or just because for your whole family, you'll surely love it.
How do you make enchiladas not soggy?
You can deconstruct them and serve corn tortillas on the side with this slow cooker Mexican casserole! It is a great out of the box thinking alternative but the same amazing flavors you love.
Crockpot Casserole
If you have never made a dump dinner like this one we have done it time and time again. Another one that is similar but with a different meat is this slow cooker chicken and rice casserole.
Many days it is just so nice to drain, dump, stir and cover your meal. Go off on our day and when you return you just dish it up for everyone to enjoy. You can even use precooked meat like in Crockpot tuna noodle casserole that cuts out the first step entirely. That is my kinda' "cooking".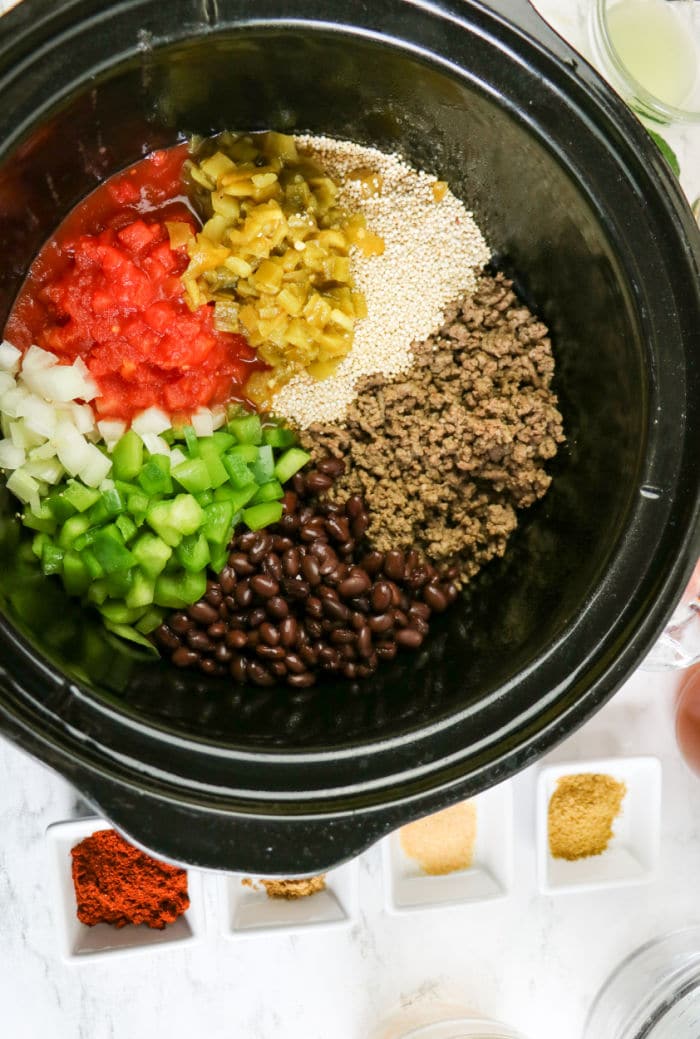 It's one of the very quick and easy recipes we have as far as slow cooking goes. Low takes a bit longer cooking time but is far better than cooking on high. Allows all those great flavors can really get richer over time.
Deconstructed Enchilada Recipe
If you are a hard no when it comes to adding beans of any kind you could leave those out. When it comes to Mexican dishes black beans are a must for us though. Or you could serve them on the side as another option.
My husband is kinda' like that sometimes. He has always been a "don't mix my food" kind of person, until he met me. Over the years he has gotten better at tasting casserolish dishes since that is where I came from. It is a work in progress let's say. lol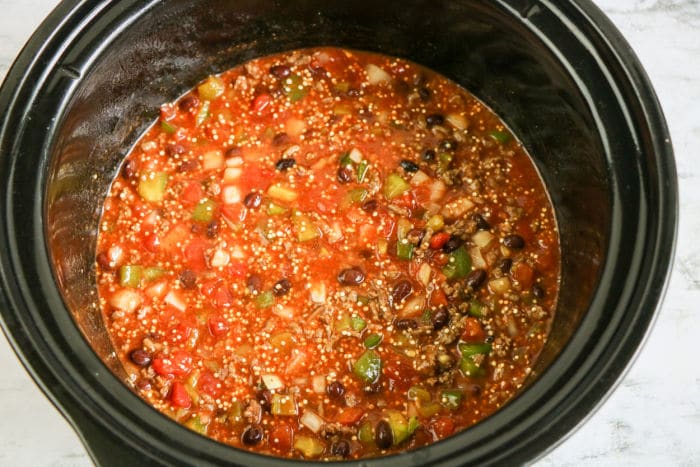 Crock pot Chicken Enchilada Casserole
If you wanted to use precooked or leftover chicken Slow Cooker enchiladas instead of beef you could. I would recommend to follow the directions above or for deconstructed, add medium sized and cut them in half so they become fork tender. Top with green onions and/or fresh cilantro for a fun flare.
This would be a bit healthier, using breasts instead of beef or ground sausage. I prefer the latter choices just because it's what I am used to but there is room for variety in every recipe out there so I like to list other possibilities for everyone.
Cheese is also optional but I can't imagine this dish without it. I mean if you really want to take this over the top and ignore the calorie content, add a dollop of sour cream inside too. Makes it super rich and creamy.
Deconstructed Enchilada Recipe
I insist on slices of avocado or guacamole on top when it is served up too. Then again I will put this green goodness on tacos and just about everything I can, every day of the week. It is by far my favorite food on this earth.
Serve this in bowls with all sorts of other goodies on top too like; sour cream, pico de gallo salsa, green chilis, diced jalapenos etc….
If you want to supplement this meal with something so it goes further, make some baked potatoes and serve this inside. That way each person gets a smaller amount, has a bit less calories, and you can feed more at once.
It is a bit heavy so to serve it on top of rice or inside a vessel like taters is a nice duo. You could even do something like make tater tot nachos with this on top as a fun treat for dinner. The kids love this.
Now we have made a layered enchilada dish, very similar, in the oven before too. This one includes layers of corn tortillas but with very similar flavors. You should try them both and see what you think.
Slow Cooker Enchilada Filling
So that is two different ways of making this sort of Mexican casserole of sorts, but wait my friends……we have more. Of course we do right?? Since our foodie journey started by way of the pressure cooker, we have that method as well.
A bit different since we added pasta noodles to this one, it still feels in the same direction as this one so I thought we'd share.
I love me a good one pot meal like this one, and if you're in a real hurry this one is probably the answer. It only takes about 20 minutes including time to prep and is always a hit with everybody's taste buds.
We called this one Instant Pot enchilada casserole, another great recipe that is deconstructed! You can get a peek of it right here and yes of course it is loaded with cheesy meat again. I mean, why not??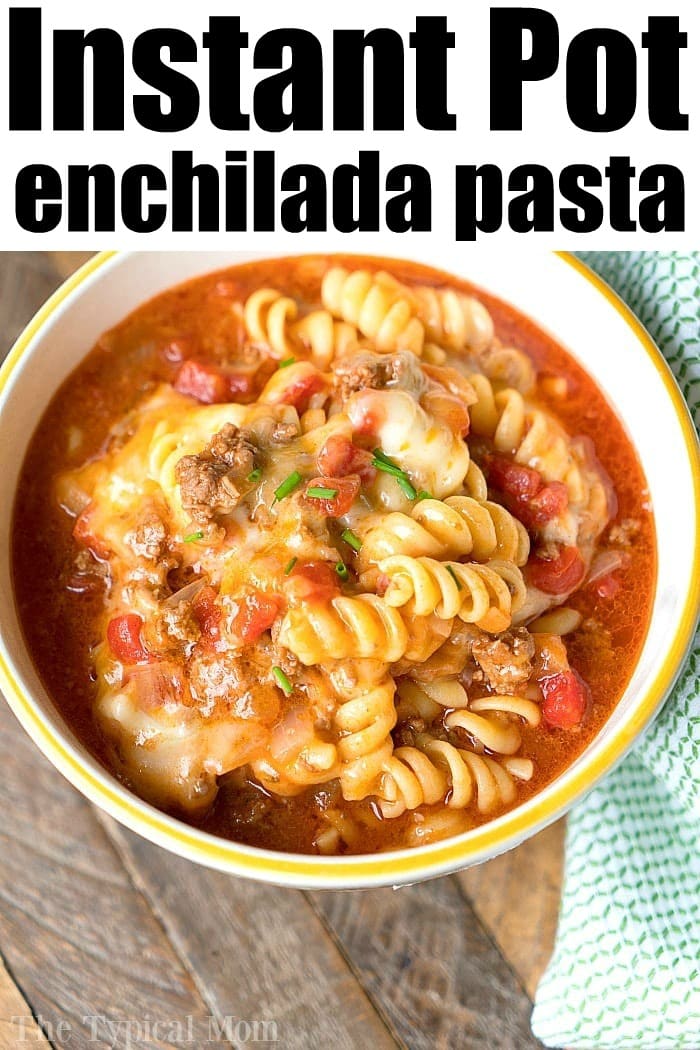 Nutritional information is displayed below and is calculated using all of the ingredients, and amounts, listed. If you vary at all that will of course need to be adjusted. It is calculated by the recipe card itself so I cannot guarantee how exact it really is.
Just eat in moderation and enjoy every bite y'all. This is a great Cinco de Mayo brunch item, or served as an out of the box idea for taco Tuesdays.
Want to see a few of my favorite things that I am totally obsessed with?? Take a peek and see how many you might already have…twinsies!
Looking for more easy family recipes and tips? LIKE The Typical Mom Facebook page?
Then sign up for my free newsletter, and follow me on Pinterest! 😉
***** If you LOVED this recipe give it 5 Stars below and let everyone know what you thought about it. 😉
Crockpot Enchilada Casserole
Cheesy Crockpot enchilada casserole is comfort food times 1,000! Packed with ground beef, tomatoes and more the flavors are great for dinner.
Instructions
Spray non stick spray into slow cooker. On the stovetop brown ground beef with onions until meat is no longer pink, drain grease and put into Crockpot.

Add all other ingredients EXCEPT cheese. Stir together, close lid and cook 3 hours on high or 6 hours on low heat.

Stir in 1 cup of your cheese, it will melt quickly. Serve in bowls with remaining cheese sprinkled on the top of each bowl.

Garnish with slices of avocado, sour cream, fresh diced tomatoes, chopped cilantro, etc.
Nutrition Facts
Crockpot Enchilada Casserole
Amount Per Serving (2 oz)
Calories 430
Calories from Fat 180
% Daily Value*
Fat 20g31%
Cholesterol 63mg21%
Sodium 759mg33%
Potassium 676mg19%
Carbohydrates 38g13%
Protein 25g50%
Vitamin A 1406IU28%
Vitamin C 30mg36%
Calcium 217mg22%
Iron 5mg28%
* Percent Daily Values are based on a 2000 calorie diet.