Homemade tamale sauce with chiles, garlic and tomatoes is great. Making it from scratch means it can be as spicy as you want it to be. Then toss with your pork for tamales, and over the top of your finished product and enjoy!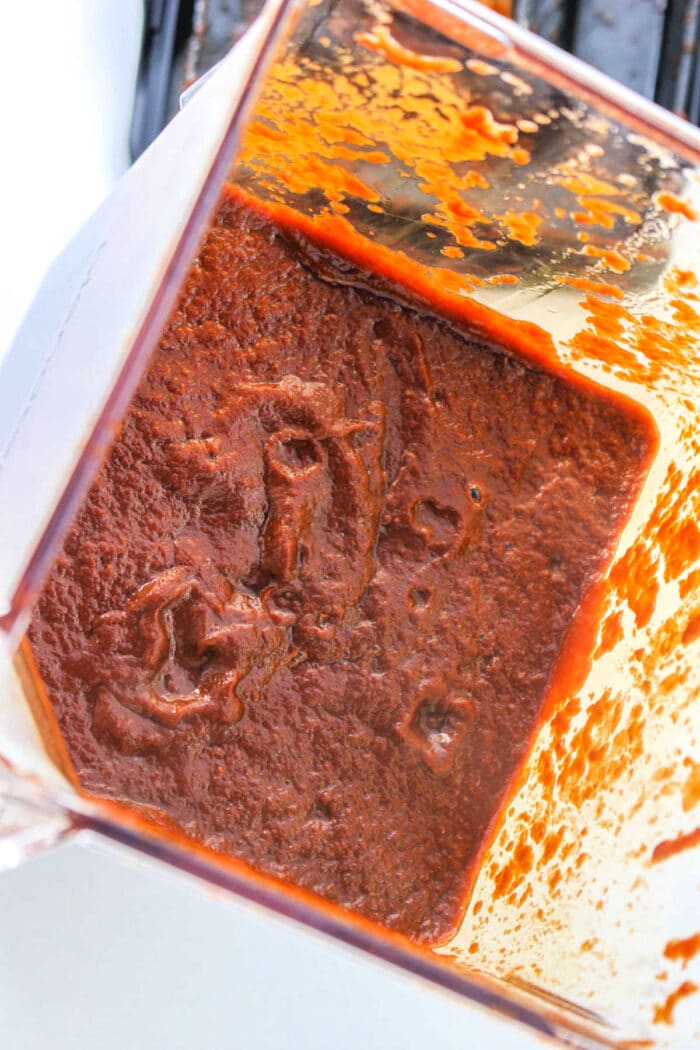 Red tamale sauce can be used for a ton of different recipe ideas, well beyond the obvious. Mixed inside Mexican rice, as a dipping sauce for tortilla chips or made with enchiladas it is great. Here is an easy homemade sauce for homemade tamales you can make spicy or mild. (affiliate links present)
Red Sauce for Tamales
We love Mexican food. Living in California most of our lives there was a lot of great places around us. I miss it now that we are in Idaho, so when I get a craving I have to come up with things like this red chile sauce myself. Yes traditional tamales use a lot of these but I found that it was so versatile I could use it for a number of other dishes too, which I love.
A bit thicker than what we use in our enchilada casserole, it is pretty similar to enchilada sauce if thinned out. You can change it up here and there depending on what types you can find at the grocery store. If you live in more rural areas you can buy dried chiles like ancho and guajillo chiles online which is super handy.
What is Tamale Sauce Made of?
That depends on the person making it, and their family traditions. A basic tamale sauce typically includes tomatoes, garlic, onion, chili peppers, and various herbs and spices. Using a bit of oil can thin it out. Remove the seeds from your peppers to make it more mild, or leave in for a really spicy blend. I will share two to choose from in this post.
If you wanted to use green peppers like roasted jalapeno and/or serrano this is a good blend below. It has fresh produce vs. dried chilies which are mentioned below when you jump to recipe card.
4-5 medium tomatoes
1 small onion, chopped
2 garlic cloves, minced
1-2 chili peppers (such as jalapeño or serrano), seeded and chopped
1/2 teaspoon ground cumin, dried oregano. salt
1/4 teaspoon black pepper
1 tablespoon vegetable oil
To start with this is how to roast tomatoes. I like using an air fryer because you can quickly char the skins to get that smoky flavor. Alternatively you could preheat the oven to 400 F. Place the tomatoes on a baking sheet and roast for about 20 minutes or until they are slightly charred and softened, let them cool for a few minutes.
In a blender or food processor, combine the roasted tomatoes, onion, garlic, chili peppers after you remove the stems and seeds, cumin, oregano, salt, and pepper. Blend until smooth. Heat the oil in a saucepan over medium heat. Add the tomato mixture to the saucepan and bring it to a simmer.
Reduce the heat and let the sauce simmer for about 10 – 15 minutes, stirring occasionally, until it thickens slightly. Taste and adjust the seasoning as needed. Use a mesh strainer to remove chunks from the sauce. Top your Mexican dishes like tamales with red chili sauce, or drizzled over the top of refried beans.
Easy Tamale Sauce Recipe
This stuff is great well beyond just the obvious one. Think of it a WOW powerful sauce you can pour on top of anything and everything, really. I mean I don't know that I would use it with something other than Mexican dishes but you totally could. Whatever you'd put salsa on, this is even better. You can use it for;
This is commonly used as a topping for tamales, over the cooked homemade masa. Simply spoon the sauce over the top when done, and mix with the meat inside, and serve.
Use this as a flavorful Mexican red enchilada sauce. Dip corn tortillas in it to coat. Fill with your Instant Pot shredded pork butt, roll up and place in a baking dish. Cover with more sauce and cheese, and bake until bubbly.
Mix or drizzle on top of some cooked Mexican rice for a spicy and flavorful side dish.
Huevos rancheros can use this as a base for some heat and tons of flavor. Top Tex mex style fried eggs with the sauce, crumbled queso fresco, and fresh cilantro.
Serve as a dipping sauce for tortilla chips, quesadillas or use it to add some heat and flavor to your favorite snacks and appetizers.
You can even marinate meat with Tamale sauce! Pour into a freezer bag or container with a tight lid with chicken, pork or beef.
Marinate the meat in the sauce for a few hours before grilling, baking or frying for a delicious and spicy entree.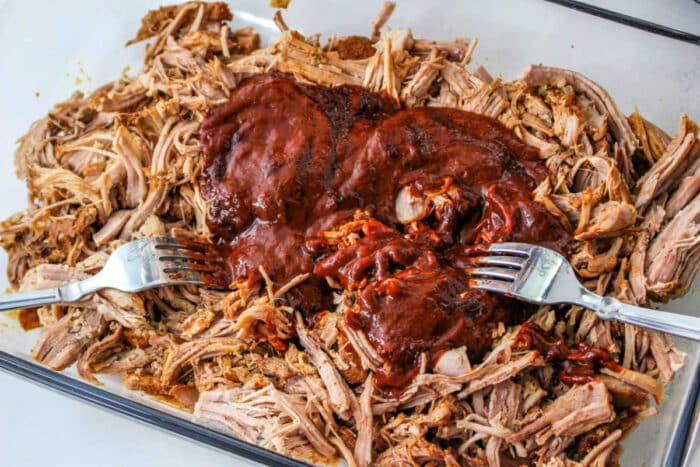 Tamale Sauce Green
Green tamale sauce is basically like our Qdoba salsa verde. It is a type of commonly used in Mexican cuisine. You could use bottled from the store which is quite good if you are in a hurry or use our simple version linked above.
To make a very authentic homemade style you could need to first cook tomatillos. You do so by removing the husks rinsing them under running water. Then, boiling them in a saucepan with enough water to cover. Most will then add chopped jalapeño peppers (with or without seeds, depending on desired spiciness), chopped onion, and minced garlic.
Once you bring the mixture to a boil, you reduce the heat and let it simmer for about 10 minutes, until everything is nice and soft. Use a slotted spoon, transfer the cooked tomatillos, peppers, onion, and garlic to a blender or food processor, along with and a pinch of salt.
Puree the mixture until it is smooth and well blended.
Taste and adjust the seasoning as needed
Add more salt or red pepper flakes for heat to taste.
The resulting green tamale sauce can be used as a topping after you steam tamales, enchiladas, tacos, or grilled meats. We have other ways of cooking tamales here. Leftovers of either kind can also be stored in an airtight container in the refrigerator for up to a week once it has cooled to room temperature.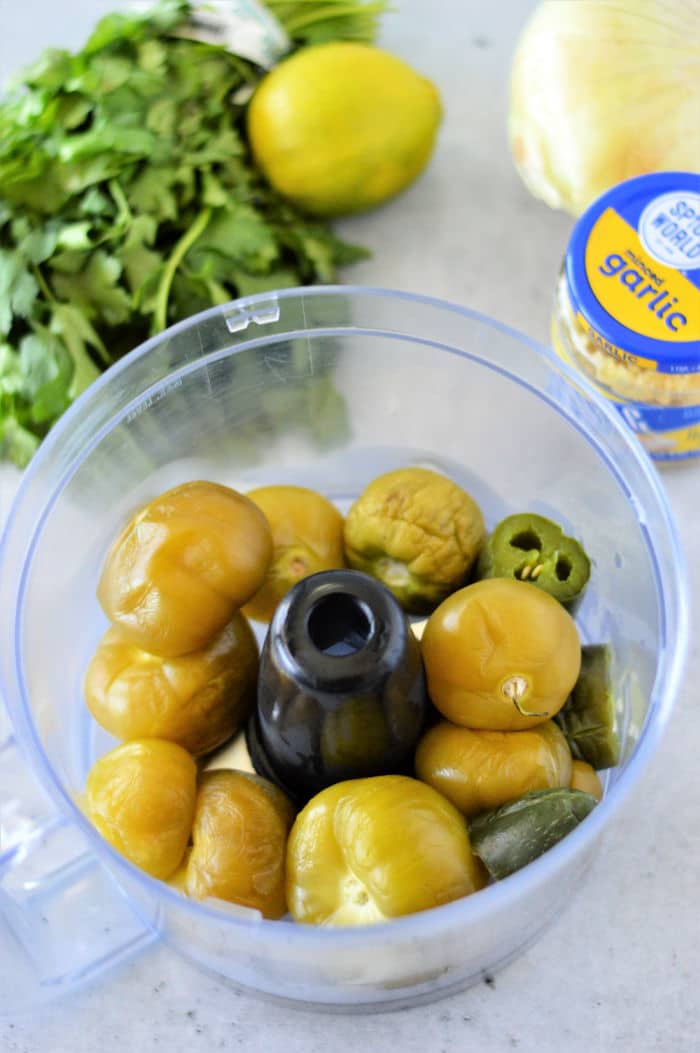 Want to see a few of my favorite things that I am totally obsessed with?? Take a peek and see how many you might already have…twinsies!
Looking for more easy family recipes and tips? LIKE The Typical Mom Facebook page?
Then sign up for my free newsletter, and follow me on Pinterest! 😉
***** If you LOVED this recipe give it 5 Stars below and let everyone know what you thought about it. 😉
Tamale Sauce
Homemade tamale sauce with chiles, garlic and tomatoes is great. Making it from scratch means it can be as spicy as you want it to be.
Instructions
Prepare dried chiles by removing stems if there are any, you can slice in half and remove seeds if you would like as well.

Place 2 cups of chicken broth and the other ingredients for the sauce into a medium saucepan. Bring the ingredients to a boil over medium high heat. Then reduce to low and cover the pot.

Simmer for 10 minutes or until the chilies are softened.

Transfer the ingredients in the saucepan to a blender and blend on high for 2 to 3 minutes or until the ingredients are completely puréed.

If it is not thin enough for your preference, add in the remaining cup of chicken broth.

If you want it smooth pour mixture thru a fine strainer to remove larger pieces. Then serve over enchiladas, tamales, or a sauce on other Mexican dishes.
Nutrition Facts
Tamale Sauce
Amount Per Serving (1 oz)
Calories 16
Calories from Fat 3
% Daily Value*
Fat 0.3g0%
Monounsaturated Fat 0.04g
Cholesterol 0.4mg0%
Sodium 174mg8%
Potassium 109mg3%
Carbohydrates 3g1%
Protein 1g2%
Vitamin A 1069IU21%
Vitamin C 3mg4%
Calcium 5mg1%
Iron 0.4mg2%
* Percent Daily Values are based on a 2000 calorie diet.