This is how to roast tomatoes in air fryer! If you love fresh homemade salsa this is a great kitchen hack that takes no time at all. This air fryer salsa comes out perfect every time.
We love homemade salsa. Figuring out how to roast tomatoes in air fryer is a game changer for this! Throw in an onion and jalapeno, blend and you too can make this easy air fryer recipe at home too. (originally published 9/20, affiliate links present)
Air Fryer Salsa
I mean who doesn't love this snack or side dish right? If you've never made homemade pico de gallo salsa before get ready, you'll never buy it again after this.
You can use a Cosori, AirWave, Ninja Foodi or any other brand of machine you might have at home. Make plain with just these favorite red veggies, as spicy as you would like with jalapenos, or super mild with some tomatillos in the same basket.
FIRST – You should sign up for my free newsletter so you get new posts emailed to you twice a week and never miss out on anything! If you love air fryer recipes too, here are some resources to start with: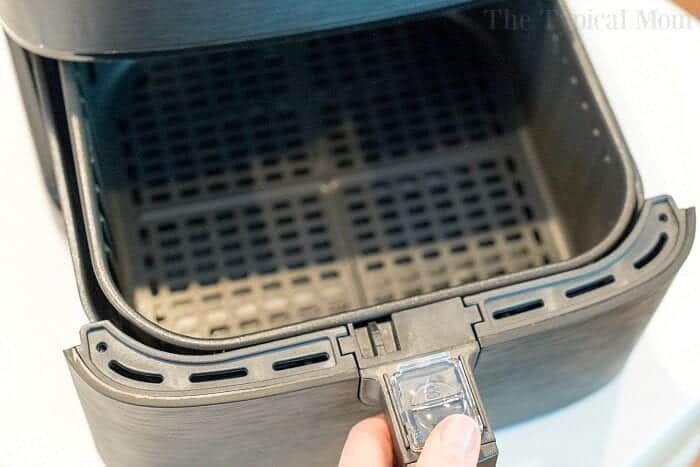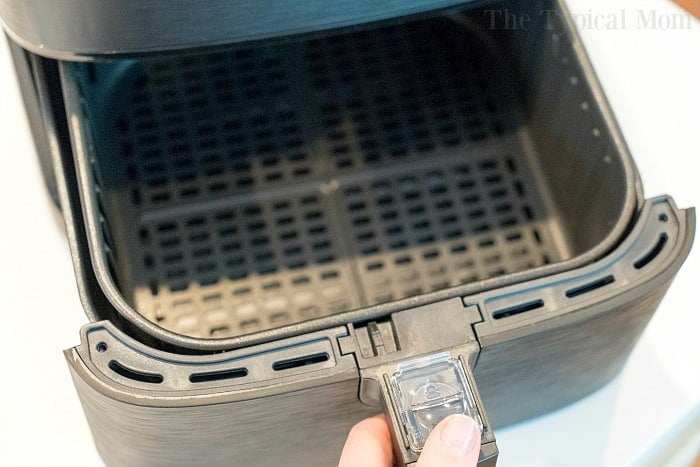 I mean you don't have to use this method for just salsa, but that is why we love it. In about 15 minutes they'll all come out perfectly tender. You may want to use this to make homemade spaghetti sauce too. We love that.
Air fryer tomatoes
Tomatoes
Onion
Jalapeno is obviously optional for some heat
Cilantro
Salt and pepper for sure, other seasonings are up to your taste buds
You could add hatch chiles too!
Omit everything other than the tomatoes if that is all you want of course. Once you have this down pat the possibilities of different sauces are endless really. If you do make a salsa with all of it it is really killer to make a pot of 4 ingredient Crockpot salsa chicken with it.
Ninja Foodi Tomatoes
Air fryer cherry tomatoes
BUT if you are here to make homemade Mexican salsa or some other type you love I would recommend getting a small food processor. You don't need anything elaborate. A hand blender works too but it will be quite smooth.
I prefer it to stay a bit chunky, well a lot chunky really if it were up to just me. That is all up to y'all but the less you blend the thicker it will be. More and it will be a soupier consistency. That's good for tacos though.
I would add just one or a half of your jalapeno, blend and then taste. You can always add more but toning down the spiciness is near impossible.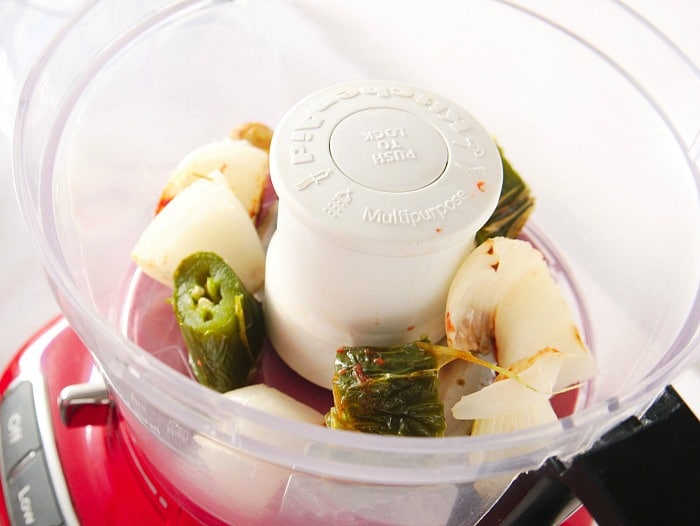 Air Fryer Roasted Tomatoes
Here are a few questions you might have before you get started:
Do you peel tomatoes before roasting?
Not necessary at all and I would recommend saving yourself the time. You can just slip the skins off after they've roasted with little to no effort at all. That's what makes tomatoes in air fryer so great.
How long does it take to cook tomatoes?
Well we aren't cooking them in the sense that if you boiled them they will completely break down. Roasted tomatoes refers to the skins really getting a nice char and "wilting" a bit.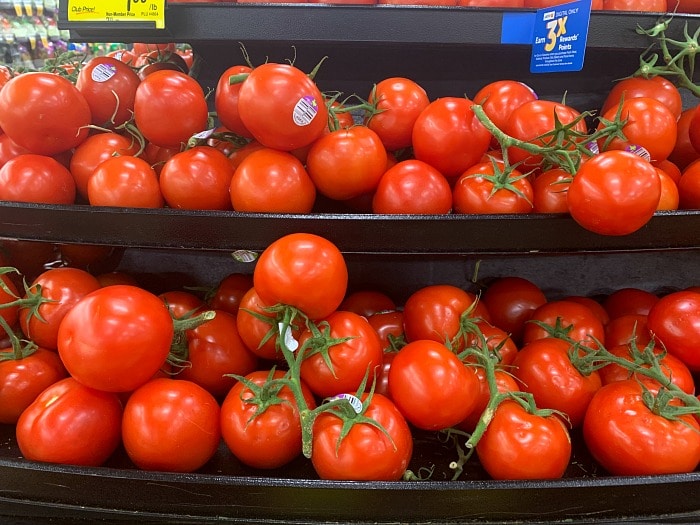 Should I peel tomatoes for sauce?
For sure. If you don't once you put them into the blender the skins will separate and the texture isn't pleasing to the palette.
How do you peel tomatoes without boiling them?
Tomatoes in an air fryer is the new method of choice! If you ask me anyway, this is a game changer. SO easy to do and takes no time at all. In just 10 minutes the skins literally fall right off.
Look at how bright and beautiful this is! We do not cook ours at all but you can if you want a different flavor. Both ways are delicious with chips or over the top of carnitas.
What can I mix with salsa?
Fresh thyme
A drizzle of olive oil
Some like a bit of vinegar
Tobasco
Coriander
Parsley
Diced sun dried tomatoes
Are you supposed to cook salsa?
It is up to you. If you do just blend ingredients you want and then put it in a saucepan over medium heat. It will create a bright, fresh flavor that with a deeper, sweeter flavor. Roasting tomatoes, garlic and/or chiles beforehand creates a rich, smoky flavor.
Oven roasted tomatoes
First you'll want to preheat your oven to 400 degrees.
Leave grape tomatoes whole

For plum tomatoes slice in half and remove seeds

Line pan with foil or parchment paper
Place them all on a baking sheet in a single layer with tomatoes cut side facing down
Drizzle oil and sprinkle salt and pepper over the top
Bake for 15 – 20 minutes until they burst!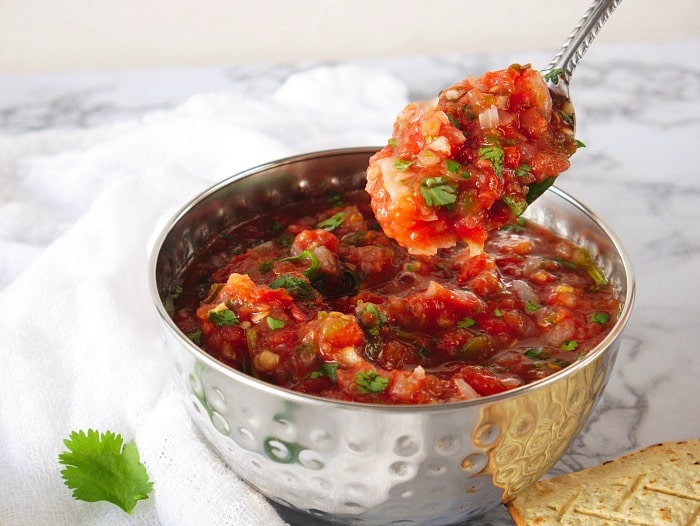 Roasted Tomatoes in the Air Fryer
Either one is a great roasted tomatoes recipe to be used inside a pasta sauce or to add into pasta salads. To roast cherry tomatoes it will take less time of course than larger varieties.
Are roasted tomatoes good for you?
For sure! It brings out some of the greatest flavors, and also actually makes them healthier for you.
How long are roasted tomatoes good for?
If stored correctly in an airtight container in your refrigerator they will stay good for up to 2 weeks! That will give you plenty of time to make a variety of recipes. Frozen roasted tomatoes will last up to 6 months.
Want to see a few of my favorite things that I am totally obsessed with?? Take a peek and see how many you might already have…twinsies!
Looking for more easy family recipes and tips? LIKE The Typical Mom Facebook page?
Then sign up for my free newsletter, and follow me on Pinterest! 😉
***** If you LOVED this recipe give it 5 Stars below and let everyone know what you thought about it. 😉
Roasted Cherry Tomatoes in Air Fryer
How to Roast Tomatoes
This is how to roast tomatoes in your air fryer! If you love fresh salsa this is a great kitchen hack that takes no time at all and comes out perfect.
Ingredients
4

large

tomatoes

Roma, on the softer side and ripe

1

jalapeno

if making salsa

1/4

onion

if making salsa

1

clove

garlic

if making salsa

1

handful

cilantro

if making salsa

salt and pepper

to taste, if making salsa
Instructions
If you're just roasting tomatoes, don't add anything other than those. If making salsa you'll add the other items.

Preheat to 390F for 5 minutes. Thoroughly rinse the tomatoes, jalapeño, and cilantro and pat them dry. Arrange them in your air fryer basket so they aren't overlapping. Then set time to 10 minutes total.

At the 5 minute mark open the air fryer and carefully flip the ingredients. Once timer goes off, very carefully remove the tomatoes and garlic and set on a plate.

Leave the jalapeño and onion in the basket and set for another 3 minutes. This is to help them both soften more. When cooked allow to cool slightly.

Place the jalapeño, onion, garlic clove and salt in a food processor and pulse for a few minutes until you end up with smallish chunks. Next add the cilantro and tomatoes and again pulse until you have a slightly chunky salsa – you can make it as smooth or chunky as you'd like.
Nutrition Facts
How to Roast Tomatoes
Amount Per Serving (1 oz)
Calories 19
Calories from Fat 9
% Daily Value*
Fat 1g2%
Sodium 5mg0%
Potassium 221mg6%
Carbohydrates 4g1%
Protein 1g2%
Vitamin A 811IU16%
Vitamin C 15mg18%
Calcium 9mg1%
Iron 1mg6%
* Percent Daily Values are based on a 2000 calorie diet.