Here are a bunch of the best air fryer Costco recipes you can enjoy with Kirkland items found in your favorite bulk store! Want to make steak, chicken or pork? NO problem, here's how!
Air fryer Costco recipes are the best! If you love to shop in bulk, and obsessed with your new hot air machine I will tell you how to cook all your favorite foods! Then go on to try all our other easy air fryer recipes here on The Typical Mom blog. (affiliate links present, originally published 10/20)
Ever since I got my Ninja Foodi we have been creating a lot of new air fryer dinner recipes. Ready to air fry everything but not quite sure how to do it? We have mega tips for you here! I was new once too and scratched my head for a while. Now that I get the hang of it I share new grocery and Costco recipes every single week on my site.
Costco Dinner Ideas
So you love shopping at this big box store but now you are also obsessed with your new hot air machine. Now you can pair the two, buy food at a discount, and we will show you how to air fry Costco food here. We have it all from air frying a Costco chicken just like rotisserie but better, to steak, pork and vegetables.
FIRST – You should sign up for my free newsletter so you get new posts emailed to you twice a week and never miss out on anything! If you love air fryer recipes too, here are some resources to start with: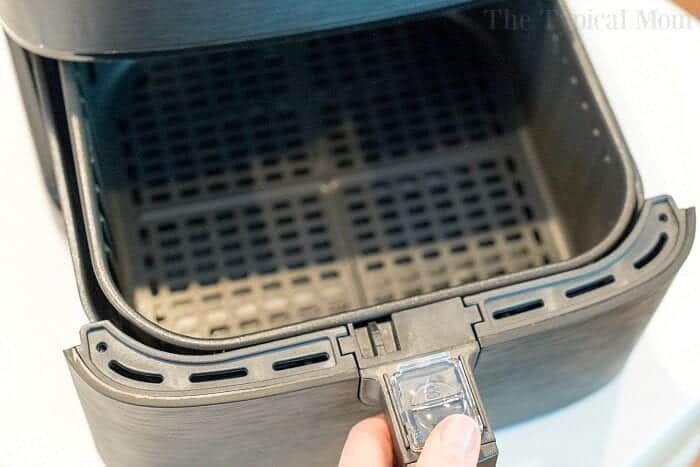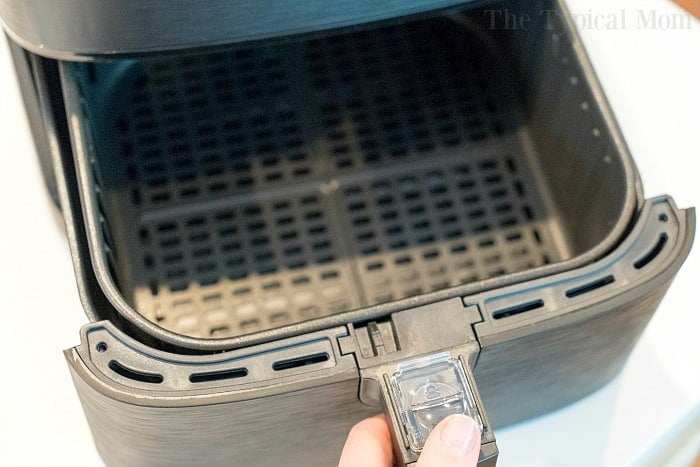 Costco Air Fryer
If you subscribed to my newsletter you've already received a bunch via email.
Whether you bought that multi cooker too, or another digital air fryer version all of these Costco air fryer recipes will work just great.
The main differences are just the air fryer features.
Best Things at Costco to Make in an Air Fryer
Why do we love this big box store?? First of all you get great deals on ALL THE THINGS right??!! You can pick up small (and large) appliances like these with no shipping and handling fee, and if there's a problem their returns are so easy.
I found recently they offer a live chat feature online now too which is great, or you can contact the Costco concierge services technical support.
For something like this I'd contact the manufacturer first though.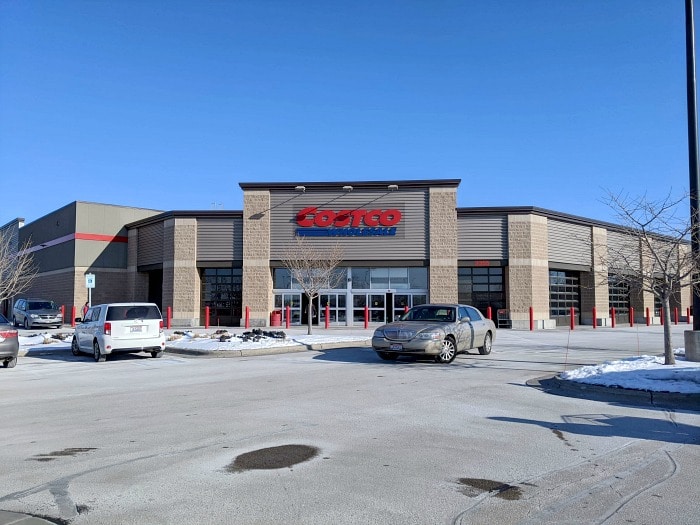 Here's where we're going to get started right?? Ok, so you may already have a few items at home but once you cook those we will share a few of our other favorite items to cook so you can grab them on your next trip.
Go ahead and print this out and take a peek. I will wait, then come back and keep reading on friends. 😉
YES!! I share cook temperatures and times for making frozen foods, vegetables, seafood, beef and chicken on it.
I taped a copy to my fridge and literally use it several times a week. Ok maybe every day.
Air Fryer Costco Rotisserie Chicken
If you want to cut it up into pieces we have directions for each one of those pieces too!
Air fryer Costco
These are our favorites though:
If you want to buy a frozen bag o' wings here's how to cook frozen chicken wings in air fryer too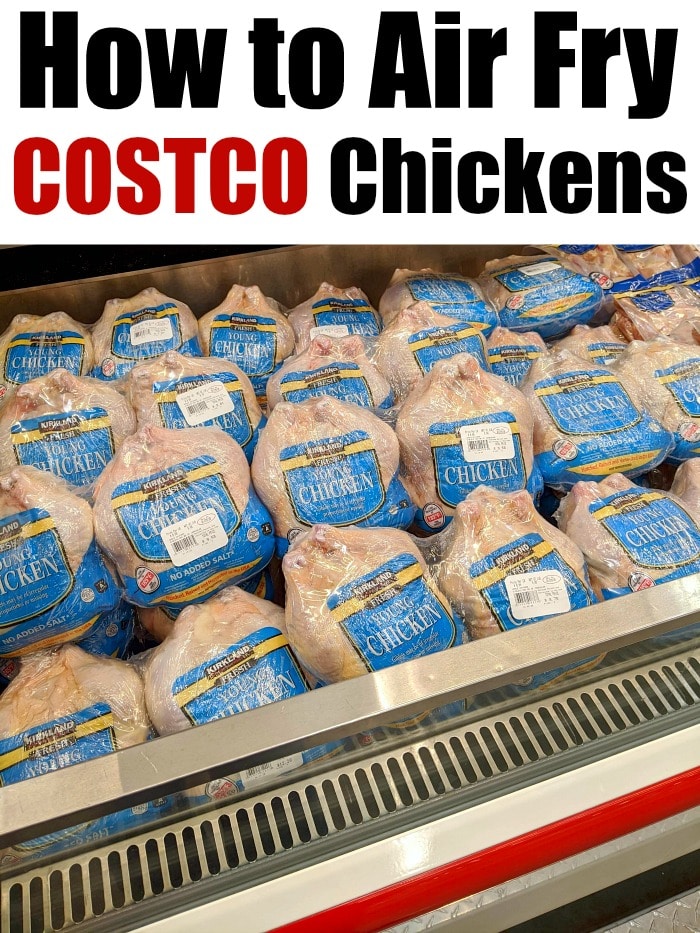 What is good at Costco
Well that would really depends on who you ask. Our family got our membership strictly to buy meat in bulk.
From there we began purchasing paper goods since it was a lot cheaper than at the grocery stores.
What are the best items to buy at Costco
Chicken
Ground beef
Steak
Toilet paper
Paper towels
Cereal
Snack foods
Frozen meats are cheaper too, and come in handy when you're in a rush. If you love Kirkland hamburgers here are instructions on how long to cook frozen hamburger in air fryer.
A great tip if you forget to defrost them ahead of time. 😉
Best Frozen Foods for Air Fryer Costco
You can cook it all y'all. I mean if your kids are obsessed with hot dogs buy a huge box of them breaded there and use our air fryer corn dogs timing to get them just right. You can pair those with a few frozen mozzarella sticks in air fryer too.
Now on to some beef! I will tell you I don't cook a lot of it and if I do I usually wrap it in bacon because well, why now??!!
Here is the best way to cook steak of all kinds with our dry rub recipe below.
Want to see a few of my favorite things that I am totally obsessed with?? Take a peek and see how many you might already have…twinsies!
Looking for more easy family recipes and tips? LIKE The Typical Mom Facebook page?
Then sign up for my free newsletter, and follow me on Pinterest! 😉
***** If you LOVED this recipe give it 5 Stars below and let everyone know what you thought about it. 😉
Air Fryer Costco
Air fryer Costco steak bites are great and a cheap protein packed keto low carb meal.
Instructions
Cube steak and put it into a bowl.

Pour olive oil on top and toss. Pour all seasonings on and toss together so all meat is coated well.

Preheat air fryer to 400 degrees F for 5 minutes.

Put steak bites into basket, do not overlap. Set time to 5 minutes, shake basket after 3 minutes.

Enjoy immediately for best results.
Nutrition Facts
Air Fryer Costco
Amount Per Serving (2 oz)
Calories 355
Calories from Fat 468
% Daily Value*
Fat 52g80%
Cholesterol 208mg69%
Sodium 1947mg85%
Potassium 1002mg29%
Carbohydrates 29g10%
Protein 69g138%
Vitamin A 766IU15%
Calcium 53mg5%
Iron 6mg33%
* Percent Daily Values are based on a 2000 calorie diet.
But first, you've got to make the best steak dry rub we shared with y'all last week. We even add this on pork chops because it's so good.
Ways to cook steak
Air fryer chicken fried steak. These are made into finger foods of sorts so they could be served as a fun appetizer if you wanted, or dinner.
Crockpot steak and potatoes is great too if you're a slow cooker lover. Grilling is great too, any method should reference our what temperature to cook steak chart to get it done just right.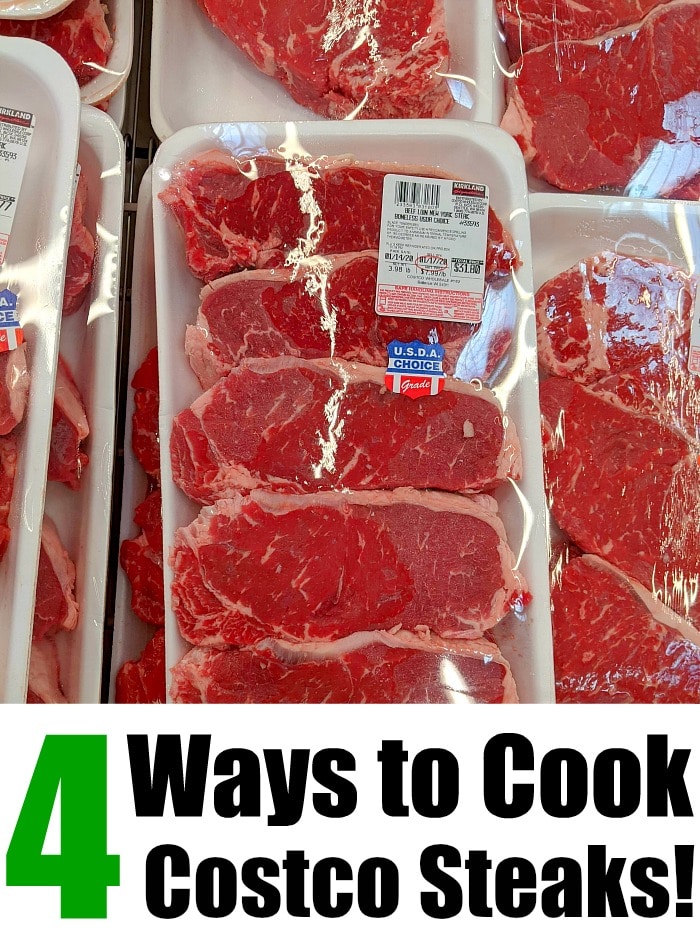 You CANNOT visit Costco and not grab a few snacks from their frozen food sections!! I know you need a few quick meals in your pocket for those long nights when you're stuck at the baseball field, or appetizers when friends come over.
What are the best appetizers at Costco?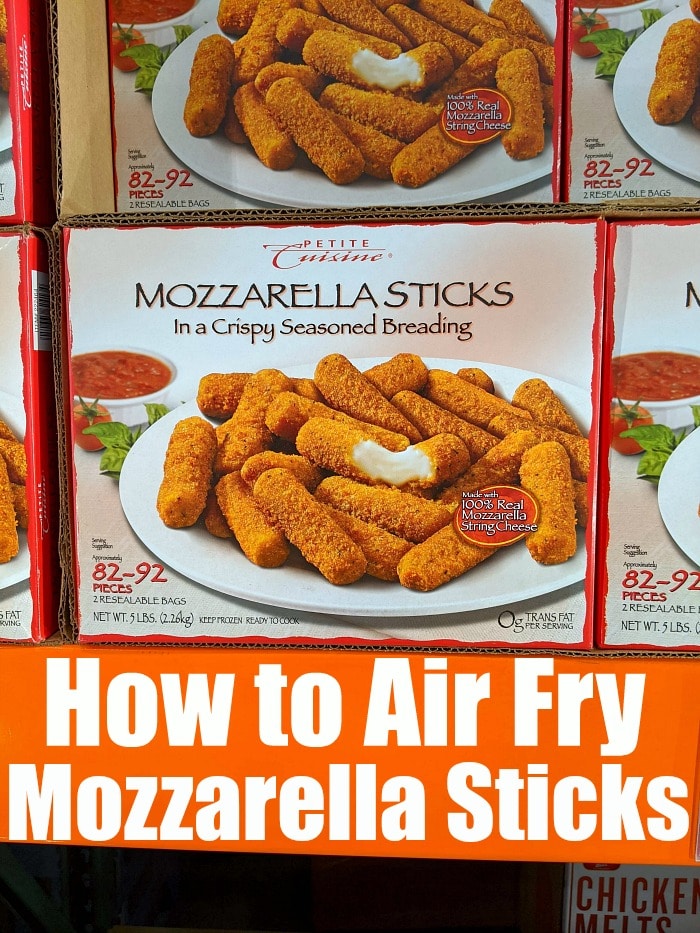 Cuisinart air fryer Costco
No matter what brand you buy there, you can cook all these things!
Want to see a few of my favorite things that I am totally obsessed with?? Take a peek and see how many you might already have…twinsies!
Looking for more easy family recipes and tips? LIKE The Typical Mom Facebook page?
Then sign up for my free newsletter, and follow me on Pinterest! 😉
***** If you LOVED this recipe give it 5 Stars below and let everyone know what you thought about it. 😉