Crockpot beef stroganoff that only requires 5 ingredients and cooks all day in the crockpot. The best way to make tender beef with a creamy sauce.
My crockpot beef Stroganoff recipe is a goodie at our house. It doesn't require a lot of ingredients and you can really jazzz it up with the spices your family desires. It cooks by itself all day which is great if you work, and it is good old fashioned food your mom or grandma probably made when you were young. I have updated this post from last year and included two different ways of making this dish now so take your pick, or try both and see which one you like best! Here's how you make one of our favorite crockpot recipes. (originally published 2/14, affiliate links present)
I am all about easy when it comes to cooking dinner for my family. Finding something that all 5 of us love is a must too. There is something about slow cooker beef stroganoff that just takes me back to when we went to my Grandma's house for dinner. The smell itself makes me think of her. 😉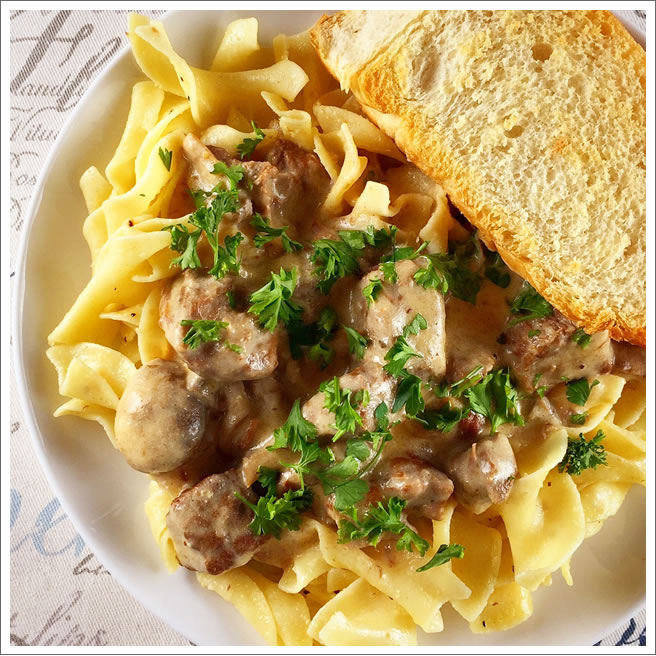 Of course she didn't cook it in a crockpot, but with 3 kids it's kinda' necessary for us. If you love stroganoff you've gotta' try this easy crockpot beef stroganoff recipe of ours. You seriously just throw everything in and it cooks by itself.
About 1/2 hr. before serving cook the egg noodles separately in a pot (you will serve meat over these), and in a bowl combine the 3 ingredients to make your rue.
Whisk together 1/3 c. flour, 1 c. sour cream and scoop enough of the warm beef broth out of the pot to create your rue (this thickens the sauce).
Put this thickening mixture into your crockpot and cook for about 30 min. longer. If you like it thicker you can combine more to your mixture. Serve over egg noodles!
Crock pot beef stroganoff
Stew beef – already cut into chunks at store and cheap
Beef broth
Sour cream
Cornstarch
Egg noodles
Onion
If you're in a hurry try our easy Instant Pot beef stroganoff recipe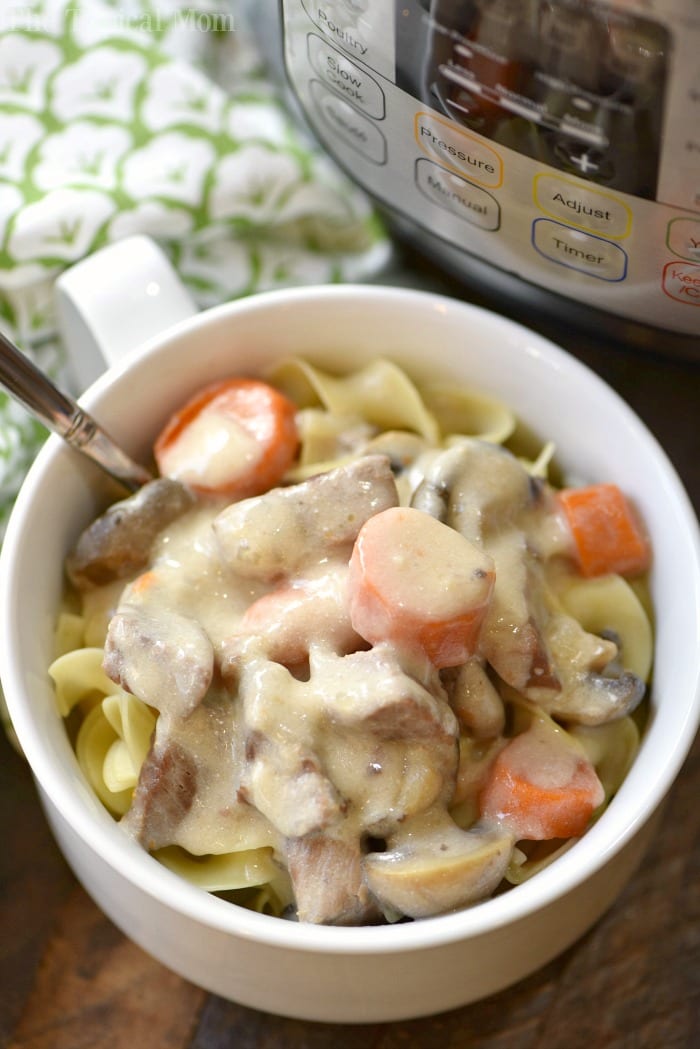 Here's version #2 of crockpot beef stroganoff, added a year after this initial post and recipe.
This next crockpot beef stroganoff recipe requires a few more ingredients and is more of a stew with veggies in it. It's another great stroganoff recipe nonetheless.
Ingredients:
1 pound beef stew meat

1 cup beef broth

3 tablespoons Worcestershire sauce

3 tbsp. minced garlic

2 cups mushrooms, sliced

2 cups carrots, chopped

3 medium onions, chopped

1/2 cup sour cream

1/2 brick of cream cheese

2 cans Cream of Mushroom Soup

12 ounces medium egg noodles, cooked and drained

Salt and pepper, to taste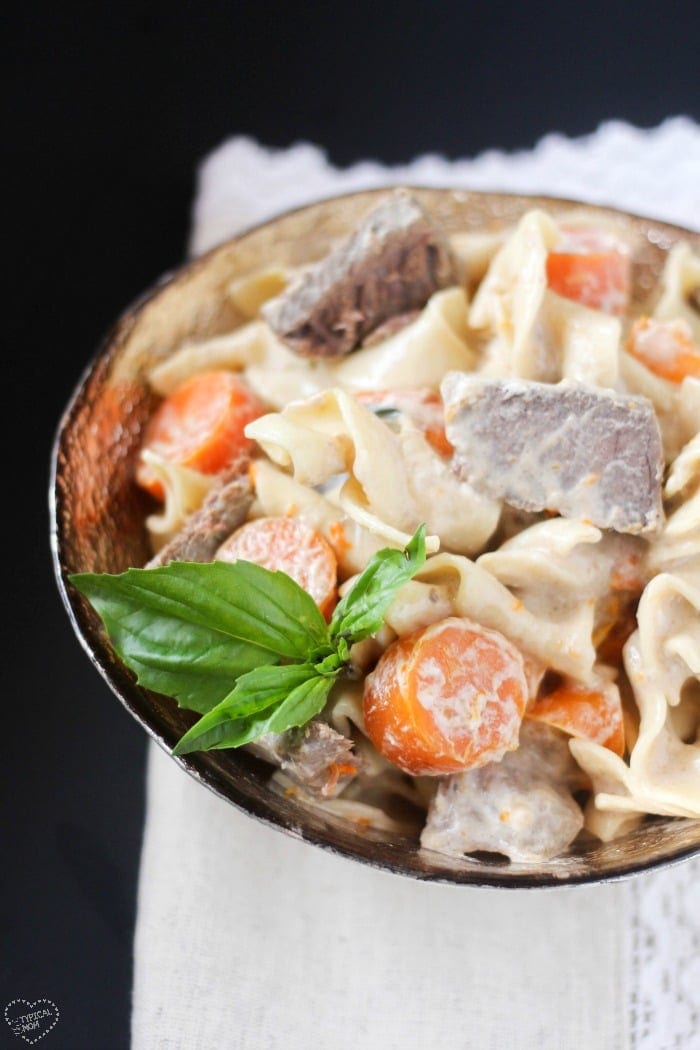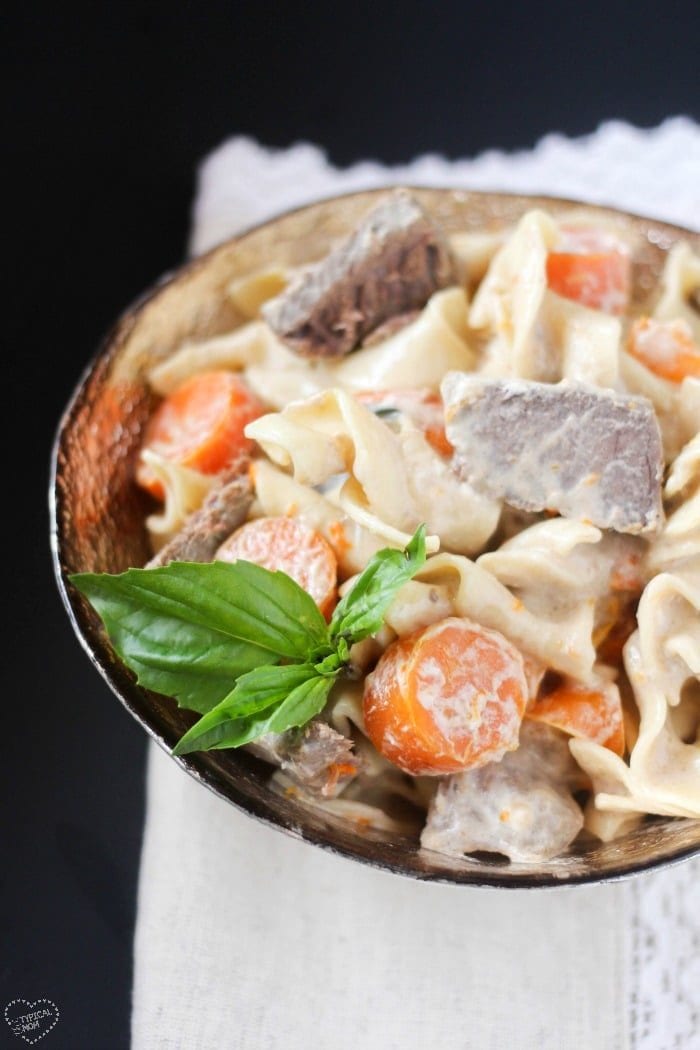 Directions:
Add all ingredients except egg noodles, cream cheese, and salt and pepper to a crock pot.

Set heat to low and cook for 3-4 hours or until beef is fully cooked and tender so that it falls apart when pulled with a fork.

Add the cream cheese and allow it to melt completely while cooking the egg noodles according to package directions.

Stir ingredients

and then season with salt and pepper.

Serve the beef stew over top of the egg noodles.
Here is another easy crockpot recipe you can try for 5 ingredient chili. It's my most popular post and recipe!!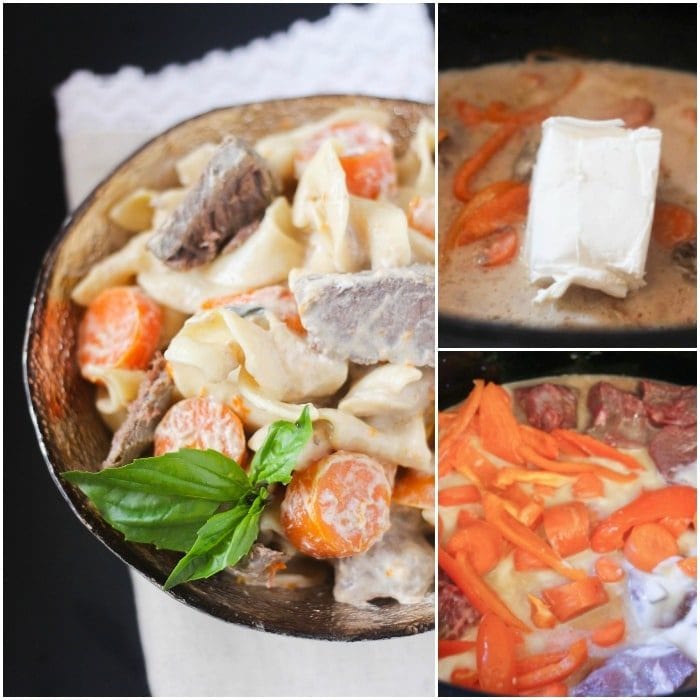 Notes: Browning the meat on your stovetop to get a sear on the outside is optional. This may add 15 minutes to the overall prep time. Cover and cook on low. If you cook on high the meat won't be as fall apart tender in my opinion. –
This is comfort food is a great recipe during the chilly winter months. Often I've added 1/2 cup of fried onions to the top of this to take it over the top too!
Recipe instructions for method 1 below. We also have a slow cooker beef tips recipe you're surely love. Nutritional information such as calories and saturated fat listed below too.
For more easy recipes, tips and crafts please LIKE The Typical Mom on Facebook and follow me on Pinterest! You can also sign up for my free weekly newsletter which is packed with goodies I know you'll love. 😉
Crockpot Beef Stroganoff
Crockpot beef stroganoff that only requires 5 ingredients and cooks all day in the crockpot. The best way to make tender beef with a creamy sauce.

Instructions
Put the cubed stew beef in the crockpot and mix with packet of onion dip mix. Add your beef broth and onions and cook on low for a good 6 hrs. (this is best so the meat gets really tender).

Before serving, about 30 minutes prior, whisk together some of the hot broth in your slow cooker, your sour cream, and cornstarch to create a thick rue and add that to the crockpot to thicken up the broth.

Put lid on for another 30 minutes so it all melds together. Serve over egg noodles cooked separately.
Nutrition Facts
Crockpot Beef Stroganoff
Amount Per Serving (4 oz)
Calories 441
Calories from Fat 144
% Daily Value*
Fat 16g25%
Cholesterol 126mg42%
Sodium 339mg15%
Potassium 399mg11%
Carbohydrates 42g14%
Protein 30g60%
Vitamin A 275IU6%
Vitamin C 0.3mg0%
Calcium 71mg7%
Iron 3.1mg17%
* Percent Daily Values are based on a 2000 calorie diet.