Instant Pot frozen salmon recipe so your rock hard piece of fish will come out flaky and perfectly cooked in just a few minutes. Game changer y'all!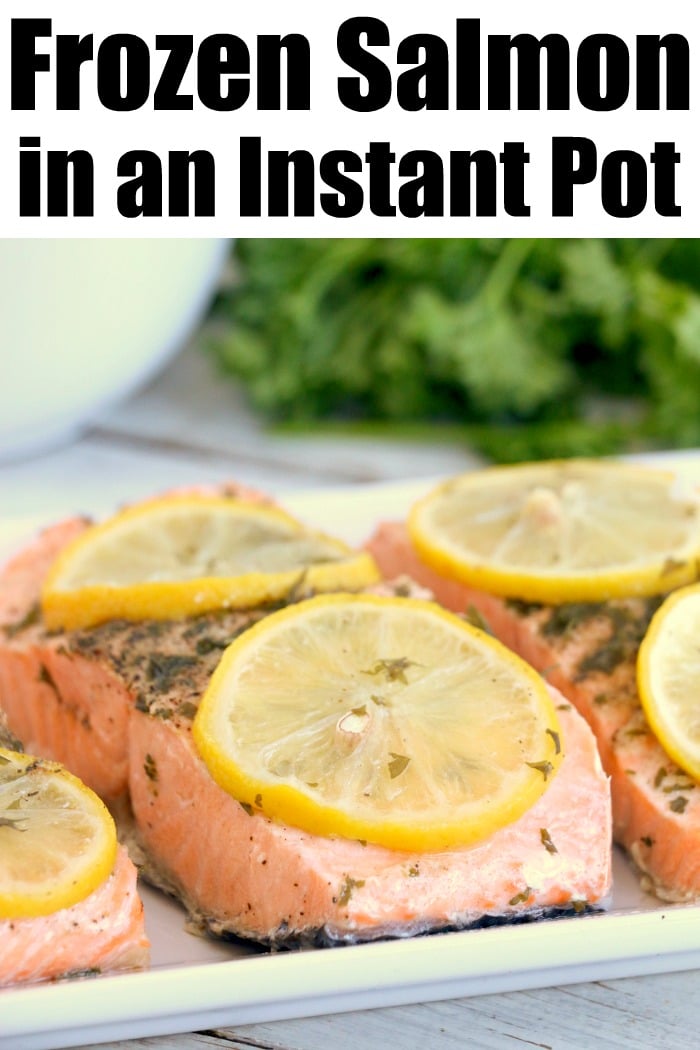 Instant Pot frozen salmon has never been easier to cook using your pressure cooker! In less than 15 minutes total you too can have flaky fish for dinner with some lemon butter on top. One of our favorite healthy Instant Pot recipes here on The Typical Mom blog. (affiliate links present)
Ninja Foodi Frozen Salmon
Can you make this in your Ninja Foodi too?? Of course you can!! Any brand will do. I have a Crockpot Express too and it works basically the same without the air fryer function.
Just follow the directions below on how to cook frozen salmon if all you have a bag of frozen fish on hand. That way you too can have a flavorful dinner tonight.
FIRST – You should sign up for my free newsletter so you get new posts emailed to you twice a week and never miss out on anything! Now let's start with a few basic tips:
Make sure to Bookmark our InstaPot recipes page. We add new ones each week!
Then PRINT this —–> Instant Pot cooking times cheat sheet that will help you understand how long meat, vegetables and beans take to cook in your pressure cooker.
For reference, this is the pressure cooker I have (a 6 quart) and use for all recipe creations.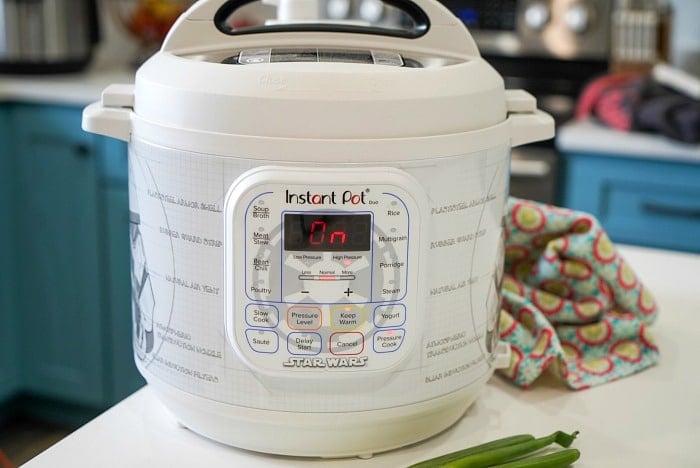 Yes we have made fresh fish in an Instant Pot, but when I've completely forgotten to defrost my fillets this timing comes in really handy.
We these tips on how to cook frozen meat helps you make a wonderful meal for your family too.
Can you cook salmon from frozen?
Absolutely!! We will show you how to cook frozen salmon so that it's just as tender and flaky as thawed fillets! You can even follow our air fryer frozen salmon instructions if you have that machine.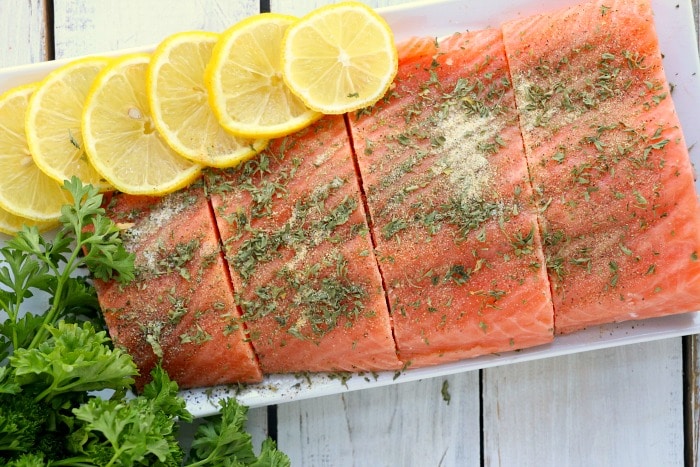 You can find pretty much any type of frozen fish in your local grocery store. If you love Instant Pot tilapia the timing is pretty much the same as you'll find below. There are a few tips I'll share to get it perfect.
Instant Pot frozen salmon
Frozen salmon fillets
Fresh lemons
Water
Seasonings
Butter is optional but yummy
Tips to follow:
Choose fillets that are similar in size so they cook evenly

middle pieces will be thicker than the ends, cook them together accordingly

Do not overlap your pieces when you cook them together

you want the steam to hit all sides or the piece underneath will be underdone

When cooking fish in an Instant Pot you will want to season the tops as well as the water underneath

many times I will add a bit of salt and pepper once it is done too
I follow this same tip when making air fryer fish too really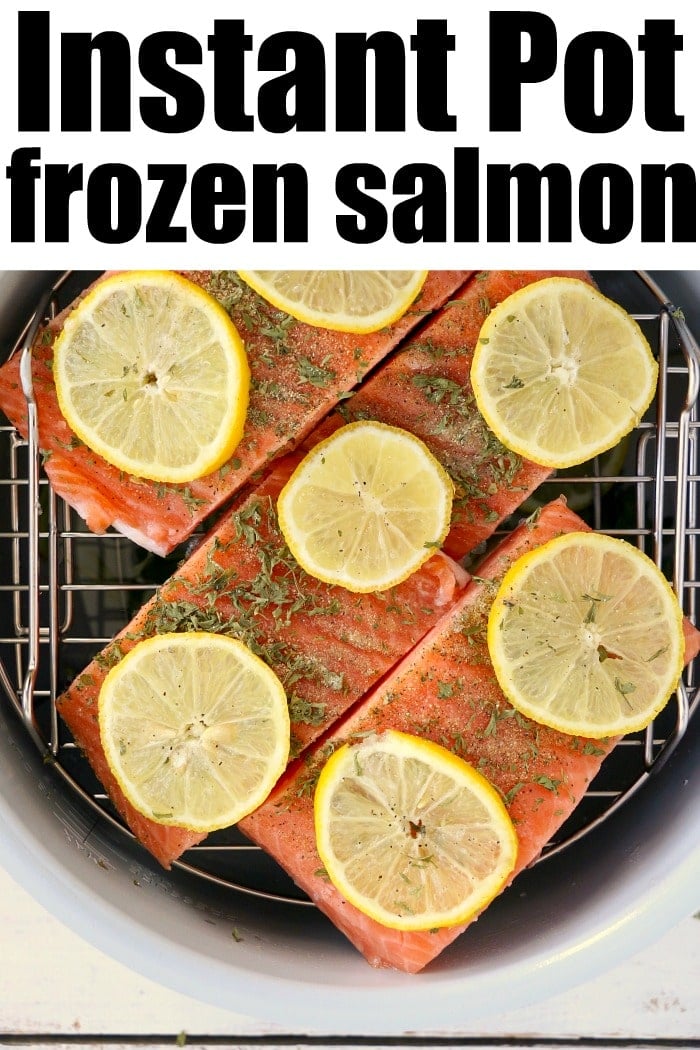 Is frozen salmon still good for you?
Yes!! Frozen salmon is good and keeps it's great taste for up to four months in your freezer.
As long as it's properly frozen inside freezer bags with the air sucked out it will still have great flavor when cooked. Of course you can thaw fillets overnight and make smoked salmon which is amazing.
We're here to teach you how it's done from rock solid frozen to tender though.
Canned wild salmon is also an excellent and economical choice, there's no need to cook that though.
Cooking salmon in the Instant Pot
Pour water, slices of lemon from 1 piece of fruit and some fresh parsley at the bottom.
Place trivet inside with your frozen fillets in the Instant Pot on top, with skin side facing down.
Top with lemon slices from 2nd piece of fruit as well as any seasonings you like.
you can add a pat of butter to the top too for a buttery smooth flavor
Close lid and steam valve and set to manual high pressure for 5 minute cook time followed by a quick pressure release

timing will vary slightly depending on how thick your pieces are and how "done" you like them.
Season with salt and pepper with a squeeze of lemon juice on top and enjoy!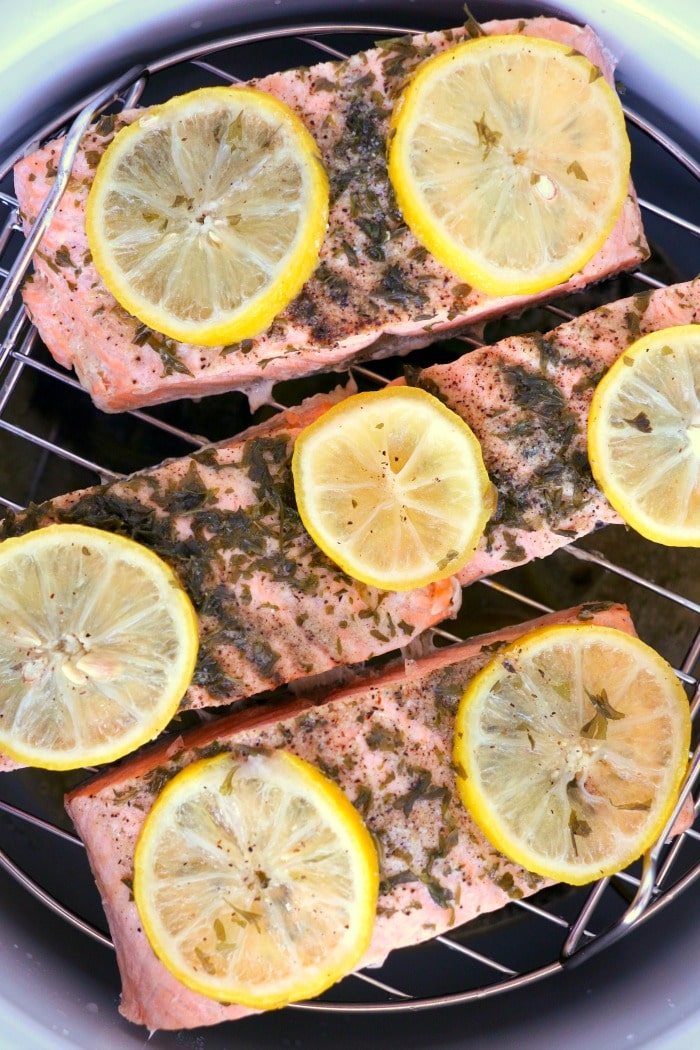 Don't have frozen salmon? Want to make defrosted Instant Pot salmon in your Instant Pot tonight?? We have instructions for that too.
They're very similar directions and quite frankly comes out almost identical to this one.
Is sockeye salmon better than pink salmon?
Sockeye salmon contains higher omega-3 levels really, that is the main difference. As far as which one is better it probably depends on whom you ask.
Does freezing salmon destroy Omega 3?
Freezing, baking, broiling or steaming fish will cause minimal loss of the omega-3 fatty acids they contain. Blackening salmon by high temperature sauteeing could also lower it a bit.
What side dishes go with fish?
We personally love a mixture of Instant Pot steamed vegetables served with this. A side of Instant Pot white rice is always a winner too.

For a great semi homemade garlic pull apart bread, follow our recipe here.
How long does it take to thaw frozen salmon?
For quick thawing just place frozen fish package in cool water for approximately 20 to 30 minutes just until contents are flexible.
Once it's thawed, immediately cook or refrigerate your piece.

If you haven't punctured the package you can keep in your fridge to cook later too as an option. Prior to cooking, do not allow fish to reach temperatures above 38 degrees F for best results.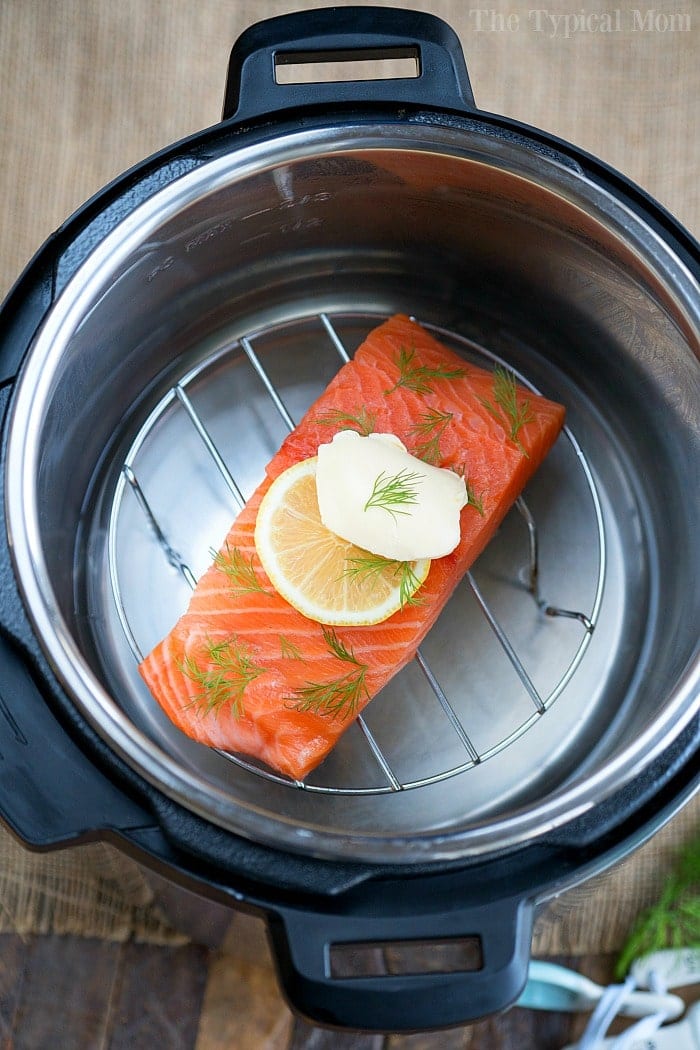 Doesn't this just look amazing??!! I know you're thinking about where you could grab some for dinner tonight.
If you want to buy fish in bulk you usually will save a bit of money at stores like Costco or Sam's Club.
Time needed: 5 minutes
Instant Pot Frozen Salmon
Prepare ingredients

Pour a cup of water into the bottom of your pressure cooker. Add lemon to this as well if you like that flavor. You're essentially going to be steaming your frozen fish. Lower down a trivet now.

Add ingredients

Place frozen salmon fillets on to trivet with any seasonings you'd like on top. A slice of lemon and butter on top now makes it really moist and flavorful.

Cook fish in Instant Pot

Close lid and steam valve and cook on high pressure for 5 minutes with a quick release when done.
Try this and our best baked salmon to see which one you prefer. The biggest difference is when it's thawed you can add dry rub liberally so it will stick.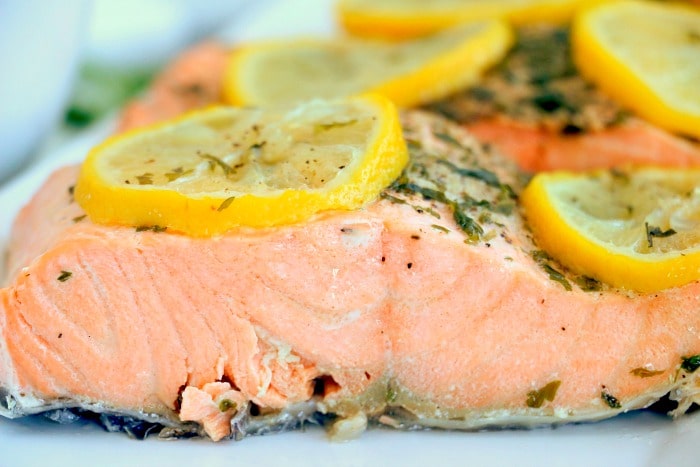 It is a bit pricier at smaller chains and organic supermarkets for sure but sometimes buying in bulk comes with compromising pieces too.
I find they're not as firm once defrosted and/or cooked. Your choice.
Love salmon fresh or frozen cooked this and and want more easy and healthy electric pressure cooker recipes?
You can cook salmon in the air fryer too! We love it that way with this dry rub we share here, it's a great cooking method to use.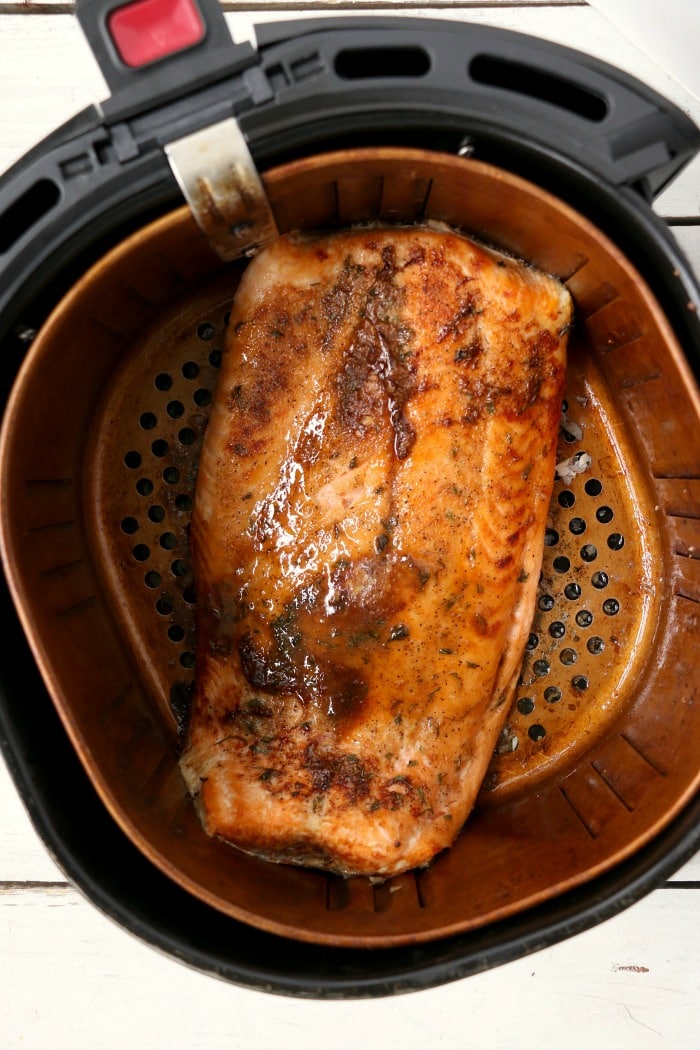 If you love this type of fish as much as we do you would probably say you could eat it daily as well. Have you ever wondered is it safe to eat salmon every day? I have and found this:
Although it is often recommended to eat fish regularly as part of a healthy diet, there's an ongoing debate about whether farmed or wild is best to consume.
Whether one type in particular may actually be dangerous isn't super clear according to The American Heart Association but they do definitely recommend eating at least two 3.5 ounce servings of fatty fish like salmon every week.
SO I would deduce that means twice a week is perfect. I doubt we'd likely have it much more than that really. It is definitely not the cheapest thing in the world to buy.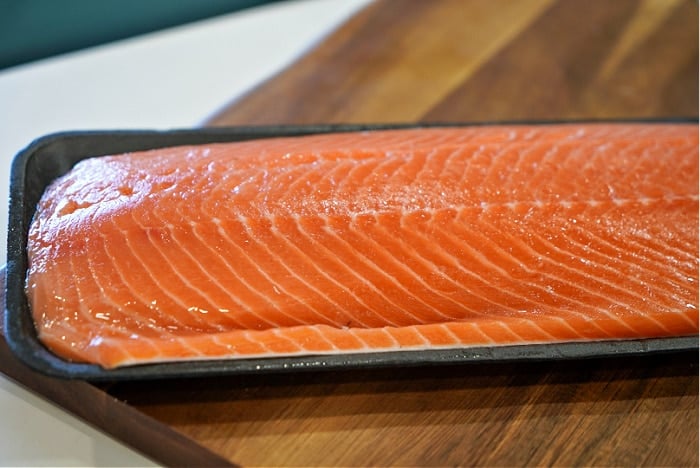 Why is salmon so expensive?
Wild salmon is expensive because supply exceeds demand, pretty simple really.
Alaska has done a great job managing their commercial salmon fisheries so in most cases they have a pretty healthy and abundant amount year round.
Other great dishes to try: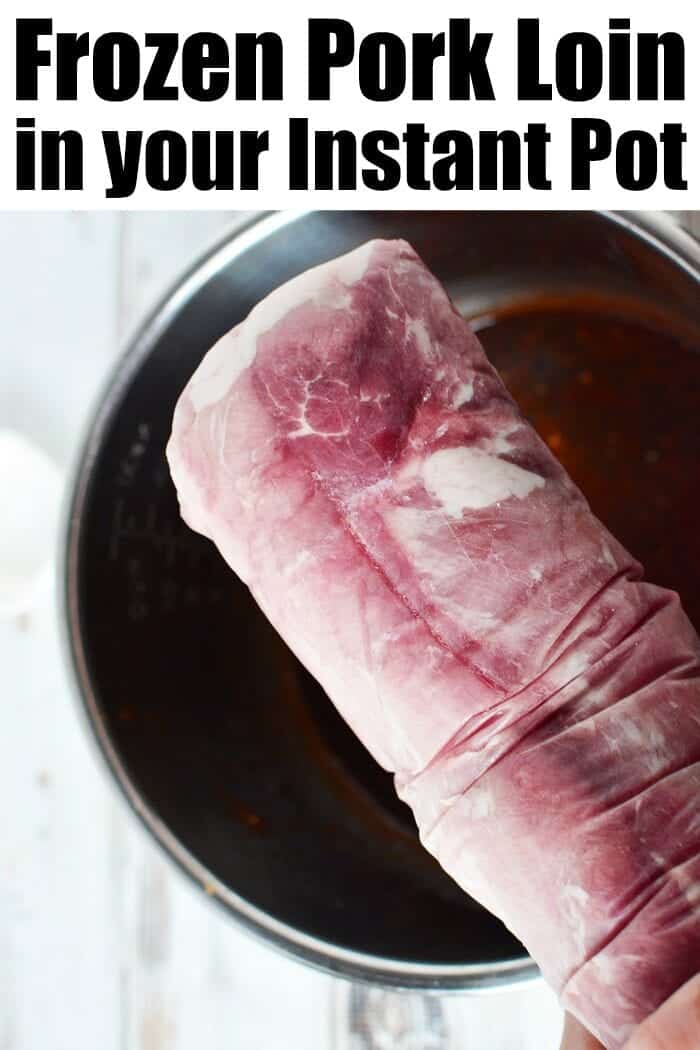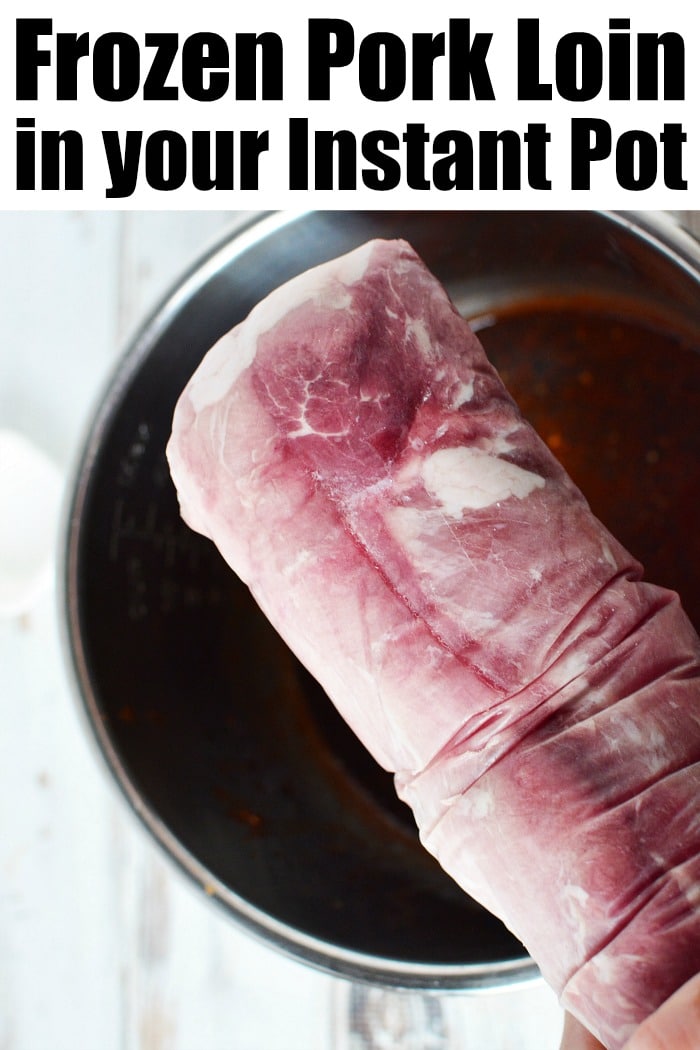 Ninja Foodi Frozen Salmon
Want to see a few of my favorite things that I am totally obsessed with?? Take a peek and see how many you might already have…twinsies!
Looking for more easy family recipes and tips? LIKE The Typical Mom Facebook page?
Then sign up for my free newsletter, and follow me on Pinterest! 😉
***** If you LOVED this recipe give it 5 Stars below and let everyone know what you thought about it. 😉
Instant Pot Frozen Salmon
Instant Pot frozen salmon recipe so your rock hard piece of fish will come out flaky and perfectly cooked in just a few minutes. Game changer y'all!
Ingredients
1/2

lb

salmon

4-5 frozen fillets

2

lemons

sliced, seeds removed

1

tsp

salt

1/2

tsp

lemon pepper

1

tsp

garlic powder

1

c

water

fresh parsley

diced

2

tbsp

butter

optional, sliced
Instructions
Pour cup of water with 1 sliced lemon and a few sprigs of fresh parsley into bottom of pot. Place trivet inside now.

Put 4-5 frozen fillets on rack without overlapping pieces. Season tops with pinch of salt, pepper, garlic powder, and diced fresh parsley.

Slice 2nd lemon and put 1 slice on top of each fillet, remove seeds before placing on top.

If you want a buttery flavor cut a thin slice of butter and place underneath each lemon slice, optional step.

Close lid and steam valve, set to high pressure for 5 minutes followed by a quick release.

Remove and serve immediately for best results. (timing will vary slightly depending on thickness of fish and how "well done" you like your fish)
Nutrition Facts
Instant Pot Frozen Salmon
Amount Per Serving (2 oz)
Calories 149
Calories from Fat 81
% Daily Value*
Fat 9g14%
Cholesterol 46mg15%
Sodium 661mg29%
Potassium 361mg10%
Carbohydrates 6g2%
Protein 12g24%
Vitamin A 198IU4%
Vitamin C 29mg35%
Calcium 21mg2%
Iron 1mg6%
* Percent Daily Values are based on a 2000 calorie diet.