Cast iron skillet care isn't as scary as it sounds. Using natural ingredients you can get the grime off while seasoning it at the same time. Don't damage your beloved pan! Here are a few simple steps of how to season, clean, and store your cast iron skillet!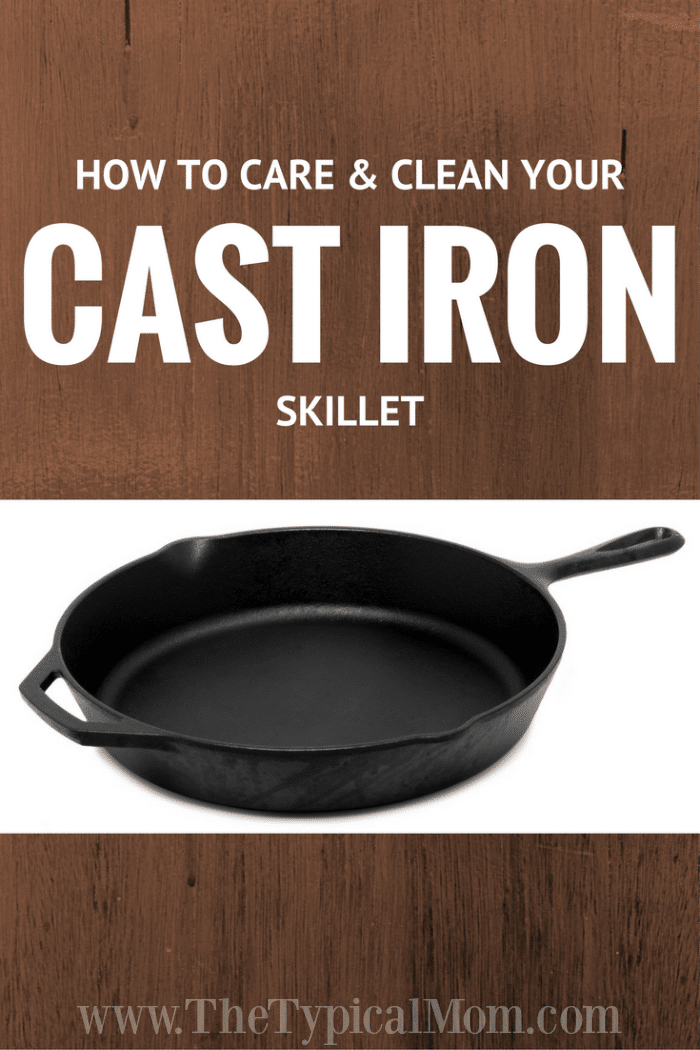 If you have been wondering how do you clean a cast iron skillet, I was right there with you at the beginning. Cleaning is relative when it comes to this type of pan. It is something entirely new you need to understand to keep it seasoned and just wiped out when done cooking. (affiliate links present)
What is the best way to care for a cast iron skillet
Here are a few cast iron skillet care tips if you just bought a pan or have had yours for a while. If you don't already have a cast iron pan I highly recommend snagging one. It's a great way to cook things evenly and the flavor it brings out in your food is pretty amazing. Just one of many cooking basics here on The Typical Mom blog.
Cleaning a Cast Iron Pan
I never used one until I got married. He had a few passed down to him from his Grandmother. I was tentative to use something new I hadn't really used before, but over time I grew to love how well it worked. I continued to use it more and more as the years went on and now I'm obsessed.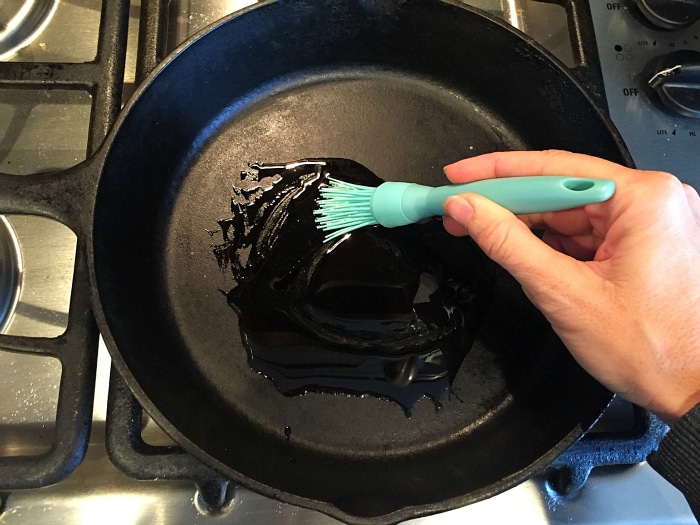 How to Clean Cast Iron
The Cast Iron Skillet is one of the most loved cooking pans used in kitchens. It's economical, versatile, and durable. The cast iron skillet can last generations, if properly cared for.
We have several of my husband's great grandmothers and they get better as they age really. People sometimes panic over the maintenance, but if you follow these easy "how-to's" it will make your love for cast iron even greater!
These are some tips Grandma gave my husband, he gave me, and we have been using for years since we were given the "family heirloom" of pans.
This cast iron skillet is very similar to the one I use regularly. Many new ones come pre-seasoned so you can skip that step.
When you first buy a cast iron skillet, seasoning it the first thing you want to do.
Seasoning a cast iron skillet means using some fat or oil to bake into the iron. This will make a natural non-stick coating.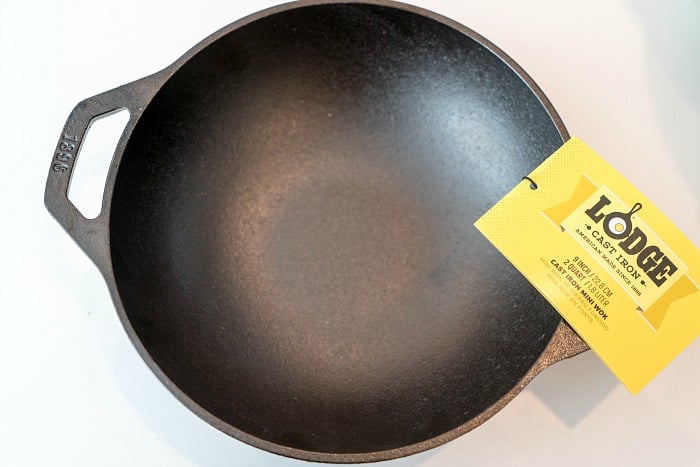 How to Season your Cast Iron Skillet
To clean it you'll need dish soap, paper towels, vegetable shortening (could use lard or bacon grease too).
Preheat your oven to 325 F.
Gently wash your skilled with warm, soapy water (this soap is specifically made for cast iron). This is the ONLY time you will need to use soap on your cast iron skillet.
Rinse all soap off and dry your skillet thoroughly.
With a cloth or paper towel, apply a thin coat of cast iron oil or fat (whichever you choose to use) on the inside and outside of the skillet.
Put your skillet UPSIDE down in the oven on the center rack if possible.
Put a piece of aluminum foil below the rack to catch the fat drippings, if any.
Bake your cast iron skillet for about an hour.
Allow the skillet to cool completely in the oven before you remove it.
Cast iron skillet care
You may feel like it's part of the family! Now that you cast iron skilled is well seasoned, how do you keep it in good condition? You can't do the same thing as you would to clean a burnt pot if this cooks too long. You have to be a lot more careful than that with no scrubbing.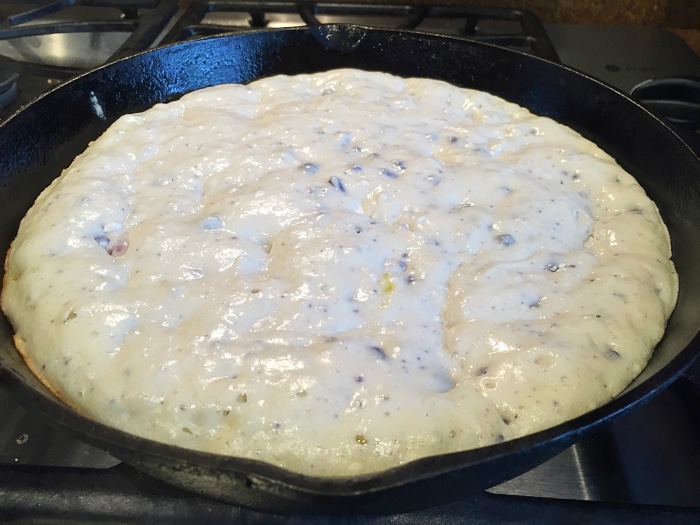 How to Clean a Cast Iron Skillet
This way works best for skillets that are slightly dirty. Pour a bit of oil into your skillet (or use oil specific to cast iron skillets)

Rub the pan with a paper towel or a clean cloth until clean. Simple! Since you used oil to clean your pan, it's all ready for the next time you cook with it!

Another method my mother in law has used for years is to cut a potato in half. Use a bit of salt to gently "scrub" the grime off the pot but season it at the same time.

Using natural non scratching items is best if at all possible…and this way is cheap!

This method is for skillets that have food lightly stuck on them. First, sprinkle something slightly abrasive, like coarse sea salt or cornmeal in your skillet.

Scrub your skillet with a clean cloth. Use your cloth and rub your skillet down with oil. It's ready for use again.
How do you clean a cast iron skillet
The stubbornly dirty one! If you have really stuck on food or you've cooked food that leaves a stench (like fish), this works great. The best cast iron skillet care tip for this is a non-scratching scrubbing pad for this.
Place your skillet in the sink and run hot water in it, scrub off the food that is stuck on. Rinse out the skillet. If the food is really cooked on, you can let the skillet soak for a bit, but not too long or it will start to rust.

Since we use water to clean out the skillet, you MUST dry it as soon as possible!
Easiest way to dry a skillet is to set it over a high flame on the stovetop for a couple minutes.
After the pan cools a bit, put some oil in and rub the pan with a paper towel or cloth.
Some things need more wiping like after making a cast iron chocolate chip cookie or something.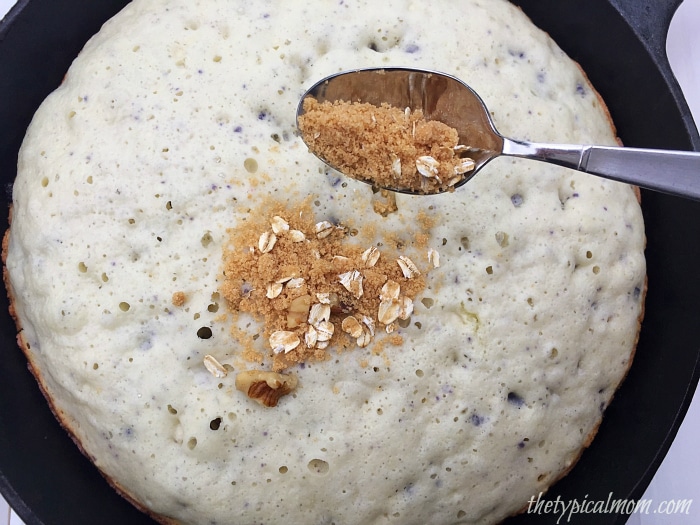 Storing Your Cast Iron Skillet
You will want to store your skillet in dry place. Leave the lid off to avoid rusting.

Another way to store it is hang it on the wall next to your stove. It will lie flat so nothing will get on the cooking surface, or leave in your oven for storage.
Just remember to take out when you preheat to bake something else.

What I do is use paper bags from the grocery store and put one in a bag. Then stack them with the bag wrapped around it.
Once again it is cheap, keeps them dry and not touching other pans so they don't scrape against one another.
Now that you've mastered maintaining your cast iron skillet, are you ready to take on fried chicken? Pan-seared pork chops? Baking cornbread? You can even make coffee cake in a cast iron skillet.
If you love your skillet you should go ahead and buy a dutch oven too! I LOVE mine and gives food that same wonderfully seasoned flavor but cooks for hours all by itself in the oven.
Here are a bunch of dutch oven recipes we love to get you started too.
Want to see a few of my favorite things that I am totally obsessed with?? Take a peek and see how many you might already have…twinsies!
Looking for more easy family recipes and tips? LIKE The Typical Mom Facebook page?
Then sign up for my free newsletter, and follow me on Pinterest! 😉
***** If you LOVED this recipe give it 5 Stars below and let everyone know what you thought about it. 😉