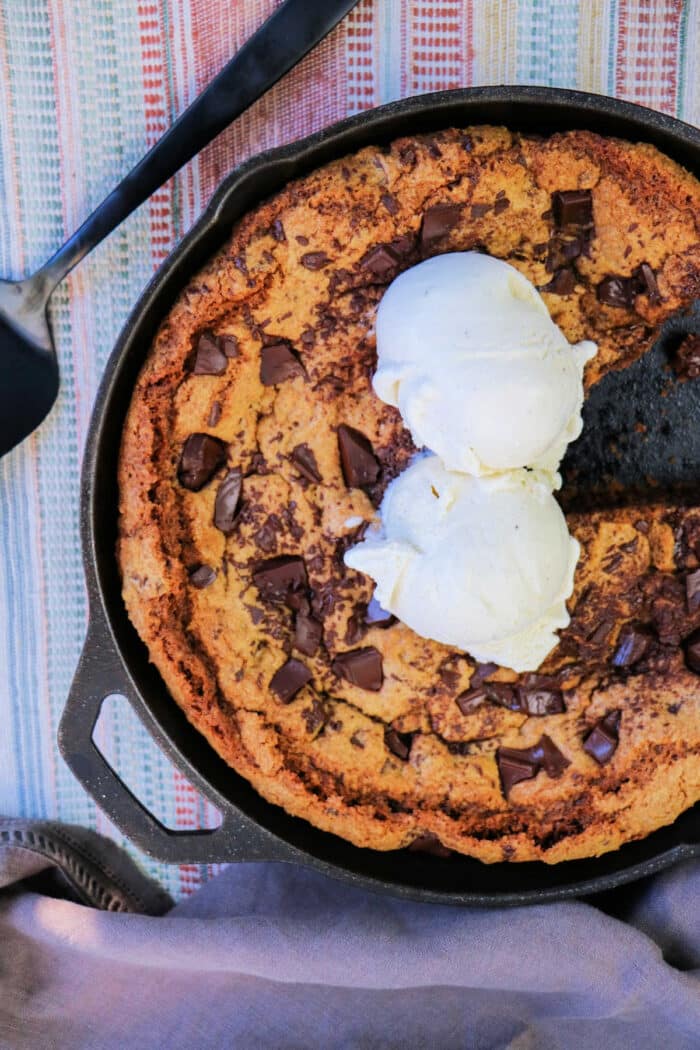 Cooking a Cast Iron Chocolate Chip Cookie is just about the best way to end any meal. With just one hour of bake time, you'll be loving every bite of this crazy good chocolate chip cookie recipe. Feel free to top with caramel sauce or pair with a giant scoop of vanilla ice cream. I can promise you that there's no wrong way to eat this skillet cookie recipe. (affiliate links present, originally published 7/22)
Cast Iron Chocolate Chip Cookie
I like to use a 12-inch cast-iron skillet that is oven-safe because it's just the right size. This makes a giant cookie that could literally be a pizza cookie – or as I like to call it, my Saturday night treat.
The kids are always begging me to cook up this cast iron chocolate chip cookie cake. I have to admit that I'm never upset when they do because I crave it just as much as they do. The combination of brown sugar and melted butter make the perfect pair, and I love the addition of the semi sweet chocolate chips.
You can add in bigger chocolate chunks to these simple chocolate chip cookies.
Chocolate Chip Skillet Cookie
Mini Cast Iron Skillet Cookie
Whatever you cut this in half to make it right for just 2-3 of you or larger, just make sure that you stir in the chocolate chips well so that they're dispersed evenly throughout. Having a large bowl is vital so that the egg and vanilla mixture, along with the granulated sugar, fit and don't spill over.
My other big baking tip for this skillet cookie recipe is that you need to use a wooden spoon when stirring in the chocolate. The last thing that you want to do is break up the chocolate chips or the chunks because they need to hold their shape and size.
Since the cookie dough is filling up such a big skillet, the chips need to be dispersed well throughout. If they're too small, they won't stand out, and you'll miss out on that perfect flavor combination.
Skillet Chocolate Chip Cookie
Let's talk about toppings. As I mentioned earlier, you can change up the toppings easily. I love the idea of topping with caramel and sea salt or even adding some frosting on top as well. You can follow our Bisquick chocolate chip cookies recipe and just use that batter for a faster method.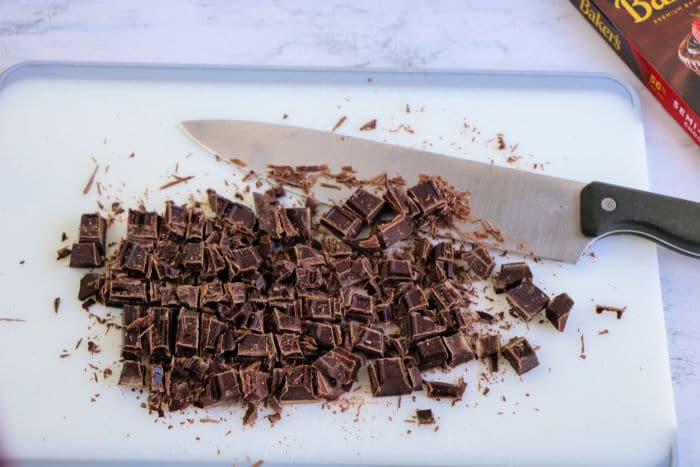 The kids tend to think that each slice of this skillet cookie should be decorated as they want it. Some days we do just that for fun! You can slice the cookie into "pizza slices" and have the kids decorate their own slice. Have options such as frosting, sprinkles, chocolate chips, and anything else that you think that they'd want.
Pizookie Chocolate Chip dessert
Have you ever heard of a pizookie? Before this recipe, I hadn't! It's basically the combination of two words: pizza and cookie, and it's made pretty much that way, too.
I use our skillet as a type of "deep dish" cooking for the cookie dough, and it turns out perfectly every time. The kids get a kick out of the name and love the taste and flavor.
Pizookie might be a bit of a trendy word but for a dessert this good, it can go by whatever name you want it to. Served alongside our cast iron skillet chicken breast it makes for a yummy meal.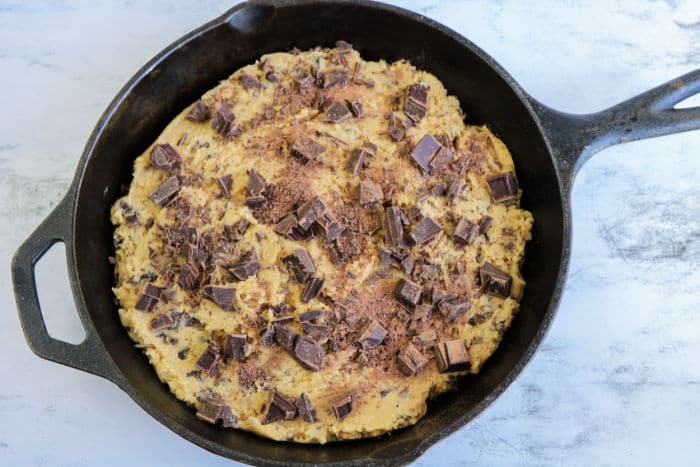 Giant Chocolate Chip Skillet Cookie Recipe
The name says it all. This really is a giant cookie recipe. It's big enough to feed a crowd which is when we usually make it. The kids love having this dessert to share with their friends, and I love that they love sharing it.
I just have to remember to preheat the oven to 325 degrees about 25 minutes ahead of when they're supposed to arrive so that it's almost done and ready for them to nosh on when they walk in the door.
I've served this so many fun ways, too! You can put it into a pizza box and watch their shocked faces as they open it and see a cookie inside instead of a pizza.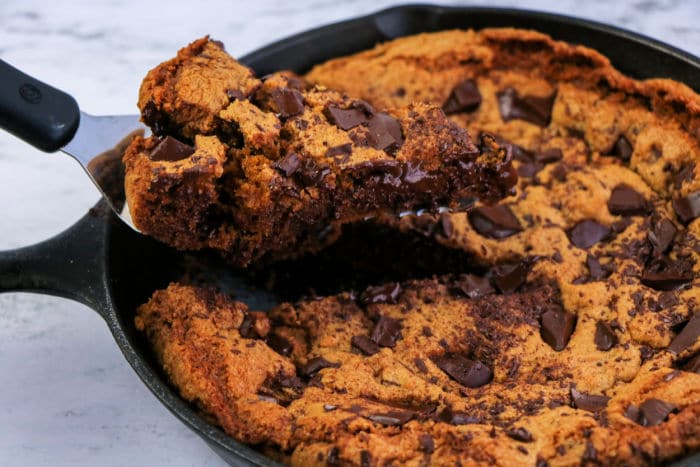 Or you can have this ready and waiting for them when they get home from school, too. (but trust me – the smells of this in the house make it so hard not to eat before they get home!)
Cast Iron Cookie Pie
I tend to call his recipe a cookie cake, but the kids love calling it a cookie pie. When you think about it, the word "pie" really does seem more fitting. I slice it into basically 12 pieces that are triangle shaped just like a dessert pie or pizza pie.
No matter how you cut this simple cookie or what you call it, it's going to be a hit. This is chocolate chip but peanut butter dough inside would be wonderful too. Have some ice cream or whipped cream on hand to top it, or eat it just as it is.
Use this as a fun weekend treat or a way to celebrate after something excited. There's really nothing as fun and delicious as eating a cookie that has been cooked in a cast-iron skillet! Want a few other fun treats? You can make our Crockpot chocolate candy bites or chocolate crinkle cookies too.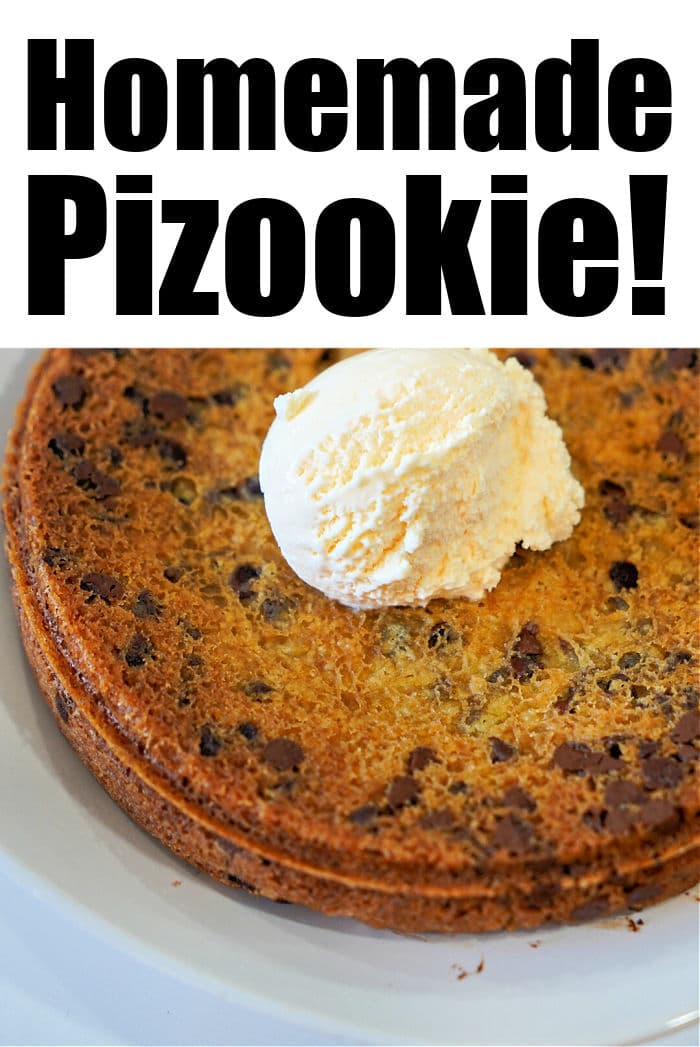 What type of pan can be used for baking chocolate chip cookies?
In the oven 13×9″ would be typical. You can bake a cookie in a cast iron skillet though if you want! We will show you how to do just that. It is sometimes called a pizookie and a fun way to serve it with ice cream on top.
Can I put cookie dough in frying pan?
Yes! You can use refrigerated cookie dough or homemade chocolate chip cookie dough in a frying pan instead of a 13×9″ flat version if you like. We will show you the temperature and bake time here.
How to save leftover cookies
You do not want them to dry out that is the most important thing to remember. The best way to do this is to use freezer bags and suck all the air out every time you take one out. There is another kitchen hack you can try too. Add a small half slice of bread into the baggie too.
That is right. Lay one on the bottom and then put what's left over in one layer. The moisture in the piece will keep your baked goods nice and moist for days. Most times you'll only get 1 good day out of them. This way you're fine at day 3 for the most part. I like freezer vs. sandwich bags because the walls are thicker to keep air out too.
Use your skillet first to make bacon wrapped salmon, wipe clean and then make one of these babies. Once you try this there will be no going back to store bought.
Want to see a few of my favorite things that I am totally obsessed with?? Take a peek and see how many you might already have…twinsies!
Looking for more easy family recipes and tips? LIKE The Typical Mom Facebook page?
Then sign up for my free newsletter, and follow me on Pinterest! 😉
***** If you LOVED this recipe give it 5 Stars below and let everyone know what you thought about it. 😉
Cast Iron Chocolate Chip Cookie
This cast iron chocolate chip cookie is super yummy. Make it into a pizookie or as is for dessert. Just like BJ's Brewhouse but better!
Instructions
Preheat oven to 325 degrees F. Spray or brush skillet with non stick cooking spray.

In a mixing bowl cream the butter, brown sugar, heavy cream and sugar together. Then beat in the egg and vanilla until creamy.

In a separate bowl whisk together dry ingredients and add into mixer slowly until well incorporated.

Fold in chocolate chips keeping some on the side to put on top.

Put dough into skillet and spread out evenly so it's the same layer all the way across. Top with remaining chips.

Bake for 50-55 minutes or until top is golden brown. Allow to rest 10 minutes once removed.
Nutrition Facts
Cast Iron Chocolate Chip Cookie
Amount Per Serving (2 oz)
Calories 540
Calories from Fat 189
% Daily Value*
Fat 21g32%
Cholesterol 63mg21%
Sodium 349mg15%
Potassium 87mg2%
Carbohydrates 83g28%
Protein 6g12%
Vitamin A 530IU11%
Vitamin C 1mg1%
Calcium 71mg7%
Iron 2mg11%
* Percent Daily Values are based on a 2000 calorie diet.