This is how to clean a burnt pot easily without baking soda or any scrubbing. The best kitchen hack ever that will save you time and your sanity! No more worrying when you scorch your pot because all you need is a simple household item to wipe it right off.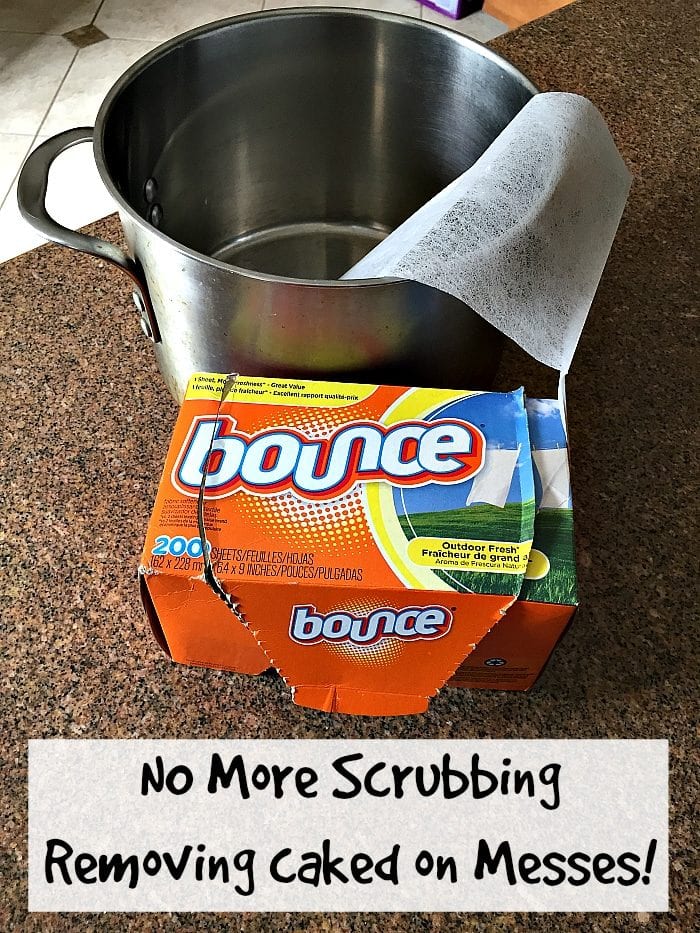 Have you ever had caked on greasy burnt on food at the bottom of your Corningware or pots and pans?? We all have! If you soak it overnight it is a bit easier to scrub the caked on mess off the bottom, but sometimes that doesn't work. Here is an EASY way on how to clean a burnt pot that you won't believe. Just one of many cooking basics we love. (originally published 5/15)
How to Clean a Burnt Pan Without Baking Soda
I know I am not the only one who has burnt the heck out of their pots on the stove or a dish in the oven. Sometimes the baked on food that was usually forgotten about or I thought it was supposed to cook longer is almost impossible to scrub off.
I have actually gotten to the point where I've scrubbed, soaked, scrubbed, soaked for a few days. Was just about ready to throw it away and buy a new pot, then I tried this simple trick. I seriously love kitchen hacks! Got fabric sheets, or fabric softener at home???
No need to scrub those burnt drippings on your baking dishes or pans. Save your hands and time by using one of my favorite home remedies. Let the dryer sheets help you.
How to clean a burnt pan
Step 1: Fill your pan with hot water

Place 1-2 Dryer Sheets in your baking dish (as seen here).

Soak overnight and let the magic happen!

With the littlest amount of effort, wipe the dish with the dryer sheets and all the build up in your dish will be gone. Clean as normal.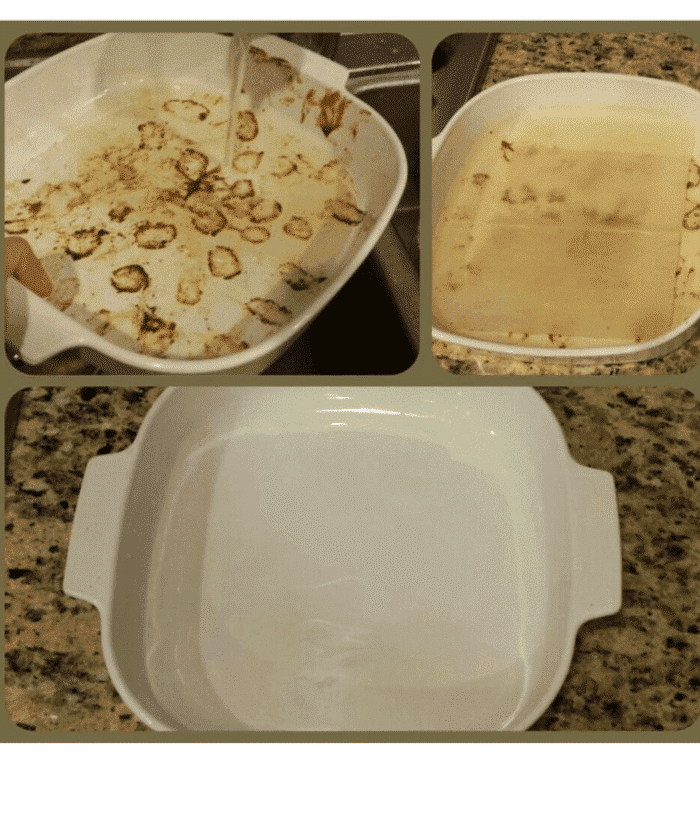 How to Clean a Burnt Pot without Vinegar
Seriously….it is that easy. You can almost wipe the stuck on stuff off with your fingertip in the morning, it cleans it so well!
If you have fabric softener and not the sheets just put half a cap full on the bottom to coat it. Follow the steps as usual using a soft sponge in the morning. Dryer sheets are easier and better though. That's how to clean a burnt pot or pan easily. 😉
No more worrying when you make an "uh oh" mistake on the stove or oven and burn your pot. When you know how to clean a burnt pot it's easy to fix when you make a mistake (and you will).
Ready to try something new now that you've got all the gunk cleaned off your pot???
Follow me for more inexpensive tips & easy family friendly recipes here!
Want to see a few of my favorite things that I am totally obsessed with?? Take a peek and see how many you might already have…twinsies!
Looking for more easy family recipes and tips? LIKE The Typical Mom Facebook page?
Then sign up for my free newsletter, and follow me on Pinterest! 😉
***** If you LOVED this recipe give it 5 Stars below and let everyone know what you thought about it. 😉