Try peanut butter and jelly donuts with refrigerated dough are great for breakfast or dessert this week! Classic flavors wrapped in goodness and sprinkled with sugar for oh so goodness! Like our peanut butter and jelly thumbprint cookie recipe but more acceptable to be eaten in the morning than those. 😉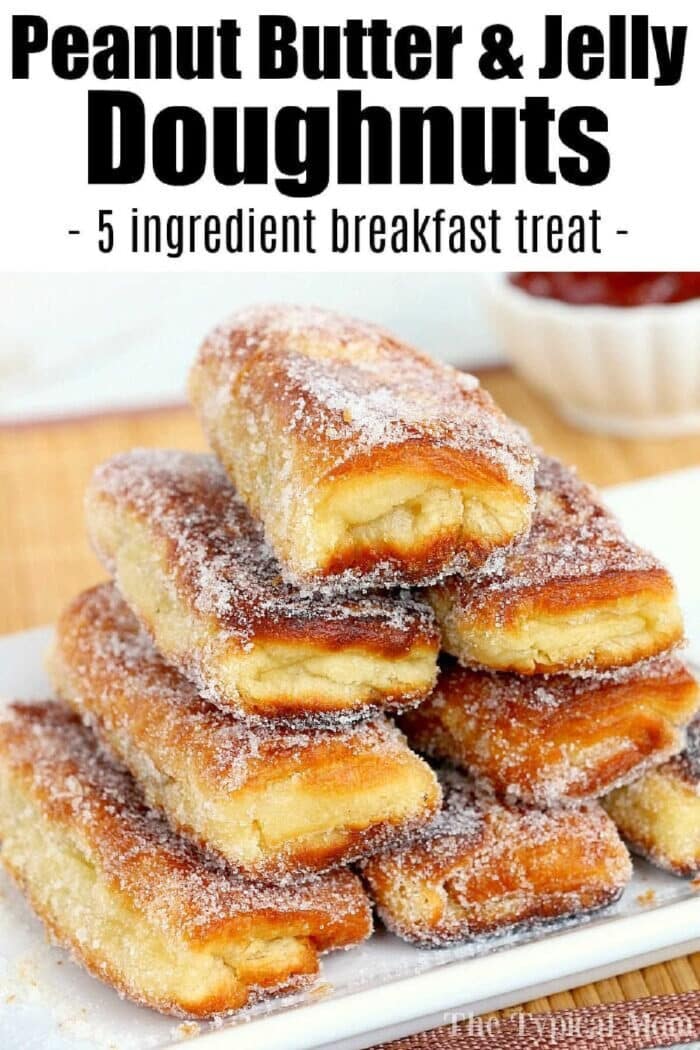 OH MY goodness you must try these peanut butter and jelly donuts! A yummy breakfast or dessert with two of your favorite flavors and sprinkled with sugar. These fry doughnuts are easy to make and it will be hard to stop at just one! (affiliate links present, originally published 5/19)
Peanut Butter and Jelly Doughnuts
The outside uses refrigerated crescent rolls which you can find just about anywhere. The filling I'm sure you have in your house already. You could either fry them in oil or make air fryer donuts too.
Once you get the hang of how these are made you can go further thereafter. Think of all the other things you could stuff inside. You could add any fruit flavor of pie filling in there, nutella with bananas, baked apples, all the things……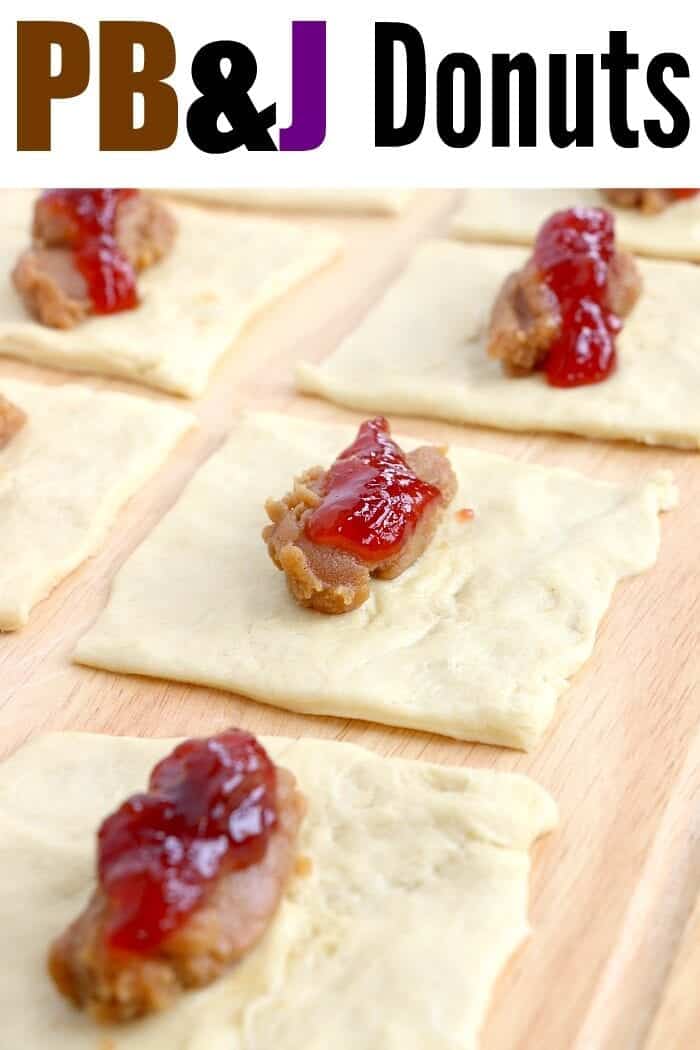 Peanut Butter and Jelly Donuts with Crescent Rolls
First let's get out a cutting board so you can get it all prepared. Then I like to set them on a baking sheet lined with paper towels once they've taken a trip inside the oil. It allows some of the oil to be soaked up which is nice. Since we're using ready made refrigerated crescent rolls sheets there is NO need for a mixer or dough hook.
This is the EASY way. Waiting for everything to double in size and using yeast is just a little too labor intensive for me. I will say that I'll go through the extra effort if I taste a BIG difference but I can't say that I would with these. The filling listed below is enough to fill 1 tube of crescent rolls. If you want more then just adjust accordingly.
You will just have to do the frying at the end. Here's what they look like once you're preparing them. Just do it assembly line style!
Peanut Butter Donuts
Yes of course you could make your own homemade dough, we are a quick let's make it fast kinda' family. Especially if we have a full day ahead of us we want to enjoy the goodness but not take all day. Alternatively you could defrost Rhodes frozen dough and roll those out too.
Mix together your peanut butter, cream cheese and sugar in a small bowl
Unroll your crescent roll sheet on to your cutting board & pinch perforations together so it doesn't leak

Then cut into 8 equal squares

Spoon your peanut butter mixture into the middle of each one
Add a bit of jelly on top
Roll each one up
Pinch ends so they are completely closed on both sides
You don't want all the insides to leak out of course so make sure you have a good seal all the way around. Once you get this down you can fill with all sorts of other things too like pie filling or bananas and nutella!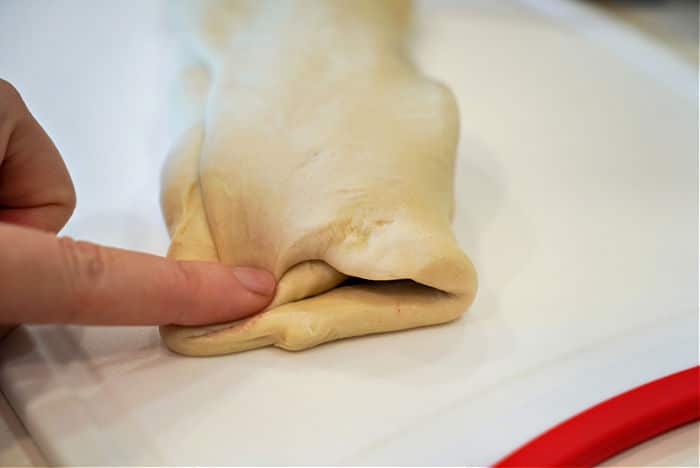 Fried Peanut Butter Donuts
We are going to go with fried lightly here because that would be the most common. Recently we have air fried these until the dough was puffy and baked all the way thru and those were great too.
Wait until you have hot oil on the stovetop

test by dropping a tiny bit of dough into it and if it sizzles right away it's ready

Fry until golden brown
Cool slightly on a paper towel
Roll in sugar or dust with powdered sugar

could fill a pastry bag with frosting and drizzle across too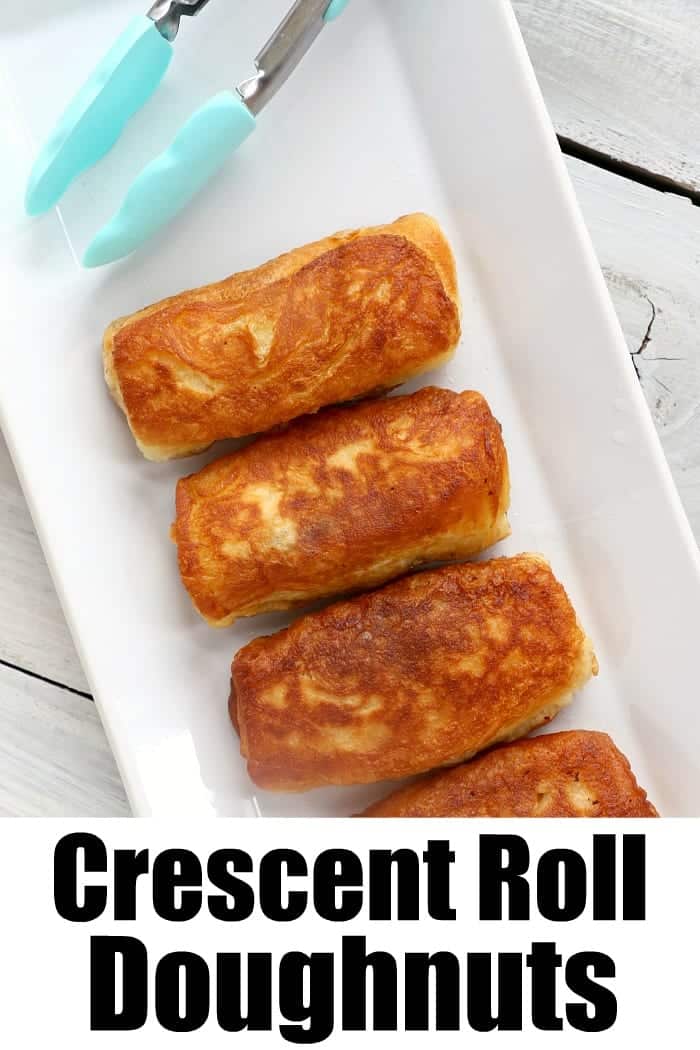 It is best to lay a few paper towels down so when your doughnuts are fried you can lay them on top. This will allow the excess oil to be absorbed by the towels.
From there you can really coat them with whatever you want but white sugar is easiest. You could even melt some chocolate chips like we did with our pressure cooker donuts or air fryer apple fritters and spoon some on the top instead.
As you'll read in that post, the best way to melt chocolate is in the microwave. 😉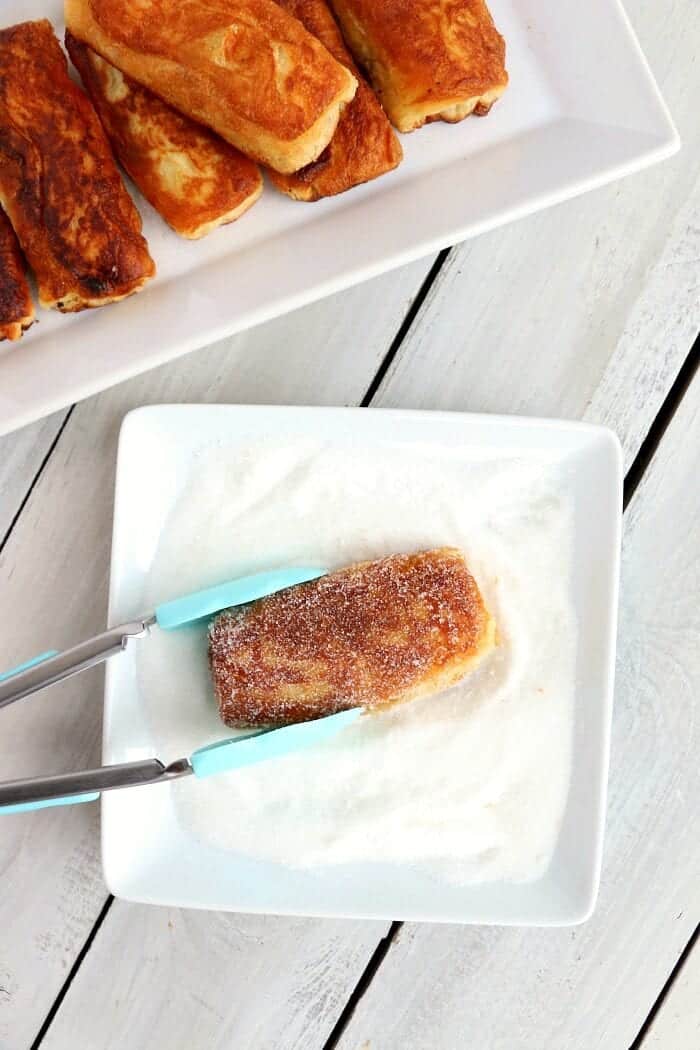 Peanut Butter Doughnuts
Now you could use any sort of nut butter you preferred. Almond or sunflower work just as well as well as nut free butters for those with allergies. As long as the texture is thick you're good to go.
Peanut butter – creamy
Jelly
Cream cheese
Sugar

and/or confectioners sugar

Refrigerated crescent rolls
Oil
Paper towels
When using refrigerated dough there is no need to wait to rise in a warm area which really cuts down the cooking time overall.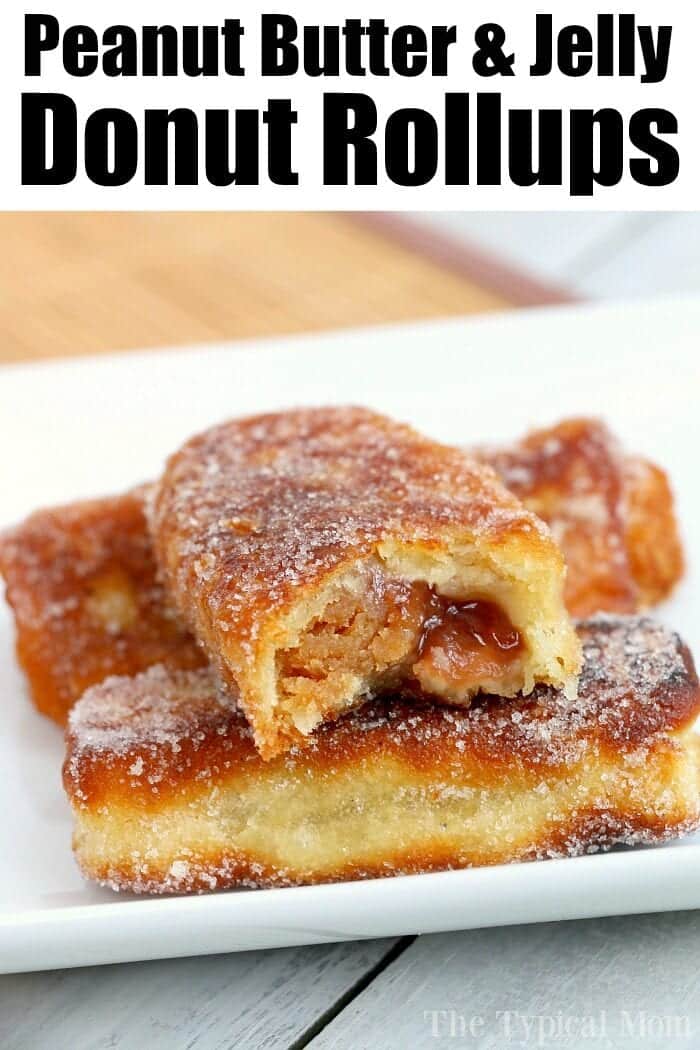 After you make these, here are a few other dessert recipes to try:
Our cherry cheesecake egg rolls are heaven too, I'd definitely make those this week! For a savory dish try our peanut butter chicken for dinner too.
We hope you enjoyed these fried peanut butter and jelly donuts too. I am going to try these as air fryer donuts soon and will share the results after I do so. I am totally obsessed with that new kitchen appliance now.
Want to see a few of my favorite things that I am totally obsessed with?? Take a peek and see how many you might already have…twinsies!
Looking for more easy family recipes and tips? LIKE The Typical Mom Facebook page?
Then sign up for my free newsletter, and follow me on Pinterest! 😉
***** If you LOVED this recipe give it 5 Stars below and let everyone know what you thought about it. 😉
Peanut Butter and Jelly Donuts
Try peanut butter and jelly donuts with crescent rolls for breakfast or dessert this week! Classic flavors wrapped in goodness and sprinkled with sugar for oh so goodness!
Instructions
Put peanut butter, cream cheese, and 1 tbsp sugar in a microwavable

bowl.

Microwave for 30 second intervals, stirring after each, until sugar is

dissolved and mixture is smooth.

Roll crescents out on a non-stick surface. J

oin all 8 crescents together by pinching the seams, creating a large

rectangle.

Using a pizza cutter, cut the dough into 8 equal squares.

Place 1/8 of peanut butter mixture in the middle of each crescent square.

Top peanut butter with 1 tbsp of strawberry jam.

Roll each crescent over the filling, gently pinching the end to seal it to

the opposite side.

Carefully place rolls, two at a time, into hot oil. (About 375 degrees)

Fry on each side until golden brown. This will take about 2 minutes total.

Remove rolls from pan and place on a baking sheet lined with paper

towel.

Allow to cool 5 minutes, then roll in remaining sugar.

Enjoy!
Nutrition Facts
Peanut Butter and Jelly Donuts
Amount Per Serving (3 oz)
Calories 758
Calories from Fat 612
% Daily Value*
Fat 68g105%
Cholesterol 3mg1%
Sodium 289mg13%
Potassium 91mg3%
Carbohydrates 35g12%
Protein 3g6%
Vitamin A 50IU1%
Vitamin C 1.9mg2%
Calcium 12mg1%
Iron 0.7mg4%
* Percent Daily Values are based on a 2000 calorie diet.