Sous vide frozen chicken breast instructions to go from rock hard to fork tender. Best way of how to cook frozen chicken sous vide style. If you love tender meat with tons of flavor, this should be your new favorite way of cooking.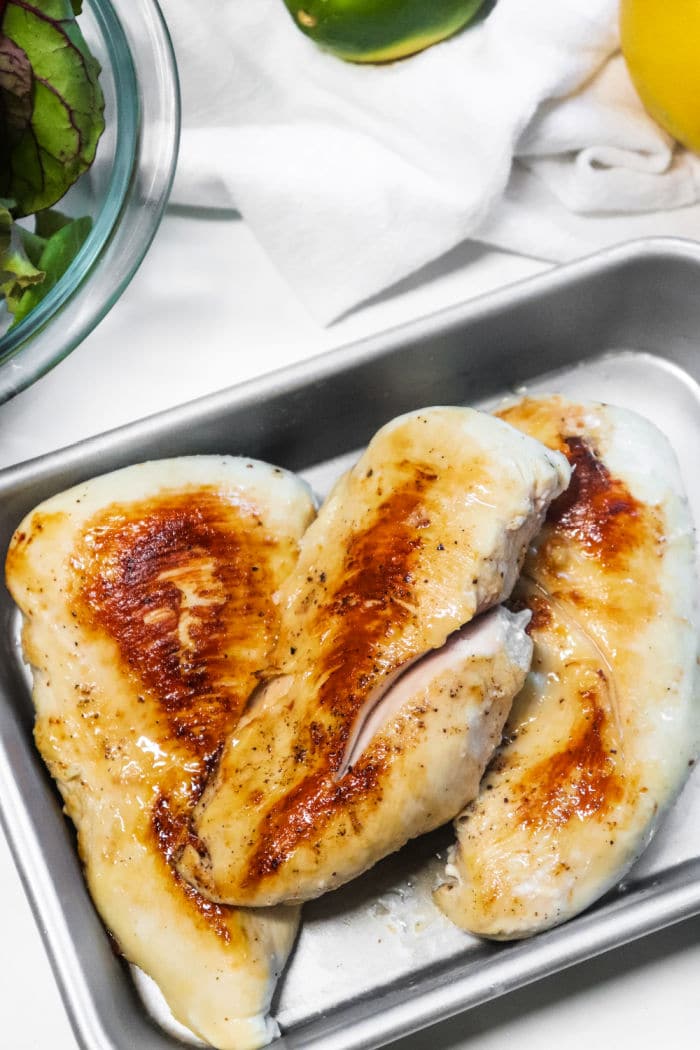 We shared how to sous vide chicken a while back. That was thawed but if you're forgetful like me you'll need to know how to sous vide frozen chicken breast too. It happens. (affiliate links present, originally published 8/22)
Sous Vide Frozen Chicken
Of course thawed or fresh is always best. That doesn't always happen in my home though because that requires remembering the day before to put them from the freezer into the fridge overnight. And I'm forgetful. 😉 Sous vide boneless chicken breast skinless is ideal so it cooks thru to 165 degrees F more evenly.
Can You Sous Vide Frozen Meat?
Yes, depending on it's size. Obviously not the whole bird. You'd have to follow our whole chicken frozen in oven post for that. Others though will work just fine and don't take any longer than if they were fresh either. A bit surprising but true. These are chicken breasts but you could use thighs or legs with an adjusted time.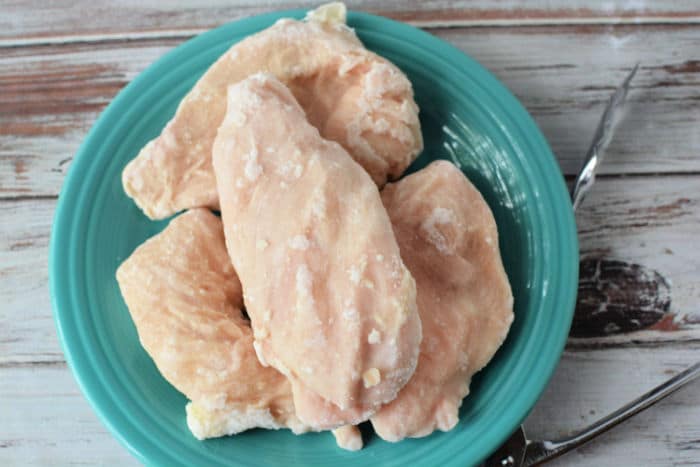 Do you need to defrost chicken before sous vide?
Nope. Years ago I thought there was no way it could be done and have the same great tender texture than if it were thawed. Not true. I have talked about this time and time again when I wrote this article on how to cook frozen chicken (of all kinds).
I would suggest trying it this way and then defrost chicken in microwave and make another batch. Serve both to your family and see if they can tell the difference. I'd be surprised if they could tell that anything was different. I've discussed before how particular I am when it comes to cooking poultry and I can't.
Let's talk cooking frozen meat to tender for a minute shall we? If you are planning, or know you're going to be doing this often, choose boneless every time. Without them not only lends to a faster cook time but it's more even as well. I mean it's easier to eat too but I'm not focusing on that aspect right now….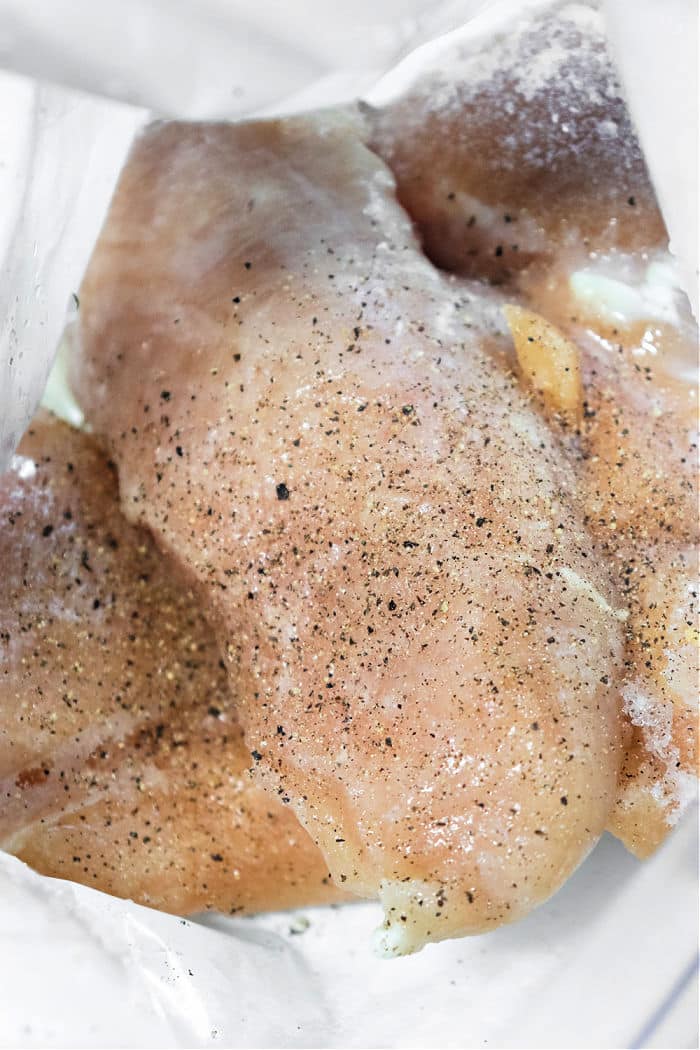 Anova Frozen Chicken Breast
You are going to want the "magic machine" for this to begin with. I'm assuming since you are here you already have one but in case you want to upgrade below is a link to the one featured here. There are many different brands out there, some are fancier than others. I like the auto shut off feature personally.
Ideally you would follow this guide when choosing meat. If you buy fresh and freeze, select medium sizes without rib meat. Store in freezer bags with air sucked out so it doesn't get freezer burn. Using bagged already frozen I prefer a brand name over store brands, boneless skinless.
You'll want a sous vide machine like this one
Freezer gallon size bags
Boneless skinless chicken breasts, medium size

organic and/or free range has a much better texture

Seasonings you would normally add to your meat
Lemon juice and lime juice
You'll need to fill your machine with tap water too. It is best if you download the phone APP that is correlated with your machine so it can alert you that it's done. Some will automatically turn off when the desired timing is done, others you will have to flip the switch.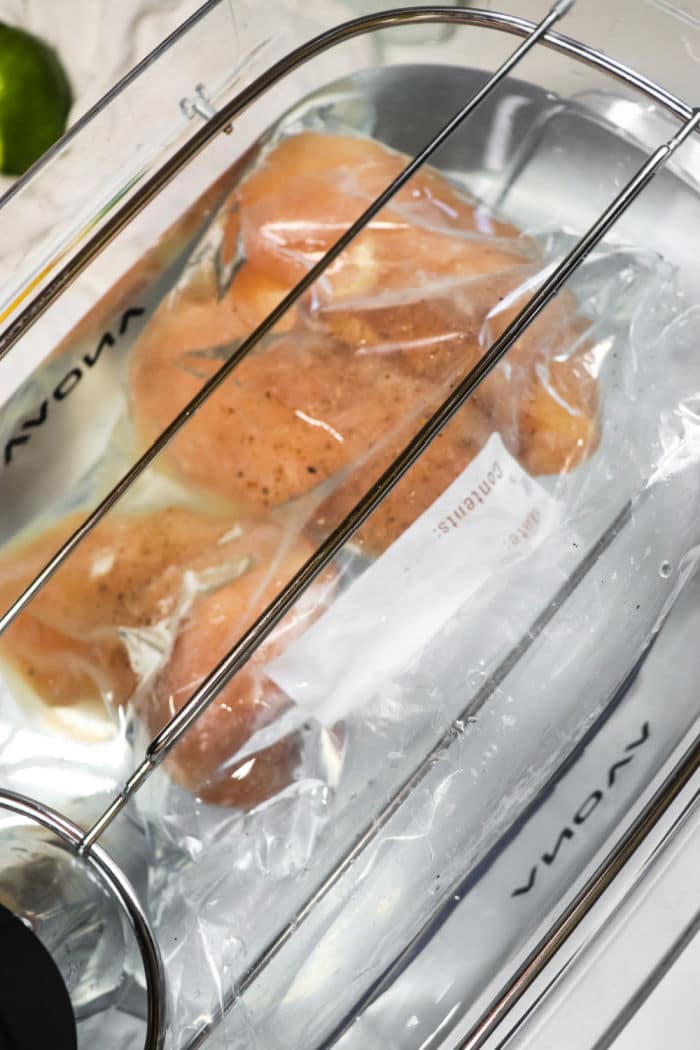 You can leave it in there for quite some time inside the warm water so it stays warm until you're ready to serve dinner. I will talk about that a bit more down below. Similar to using a Crockpot it makes cooking easier and keeping warm a snap.
How to cook sous vide from frozen
This isn't just for poultry either, we have cooked sous vide frozen steak to medium rare too.
How long do you cook frozen chicken in sous vide?
Timing depends more on the temperature and how large your pieces are. Frozen chicken thighs in sous vide or chicken breasts would take about 30 minutes longer than if they were defrosted. Similar to using a slow cooker, there is very little difference.
How long can you leave chicken in sous vide?
Generally up to 4 hours. This is a great cooking method if you have a bunch of dishes going and you want to keep your meat warm until you're ready to serve everything.
Sous Vide Frozen Chicken Thighs
140 F for 2.5 hours work well. Boneless works better if you ask me. You want the protein to become tender so depending on how large or small they are the general rule would be 2-4 hours before they reached perfection.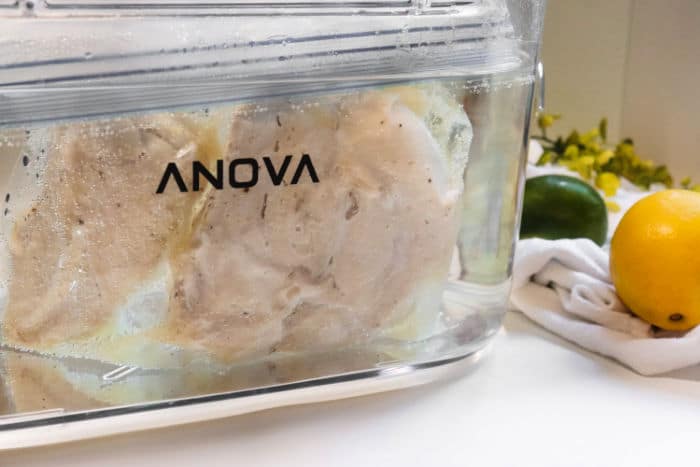 Sous Vide Chicken Frozen
You're not going to treat this any differently than if you were out of the fridge. Use whatever seasonings you normally would if you were cooking frozen chicken breasts in oven. It may not stick really well at the beginning but as they thaw in the sealed tight bag it will permeate the meat.
Place frozen chicken breast in a freezer gallon size Ziploc bag (or vacuum sealed bag). Add lemon and lime juice, salt and pepper, and all of the seasonings you desire. Seal your bag, squeezing out all the remaining air out.
Fill Sous Vide precision cooker machine cavity with water. Place bag in the water. Insert Sous Vide probe and plug it in.

Use your phone app to set cooking time. Temperature should be 149° for 2.5 hours (depending on thickness – medium boneless was used).
If it is not to temp, seal plastic bag again and add another 30 minutes, then check again.

Cook the chicken until it reaches 165 F internally
To crisp the outsides a bit you'll want to melt the butter in cast iron skillet over medium high heat to brown both sides.
Or you can crisp the outside like we did with our perfectly cooked Ninja Foodi chicken breast. You can just serve tender and juicy as is but a little seared texture on the outside is kinda' nice. You can do this quickly in an air fryer at 400 degrees preheated for just 2-3 minutes or so.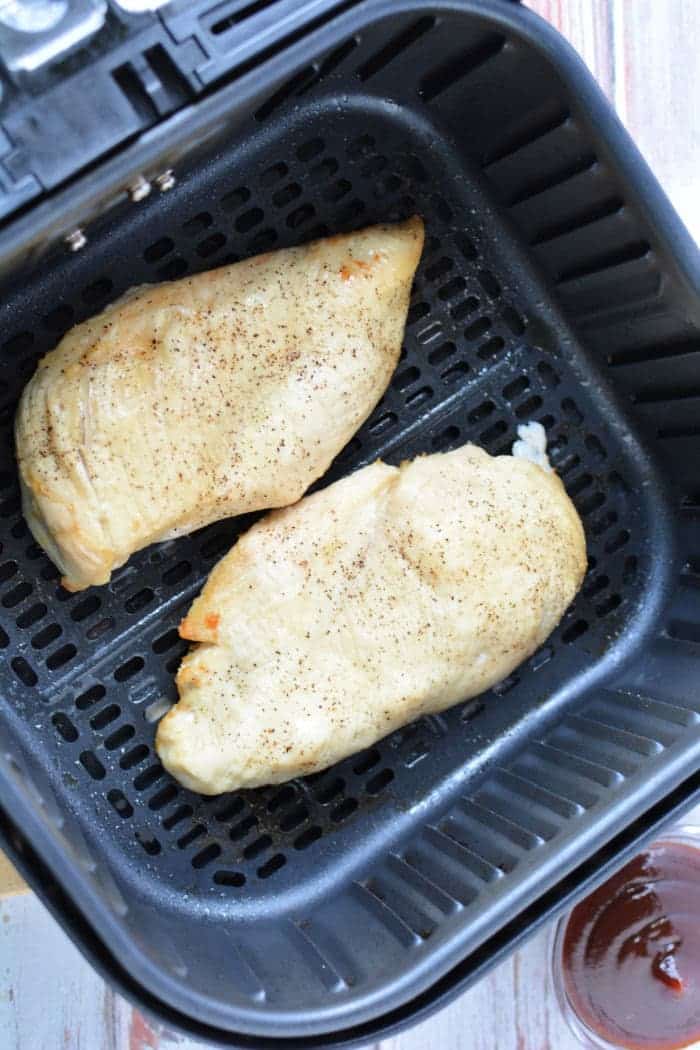 How to sous vide frozen chicken
From there you can brush some spaghetti sauce with a piece of cheese on the top to make a sort of air fryer chicken parmesan. Simpler but adding a lot of flavor? Brush bbq sauce on top of each piece before you crisp so it can bake on and get browned all the way around. 😉
This step of course is not a necessity but a preference for most I'd say. If you have kids I wouldn't bother, especially with toddlers soft is best. You can almost cut it with the side of a fork it is so soft which is perfect for new eaters or mixing with other ingredients like in our chicken stuffed peppers.
Frozen Chicken Sous Vide
If you have leftovers wait until they are cooled and store in a new freezer bag in the fridge. You should use them in a new meal within the next 3 days or so ideally. There are so many leftover chicken breast recipes on our sit to choose from.
Next day you can easily dice up what is left with some mayo and bread to make or pickle chicken salad for lunch. That is probably my go to if I do have leftovers from this. Because it is so very moist it just literally melts in your mouth. If you love casseroles the possibilities are endless from there for sure.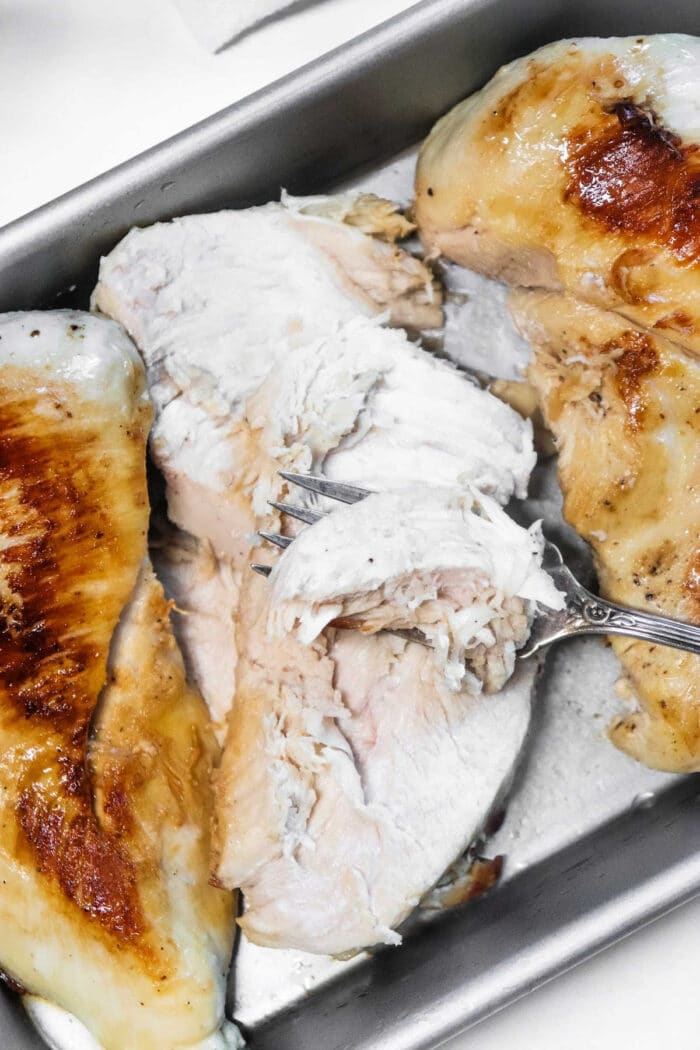 How to cook juicy frozen chicken breast
Now that you have that down you can jump to recipe card below and get started. Sous vide cooking is super convenient if you want to prep it, set it, and forget it until it says it's done. Quick meal prep as the machine does all the work for you. No matter what brand you have they most all work the same and make your life easier
Next to my pressure cooker this has been a game changer when it comes to cooking family meals we all love. You can cook all different types of protein this same way but I will say that chicken and fish is the best. Neither of those really need a sear on the outside for most people, as tender as possible is best.
It saves quite well if you have leftovers too in freezer bags to use the next day inside a second dish. Give it a try yourself and you may find that nothing else compares to this.
Sous Vide Chicken Breast
Want to see a few of my favorite things that I am totally obsessed with?? Take a peek and see how many you might already have…twinsies!
Looking for more easy family recipes and tips? LIKE The Typical Mom Facebook page?
Then sign up for my free newsletter, and follow me on Pinterest! 😉
***** If you LOVED this recipe give it 5 Stars below and let everyone know what you thought about it. 😉
Sous Vide Frozen Chicken Breast
Sous vide frozen chicken breast instructions to go from rock hard to fork tender. Best way of how to cook frozen chicken sous vide style.
Instructions
Place frozen chicken breast in a freezer gallon size ziploc bag. Add lemon and lime juice and salt and pepper to chicken. Seal bag, squeezing out all the air.

Fill Sous Vide container with water. Place ziploc bag in water. Insert Sous Vide cooker and plug in. Use phone app to set cooking time. 149° for 2.5 hours.

When the chicken is finished cooking and has reached 165 F internally, melt butter in skillet over medium high heat. Quickly brown both sides of the chicken breasts. Serve.
Nutrition Facts
Sous Vide Frozen Chicken Breast
Amount Per Serving (2 oz)
Calories 245
Calories from Fat 90
% Daily Value*
Fat 10g15%
Cholesterol 124mg41%
Sodium 532mg23%
Potassium 639mg18%
Carbohydrates 1g0%
Protein 36g72%
Vitamin A 229IU5%
Vitamin C 5mg6%
Calcium 12mg1%
Iron 1mg6%
* Percent Daily Values are based on a 2000 calorie diet.