Chicken stir fry marinade recipe with an Asian flare. Make spicy or mild with soy sauce and a sort of teriyaki flavor perfect for boneless skinless teriyaki thighs or chicken breasts.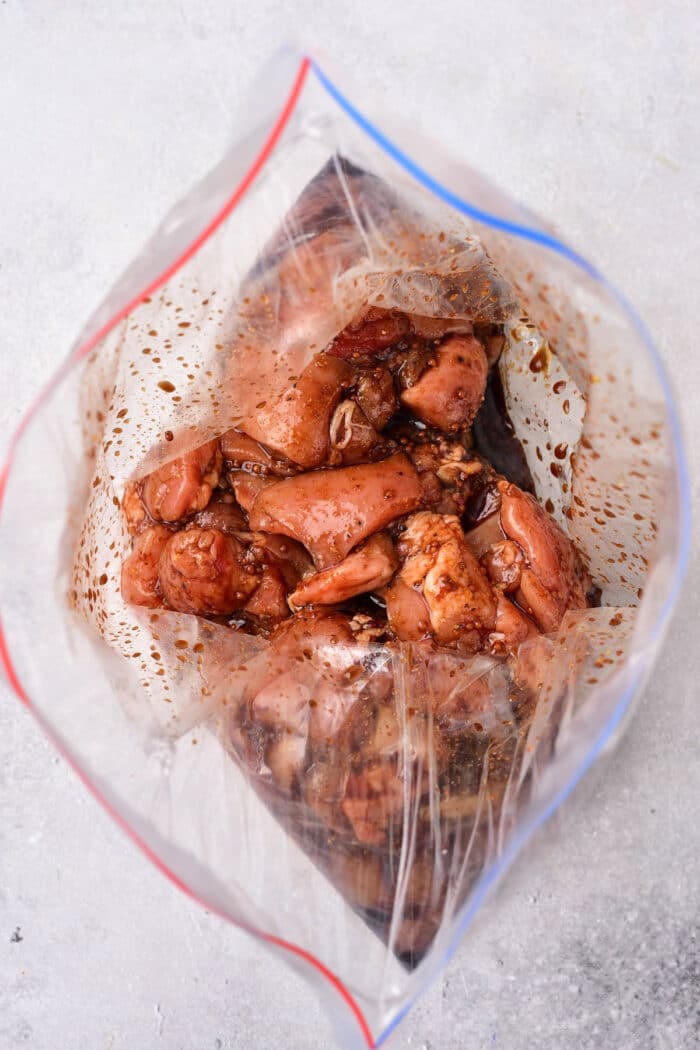 We love an easy chicken marinade for stir fry, to bake or even throw it in our pressure cooker when done. Let it sit for an hour or overnight for a stronger flavor and bring your poultry to the next level with tons of flavor with this sauce. (affiliate links present)
Stir Fry Chicken Marinade
We have made this with a bunch of our other chicken teriyaki recipes, you don't have to only use thighs either. I will tell you that this dark meat is the hidden treasure though for sure. I veered away from it for years, like a long time. It wasn't something my mom was familiar with so she didn't serve them often.
I was at the store a few years into motherhood and they were so cheap I just couldn't pass them by. I figured that was a great time to start experimenting with them and OMG I fell in love. Ever since then I have mad so many chicken thigh recipes of all kinds. If something is typically made with white meat, I substitute it with these.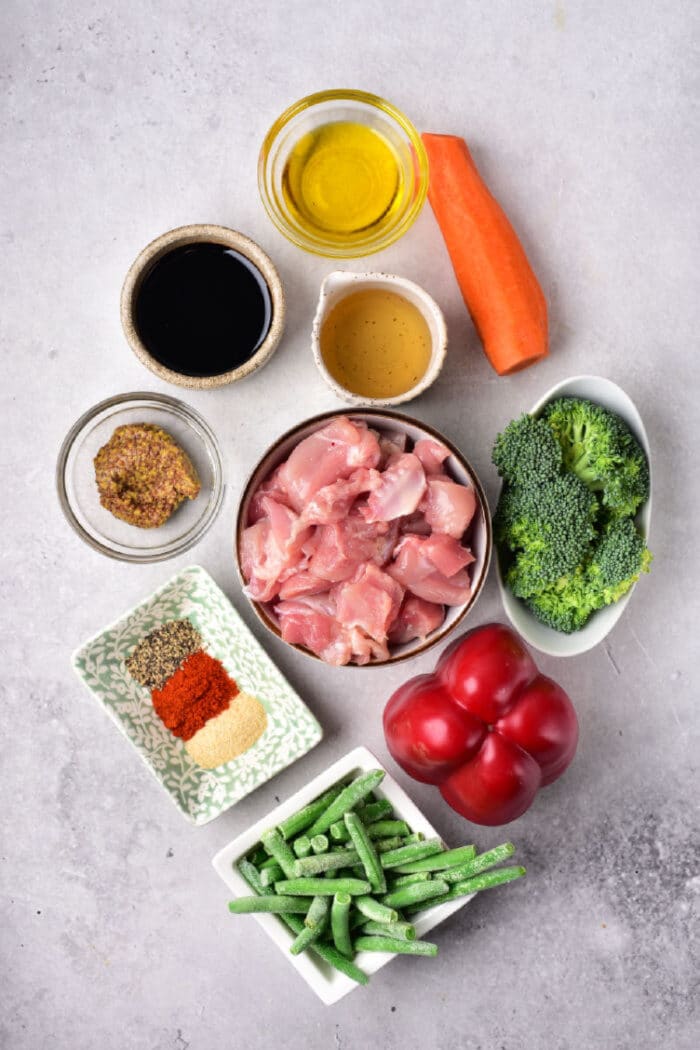 You get SO much more flavor with dark meat and many times they are half the price of other cuts. Chicken leg quarters are even cheaper with the legs still attached, you can use it for that too. If I am going to make a stir fry out of the meat it is easier if I can find boneless skinless thighs for sure knowing I'm pulling the meat off when it is done.
Sometimes those are crazy expensive so I basically grab what is on sale and go with that. Bone-in just takes a bit more work on my part to dice it up and add it to my sauce. It is easier to cut it up beforehand because it will soak in more that way, then cook with the vegetables later on.
Stir Fry Marinade
Two things I have used to make this spicier. Sriracha works well, or red pepper flakes is something I always have on hand and works well too. If you like a sweeter blend with brown sugar try what we used in our Instant Pot teriyaki chicken thighs recipe. You will need the following for this stir fry marinade recipe.
4 tbsp soy sauce – or aminos are gluten free
Honey
1 tsp mustard seeds
2 tbsp olive oil
Paprika
Garlic powder
1/2 tsp pepper
Minced garlic or ginger could be added too if you chose too. Super quick and easy to whisk it up together.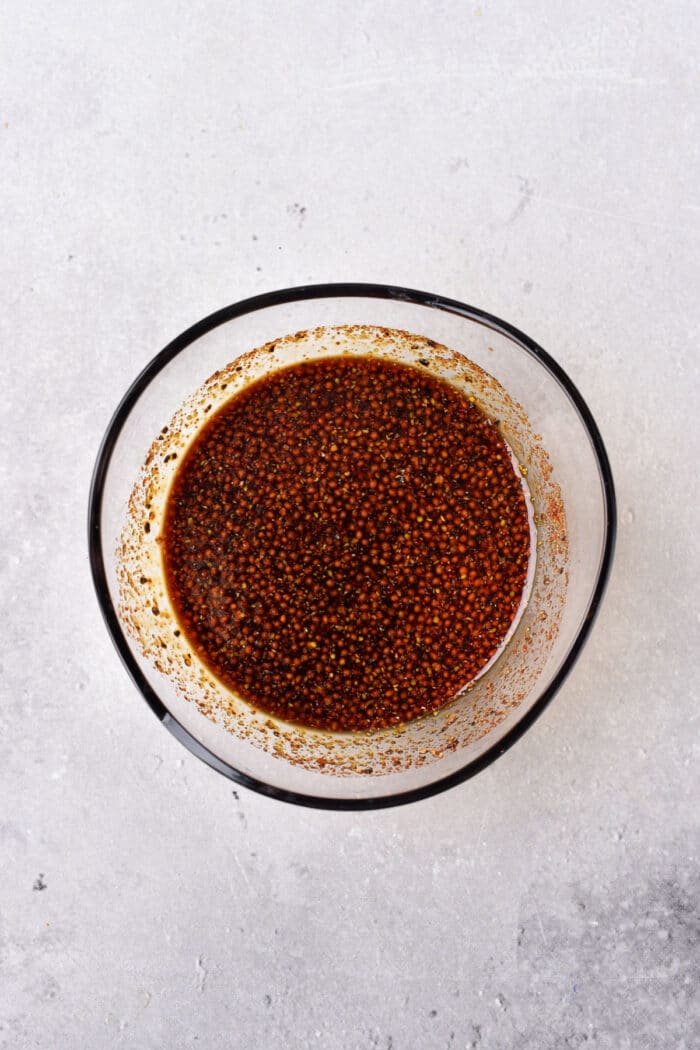 Marinade for Chicken Stir Fry
Yes it is easier to use whole chicken brine but if you are going to cook with veggies and want a stronger flavor you should cut off the bone.
Step one: you are going to cut up the chicken thighs or meat of your choice into large bite size pieces or thin slices. Remove and discard any excess fat at this time.
Step two: transfer pieces into a freezer bag like a ziplock. Pour in the marinade and mix everything together well so each piece is coated.
Step three: place into refrigerator flat for a minimum of 20 minutes, it can sit overnight if you want deeper flavors, no longer than that though.
Step four: remove meat, saute, make slow cooker boneless skinless chicken thighs or cook however you'd like until it reaches 165 degrees.
Most will use a large skillet or cast iron pan, heat to medium high heat with a bit of olive or toasted sesame oil to make a Chinese stir fry recipe. Slice bell peppers, dice green onions, add marinated chicken stir fry meat and if you boil the remaining liquid you can add that too. Cook chicken thighs at 375 degrees until to temp and serve with sesame seeds on top.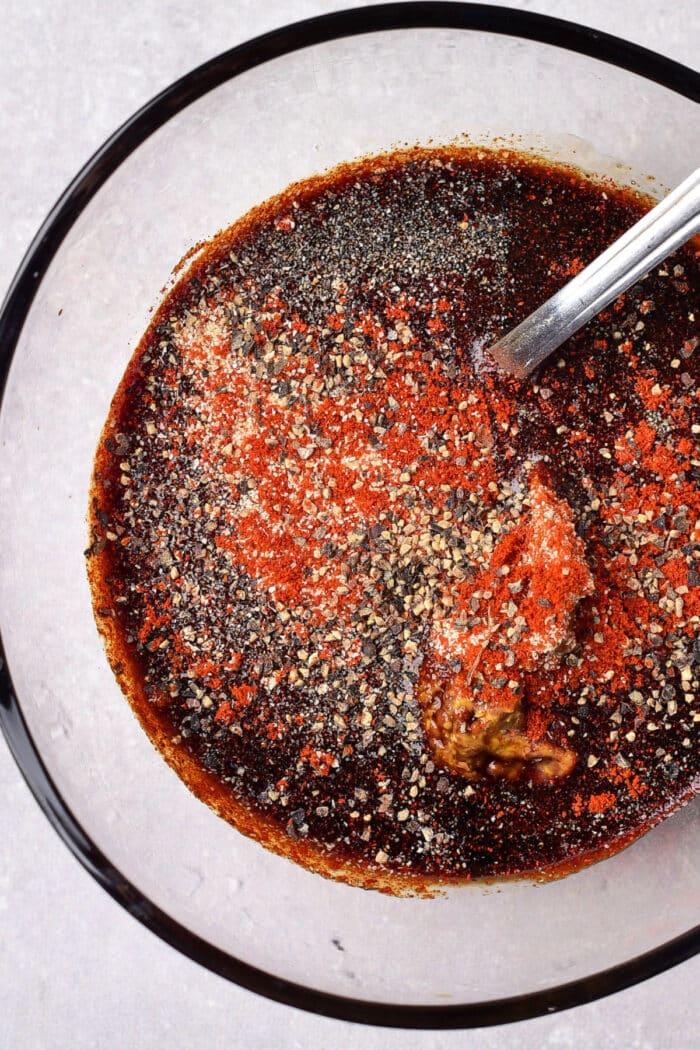 How Long Should you Marinate Chicken
The length of time to marinate chicken can vary depending on the recipe and the desired flavor. As a general rule, you should submerge your pieces for at least 30 minutes and up to 24 hours max.
If you're short on time, even a quick 15 to 30 minute soak can add flavor and tenderness to your poultry. However, for more intense flavors and tenderizing effects, it's best to marinate for a good 2 to 4 hours or even overnight. It's important to note that marinating for too long can result in a mushy texture and an overpowered flavor. So, after 1 full day it needs to be cooked in one way shape or form for ideal results.
Can you Cook With a Marinade After Meat Has Soaked in it
Yes, you can cook with this or our Mediterranean chicken marinade after soaking, but it's important to follow food safety guidelines. If you plan to using it as a sauce or to baste the meat while cooking, you should first bring it to a rolling boil in a saucepan. This will help to kill any bacteria that may have been introduced during the marinating process.
Can you Save Leftover Marinade
Yes, you can save leftover sauce, but it's important to handle it properly. If it has come into contact with raw chicken, it should not be reused unless it's first brought to a rolling boil for at least two minutes to kill any bacteria. Alternatively, you can use the leftovers as a base for a sauce or dressing, but again, it should be brought to a boil first.
If it has not come into contact with raw meat, you can store it in an airtight container in the refrigerator for up to one week. Keep in mind that the flavors will intensify as it sits, so adjust the seasoning before using it again.
Want to see a few of my favorite things that I am totally obsessed with?? Take a peek and see how many you might already have…twinsies!
Looking for more easy family recipes and tips? LIKE The Typical Mom Facebook page?
Then sign up for my free newsletter, and follow me on Pinterest! 😉
***** If you LOVED this recipe give it 5 Stars below and let everyone know what you thought about it. 😉
Chicken Stir Fry Marinade
Chicken stir fry marinade recipe with an Asian flare. Make spicy or mild with soy sauce and a sort of teriyaki flavor for thighs or breasts.
Instructions
Chicken thigh, cut into pieces, transfer to a bag with a ziplock. Pour in the marinade and mix everything. Close the bag and refrigerate for a minimum of 20 minutes. Can sit overnight if you want deeper flavors, no longer than that though.
Nutrition Facts
Chicken Stir Fry Marinade
Amount Per Serving (1 oz)
Calories 48
Calories from Fat 36
% Daily Value*
Fat 4g6%
Sodium 503mg22%
Potassium 30mg1%
Carbohydrates 3g1%
Protein 1g2%
Vitamin A 62IU1%
Vitamin C 0.04mg0%
Calcium 4mg0%
Iron 0.3mg2%
* Percent Daily Values are based on a 2000 calorie diet.