This easy garlic whole chicken brine makes your meat so flavorful and tender! Soak overnight or for a few hours to enhance flavors before you bake, pressure cook or smoke a whole chicken for dinner.
This easy chicken brine recipe makes a huge difference when it comes to giving your meat the most possible flavor. Simple to mix together, let it sit and then bake as you wish. Easy peasy way to tenderize poultry with 3 basic ingredients and enjoy for dinner this week. (affiliate links present)
Overnight Chicken Brine
You don't have to rest it for 12-24 hours, but 4 is kinda' the minimum. For our simple turkey brine we definitely do it overnight but it is a much larger bird and needs more time for sure. Typically that is the time of year you think about brining right? Why wouldn't you do it year round though because it makes it so much better??
Good question, you should y'all!! This is going to be a game changer for you folks. Now you won't be able to do this with a frozen whole chicken, that won't work. In that case give yourself 1-2 days of it sitting in the fridge defrosting before you go forward with this step.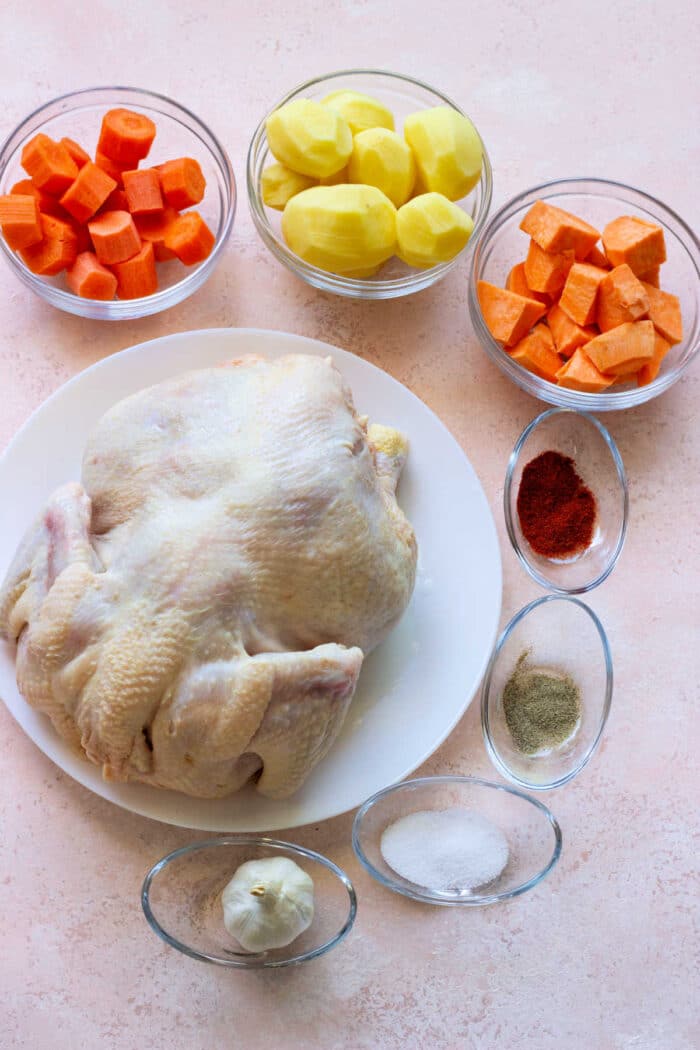 How to Brine a Whole Chicken
You are only going to need a few ingredients to make this, the main ones are sea salt and water. Beyond that you can include things like fresh herbs, we love garlic on all the things so that is always a given but can be swapped out for others. If you wanted to make our Bacon Wrapped Stuffed Chicken you'd need to do it beforehand and pat dry when done.
Prepare the brine solution in a large container or pot. The base is typically water with kosher salt or sea salt, about 1/4 cup of salt per quart of water. Stir the mixture until the salt is dissolved.

You can add herbs, spices, or aromatics to the liquid to enhance the flavor of the meat. This step is optional but can add extra depth to the brine.

Common additions include bay leaves, black peppercorns, garlic cloves, thyme sprigs, rosemary sprigs, etc.

Submerge the chicken into the container or pot with the brine solution. Ensure that the bird is fully submerged. If needed, you can place a weight or plate on top to keep it submerged.
Cover the container or pot and refrigerate it. The chicken should be left to brine for at least 4 hours, but ideally overnight (around 12-24 hours) for maximum flavor and tenderness. Longer times can result in overly salty proteins, so be mindful of the duration.
Remove and rinse after time is complete, to remove any excess salt. Dry skins with paper towels.
Cook brined chicken using your preferred cooking method, such as roasting, grilling, or frying. Follow your chosen recipe or cooking instructions, keeping in mind that this step may reduce the required cooking time slightly due to the increased moisture content.
Brining is a popular technique for whole chickens, as it helps retain moisture and results in a flavorful and juicy finished product. Experiment with different flavors and seasonings to customize the taste to your liking. If you are making a stuffed whole chicken you would want to submerge it prior to adding ingredients inside.
How Long to Brine Whole Chicken
If you wanted to know how to spatchcock a chicken we share that whole process here. I would do that after soaking, but either way works. If you did so before it wouldn't take quite as long to get the same result as it is flattened and thinned out. Another benefit to this style is that it cuts down the cooking time quite a bit too when you're ready to cook it.
If you have a Traeger we love to smoke spatchcocked chicken because you can really coat your dry rub all over. Works on a sheet pan in the oven too, on the grill or just keep it whole. We have done ALL THE THINGS so really it is personal preference as far as that goes. Here are a few questions you might have before getting started;
Should you brine whole chicken?
Yes!! It is a great way to make the tenderest whole chicken you have ever tasted before! Just whisk up the ingredients we share below, submerge your bird and refrigerate for 4 – 24 hours and then cook as you wish! This adds moisture and a ton of flavor to your thighs, chicken breast pieces, lets and wings.
Do you cover chicken when brining?
Yes, if you keep it in a pot in your refrigerator (ideally) you should cover the top with plastic wrap or foil. If you have a lid for your pot then by all means you could use that instead but it is best in a contained container.
Do you have to boil water to brine chicken?
Absolutely not. With our garlic salt chicken brine we just stir enough until the salt dissolves in the water. If you do boil the ingredients you will have to wait a few hours until that liquid cools completely before adding your meat or else it will begin to cook and you do NOT want that to happen.
Chicken Brine Recipe
We share how long to cook a whole chicken a number of different ways once you have it ready for some heat. You may already have a favorite of yours but I do encourage you to consider trying another. We have done so in a Dutch Oven which is great if you want to cook potatoes, carrots and other vegetables together with it. This is typically what we use in ours;
Chicken Brine Ingredients
16 c water
4 tbsp minced garlic
1 cup white or brown sugar and sea or table salt
2 bay leaves
1/2 tsp oregano and dried thyme
You will need a large pot, enough for the bird and a gallon of brine to fit and be submerged. You just; Pour cold water, garlic, sugar and salt into your stock pot and stir for a few minutes – should take 15 minutes total or so. Then place your whole or pieces of turkey into pot and cover with plastic wrap.
Cover and refrigerate for 4 hours minimum to 12 hours – 24 hours / overnight. The next day lift it out, pour out liquid in cavity, and rinse quickly with cool water. Pat it dry and bake as you would like to get a flavorful roasted bird that needs no sauce or seasonings beyond this really. Good as is!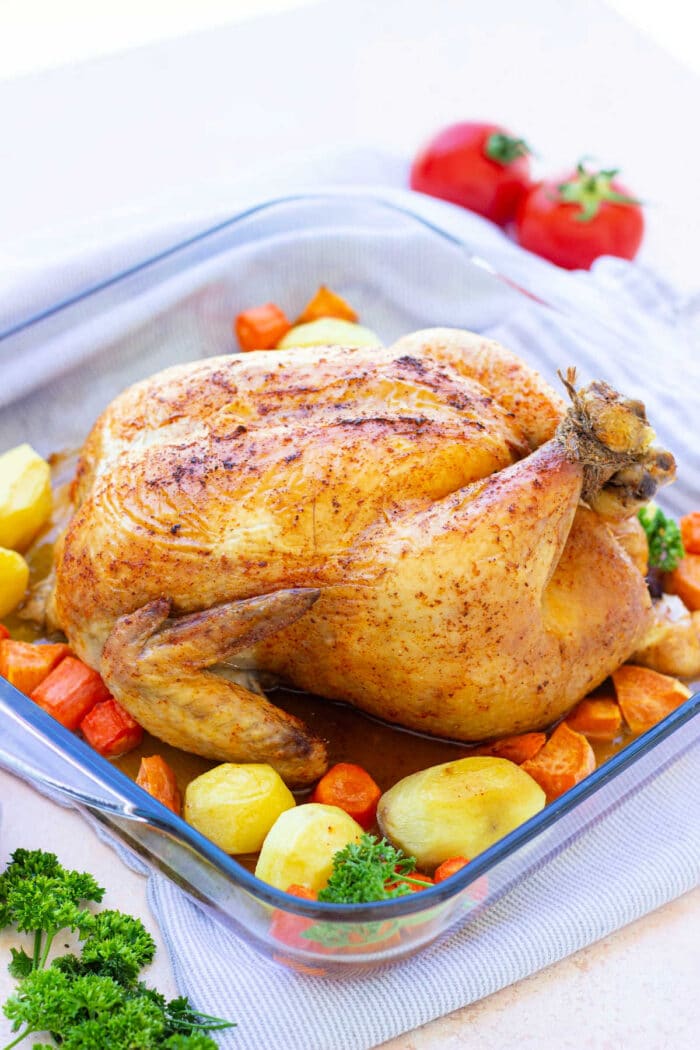 Want to see a few of my favorite things that I am totally obsessed with?? Take a peek and see how many you might already have…twinsies!
Looking for more easy family recipes and tips? LIKE The Typical Mom Facebook page?
Then sign up for my free newsletter, and follow me on Pinterest! 😉
***** If you LOVED this recipe give it 5 Stars below and let everyone know what you thought about it. 😉
Whole Chicken Brine
This easy garlic whole chicken brine makes your meat so flavorful and tender! Soak overnight or for a few hours to enhance flavors.
Instructions
Pour cold water, garlic, sugar and salt into your stock pot and stir for a few minutes to get ingredients to dissolve.

Put whole or pieces of turkey into pot and cover with plastic wrap. Store in fridge for 4 hours minimum to 24 hours – overnight.

Next day lift it out, pour out liquid in cavity, rinse quickly with cool water. Pat skin dry and bake as you would like.
Nutrition Facts
Whole Chicken Brine
Amount Per Serving (1 oz)
Calories 129
Calories from Fat 1
% Daily Value*
Fat 0.1g0%
Polyunsaturated Fat 0.003g
Monounsaturated Fat 0.002g
Sodium 18894mg821%
Potassium 8mg0%
Carbohydrates 33g11%
Protein 0.03g0%
Vitamin A 13IU0%
Vitamin C 0.3mg0%
Calcium 35mg4%
Iron 0.3mg2%
* Percent Daily Values are based on a 2000 calorie diet.