Easy Irish soda bread recipe you can make with no yeast or kneading required. Great flavor to serve during St. Patricks Day or year round with dinner.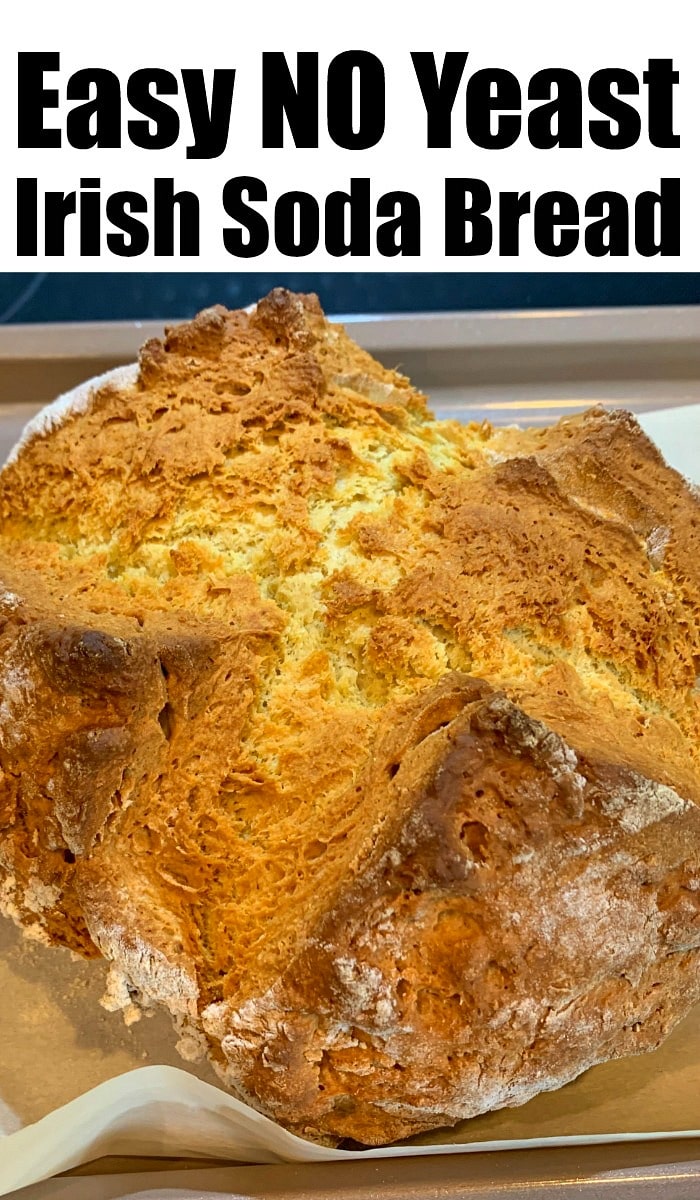 We were craving a homemade bread but had no yeast available to us. Sad day. I remembered how easy Irish soda bread was to make so we went with that. Man did it satisfy our craving and thought we'd share our loaf creation with y'all today. 😉 (post may contain affiliate links present, originally published 4/20)
No Yeast Irish Soda Bread
Normally when baking bread at home you need one key ingredient (yeast)…which I couldn't find in stores at all! This no yeast bread recipe was perfect for dinner.
My oldest daughter actually did it all from start to finish which was nice. So great to have kids who love to bake and help in the kitchen for sure. Served with butter it was the perfect side dish we were all craving that evening.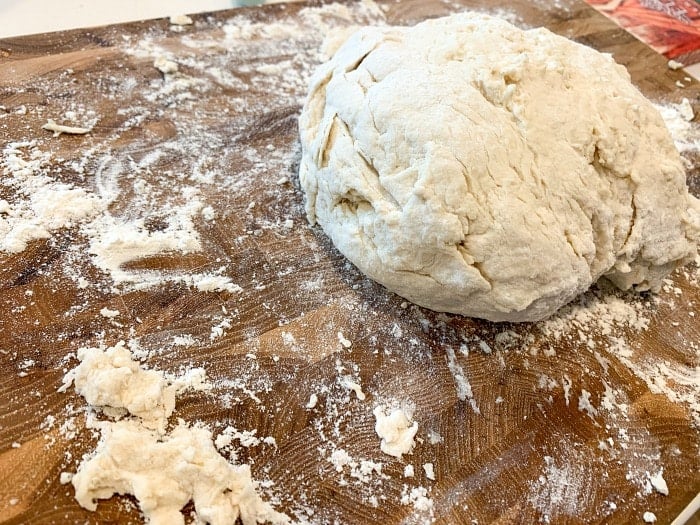 3 Ingredient Bread No Yeast
You just start out with a large bowl and spoon. No stand mixer necessary as there are only a few ingredients you need to incorporate together. If you really want to use that KitchenAid though, go right ahead with a paddle attachment.
Once your Irish soda bread dough is mixed with the wet and dry ingredients it will look like this.
A bit dry looking but that is perfectly okay, it will turn out amazing I promise.
Form it into a ball with the same thickness all the way across so it bakes evenly.

You don't want the outside to be crispy and done with the insides still a bit sticky.

Then put an X with a knife on the top so it can expand a bit and voila!!

Some like to sprinkle caraway seeds on the very top, we didn't
Parchment paper is my friend in the kitchen for sure. Yes all of my baking sheets are non stick but it is way easier to just pull this off and have a clean sheet underneath. Some like to bake it in the middle of a cast iron skillet.
Is Irish soda bread really Irish?
It is an Irish tradition for sure to make this type of dense, unleavened bread. Traditional Irish soda bread is made with flour, buttermilk, salt, sugar, and baking soda, it is popular because there is no need for yeast.
Introduced around the time of the Irish potato famine of 1845 or so, it's a great recipe served with corned beef on St. Patricks Day. That is NOT the only day you should make this though!
Irish soda bread ingredients
All purpose flour

remember how to measure flour properly
here is our all purpose flour substitute guide if you can't find it at all

Baking soda and salt
Room temperature buttermilk
Lightly floured surface to knead the dough just a few times
Sharp knife to slice when done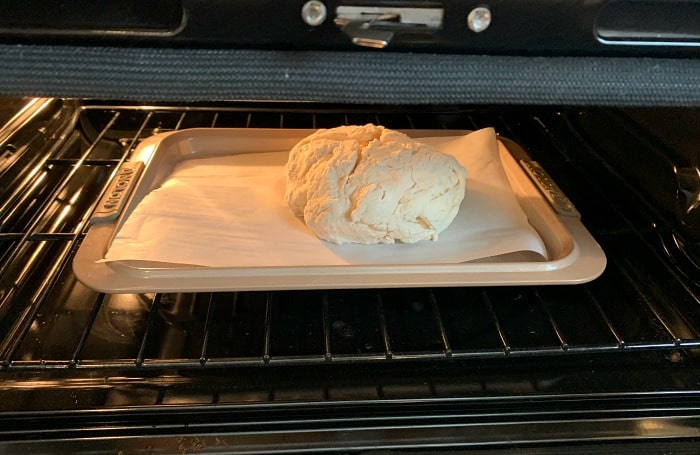 You want the top to be a deep golden brown when done. Yes you should serve warm, just slightly. You do want to make sure it has time to rest once it is out of the oven for sure or it will fall apart when sliced. This will serve 6 or so. If you wanted to serve more I would make two side by side vs. doubling it into one larger round.
How do you serve Irish soda bread?
I mean typically this is eaten during St. Patricks day but honestly it is so easy and yum that you shouldn't stop there. Year round is yummy and with dishes beyond corned beef. It is a bit like our 3 ingredient beer bread really. If I am making a soup or something that needs a side carb they are simple and always a hit.
Cut it into equal slices and serve it warm with your main dish, or for breakfast.

Spread butter on top
Serve with homemade jam or orange marmalade
Of course a main dinner that is popular with this is a hearty stew or sausage
This is a no yeast quick bread of sorts since there's no real need to wait and let the dough rise or turn dough more than just a handful of times. 8-10 times on a cutting boards with the palms of your hands is plenty really.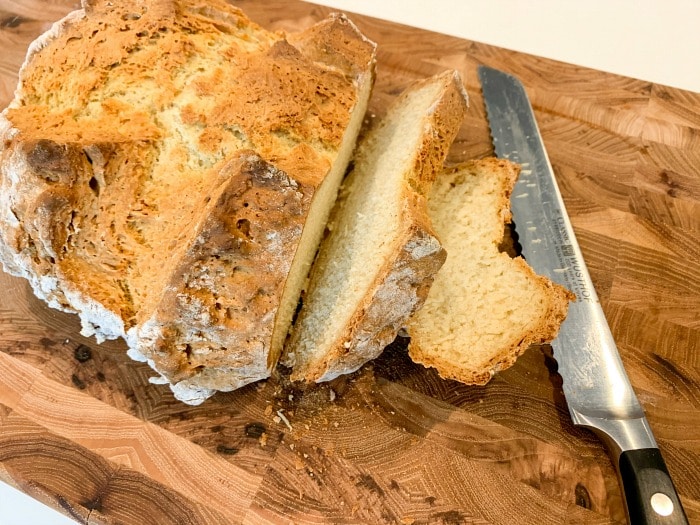 You can prepare a loaf in just about 15 minutes and it's baked perfectly in 35 minutes. Bake time will vary slightly depending on your altitude and how crispy crunchy you like the outsides.
This was in the oven for 38 minutes because we like a deeper color but if you wanted it less just check it a few minutes beforehand.
The key is ensuring the middle is cooked through.
How do you know when Irish soda bread is done?
Since the outside is quite hard you can't touch it like sandwich bread or something. Instead there are a few tips on ensuring that the very middle is done all the way thru. You wouldn't want to have any stickiness inside.
To do this a knife in the middle will be a good determiner

Look at the X in the center. If it's lost that shiny wet dough look then it should be done.
You can also knock the bottom with your knuckles. Listen as to whether it sounds hollow when tapped or not. If it does, it should be fully cooked thru to the center.
Looking for another no yeast bread type of recipe? Try our homemade flour tortillas too. They are flatter but too only use a few ingredients. I have made these in a pan on the stove or in my air fryer too which is nice. Give them both a try and see which is your fave.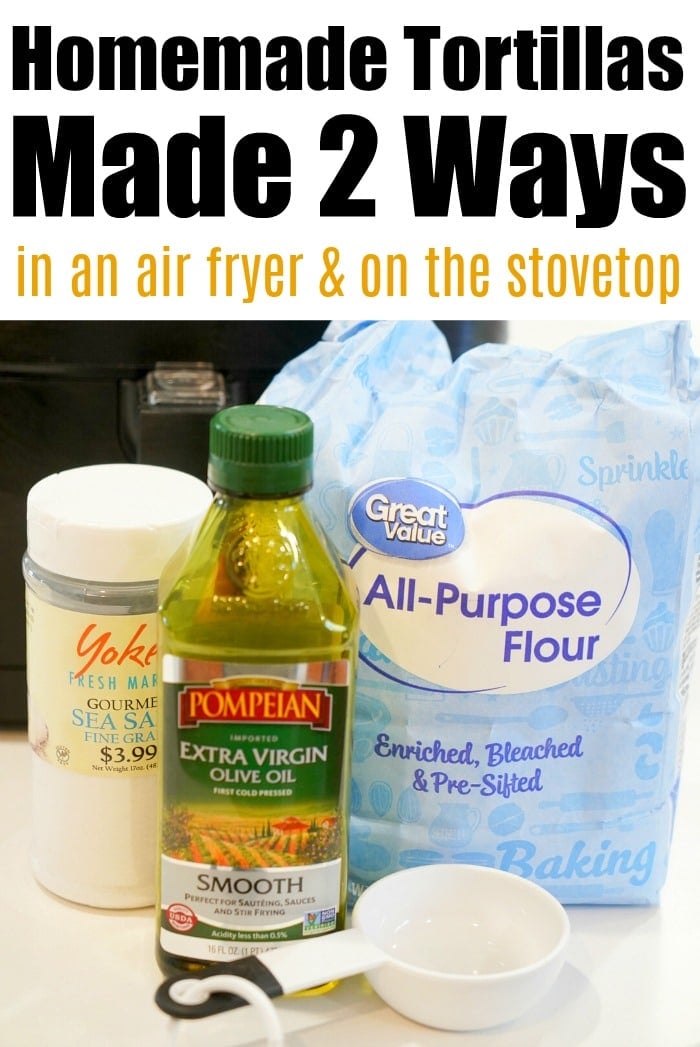 What are you waiting for? Make this for dinner, and try our soda cake recipe for dessert too! AND if you want to make other no yeast bread recipes, here's how to make sourdough starter from scratch.
Want to see a few of my favorite things that I am totally obsessed with?? Take a peek and see how many you might already have…twinsies!
Looking for more easy family recipes and tips? LIKE The Typical Mom Facebook page?
Then sign up for my free newsletter, and follow me on Pinterest! 😉
***** If you LOVED this recipe give it 5 Stars below and let everyone know what you thought about it. 😉
No Yeast Irish Soda Bread
No Yeast Irish soda bread recipe you can make with no yeast or kneading required. Great flavor to serve during St. Patricks Day or year round with dinner.
Instructions
Preheat oven to 430 degrees.

Stir together salt, baking soda and flour. Then pour in buttermilk and stir a few times, just until flour is incorporated and it is too hard to stir anymore.

Very lightly flour a cutting board and put dough on, knead 8 times with heels of your palms. Make into a ball.

Put a piece of parchment paper on a cookie sheet and place ball dough in middle.

Use a knife to cut an x in the middle of the dough.

Bake at 430 for 18 minutes, then turn down to 390 degrees F for an additional 20 minutes or until knife comes out clean when placed into the center of the loaf and sounds hollow when knocked on the bottom of the loaf.
Nutrition Facts
No Yeast Irish Soda Bread
Amount Per Serving (2 oz)
Calories 167
Calories from Fat 18
% Daily Value*
Fat 2g3%
Cholesterol 4mg1%
Sodium 491mg21%
Potassium 96mg3%
Carbohydrates 32g11%
Protein 5g10%
Vitamin A 66IU1%
Calcium 52mg5%
Iron 2mg11%
* Percent Daily Values are based on a 2000 calorie diet.