Homemade donut holes are puffy and sweet. The perfect sweet treat for breakfast or dessert at your home this week. They're easier to make than you think.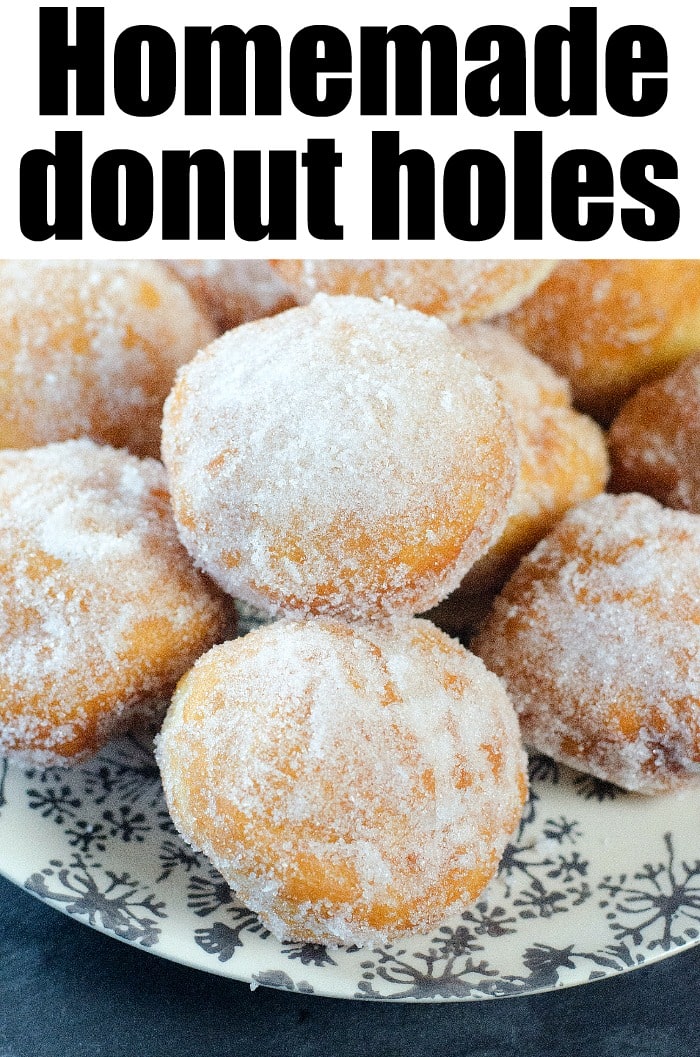 Ready to make homemade donut holes for breakfast or dessert? We will break it down to make it easy. Sprinkled with powdered sugar they're a great treat for everyone in the family.
Homemade Powdered Sugar Donut Holes
Of course you could make semi homemade donuts with biscuits but starting from scratch is always better. You can adjust the flavor and sweetness from the get go too which is awful nice.
We made this Instant Pot donuts the other day. They were amazing and it got us on a doughnut kick so we thought we'd make them the old fashioned way too.
I don't cook from scratch often, but when my girls and I are in a baking mood we love to experiment. Get our your mixer and get ready for some ultimate yum!
The possibilities are endless with these and our cake mix donuts because of the number of glazes and toppings you can add to the outside once they're done. We will get to that later though. Let's get started with doughnuts galore!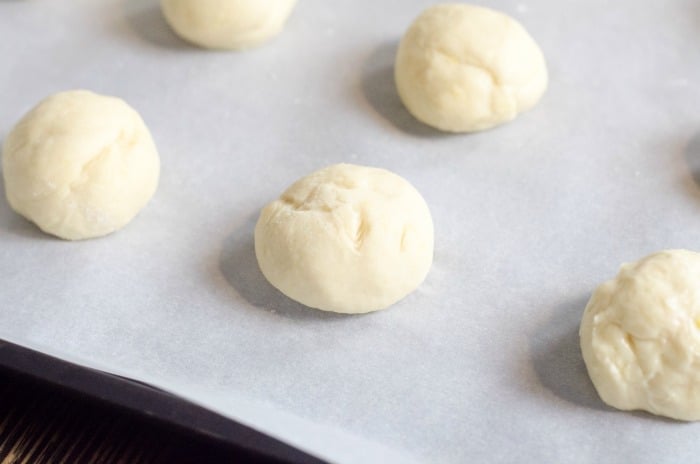 How do you make homemade donuts at home?
It's easier than you think. We chose to make doughnut holes this time with this dough. We have another simple batter where you can bake or air fry filled churros too.
Gather all of the ingredients you'll need
Make the dough. In a medium bowl mix together flour, baking powder, and salt.
Prepare the Coating, Glaze, or Icing you'll want to use.

or use powdered sugar or granulated sugar as we did here

Roll the completed dough
Cut it into equal pieces so they cook at the same rate, or use small ice cream scoop to portion out.
Fry them in hot oil
Sprinkle powdered sugar on, coat or ice them with your choice of topping(s)
Can brush on some melted butter to get the sugar on the outside to stick
Using a stand mixer makes it a lot easier for everyone involved. If you don't have one of these already this is my favorite one I've had for years and years.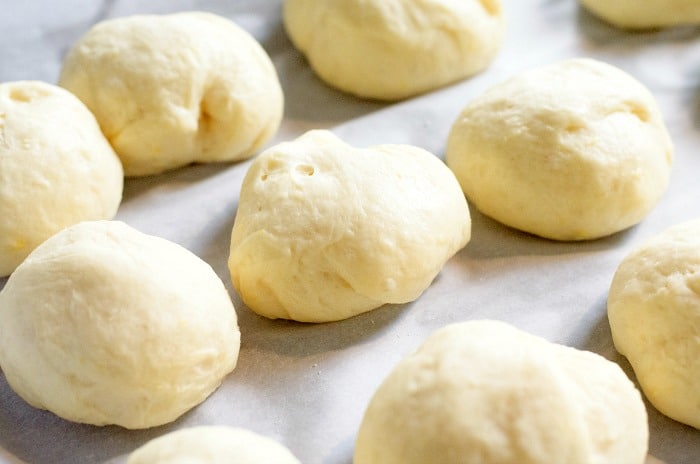 Donut hole recipe
Add lukewarm milk and yeast into your mixer and allow it to bubble. Once this happens in a bowl whisk together dry ingredients; flour, sugar and salt together.
Add this and your room temp. butter + eggs into the mix
Use a dough hook to mix this together for about 10 minutes or until the dough becomes tacky and starts pulling away from the sides.

If it is too sticky you can add 1 tbsp of flour in at a time until this occurs

Place dough in a bowl rubbed with olive oil inside and cover for 1 -1 1.5 hours until it doubles
Cut dough into donuts or donut holes and place on baking sheet lined with parchment paper
Let these sit for an hour until they double in size again
Heat oil until a small piece of dough that's dropped in starts to fry immediately (best technique if you don't have a thermometer)
Fry dough until outsides are a light brown
Roll in coating or cover in frosting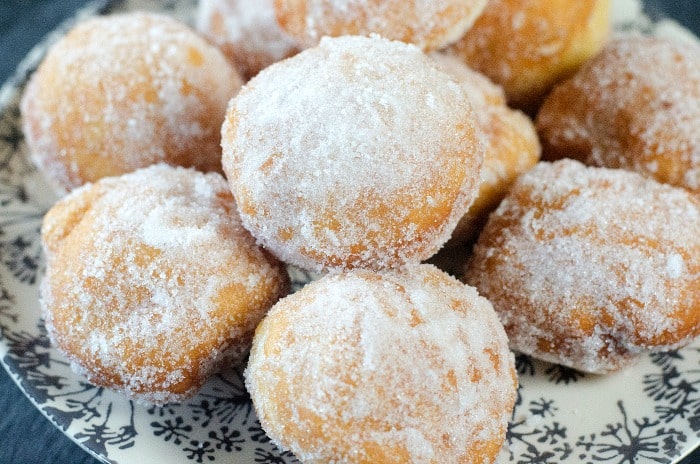 How do you fry donuts without a deep frying?
Use cutters of different sizes, a donut cutter, or a shot glass if you just want donut holes.
Drop them into heated oil that has reached a temperature of 350 degrees F.

You don't want to put them in until oil is hot enough or they will just absorb it and will become very heavy.

Fry for roughly 3 to 5 minutes, or until the dough is completely golden brown on the outsides and the inside is cooked.

After you cook the first one, cut it in half to ensure the middle isn't doughy still. If so turn down the heat just a bit so the outsides don't get done before the inside.

Use a slotted spoon to lift them out and place them on paper towels to absorb any excess oil.
Quickly roll them into cinnamon and sugar or confectioners sugar while they're warm
If you do NOT want to make fried donut holes and use hot air instead, you can try our air fryer donuts instead, they're great! Try the best churros recipe and biscuit donuts too.
Can you use vegetable oil to fry donuts?
Most say the best choices are; vegetable, safflower, sunflower, soy, some quality types of canola oil. Usually, the label will tell you if the oil's okay for frying.
Heat the oil to 375 F.
Once the right temperature is reached, it's important to fry them in small batches so they don't touch in the pan.
What can I put on a donut?
You can make a sort of marshmallow glaze

1/2 cup powdered sugar
1 tablespoon milk
2 tablespoons marshmallow fluff, room temperature or softened slightly in microwave

Cream cheese whipped cream is another choice, at least that's what we call it

Use a hand mixer to combine:

1 container of room temp. strawberry cream cheese
One container of Cool Whip that has been defrosted
Serve this in a bowl and dip donuts in

An espresso glaze is a fun one

1/2 cup powdered sugar
1 tablespoon milk
Or make a chocolate dip like our baked pumpkin donuts have.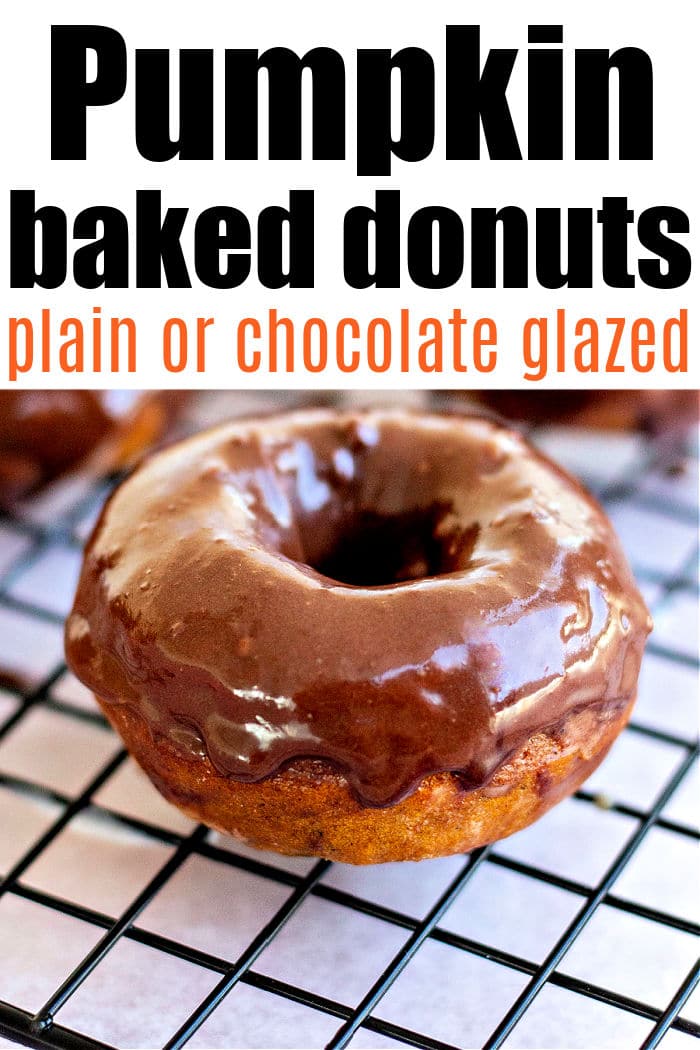 Homemade donut hole recipe
If you do have leftover donuts you can save them for the next day but you need to ensure the least amount of air is around them. That will make them stiff and take the fluff out of them so wrapping them tightly with plastic wrap is great, or store in a freezer bag and suck the air out.
Want to see a few of my favorite things that I am totally obsessed with?? Take a peek and see how many you might already have…twinsies!
Looking for more easy family recipes and tips? LIKE The Typical Mom Facebook page?
Then sign up for my free newsletter, and follow me on Pinterest! 😉
***** If you LOVED this recipe give it 5 Stars below and let everyone know what you thought about it. 😉
Homemade Donut Holes
Homemade donut holes are puffy and sweet. The perfect sweet treat for breakfast or dessert at your home this week. They're easier to make than you think.
Instructions
Add lukewarm milk to a stand mixer bowl, sprinkle in your yeast. In 5 min. bubbles will start to form, once this happens add your eggs, 2 tbsp sugar, salt, flour, and room temp. butter.

Use a stand mixer with a dough hook to knead the ingredients for 10 minutes or until they form a smooth tacky dough. It should pull away from the sides of the bowl to be the ideal texture.

If it is too sticky add 1 tsp of flour in at a time until it is the right consistency to pull away.

Put the dough on to a flat surface and use both hands to work it into a large bowl. Don't flour the surface or it will become too dry.

Place dough in a lightly greased bowl with olive oil and cover it with plastic wrap. Let it rest for an hour and a half until it's doubled in size.

Now take the dough and divide into 12 equal pieces. Work them in the palm of your hands one at a time until each donut is rolled and compact.

Line a baking sheet with parchment paper and put donuts on it. Cover and let dough riser again for about an hour so they double in size again.

Place oil in frying pan on medium/high heat. You will know it is hot enough to fry them in if when you put a tiny piece of dough in it it begins frying almost immediately.

Put 2 at a time into the oil flipping when they are golden brown. Take out when both sides are golden brown and place on a baking rack or a few sheets of paper towels to absorb some of the oil.

When they are all done roll them in the last 2 cups of sugar so they are nicely coated and serve.
Nutrition Facts
Homemade Donut Holes
Amount Per Serving (2 oz)
Calories 366
Calories from Fat 45
% Daily Value*
Fat 5g8%
Cholesterol 50mg17%
Sodium 175mg8%
Potassium 66mg2%
Carbohydrates 76g25%
Protein 5g10%
Vitamin A 131IU3%
Calcium 28mg3%
Iron 2mg11%
* Percent Daily Values are based on a 2000 calorie diet.