Here's a healthy oven fried fish recipe that tastes incredible and really easy to make!! Crispy fish cooked in the oven so it's healthier than fried but as crispy as ever. If you're looking for a easy way to make homemade fish sticks this is it. My kids are huge fans and I'd never make it any other way again.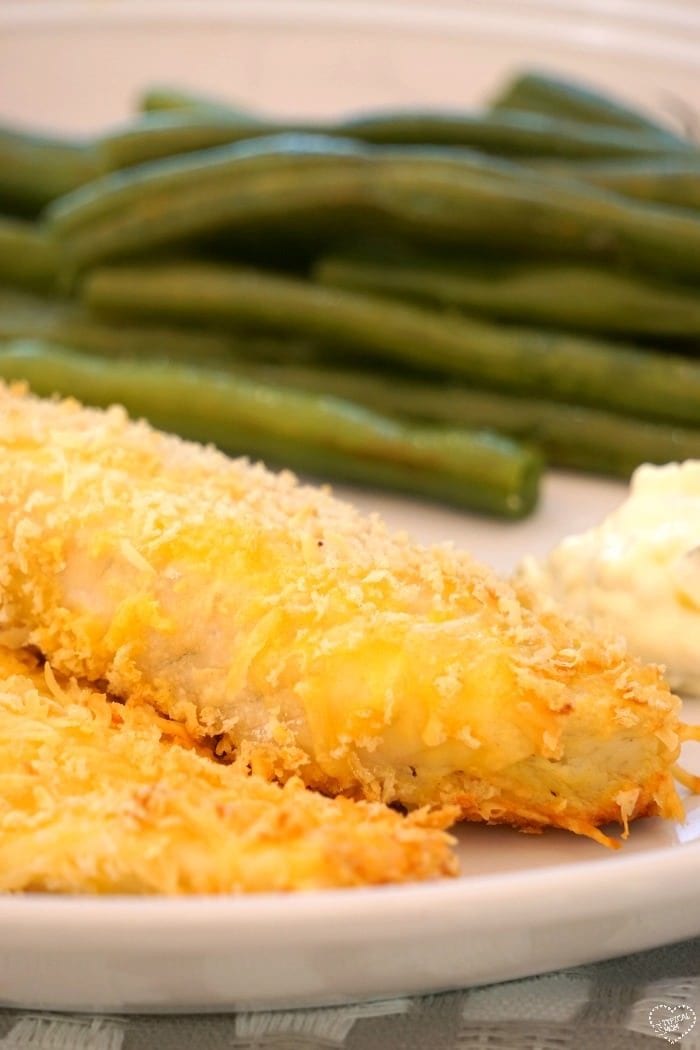 I will start by saying we all love seafood! I have three girls and this oven fried fish recipe is one of their favorite meals! It's super easy and a healthy meal I'm sure your family will love to…and since October is National Seafood Month it's the perfect time to try something new. We aim to eat at least two servings of seafood each week because it's a great way to keep your heart healthy…..recommended by the USDA. 😉 Taking the pledge is simple, you can find the link in this post. This post brought to you by Seafood Nutrition Partnership. The content and opinions expressed below are that of The Typical Mom. (originally published 10/16)
I honestly don't know if oven fried fish is what it is technically called but if you're looking for a crunchy fried fish taste but baked instead this would be it!!
We took the Healthy Heart Pledge earlier this year which means we aim to eat fish at least twice a week, and went about creating a few new dishes to incorporate into our meal planning.
This is one of my kids' favorites.
The breading is light, crunchy, yet there is NO frying involved so you get the taste you love without the added oil…just the way we like it. Pair it with some veggies and you have a perfect meal using just 5 ingredients in less than 30 minutes!
It's a simple process of setting up a sort of assembly line in your kitchen with 3 bowls (or pie plates) with your ingredients. Dip each piece of fish into the first bowl, then the next, cover with your Panko bread crust mixture and you're ready to put them in the oven…easy peasy right?? Here's the entire recipe.
This is what you need to make Oven fried fish
Fish – we used tilapia
Parmesan cheese
Eggs
Flour
Garlic powder
Salt
You can even get the kids involved in this recipe….. they love the whole assembly line process. Especially if you are trying to introduce fish into your family's dinner routine it is a great way to get them to take ownership over the meal.
When kids can say "I made this" they are typically more willing to try new foods. 😉
Oven fried fish
Oven fried fish recipe that tastes incredible and SO easy to make!! Crispy yet cooked in the oven so it's healthier but tastes fried!
Instructions
Cut your fish fillets in half lengthwise so you have 10 pieces (if you make less than just half this recipe).

Put flour in one bowl or pie plate, whisk eggs with a pinch of salt in bowl

Mix panko bread crumbs with parmesan cheese and garlic powder in bowl.

Dip each piece of fish into flour (both sides), then into egg (both sides), then roll into bread crumb mixture until coated.

Place on cookie sheet with some non stick spray and bake in oven at 400 degrees for about 12-15 min.
Nutrition Facts
Oven fried fish
Amount Per Serving (4 oz)
Calories 280
Calories from Fat 45
% Daily Value*
Fat 5g8%
Cholesterol 128mg43%
Sodium 275mg12%
Potassium 509mg15%
Carbohydrates 21g7%
Protein 34g68%
Vitamin A 105IU2%
Calcium 74mg7%
Iron 2.4mg13%
* Percent Daily Values are based on a 2000 calorie diet.
Like I said, fish is my kids' favorite meal so there's no coaxing in this house, but this is why I think we have such adventurous eaters….we involved them in the cooking process early on.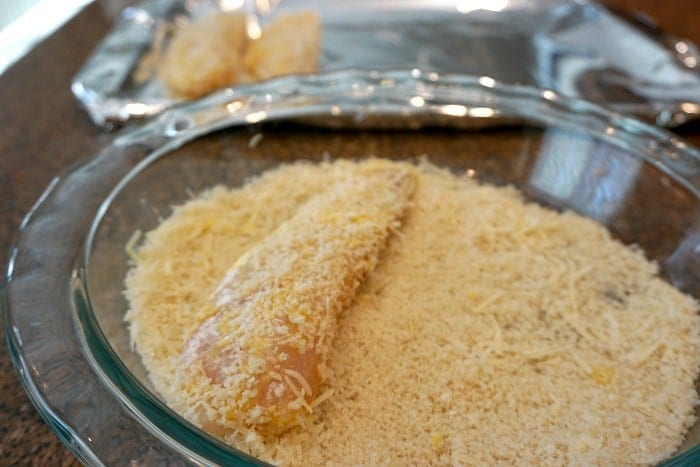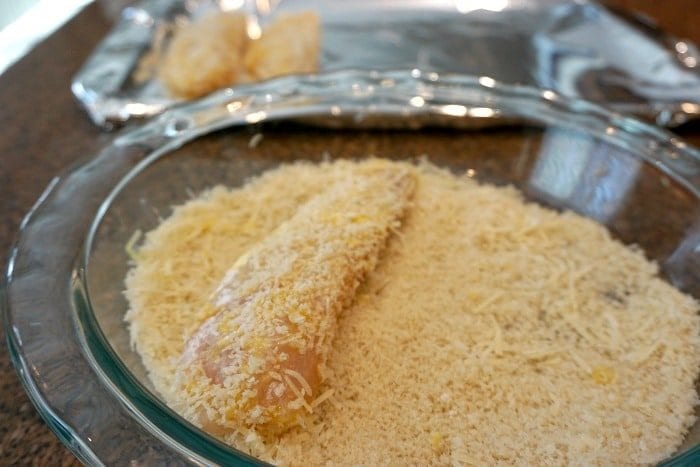 Once you've dredged your tilapia in the flour and then the egg mixture you will want to gently flip your piece over to fully coat it with your bread crumb mixture. Panko style bread crumbs creates a crunchy texture when baked, and adding parmesan to the mix gives it a great flavor too! Super easy I'm telling you.
Once you've made this and love it, then try oven fried chicken next!
To promote regularly eating seafood the Seafood Nutrition Partnership wants you to join along. Check it out and enter your recipe for a chance to win before 10/21, details are below.