Here's a healthy oven fried fish recipe that tastes incredible and really easy to make!! How to fry fish in the oven so it's healthier but still crispy as ever. If you're looking for a easy way to make homemade fish sticks this is it.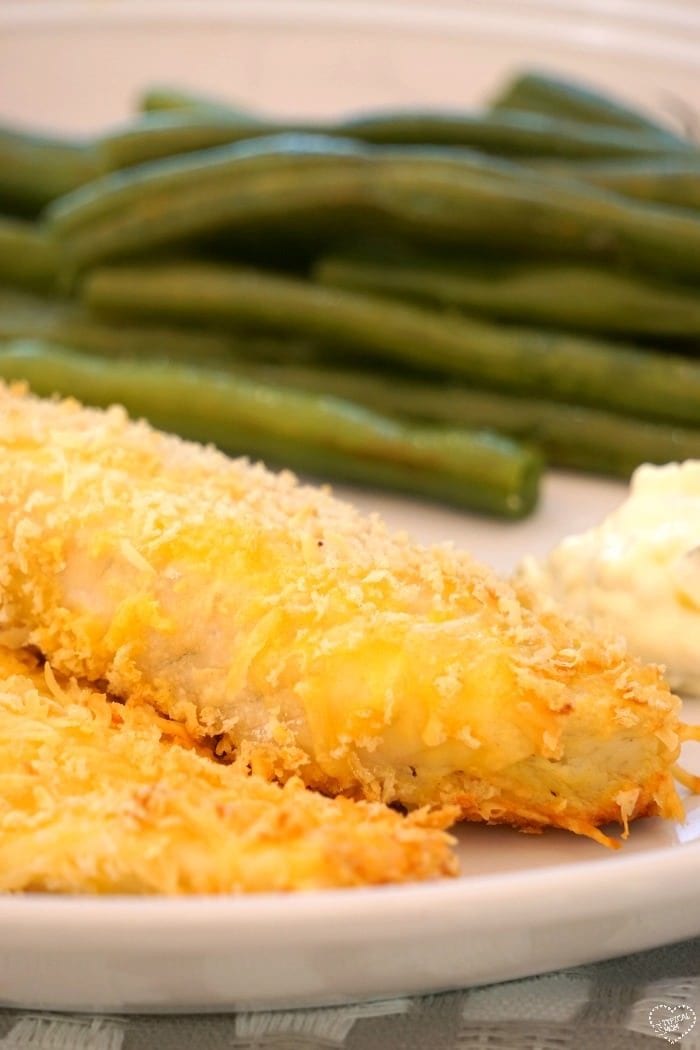 I will start by saying we all love seafood! I have three girls and this oven fried fish recipe is one of their favorite meals! Add a crispy coating to the outside and all our taste buds are on fire. NO need to deep fry anymore, try this next. Sponsored by Seafood Nutrition Partnership. (originally published 10/16, affiliate links present)
Fried Fish in the Oven
This is super easy and a healthy meal I'm sure your family will love to. Since October is National Seafood Month it's the perfect time to try something new.
If you love air fryer fish sticks, but want a homemade version with that same deep fried crunch, this is the dinner for you.
I honestly don't know if oven fried fish is what it is technically called but if you're looking for a crunchy fried fish taste but baked instead this would be it!! This is one of my kids' favorites.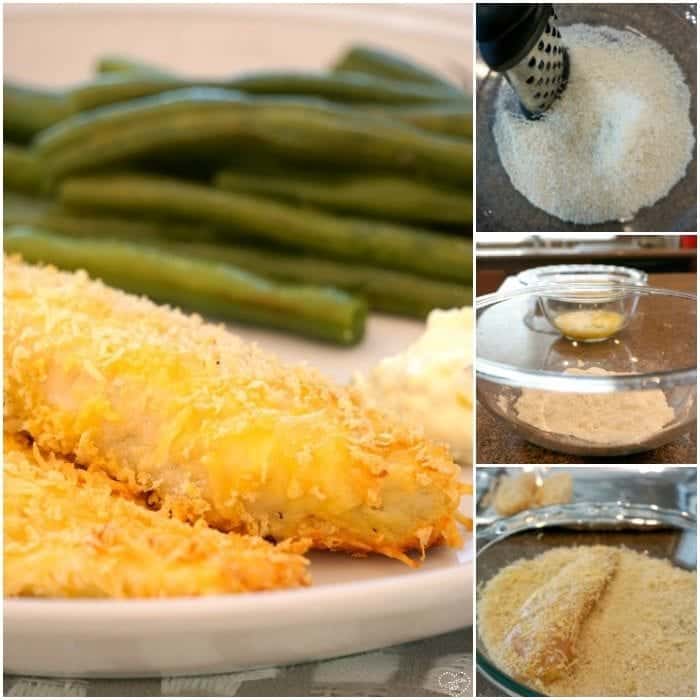 Oven Frying Fish
With oven baked fish the breading is light, crunchy, yet there is NO frying involved so you get the fish fry taste you love without the added oil. Just the way we like it.
Pair it with some veggies or cooked calamari and you have a perfect meal using just 5 ingredients in less than 30 minutes!
If you haven't integrated this flavorful lean meat into your weekly rotation yet I'd do it now! The earlier you get your kids to try new foods the better. Mine are teens now and would choose sushi over just about anything else nowadays. Seriously. 😉
Now let's start with a bowl, shallow dish for breading and a rimmed baking sheet for baking.
If you want to make fish and chips so they're ready all at the same time you can put frozen fries on a baking sheet with foil. Bake together on 2 different racks and that should be perfect.
How to Fry Fish in the Oven
Now we share here how to cook frozen tilapia in oven. If it is rock hard you won't be able to bread at the beginning. Instead you can sprinkle some Panko and seasoning on halfway thru. You can get some of the same texture but not all.
It's a simple process of setting up a sort of assembly line in your kitchen with 3 bowls (or pie plates) with your ingredients. In a small bowl combine bread crumbs, parmesan and seasonings.
Then dip each piece of fish into the first flour bowl, then into the egg, cover with your Panko bread crust mixture and you're ready to put them in the oven. Easy peasy right?? This whole process will take less than 20 minutes.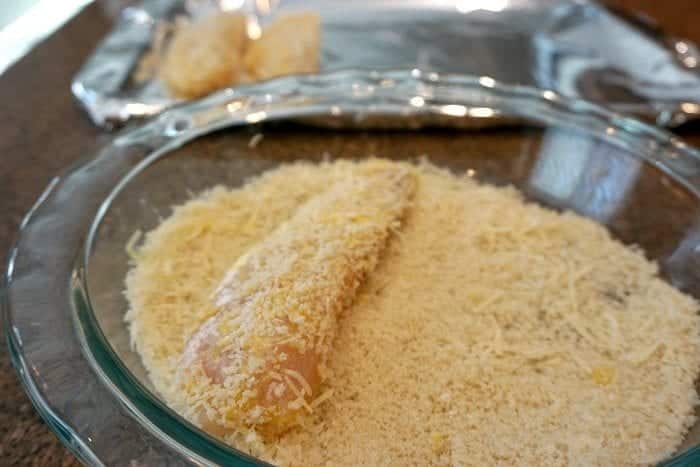 Oven Fried Fish
Once you've dredged your mahi mahi, tilapia or cod fish fillets in the flour and then the egg mixture you will want to make sure you gently flip your piece over to fully coat it with your bread crumb mixture.
Panko style bread crumbs create a crunchy texture when baked. Adding parmesan to the mix gives it a great flavor too! Super easy I'm telling you.
How long do I cook fish?
Well this really depends on how thick it is and how "done" you like it. We are discussing fillets here and any variety of those would work this way. For small pieces you would want to refer to our how long to cook scallops in oven post.
How long to bake white fish at 400
Typically you just want fish to flake easily when touched with a fork.
Color should be white or opaque vs. translucent.
For this one it takes 12-15 minutes or until fish is lightly golden on top and flaky in the middle.
Oven Fried Fish no Eggs
If you cannot have eggs there are a few other options. Once your fillets are dry you can soak for 15 minutes or so in some heavy cream, that will allow your breadcrumbs to stick well too. Some would rather dip in melted butter or brush some mayonnaise or plain Greek yogurt on, all are good alternatives.
Baking sheet

sprayed with non stick cooking spray
or brushed with melted butter

Fish – we used thawed tilapia, this wouldn't work when cooking frozen fish
Parmesan cheese
Eggs
Flour
Garlic powder
Salt
Serve with our fish taco sauce or tarter and enjoy
You can even get the kids involved in this recipe. They love the whole assembly line process. Especially if you are trying to introduce fish into your family's dinner routine it is a great way to get them to take ownership over the meal. A trick to making them browner on the top is just a little spray of olive oil on the top, all you need.
This is how to make hush puppies with Jiffy Mix, they're great served on the side.
Oven Fried Fish and Chips
When kids can say "I made this" they are typically more willing to try new foods. 😉 Make it even more fun by throwing in another baking sheet with baked French fries on it to pair.
Once you've made this and love it, then try oven fried chicken next! It too is lower in saturated fat that the traditional recipes out there and so good too.
Want to see a few of my favorite things that I am totally obsessed with?? Take a peek and see how many you might already have…twinsies!
Looking for more easy family recipes and tips? LIKE The Typical Mom Facebook page?
Then sign up for my free newsletter, and follow me on Pinterest! 😉
***** If you LOVED this recipe give it 5 Stars below and let everyone know what you thought about it. 😉
Oven Fried Fish
Oven fried fish recipe that tastes incredible and SO easy to make!! Crispy yet cooked in the oven so it's healthier but tastes fried!
Instructions
Cut your fish fillets in half lengthwise so you have 10 pieces (if you make less than just half this recipe).

Put flour in one bowl or pie plate, whisk eggs with a pinch of salt in a 2nd bowl

Mix panko bread crumbs with parmesan cheese and garlic powder in a 3rd shallow bowl.

Dip each piece of fish into flour (both sides), then into egg (both sides), then roll into bread crumb mixture until coated.

Place on cookie sheet with some non stick spray and bake in oven at 400 degrees for about 12-15 min.
Nutrition Facts
Oven Fried Fish
Amount Per Serving (4 oz)
Calories 280
Calories from Fat 45
% Daily Value*
Fat 5g8%
Cholesterol 128mg43%
Sodium 275mg12%
Potassium 509mg15%
Carbohydrates 21g7%
Protein 34g68%
Vitamin A 105IU2%
Calcium 74mg7%
Iron 2.4mg13%
* Percent Daily Values are based on a 2000 calorie diet.