How to make hush puppies with Jiffy Mix is here! Crispy fried cornbread bites are an easy and quick fish side dish everyone loves.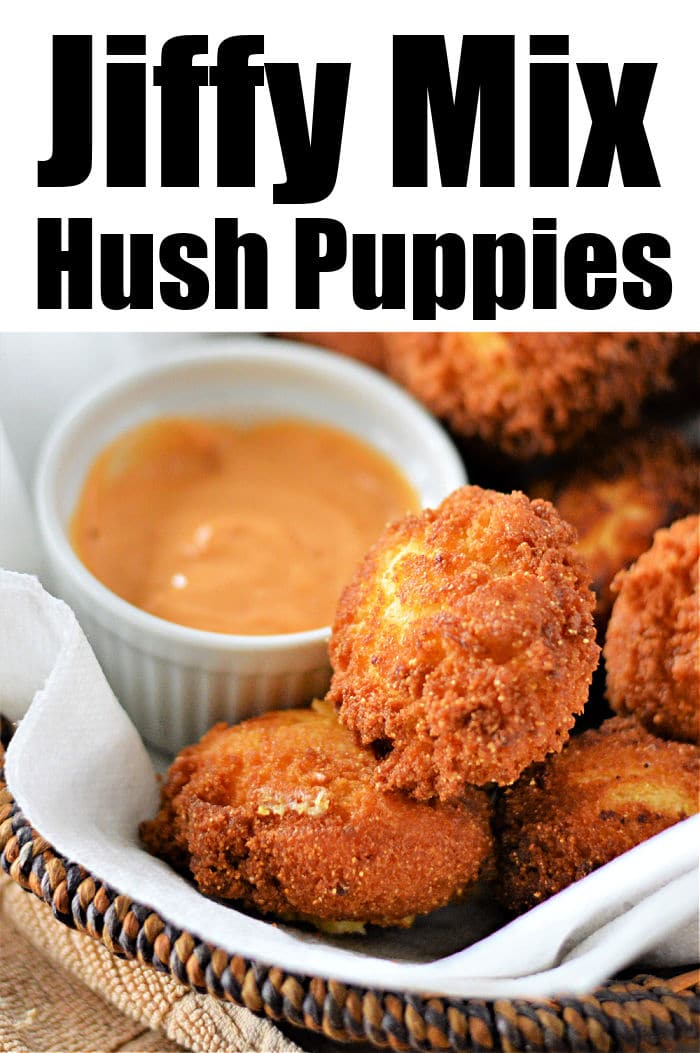 This is how to make hush puppies with Jiffy Mix! Our favorite easy side dish with fish or chicken. Quick to fry or air fry them with dinner. A sweet and savory bite of goodness our whole family loves. (affiliate links present)
Jiffy Hush Puppies
Ok so I grew up on these little blue boxes. My mom made cornbread muffins with them and during the holidays I always use it to make our Jiffy corn casserole recipe. I love doctoring this up because it already has the leavening agent mixed inside so I just add the goodness and extra seasonings into the mix.
A few months ago we made homemade air fryer hush puppies. Those were good but more labor intensive to make the batter in general. Then we moved on to tinkering with our favorite boxed cornbread mix and BAM, these were created!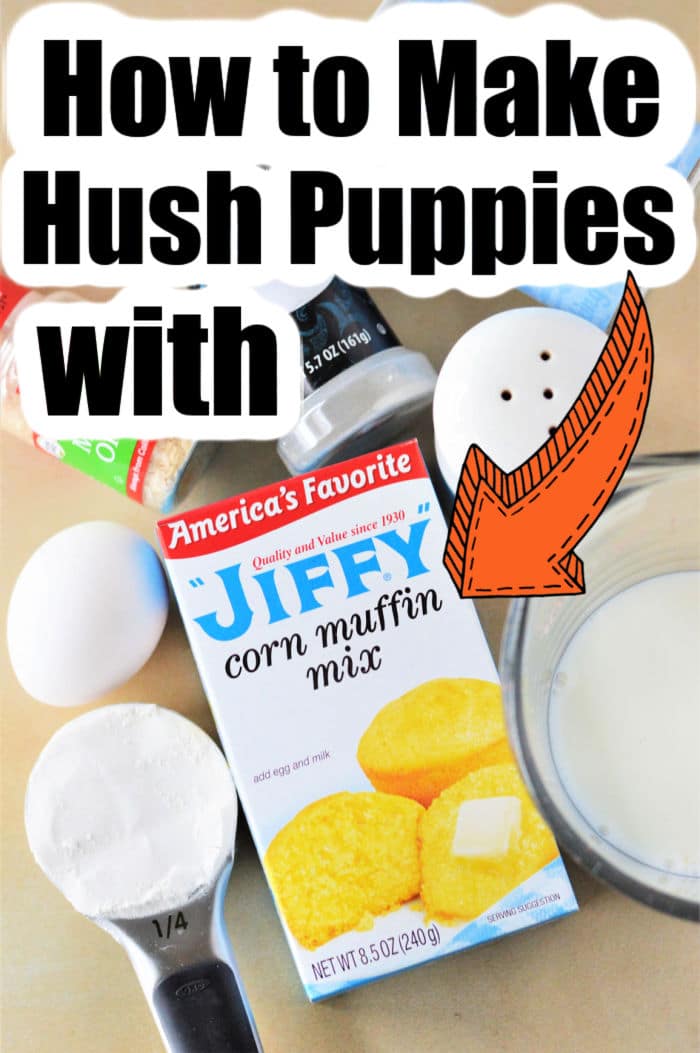 Jiffy Mix Hush Puppies
Instead of two bowls mixing the dry ingredients together, and the wet in another you can skip that step. This is a one bowl hush puppy recipe that makes clean up easier and baking quicker. Well we aren't actually going to use the oven to "bake" these, they are better crispy and deep fried.
I know, I always say that I don't like fried foods but there are some things that are just worth it. No I don't have a deep fryer, and you probably don't either. No worries, you just need a pan that can hold about 1.5″ high of vegetable oil so they can crisp and then turn over to the other side.
How can I enhance my Jiffy Mix
There are SO many ways. You can use their blueberry muffin mix to make pancakes instead. Use cornbread mix to make corn pudding and here is our hushpuppies recipe using the same box.
How to make hushpuppies
Box of Jiffy corn muffin mix
Some flour
Baking powder
Salt
Egg
Dry minced onion
Galrlic salt
Whole or 2% Milk is best
And then you'll need some oil for frying them.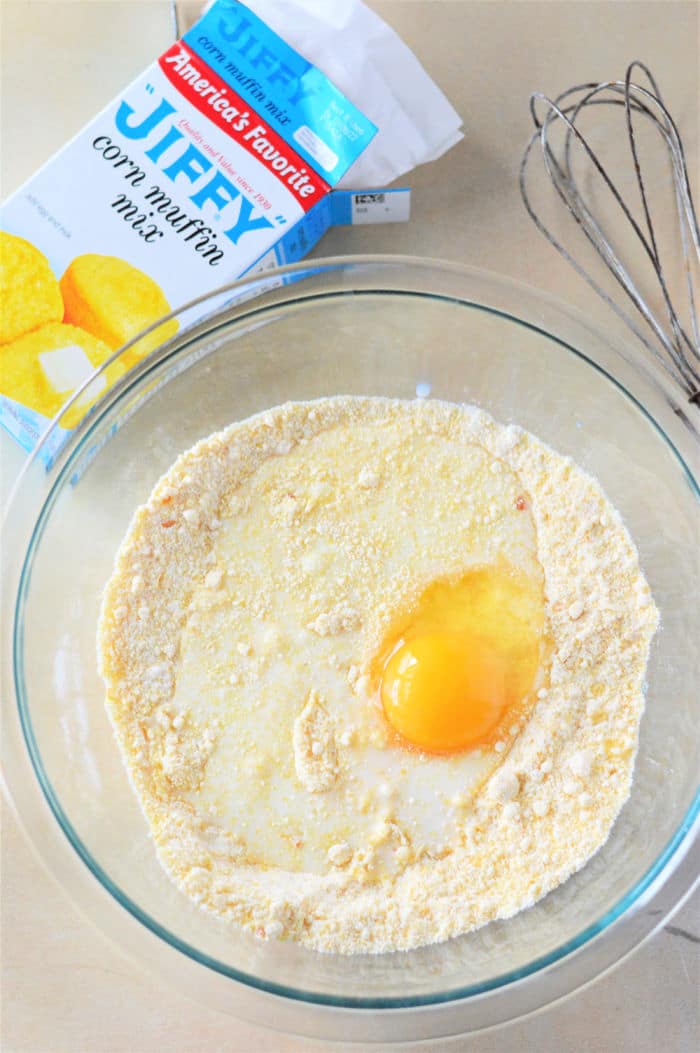 Jiffy Hush Puppy Recipe
What's listed below is the base. From there you could choose to add a little of this and that to add flavor or heat. A few other ideas would be some finely diced jalapenos or chiles, diced green onions, 1/4 cup shredded cheese, cayenne pepper, chili powder or dry Sriracha.
I mean the possibilities are endless, it's kinda' like our beer bread recipe in a sense in that regard. As is they are really great served with our air fryer fish and chips or some oven fried fish.
This is quick and easy. All you do is whisk your mix and flour, egg, and other ingredients together in a bowl, then add your milk and egg. Stir just until it's wet.
In a skillet or dutch oven heat the oil. About 2 inches of oil will work, over medium high heat.
Use a tbsp to scoop up the thick batter and gently drop batter into the hot oil. I usually put 6 spoonfuls into hot oil at a time.
Brown, turn to the other side and brown again. Work in batches until they are all golden brown. Remove with a slotted spoon and set on a paper towel lined plate to absorb excess oil on outside of each and serve.
Yes you could make this homemade cornbread recipe instead and use that, this is easier. Cornbread hush puppies are really fun for kids, well all finger foods are. If you want to make a meal where NO utensils are needed make these + one of our muffin tin recipes like meatloaf too.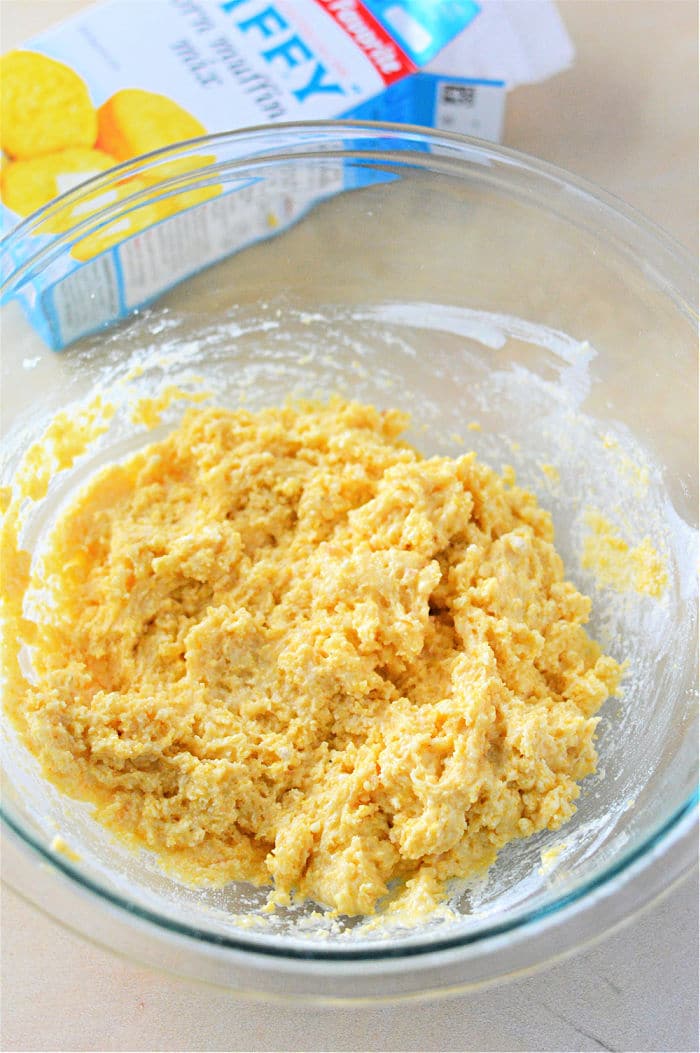 Jiffy Cornbread Hush Puppies
How are these different from making Jiffy cornbread you might ask? Well the biggest difference is the consistency and texture on the outside. As you can see these are crunchy and fried while the other is baked in the oven and fluffy all the way around.
More seasonings to make it extra savory are included into the batter too so they don't have that honey flavor you'd imagine muffins or a slice of the latter to have. I mean you could add a sweetness to them but generally they're known to have more of a garlic / onion flavor and served at dinnertime.
What are Long John Silver's hush puppies made of?
This is where I think of when making and eating these. This fast food restaurant was around the corner from my house growing up and it was my FAVORITE. Their fried bites were the BEST ever and that is what I try to mimic when making them at home.
Theirs has a bit of sugar adding into the mix (which you could add 1 Tbsp) to make them sweeter but the rest remains the same. We enjoy both styles, savory and sweet.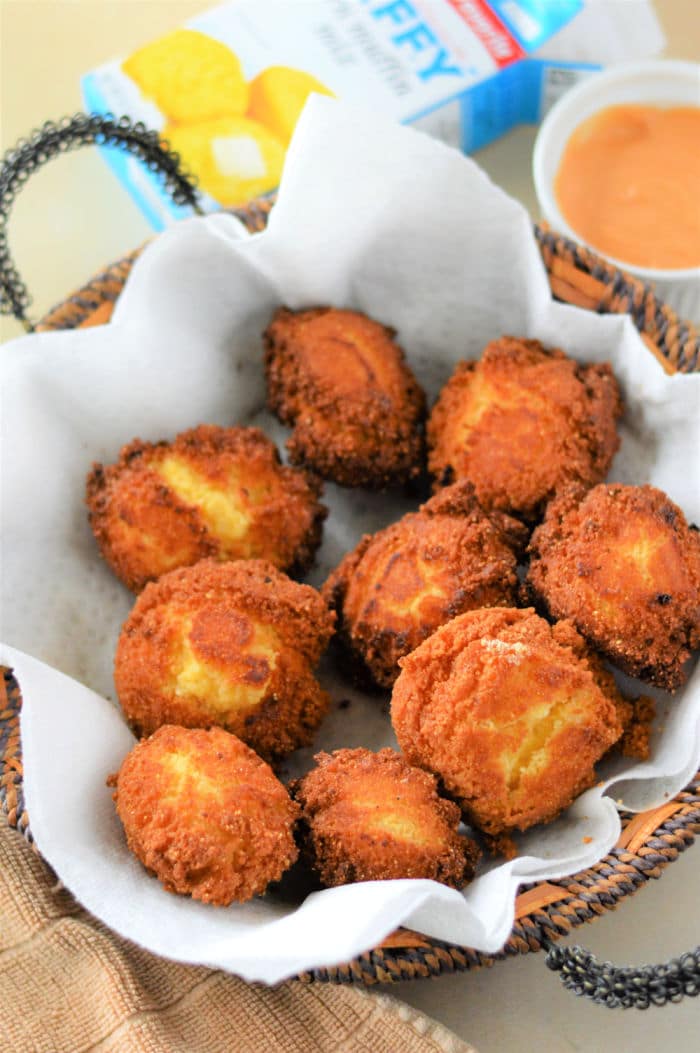 You don't really need any dip but our homemade fry sauce recipe is pretty killer served with them. If you have any leftovers put them into a freezer bag and suck all the air out. Lay on the countertop and reheat in your air fryer or Ninja Foodi to crisp them up again. I would enjoy them within 2 days after making them or the texture will change.
Want to make another variety with this same blue box? Try our Jiffy Mexican cornbread next!
Want to see a few of my favorite things that I am totally obsessed with?? Take a peek and see how many you might already have…twinsies!
Looking for more easy family recipes and tips? LIKE The Typical Mom Facebook page?
Then sign up for my free newsletter, and follow me on Pinterest! 😉
***** If you LOVED this recipe give it 5 Stars below and let everyone know what you thought about it. 😉
How to Make Hush Puppies with Jiffy Mix
How to make hush puppies with Jiffy Mix is here! Crispy fried cornbread bites are easy and quick fish side dish everyone loves.
Instructions
Whisk together all dry ingredients, then add milk and egg. Stir just until wet.

In a skillet heat oil, about 2" high. Use a tbsp to scoop up batter and fry into the oil. Brown, turn to the other side and brown again. Work in batches until it is all done. Set on top of paper towels to absorb excess oil on outside.
Nutrition Facts
How to Make Hush Puppies with Jiffy Mix
Amount Per Serving (1 oz)
Calories 103
Calories from Fat 27
% Daily Value*
Fat 3g5%
Cholesterol 15mg5%
Sodium 366mg16%
Potassium 73mg2%
Carbohydrates 16g5%
Protein 2g4%
Vitamin A 54IU1%
Vitamin C 1mg1%
Calcium 36mg4%
Iron 1mg6%
* Percent Daily Values are based on a 2000 calorie diet.