Cooking frozen fish is totally possible! We will share how to cook frozen fish in air fryer, in the oven, on stovetop and even on a grill.
We are always cooking frozen fish at home, because I am forgetful. I don't always remember to defrost and thaw our cod, tilapia, catfish, salmon, shrimp or scallops the night before. NO worries, we will explain cooking frozen meat to tender right here. (affiliate links present, originally published 8/22)
How to Cook Fish From Frozen
Of course there are a ton of varieties out there. I'll focus on the "regular" fillets that most of us buy at the store here. For the most part all white fish up to 12″ in length will cook at the same rate no matter what method you use. Larger varieties like salmon and tuna would need to be cut into smaller pieces.
For those I prefer for them to be in 3″ wide fillets like we did with our air fryer frozen salmon. If it were already frozen whole you will be limited to baking it in the oven. Cook time will be longer than posted below in our printable recipe card, we will discuss this more in depth down below.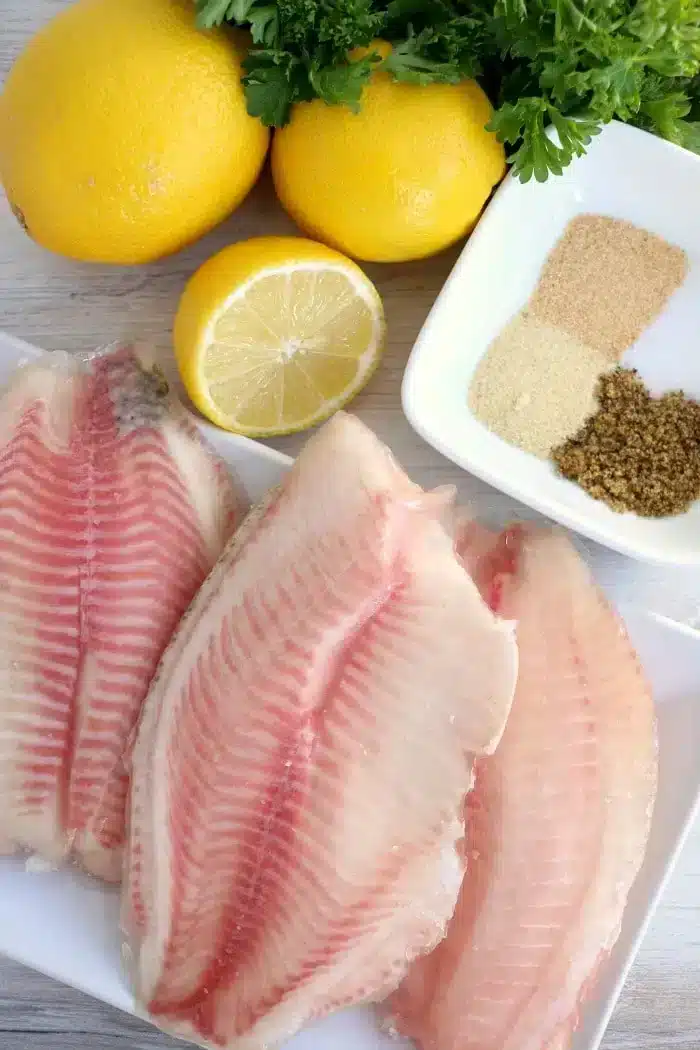 How to Thaw Frozen Fish
If you have time to defrost your pieces then obviously that is the best bet. Timing will be less, seasonings will stick better and you can add breadcrumbs on the outside too. You'll need a good hour or so depending on how thick it is to get this done.
We will show you how to cook frozen tilapia (and other varieties) without all this extra work though, just straight out of your freezer from solid to tender in no time. You'll need to;
If it is in a vacuum sealed bag, bonus, keep it in that.

If not then you'll want to transfer it into a freezer Ziploc bag, remove air inside and seal shut.

Fill a large bowl in your sink with cold water.
Submerge your bag and let it sit there for a good 20 minutes, then rotate to the other side in the bowl and continue doing this until it has defrosted fully.
Lift out of cold water to remove it from the bag, pat dry with paper towels and follow your directions on how to bake it.
If you do this then you can follow any sort of easy fish recipes you might find online (or on my site here). This is the only way to add breading which we love, if hard it won't stick. This is how to cook walleye that way with a bit of whisked egg.
How to Cook Frozen Fish
Ok so I will separate this into air fryer fish recipes and Instant Pot fish recipes. Like I said, as long as your pieces are no longer than 8″ x 4″ wide the cook time would be almost the same. Whether you had white fish or pink salmon the biggest difference in cook time beyond that would be the thickness.
Frozen Fish in Instant Pot
AirFryer Frozen Fish
We have even shared how to grill frozen fish here, which is kinda' crazy but so good.
How Long is Frozen Fish Good For
Technically you can keep it frozen and cook forever, but it won't taste that good after a while. Ideally it should be cooked within 3 months of being frozen, if done properly. You do NOT want air to be trapped inside the bag where this is stored so it is important to use a vacuum seal bag or freezer bag.
Keep in mind how many pieces you will likely cook at the same time. Separate your bags into servings meaning there are 4 (left in the house) in our family so 4-5 pieces would be stored for us. That way you can take out one and know you'll have dinnertime covered.
Best Frozen Fish Fillets
You can thaw your fish using the directions up above or know now that baking frozen fish straight from the freezer is not only possible but quite delicious.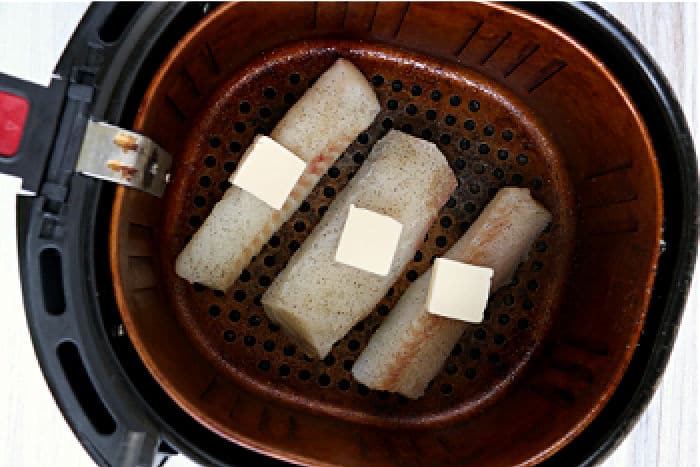 Baking Frozen Fish
If you do not have countertop appliances and just want to use your oven, you can. I mean I am obsessed with the other methods but I get you might want just the good "old fashioned" method too. If you were able to thaw then I recommend our oven fried fish instructions to get the outside crunchy.
Left hard like you see here below you'll want a few slices of fresh lemons to add some flavor and seasonings of your choice. Simple Lawry's seasoned salt and pepper is just great.
Can you cook a whole salmon from frozen?
If you are referring to a whole fillet then yes you can. I would never cook an entire fish that hasn't had bones removed and cut in half because it won't cook evenly. At 425 F. it does take about 30 minutes but surprisingly bakes in an oven to tender.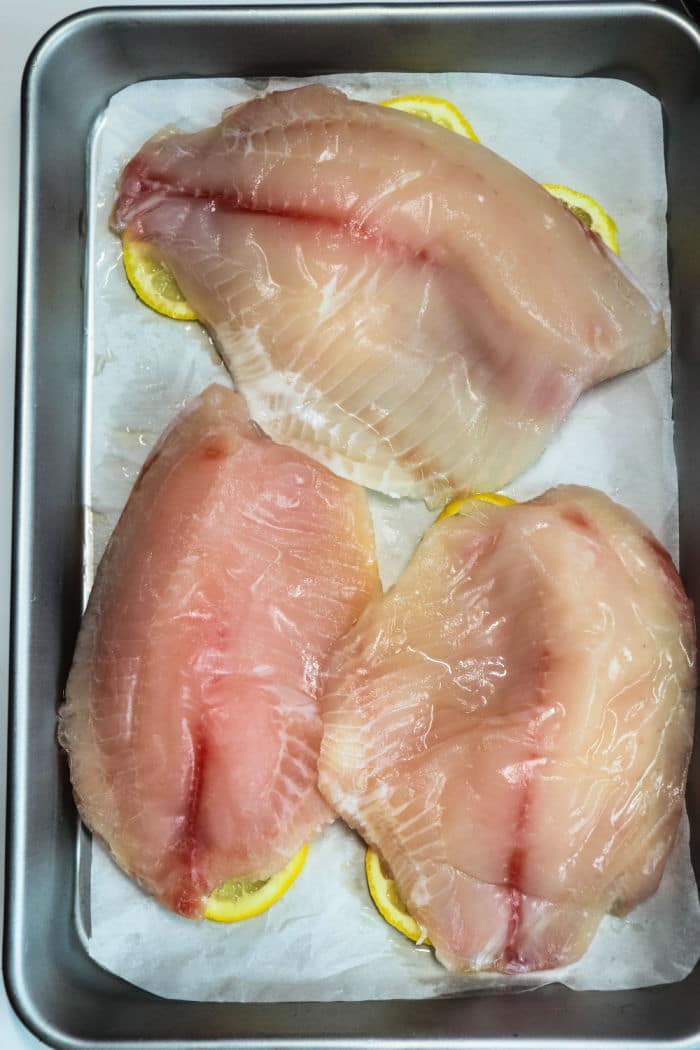 Can you Cook Frozen Fish
Yep, we will share how to skip the thawing process and bake your pieces of fish in the oven until fully cooked on a baking sheet. Now you will have to skip the pan searing because that won't work, but you can brown when it is done instead.
Preheat to 400 F. Line baking sheet with parchment paper. Place 3-4 slices of fresh lemons under each frozen, previously fresh fish.
Drizzle or brush the fish with your melted butter (or olive oil) with a sprinkle of chili pepper flakes, salt, pepper, and parsley on top. Cook fish approx. 20-23 minutes. (smaller pieces may be closer to 15 minutes, check often)
If you want a bit of crisp at the end, pat the fish dry with a paper towel and spray top with olive oil. Set inside an air fryer on top of parchment at 380 F for just a few minutes and then serve.
Want to see a few of my favorite things that I am totally obsessed with?? Take a peek and see how many you might already have…twinsies!
Looking for more easy family recipes and tips? LIKE The Typical Mom Facebook page?
Then sign up for my free newsletter, and follow me on Pinterest! 😉
***** If you LOVED this recipe give it 5 Stars below and let everyone know what you thought about it. 😉
Cooking Frozen Fish
Cooking frozen fish in the oven, air fryer, in the microwave or Instant Pot is possible. You can go from frozen fish to tender easily.
Ingredients
Instructions
Preheat your oven to 400 degrees F. Line baking sheet with a piece of parchment paper. Place 3 slices of fresh lemon under each frozen fillet on sheet.

Top the fillets with melted butter and then sprinkle with chili pepper flakes, salt, pepper, and parsley. Bake approx. 20-23 minutes or until fillets are cooked thorough to the center and fork tender.

Timing will vary depending on how thick yours are and what type of fish you're baking.
Nutrition Facts
Cooking Frozen Fish
Amount Per Serving (1 oz)
Calories 18
Calories from Fat 3
% Daily Value*
Fat 0.3g0%
Monounsaturated Fat 0.02g
Cholesterol 0.4mg0%
Sodium 301mg13%
Potassium 94mg3%
Carbohydrates 5g2%
Protein 1g2%
Vitamin A 245IU5%
Vitamin C 30mg36%
Calcium 18mg2%
Iron 0.5mg3%
* Percent Daily Values are based on a 2000 calorie diet.