You've got to make our easy huckleberry cobbler with fresh fruit and topped with a crumble topping complete with honey roasted nuts today! Best dessert ever.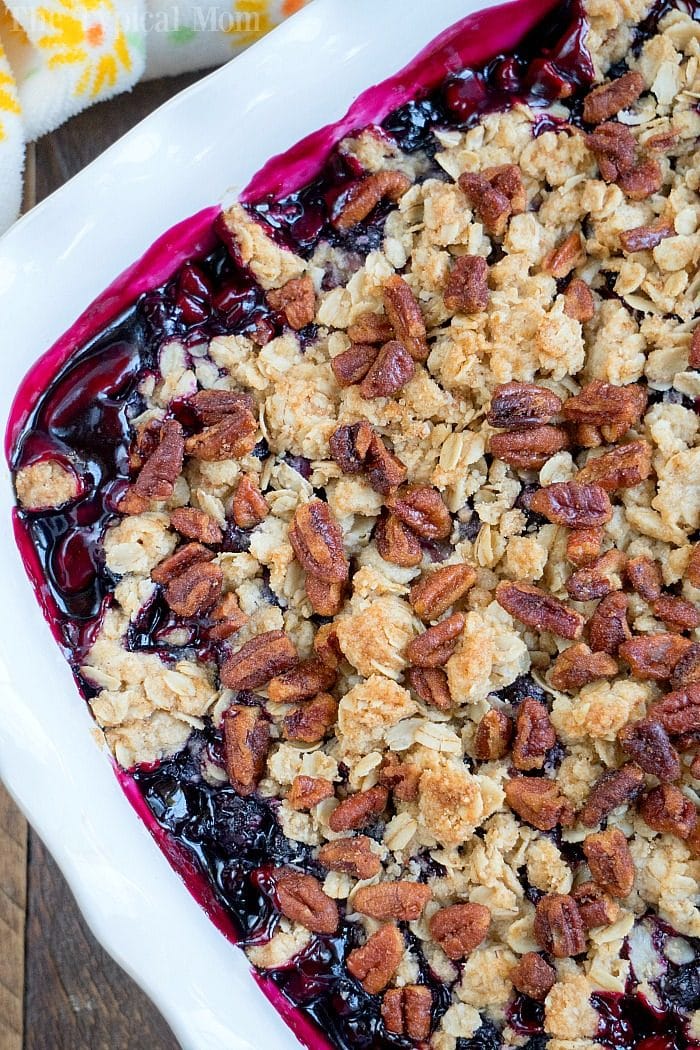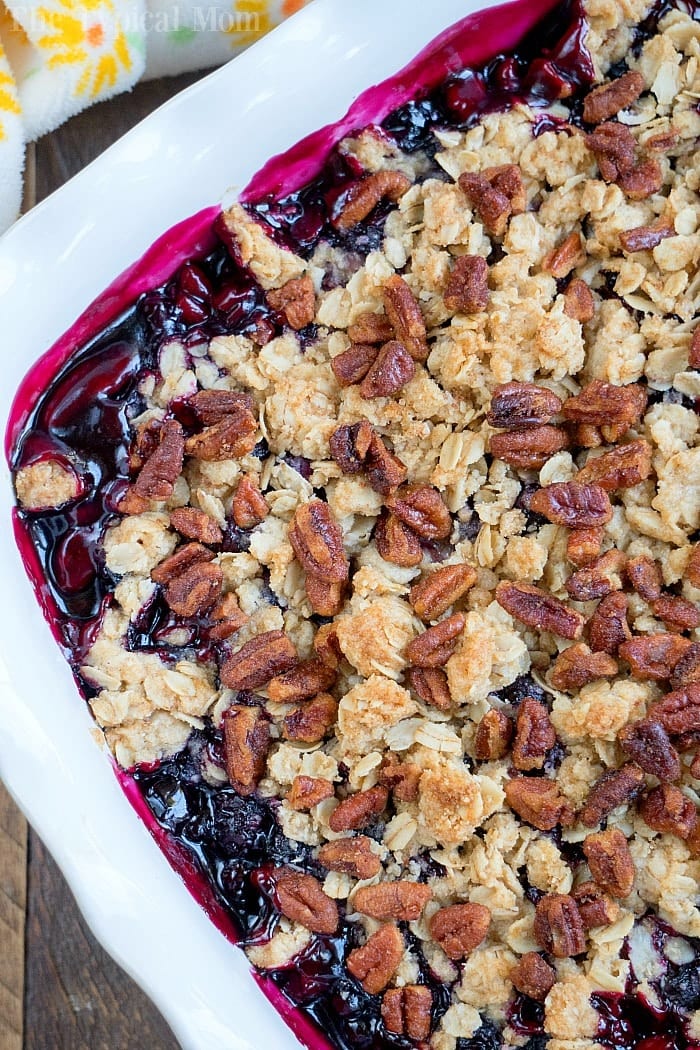 Huckleberries are here! They're the state fruit of Idaho (where we live) so we're lucky enough to pick them fresh, or buy some in Boise Idaho. Try our huckleberry cobbler and let us know what you think! One of our favorite huckleberry recipes yet. Sponsored by Albertsons. (originally published 8/18, affiliate links present)
There are two ways we have made this. You can make the one you see on top, or include more of a cake like topping with our Bisquick cobbler recipe. You'll want to freeze the berries you have before adding them to this. That way they will hold up a bit better and not break down as easily.
Huckleberry crisp
If we're lucky enough to go for a drive in July and pick them we have a yummy time! Have you been yet? This is what it looks like in case you encounter some on a hike. The deeper the color the sweeter they are.
Where do huckleberries grow best?
The require elevations of from 2,000 to 11,000 feet. Most prevalent they're in the Northwestern United States and Canada, mainly in states such as; Idaho, Washington, Oregon, and Montana.
Are huckleberries in season?
Peak season occurs between mid-August to mid-September. We have gone in mid July and found a decent amount too though in Northern Idaho, Sandpoint area.
Can you eat raw huckleberries?
It isn't recommended as some varieties can be poisonous. Once cooked or baked though they are safe to eat.
In case we aren't, it's great to know that I can buy some at Albertsons each year.
They're a great snack for sure. BUT…..I wanted to make some huckleberry recipes with these and dessert is where I started. 😉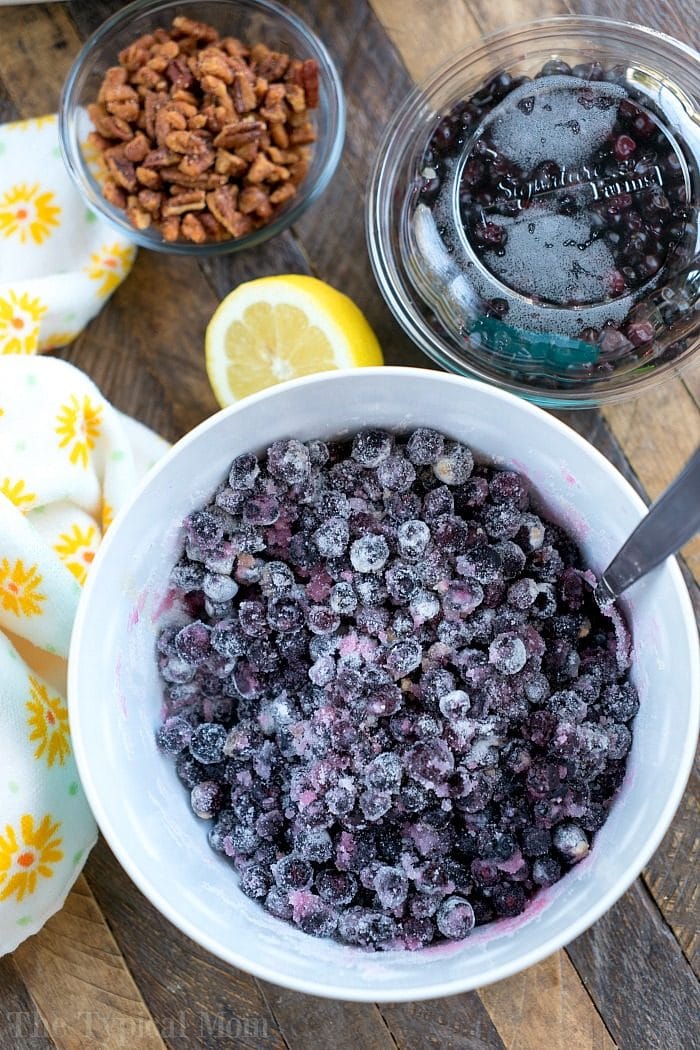 I went straight to the idea of making a sort of huckleberry crisp or cobbler of sorts since my husband's aunt made one in the past and it was amazing!
Using fresh fruit to make any dessert just brings it to a whole new level if you ask me, so when huckleberries are in season….NOW!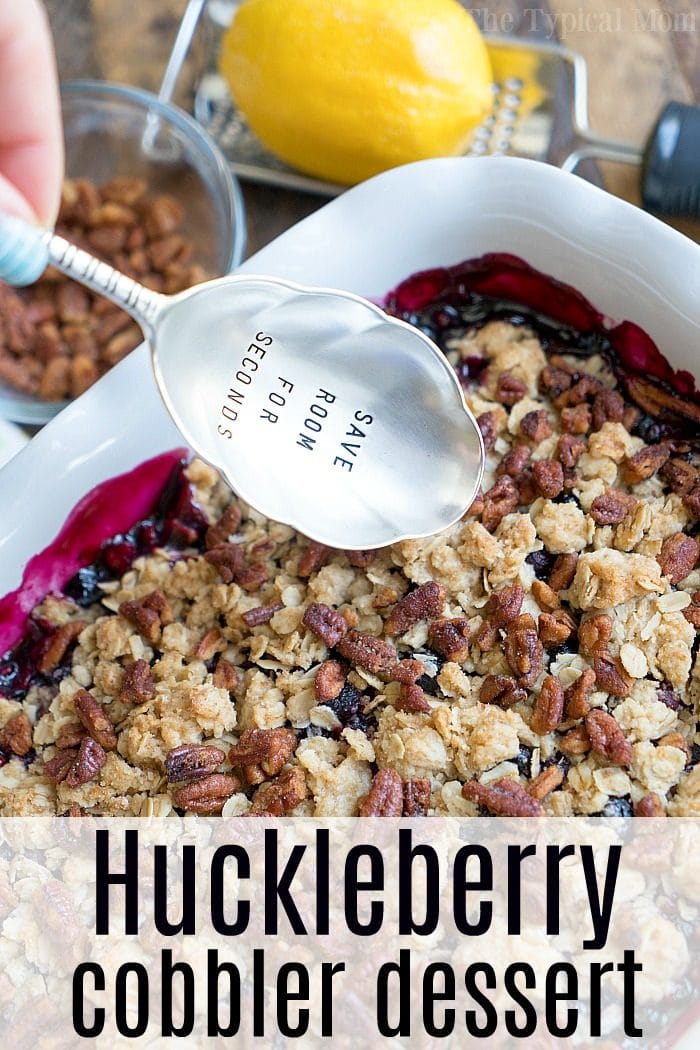 They ripen in mid to late summer and can be found in red, blue or black colors. The batch I found look like a deep blue or purple I'd say. 😉
It was the perfect amount for both creations, but if you had a larger crowd to feed you could easily double this recipe.
I feel like nuts are necessary to top any type of cobbler dessert but that is totally up to you as well. Walnuts or pecans are best, honey roasted chopped pecans are my favorite if you ask me.
Serve warm with vanilla ice cream on top too if you want.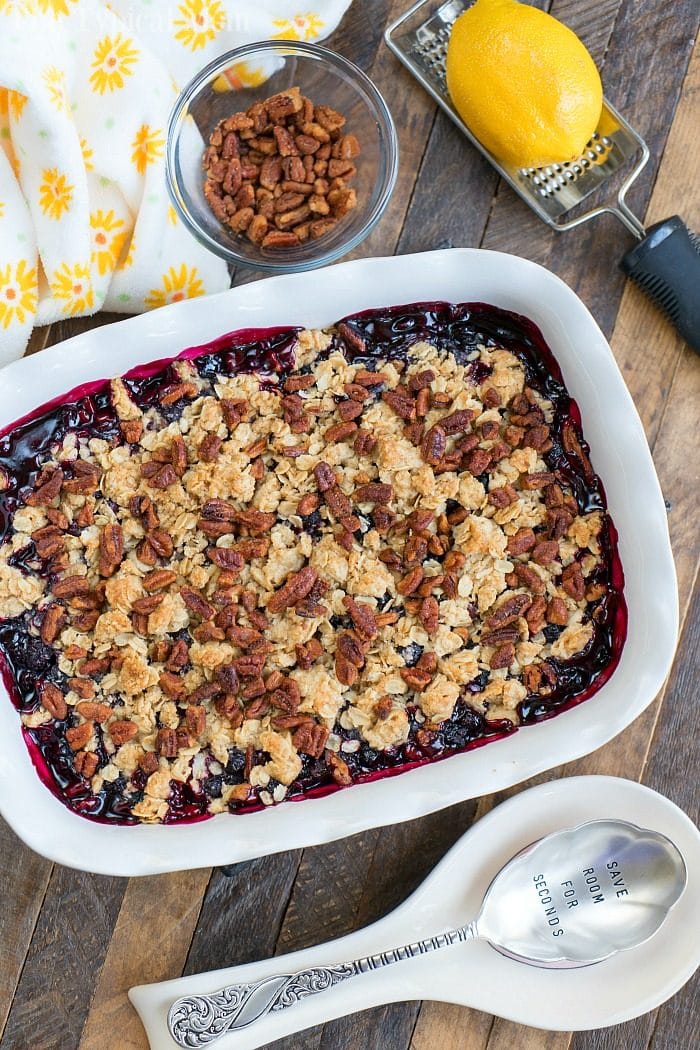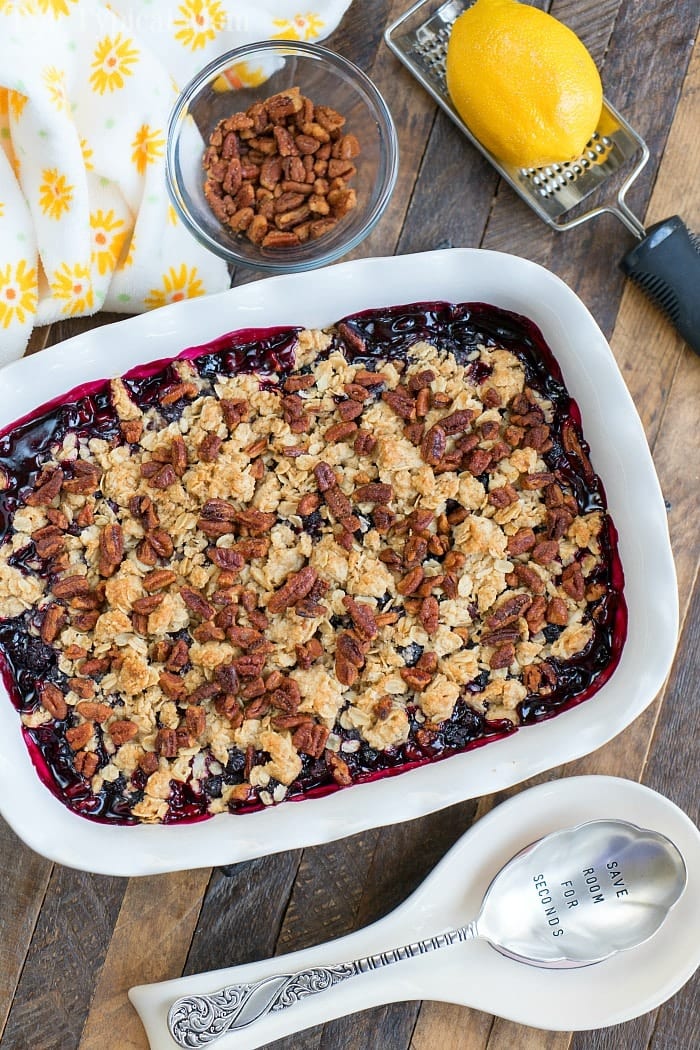 Tip: When mixing your berry mixture remember to gently mix it together in a large bowl. You want the berries to stay in tact and don't break apart. Secondly, the fresher the better.
If you purchase huckleberries that have been picked a while ago and have been sitting in a bowl on the store produce shelf for a while they will be softer. Also, your overall end result will be a bit looser because the berries aren't as firm.
Or our fresh fruit huckleberry muffins and strudel pastry for dessert are great to try too. We used blackberries but any fresh fruit could be used.
If you enjoyed this fresh huckleberry cobbler recipe, then try these too!
I show you my shopping experience here and all the wonderful huckleberry goodies they have in the produce section where these containers are.
I bought about 3 pounds because I wanted to make this and some huckleberry jam in my pressure cooker as well. 😉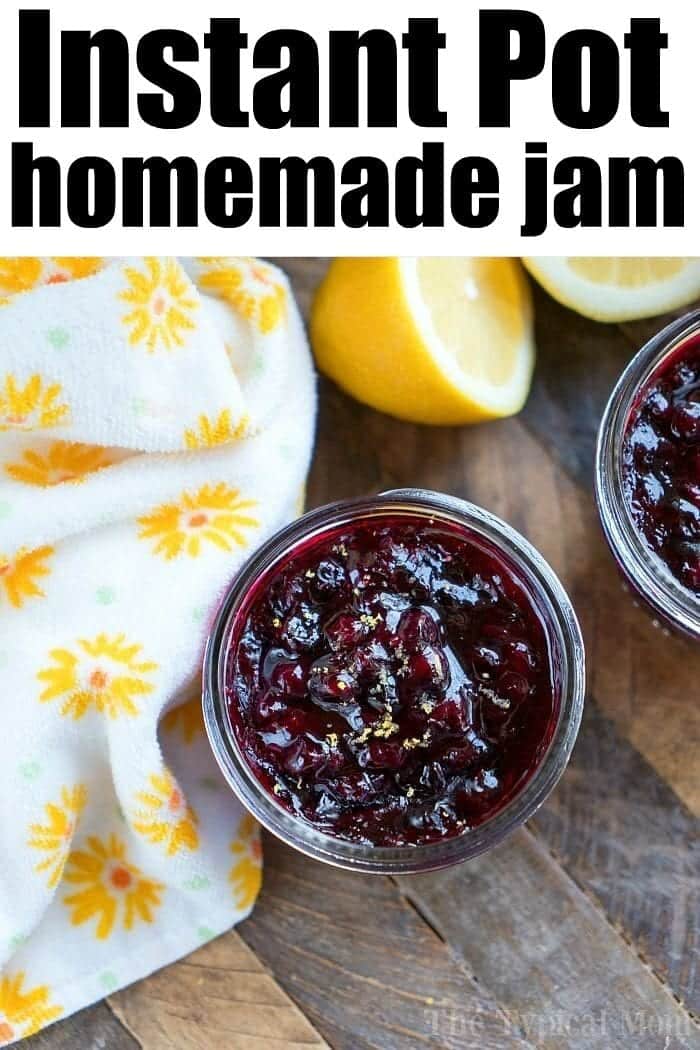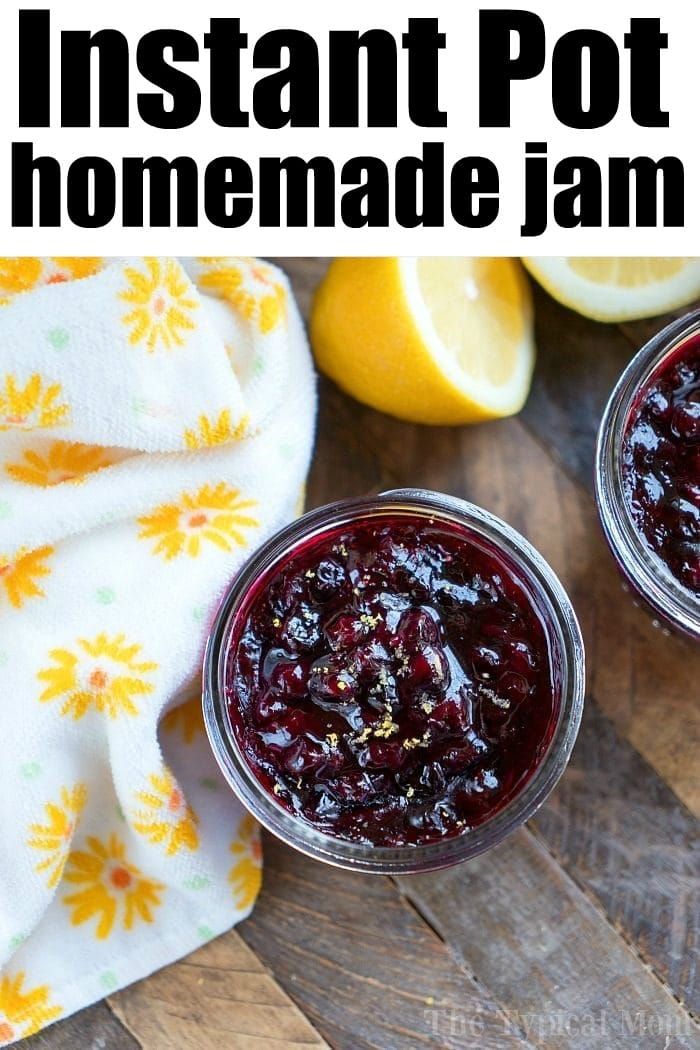 Time needed: 35 minutes
Huckleberry Cobbler Recipe
Mix ingredients

Rinse fruit and lay on paper towels to remove excess water. Put into a small bowl with 1/2 cup sugar to 3/4 c. (depends on how sweet you want it, remember these are a bit sour). Add lemon juice and flour. Gently incorporate together.

Preheat oven

Preheat oven to 350 degrees.

Make crisp

In a bowl put room temperature butter, flour, oats, and brown sugar. Incorporate well using a fork.

Bake

Pour berry mixture into baking dish topped with oat flour mixture. Sprinkle with nuts now if you'd like. Bake for 30 minutes to 40 min. or until it is golden brown on top.

Cool

Remove and place on cooling rack for at least 15 minutes to stiffen up a bit before serving.
Want to see a few of my favorite things that I am totally obsessed with?? Take a peek and see how many you might already have…twinsies!
Looking for more easy family recipes and tips? LIKE The Typical Mom Facebook page?
Then sign up for my free newsletter, and follow me on Pinterest! 😉
***** If you LOVED this recipe give it 5 Stars below and let everyone know what you thought about it. 😉
Huckleberry Cobbler
You've got to make our easy huckleberry cobbler with fresh fruit and topped with a crumble topping complete with honey roasted nuts today! Best dessert ever.
Instructions
Gently rinse huckleberries and spread on paper towels to absorb excess water. Gently mix these with your white sugar, your 3 tbs of flour, vanilla and lemon juice. Preheat your oven to 350 degrees.

In another bowl put room temp. butter in with your brown sugar, 1/3 c flour, old fashioned oats and mix well with a fork until all dry ingredients are incorporated.

Pour berry mixture into an 8×8 pan topped with oats mixture evenly and then sprinkle with your pecans (or any other type of roasted nuts).

Bake in the oven for 30-40 minutes or until berries are bubbling and top mixture is slightly golden brown.

Take out and put on a cooling rack until completely cooled. It will thicken as it sits so it is best to allow at least 30 minutes to cool off.
Nutrition Facts
Huckleberry Cobbler
Amount Per Serving (3 oz)
Calories 236
Calories from Fat 72
% Daily Value*
Fat 8g12%
Cholesterol 12mg4%
Sodium 52mg2%
Potassium 54mg2%
Carbohydrates 38g13%
Protein 2g4%
Vitamin A 215IU4%
Vitamin C 3.2mg4%
Calcium 27mg3%
Iron 1mg6%
* Percent Daily Values are based on a 2000 calorie diet.