Pressure cooker black beans with seasonings are a great healthy side dish you can make in an Instant Pot or Ninja Foodi. Dry beans turn tender in no time.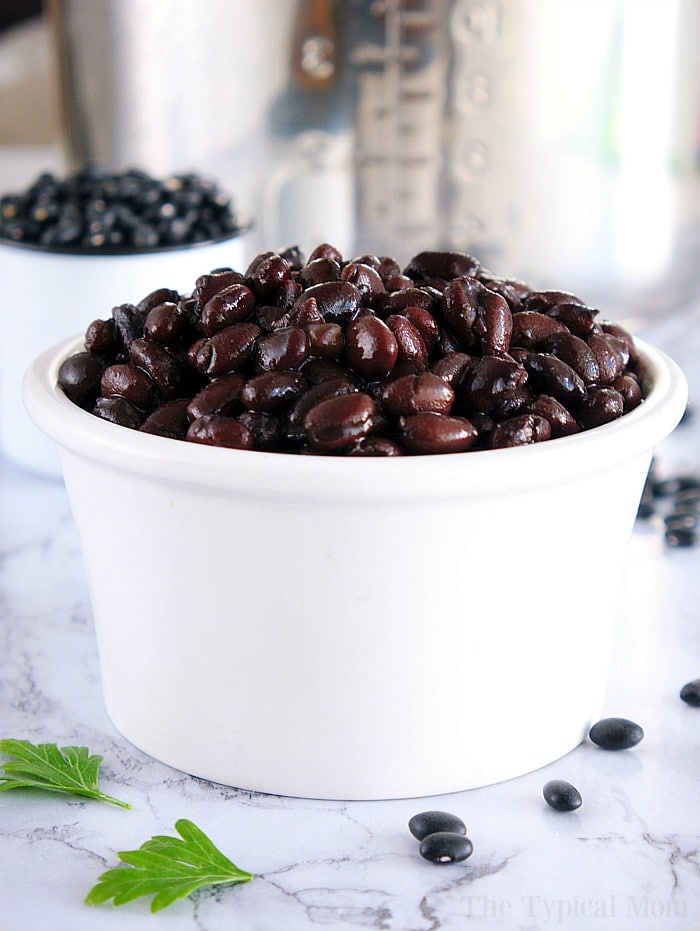 Instant Pot pressure cooker black beans are great made from scratch. Using dry beans, water and some seasonings you too can make tender beans as a side dish or addition to rice or burritos. Find this and more Instant Pot recipes here on The Typical Mom for dinner this week.
Yes, you can make these in a Crockpot Express or Ninja Foodi too.
Let's start with a few basic tips:
For reference, this is the pressure cooker I have and use for all recipe creations.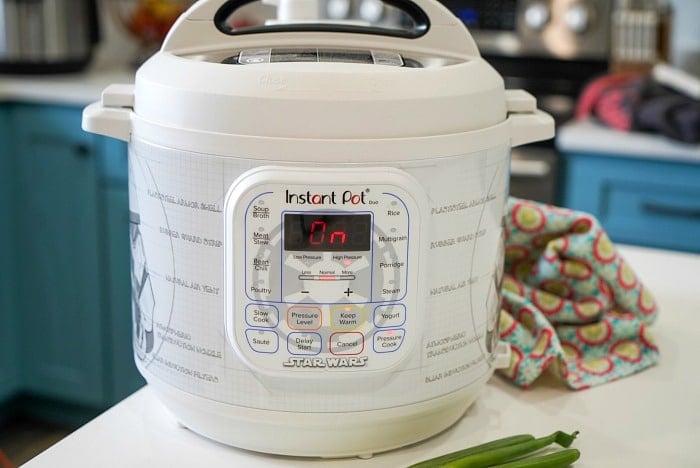 Here's where we start. Grab a bag of beans at the grocery store and rinse them off. Why?
Because there tends to be debris on them and every once and a while a pebble. You don't want to chomp down on that!
Let's start with the fact that there is NO pre soaking required when cooking dry beans in an Instant Pot.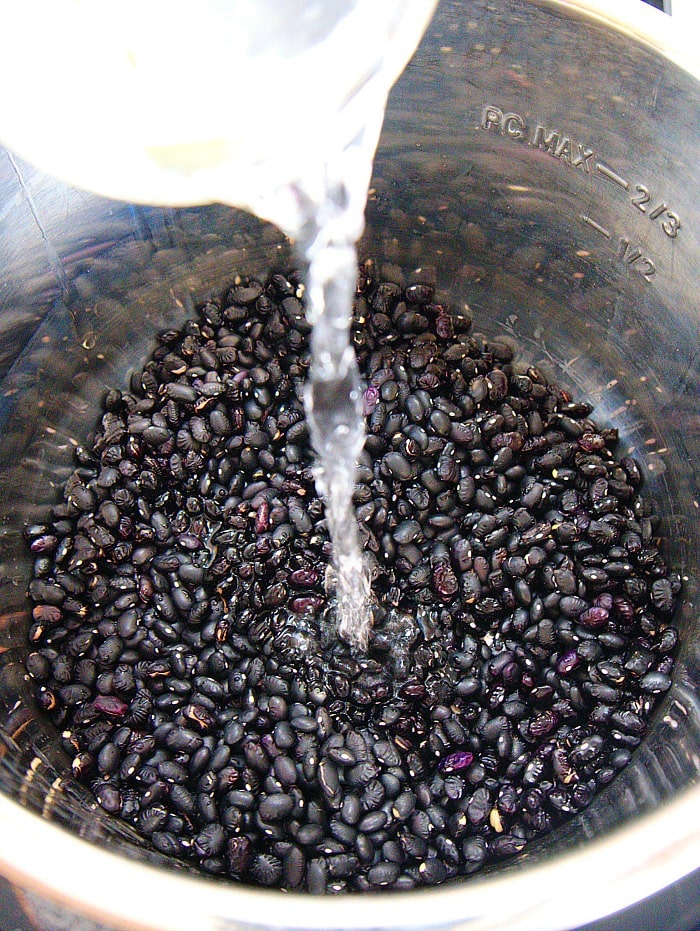 Are black beans really good for you?
Like other legumes, black beans are known for their high protein and fiber content. They also contain several other key vitamins and minerals that are known to benefit your health.
Tip #1 – By themselves the flavor is somewhat bland. BUT if you add ALL THE THINGS below and use broth instead of cups of water when you cook them they'll have tons of flavor.
From start to finish it will take under an hour for these to become tender and delicious. This quick cooking method is due to not having to soak beans ahead of time.
If you want to do a 30 minute quick soak that is fine but not necessary.
Some prefer soaked black beans because it reduces the gases when done.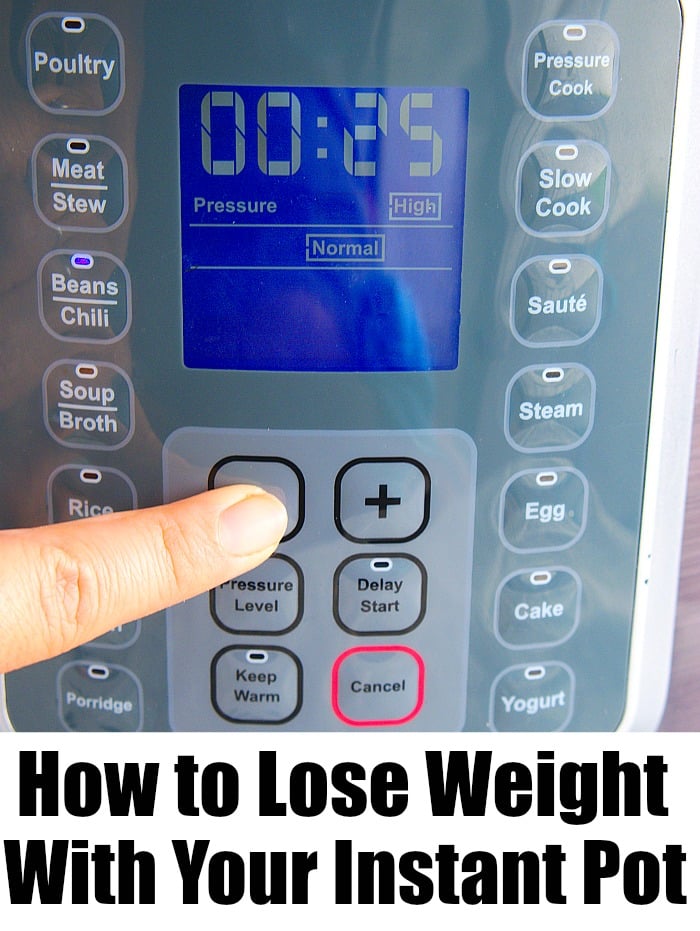 Tip #2 – When cooking black beans in an Instant Pot you need pressure to release naturally when the cook time is up. This vs. a quick release will help tenderize them well.
How do you cook dried black beans?
Pick over broken dried beans and rinse with water well.
Put into your pressure cooker with broth (or water) and seasonings, stir
Close lid and steam valve and set to cook on high pressure for 25 minutes
Allow for a 15 minute to 20 minute natural release when done (that means don't touch the steam valve).
Drain (or not, some like to have liquid in it) and serve.
How do I make black beans thicker?
If you would like to thicken the black bean liquid, you can use a potato masher or spoon to mash some, about 1/4 of them.
Stir fresh cilantro into beans. Taste and adjust for seasoning with a bit more salt and pepper.
Some like a splash of vinegar and/or sugar. Serve with lime wedges over Instant Pot white rice.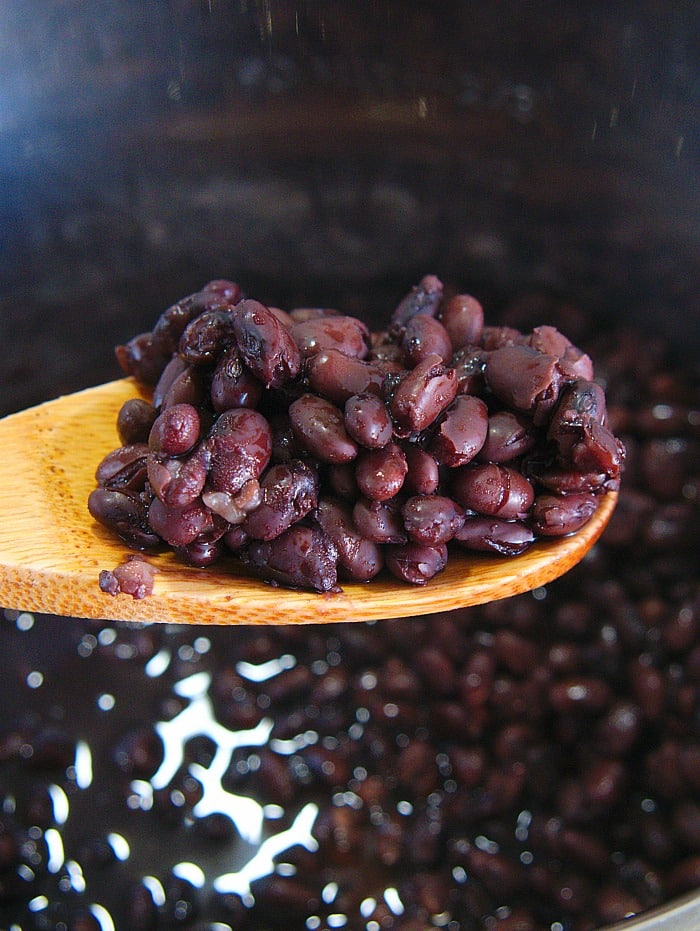 How do you know when black beans are done?
A well cooked bean should be creamy on the inside with skin that is intact, not crushed or broken.
The best way to tell if a bean is cooked is to taste it really. Some like it more tender than others but you definitely don't want it hard or crumbly on the inside.
Instant Pot Black Beans
All you need is this:
Bag of dry black beans
Electric pressure cooker
Broth is much better than water
Garlic
Onions
Cumin
Salt
Fresh cilantro is great when done.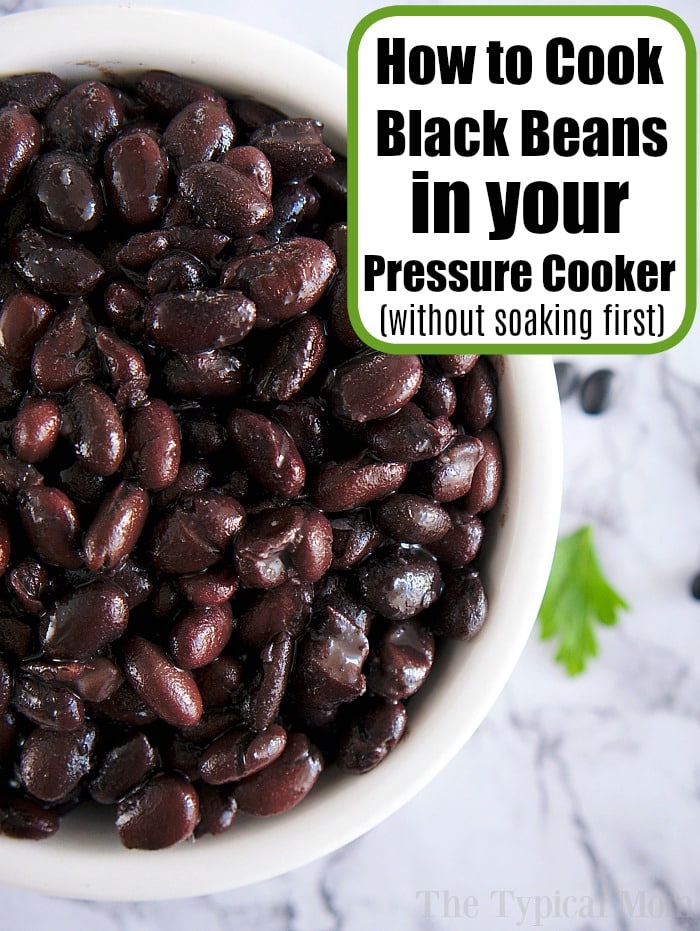 If you had more time you could use a slow cooker but don't use that method on an Instant Pot. To be honest, that mode doesn't work well at all!
I used to use my Crockpot for all things until I got this! Now it just doesn't make much sense to drag that out unless I am leaving all day and want dinner done in the evening.
The closest is our Crockpot baked beans that work well when having a barbecue with friends.
What to serve with black beans?
Shrimp on top a bed of tender beans is a great meal that's low in fat and high in fiber.
A great appetizer is black bean crostini with salsa and a shrimp on top is fabulous
You could mash them and make a hearty black bean dip
Grab some tostada shells and load them up with veggies and some rotisserie chicken on top
They're a great addition inside any type of homemade or jarred salsa really
Chicken taco bowls are probably our favorite things ever, you can see them below.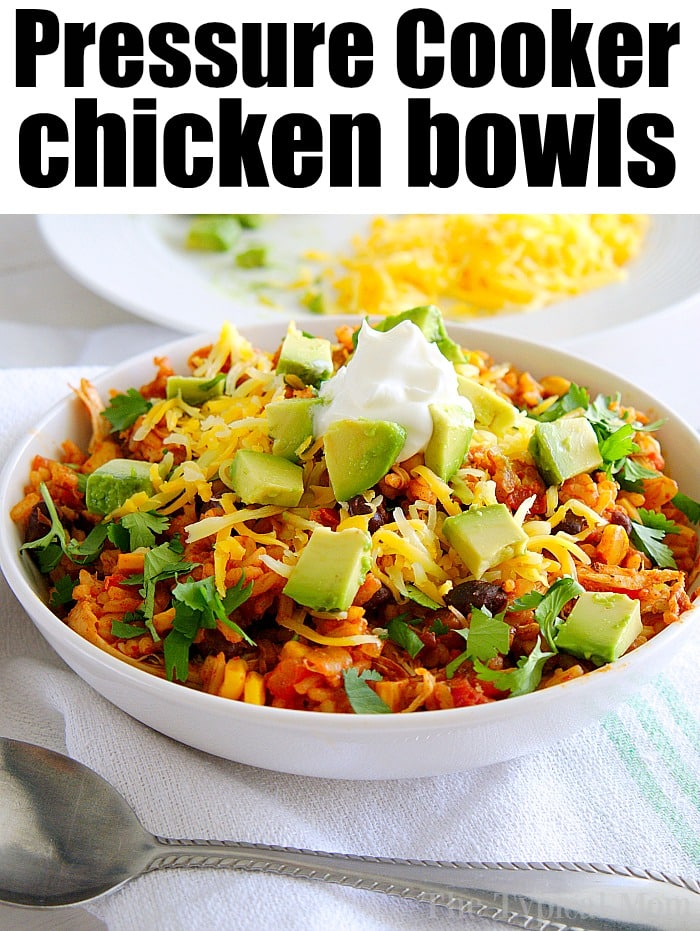 How do you store cooked black beans?
To store leftover beans allow them to come to room temperature first before placing them into airtight containers and in the refrigerator or freezer. Beans will stay fresh in the fridge for about 7 days and in the freezer for a couple of months.
I'm telling you, these are SO versatile. Make a big pot when a large group is coming over and not only is it a yummy side dish but it's super cheap to make.
Are black beans good for losing weight?
Well that's not the reason why we make them but they are quite healthy and that is our focus.
If eaten as part of a healthy weight loss diet they could help you lose weight. Since they're high in fiber and low in fat they keep you full for long periods of time and help keep your blood sugar stable. There are lots of choices like Instant Pot black bean soup and more.
Want to see a few of my favorite things you might want to write on your Christmas list this year??!! 😉 Take a peek and see how many you might already have…twinsies!
Looking for more easy family recipes and tips? LIKE The Typical Mom Facebook page?
Then sign up for my free newsletter, and follow me on Pinterest! 😉
***** If you LOVED this recipe give it 5 Stars below and let everyone know what you thought about it. 😉
Pressure Cooker Black Beans
Pressure cooker black beans with seasonings are a great healthy side dish you can make in an Instant Pot or Ninja Foodi. Dry beans turn tender in no time.
Instructions
Rinse your dry black beans under water (put into a colander to make it easier).

Pour into your pressure cooker with all other ingredients (can opt to just garnish with cilantro if desired too).

Close pressure cooker lid and close steam valve. Set to high pressure for 25 minutes. Then allow to naturally release steam for 15 minutes.

Release remaining steam and lift lid. Turn pot off.

Taste and add more seasonings if you desire.
Nutrition Facts
Pressure Cooker Black Beans
Amount Per Serving (3 oz)
Calories 91
Calories from Fat 9
% Daily Value*
Fat 1g2%
Sodium 578mg25%
Potassium 329mg9%
Carbohydrates 16g5%
Protein 6g12%
Vitamin A 35IU1%
Vitamin C 10.1mg12%
Calcium 31mg3%
Iron 1.6mg9%
* Percent Daily Values are based on a 2000 calorie diet.